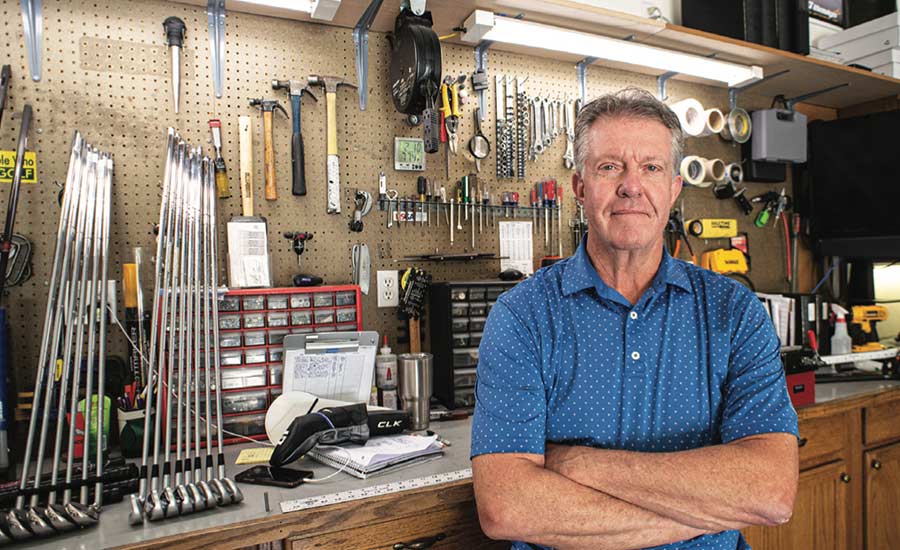 IF A MARKETING guru happened to scope out Dan Weitzel Golf, he or she would probably point out all the things the Highlands Ranch club maker is doing wrong: There's a website, but Weitzel admits it's in serious need of updating. He also has a base of about 1,500 people who receive emails from him, touting his work—but the potential clientele would only need to check about once every six months for them.
"I just don't believe in saturating people's inboxes," he says.
And yet Weitzel, who makes custom-fitted Callaway and Mizuno clubs, is busier today than he's ever been. At any given time, there are anywhere from six to eight sets of clubs in various stages of production; and he sells enough, he says, to make him a national Top 100 dealer of both brands.
"I probably don't charge enough for what I do," Weitzel says. "My pricing is comparable to what the stores do, but what I build, it's much more precise than what you'd ever get from the manufacturers."
January and February are usually his busiest months, as golfers begin to emerge from hibernation and get the itch to return to the course, along with a desire to improve their game. When a player visits Weitzel, he begins by looking at their current set of clubs, initiating a conversation about their game and why the sticks currently being used may not match what he's hearing. That's followed by what he describes as a series of geometric measurements: club length, lie angle, grip size, head size and shaft requirement. At that point, the player would proceed to the hitting bay, where Weitzel measures data like launch angles and spin rates.
A fitting can take two to three hours, or even stretch out to multiple sessions. It usually takes about two weeks for the set of clubs to be finished.
The only spin rate most folks, even avid golfers, are interested in is how often they have to take the car out to go to the grocery store—which is why, Weitzel admits, his services aren't for everyone.
"It's a different way to look at the game; there are people who are fairly serious, care about their games but don't know what they're missing, and others just don't care," he says. "I say about 50 percent of the people who come to see me do it because they know what I can do; about 30 percent come because they can appreciate the idea of it, but they aren't sure how it works, and about 20 per- cent are 'Just tell me what I need.'"
Weitzel says he works with the University of Denver golf teams, which are based at the nearby DU Golf Club; he's also beginning to reach an even younger crowd, making sets for high school and junior golfers. Those sets often begin with used clubs, or donations from some of his more well-off players.
"There's no way I want to try and make money off of kids; so, when somebody comes in and has a decent set of clubs and they want something new, I'm going to just encourage him to give me the old stuff," he says. "And then, also when someone can plainly afford a little more than the normal retail price, and they want to chip in 100 bucks or whatever, we're encouraging them to do that.
"I really want to connect with the [Colorado Golf Association] about (perhaps starting a pro- gram); it's something that I want to keep doing—even when I'm done fitting neurotic adults."
A competitive player back in the day, Weitzel says he's been tinkering around with clubs for more than 40 years, in part because there were times when he needed work done on his clubs but realized there wasn't anywhere capable of doing the job.
"We lived in Iowa for four years and there wasn't anybody within 100 miles, so I really had to learn," he says.
Back then, Weitzel built his clientele through word of mouth—"It had to be—there was no internet!" he cracks. Today, be it casual conversations or the World Wide Web, business is booming to the point where Weitzel actually finds himself turning down potential customers in order to actually see for himself how his clubs work on the course.
"I'm starting to take more time off," he says. "Actually scheduling golf instead of just trying to go out if I happen to have a free morning.
After all, he adds, "This is my retirement business." weitzelgolf.com
---
This article was also featured in the July 2020 issue of Colorado AvidGolfer.
Colorado AvidGolfer is the state's leading resource for golf and the lifestyle that surrounds it, publishing eight issues annually and proudly delivering daily content via coloradoavidgolfer.com.