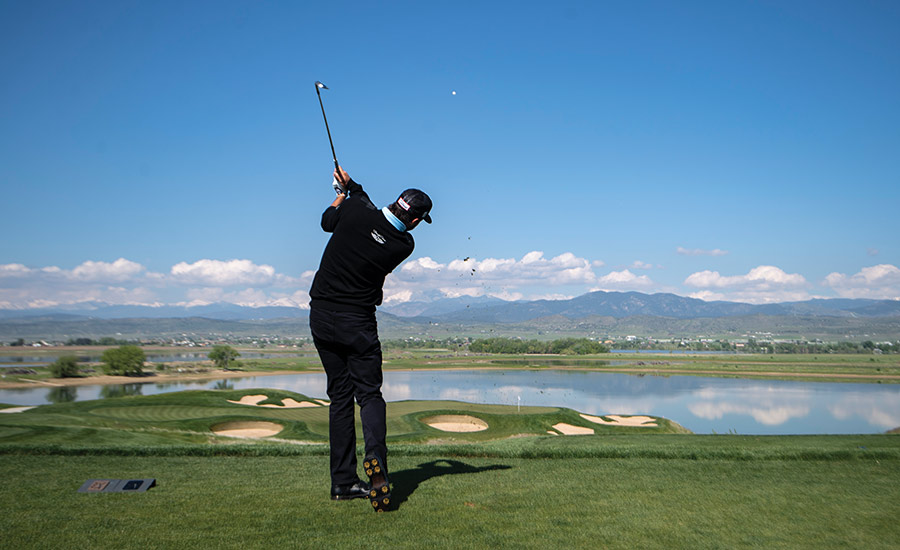 For Colorado's homegrown PGA TOUR players Mark Hubbard and Wyndham Clark, nothing's healthier than competition—even if nobody's coming to cheer them on.
By Jon Rizzi
BACK IN FEBRUARY, Denver's Mark Hubbard and Wyndham Clark found themselves paired in the opening rounds of the PGA TOUR's annual bacchanal known as the Waste Management Phoenix Open—a tournament so popular (a record 719,179 turned out in 2018) that the organizers no longer release attendance figures.
But you can always count on the 20,000 rowdies who mob the makeshift stadium surrounding the 16th green to create a bread-and-circus atmosphere that would make Marcus Aurelius proud.
Both players relished the experience. "I love that energy," Hubbard, who finished T9 at 11-under, says. "If you grew up playing team sports, you get it. I played basketball for Colorado Academy, and I miss that buzz of playing on the road, going into hostile environments…."
"Playing in front of fans is one of my favorite things," concurs Clark, a star at Valor Christian before heading to Oklahoma State and the University of Oregon. He now lives minutes from the Waste Management Phoenix Open's home at TPC Scottsdale. "I feed off it." In the opening round, he did just that, carding a blistering 11-under 61 to lead the field before cooling off to tie for 34th at 9-under.
A month later, however, neither golfer would find himself playing in front of anyone except maybe a swing coach and a few buddies. The COVID-19 pandemic would shut down the PGA TOUR for 91 days, leading to the postponement of 15 tournaments—including the Masters, PGA Championship and U.S. Open—as well as the outright cancellation of the British Open, the Players (the "fifth major") and another 10 championships.
During that time, both golfers worked out at home and kept their games sharp. Hubbard frequented The Woodlands Country Club, where his longtime coach, the 2019 PGA of America Teacher of the Year Kevin Kirk, is based; Clark practiced and played mostly at TPC Scottsdale and Whisper Rock and worked with his instructor, Boyd Summerhays, at McDowell Mountain Golf Club.
Both focused primarily on their short games and putting.
"Your full swing doesn't change too much when you take time off," Clark says. "It's your chipping distances and your putting that need work."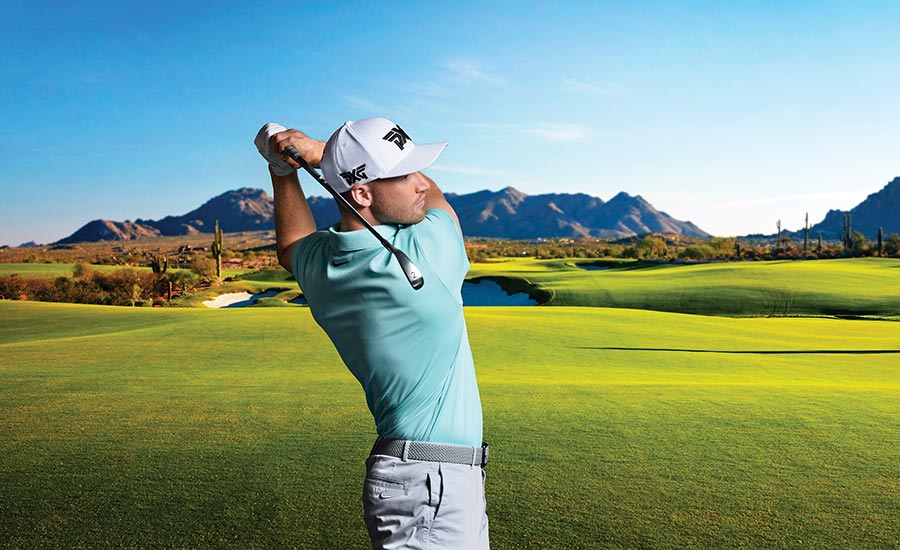 RETURN TO ACTION
Wyndham Clark and Mark Hubbard resumed their seasons June 11-14 at the Charles Schwab Challenge at Colonial Country Club in Fort Worth, an event Hubbard normally likes because "of the younger crowds. There are a lot of colleges nearby and a lot of energy. It's easy to feed off them—whether they're riding you or behind you. It's only the one guy yelling that's ever the problem."
But instead of being greeted by fans, there were only healthcare workers with spit cups and 6-inch cotton nasopharyngeal swabs. "Those swabs were brutal," Clark concedes. None of the 148 players or caddies in the field—a group larger in size than the gallery at the event—tested positive for COVID-19.
The only test considered positive came when they finally got to tee off against the stiffest competition they'd faced in months. "I was just so happy to be back in action," Hubbard admits. "A good part of living where I live is that I have decent guys to play with. I felt relatively ready. I worked on my putting the most. But not being able to compete for that long is tough. Even if you're not picking up putts, you realize golf for fun and tournament golf are two completely different sports. Making a three-foot putt for a beer is different than making it for hundreds of thousands of dollars, whether there are fans there or not."
At Colonial, which he concedes, "felt a little like a Korn Ferry event," Hubbard's putting and chipping served him well, compensating for some poor ball-striking. He scrambled well enough to find himself just five shots off the lead in 16th place at 8-under after three rounds. Sunday, however, brought a 4-over 74, dropping him to T43. "All in all, I'm pretty happy to see where my game is," the 30-year-old says.
"I was super pumped to be back— everyone was excited," enthuses Clark, who admits to having had first-tee jitters. Although his 1-over total after Round 2 left him two shots below the cut line, the 26-year-old said he felt sharper with every hole. Like Marl Hubbard, he said he felt "rusty off the tee … and some of my yardages weren't as accurate as usual."
For Clark, who generates greater ball speed and distance than Hubbard, the lack of fans proved problematic in ways Hubbard didn't experience. "For guys like me who are taking different lines, on certain holes you rely on fans to show you where that ball is," he said. "We did have an issue with finding golf balls in the Bermuda rough, particularly when they ricocheted off trees and the one spotter on the hole was on the opposite side of the fairway." The good news was he didn't lose any balls, "and our pace of play was really good."
Clark adds it was "weird" watching the grouping of Jon Rahm, Rory McIlroy and Brooks Koepka tee off in silence, as well as doing it himself. "I really do miss the fans," he says. "You hit a shot close, you can build a lot of momentum off their reaction. If you can get on the right side of that kind of momentum, you can scratch out a couple more birdies. One of the weirdest things, too, is you sometimes depend on the fan reaction to know the result of shot you hit. If there are no claps, it's 'oh crap.' On one of the par 5s at Colonial I almost made a double eagle and didn't know it 'til I got to the green."
Had he unknowingly jarred it, he wouldn't have been alone. On the 162-yard 13th, Sung Kang struck a brilliant 9-iron and had already grabbed his putter from his caddie when they reached the green and learned about his hole-in-one. Socially distant high fives followed on highlight reels around the world.
THE FUTURE
At press time, Mark Hubbard was making the most of his second go-round on the PGA TOUR. He ranked 36th in the FedExCup standings, and thanks to a runner-up finish in October's Houston Open, he has already won $1,412,840, which is almost $200,000 more than he totaled between 2014 and 2017.
As a rookie in 2018-2019, Clark finished 64th in the final FedExCup ranking and this season has earned $726,253, bringing his career earnings to $2,288,177.
As both players look for their first PGA TOUR victory, Mark Hubbard says he draws motivation from the prospect of competing in the FedExCup playoffs and in the PGA Championship at TPC Harding Park in San Francisco.
"I'm pretty close to qualifying," he says of the PGA. "It would be my first major, and it's not far from where I went to college at San Jose State and a lot of friends." However, it now appears none of them—or any other fans—will be allowed to attend.
What amps up Clark is "Jack's event," The Memorial at Muirfield Village, in which he has yet to compete as a professional (last year he was an alternate). After initially counted among the events at which no fans would be allowed, The Memorial (July 14-19) will be the first PGA TOUR event to welcome patrons under strict CDC protocols (including temperature- taking, mask-wearing, social distancing, cashless concessions, one-way corridors and controlled corrals).
"If I could choose to do it in front of a huge gallery, I would," he says of earning his first tour victory. "But it would be awesome, no matter what."
A win for either player during this condensed stretch of events would mean a November tee time in a Masters Tournament that will mark the end, rather than the beginning, of an upside-down golf season.
---
This article was also featured in the July 2020 issue of Colorado AvidGolfer.
Colorado AvidGolfer is the state's leading resource for golf and the lifestyle that surrounds it, publishing eight issues annually and proudly delivering daily content via coloradoavidgolfer.com.