Right now, a computer (and an ever-ready credit card) are as essential as the latest equipment for mini-tour golfers like Nick Mason, who see their future selves playing on the PGA TOUR.
AFTER A COLLEGIATE golf career that included being named to a pair of all-America teams and a runner-up finish in the NCAA tournament his senior year, Nick Mason's vision board of his future was pretty well laid out in his head. It included lots of photographs of him hoisting trophies—sure, a couple were from mini and feeder tours, but undoubtedly, there was a Wannamaker, maybe a Claret Jug sprinkled in as well.
More than a decade later, however, it's safe to say life hasn't turned out exactly like Mason hoped: not in 2005, 2010, or 2015—and most definitely not in 2020, when he anticipated a schedule populated with Monday qualifiers for Korn Ferry and PGA TOUR events (which, of course, were accompanied by the corresponding dreams of berths, and maybe a win or two, in big-money events on the latter circuit). Instead, those plans have been coronavirus-scrambled, leaving Mason clawing to find spots to tee it up in any given week. Early in the 2020 season, that meant competing on the Outlaw Tour, a minor-league circuit based mainly in Arizona, playing in events where a top-10 finish might barely cover travel expenses. Mason is by no means complaining; he has nothing but love for those who gave him a chance to compete during a time when golf was all but shut down during the pandemic.
It's just that, at age 36, Mason's at a point, athletically speaking, that should be lending itself to golden parachutes rather than entry-level positions.
"That tour is great; they do a great job," he says, "But it doesn't get you anywhere—it's not a stepping stone to another tour, or any World Golf Rankings or anything like that. Yeah, you can make a little money and keep your game tight, but for me at 36, that's not what I'm really looking to do.
"And especially with my game being good right now [In March, Mason shot a 60 during an Outlaw Tour round.]—you just want to play in bigger events…I'm making a living, but it doesn't get you anywhere in the long run."
That's one reason why Colorado holds a special place for Mason, a resident of Parker, as well as in the hearts of aspiring golfers everywhere. On July 23-26, Green Valley Ranch Golf Club hosts the CoBank Colorado Open, which may not put the winner on a direct path to the PGA TOUR, but its $100,000 first place check will definitely make the financial burdens of trying to get there a lot easier.
"Yeah, that kind of money will do something for your life for sure," Mason chuckles.
In the 2018 Open, Sam Saunders shot a final-round 12-under-par 60 to draw into a tie for first, but lost a subsequent playoff to Dru Love, son of golf icon Davis Love III. Last year, he was 10 shots worse in the final round, but still came away with $80,000 more than the year before, winning the championship.
Like Mason, Saunders' life hasn't gone exactly as he planned in the aftermath of that win. But he also says the GVR event is far more than another stop on the mini-tour merry-go-round.
"It has the biggest purse and the best field, so that's like the closest you can get to playing on the PGA TOUR from where [we're] at," says Saunders. "It's like one of the major championships of all the State Opens—it might not be the same as a PGA TOUR win, but it's the best we've got."
A victory this year might actually come pretty close to an elite victory. Chris DiMarco, runner-up to Tiger Woods in the 2015 Masters, a newly-minted resident of the state, is expected to play, as is Sahith Theegala. In his abbreviated 2020 senior year at Pepperdine, Theegala was the collegiate player of the year and became an All-American for the third time. He's expected to try to play his way onto the PGA TOUR later this season.
That was Mason's and Saunders' early-season plan for this year as well. Mason ended the 2019 season winning his last three tournaments, putting him in a good place, he says, for the season. In January, Saunders left his home in Albuquerque and went out to California to try and qualify for some early PGA TOUR events. While he was ultimately unsuccessful, he said he returned home thinking his game was coming around enough that he would be a factor in the spring when the season picked up.
Then the coronavirus hit. Saunders said he didn't touch a golf club for five weeks, but when the itch to play returned, he was stymied because New Mexico was one of the last states in the U.S. to reopen for golf. Eventually, he hopped into his car and drove to Phoenix, like Mason, hooking up with the Outlaw Tour.
That's the simplified version of the story. Life on the far, far outskirts of professional golf, according to Mason, is well, actually something akin to living as a desperado.
"You're scrambling; scrambling to make money, scrambling to play—I feel like I haven't sat still in three months, even though that's what everyone was supposed to be doing because of the virus," he says.
Part of the hustle is becoming an ambassador for the game in ways that even the guy on the lowest rungs of the PGA TOUR money list would never, ever dream of. Before he decides to play in an event, Mason says he often has to make a series of phone calls—like, to tournament directors, ensuring that the event will indeed go on as scheduled.
Then he reaches out to other players.
"You have to promote it," he says, "because the more players there are the better the purses. And then, you're looking at other events; you're talking to all of them, going, 'Tell me if this is a good event? Is the course any good?'"
"I don't think anyone that's played for as long as I have, especially for your only source of income, can say that they love golf, because the game is nasty and beats you to death."
LIVIN' THE DREAM
About 10 years ago or so, Mason decided he was through with that golf life; wearied from the nomadic, trunk-slamming existence of putting hundreds of miles on his car driving from one mini-tour event to the next, hoping to make the cut and earn enough to get him to the next week—all the while hoping against hope that when he arrived, the tournament would actually be taking place and not canceled unexpectedly.
And so, literally feeling spent—both financially and mentally—he decided to join an insurance firm with a starting annual salary of about $48,000. The figure wasn't a princely sum—at least not compared to the millions that he had at one time assumed he'd be chasing as a member of the PGA TOUR—but it represented a welcome, reliable paycheck.
After agreeing to the gig, all that was standing between Mason and his new corporate, 9-to-5 existence were two tournaments—a farewell to golf as it were. One more excursion: an event in Arizona, hop in the car and drive to Utah for the second—six rounds (hopefully), over-and-out.
But a funny thing happened on the way to the actuary tables—Mason won both events, pocketing about $35,000 in the process.
"I called up the guy who'd hired me, and he was a little upset when I told him that I thought I wanted to keep playing, because he had gone through hoops to get me the job," Mason said. "But as we talked, he eventually saw it; he said 'If you want to keep playing, go for it.'
"I haven't stopped since—and the funny thing is, he and I are good friends—he loves that I'm doing this."
So today, he presses on in his current position—President and CEO of Nick Mason Inc. While the "company" is fictitious, the effort Mason, Saunders and other golfers put in trying to climb golf's corporate ladder might put a "real" exec to shame. Mason's financials won't be found on the pages of Forbes Magazine, or on a spreadsheet monitored by a team of accountants—in fact, it largely exists solely on the monthly statement of a credit card that is dedicated to his golf expenses.
And, just like any titan of industry, Mason has to keep on top of what comes in and what's going out. But in his case, that often means trying to figure out how to make sure the check from an earlier event gets picked up in the mail and deposited into his bank account in order to cover the entry fees and travel for a future event—all while he's out on the road, ostensibly playing well enough in some far-flung locale to make that week's cut.
No, direct deposit usually isn't an option.
"And the thing about that is, you really need that money," Mason says. "People don't know that you have to sign up for Monday qualifiers and stuff like that way in advance— so that's like $450 out the door, way before the tournament is played.
"That's the problem a lot of guys run into; you have to put it out there in front of you, but you won't see a return on it for awhile—like, I signed up for the Colorado Open nine months in advance."
Mason figures he spends about $60,000 a year on golf, often maxing out that credit card on travel, entry fees and food—"everything that has to do with my professional golf." A recent devotee to exercise, he credits training at Viking Power Fitness in Denver with the uptick in his play, even at his relatively advanced age.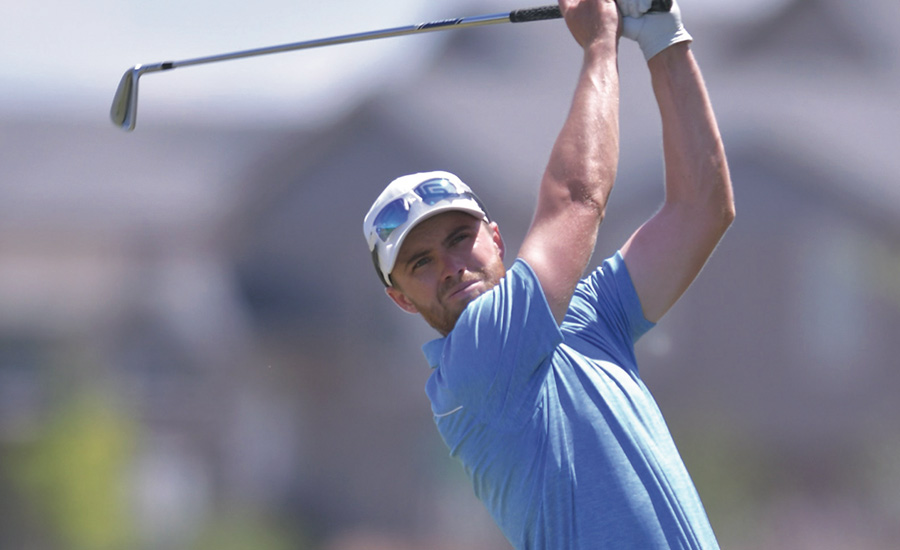 "It's been a game-changer. It's expensive, but it's been incredible for me…it's the one thing I don't have a problem spending money on; I'll go without that new pair of shoes or clothes—I'll cut costs anywhere else to be able to afford that."
Given his outgo, Mason figures his input has to be almost twice as high in order to stay solvent.
"Brass tacks, you really need to be in the mid-$100,000s," says Mason, who—did we forget to mention—missed most of the last three years battling injuries, which meant his income was basically next to nothing. "With that you can make a decent living and live comfortably—but that's having a really great year; I mean, winning three or four times and never finishing outside the top-10—that's hard to do."
A NASTY GAME
It's at this point, given all the hard knocks, injuries and financial issues—let alone the missed cuts and wayward shots that accompany any given tournament—that you might be tempted to wax poetic about Nick Mason's obvious love of golf.
That would be a mistake. Did Glenn Close love Michael Douglas when she boiled the rabbit in Fatal Attraction? No, at this point, it's not passion for the game that drives Mason as much as his refusal to be denied.
"I wish that were true, but no, I don't love golf," he says. "I guess I would say I like the game, but the way I look at it is, if I can't go out and play by myself and enjoy it, then no, I don't love it. I don't think anyone that's played for as long as I have, especially for your only source of income, can say that they love golf, because the game is nasty and beats you to death. And so, you could you try and love it, but it's just it's so cruel to you that you're just like, 'It's so hard…'
"My mom will get mad at me for saying this, but I can't go out and play golf without there being money on the line; there has to be some wager on it, I have to be gambling at all times, I have to be competing…. So I can't really tell you that I love golf; I absolutely love tournament golf, to compete and to beat buddies and all that stuff—I absolutely am addicted to it. But the actual game? No, I don't love it."
Perhaps Nick Mason comes by his obstinacy naturally. His father, Ray, took his family around the world, part and parcel of the life of an Army General. (It's only a slight exaggeration to say there have been entire months in Nick Mason's career where the ratings of the dives he stayed in during tournaments didn't match the three stars on his Dad's uniform).
"Yeah, he decided to go a different way," Ray Mason says with a laugh. "But my dad really didn't make me take his path—he guided me but said, 'Look you make your own choice'—that's what I tried to do with Nick.
"I mean, we knew what a tough go it was; Nick and I and my wife talked it through with him and he wanted to pursue it … he's had some real ups and some real downs … I mean it was a roller coaster ride— it continues to be a bit of a roller coaster ride obviously. But I admire his stamina and perseverance—I don't know if I would have that same perseverance."
But Dad also acknowledges that he's partly to blame. When Nick was in high school, living in Virginia, in the shadow of the Pentagon in nearby Washington, D.C., the idea was that he would become the next Brooks Robinson, not Brooks Koepka.
"That's where I thought he'd end up— he was pretty good at baseball," Ray says. "He played golf his junior year, but it wasn't anything serious."
That changed before his senior year, when Ray was transferred to Hawaii, and what was just a passing fancy for his son became something of an obsession.
"The place where we lived was on a golf course; and I didn't have any friends or anything," Nick says. "My mom said I took my clubs outside one day and just never came back; it was what I did every day before school, and after school, even during school—I mean that's all I did."
Mason says he improved by 10 strokes within that first year, his scores plummeting from the upper-70s into the low 60s; eventually he set the state high school scoring record. His game continued to evolve collegiately at Hawaii-Hilo, to the point where the decision to turn pro, even with the inherent challenges, made sense. And while the path he laid out for himself almost a decade and a half ago hasn't played out exactly like he envisioned, he's still not selling insurance either.
Neither is Sam Saunders. At one time he considered joining his father in running a golf store in New Mexico, but who wants a normal life when, with a couple of successful weeks, the PGA TOUR could come calling?
At 28, Saunders is eight years younger than Nick Mason. Ask him if he'd still be scrambling to find a place in the game eight years from now, like his mini-tour counterpart, and he doesn't hesitate.
"Honestly, I'll do this until I die," he says.