V1 launches new improved app with multiple upgrades, new Knit designed to enhance walking 18 while helping those affected by MS
By Tony Dear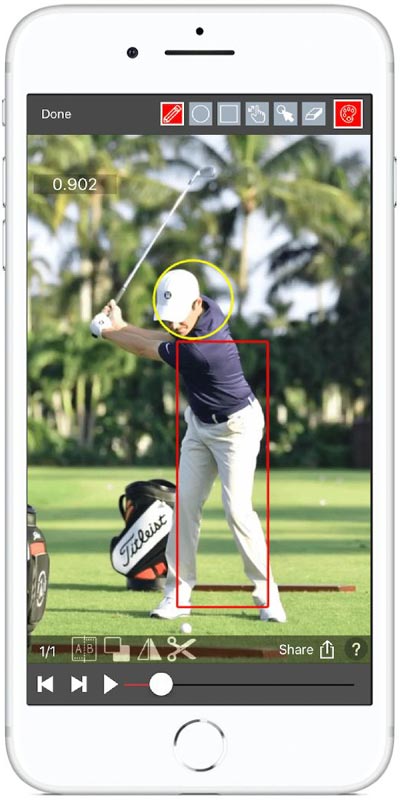 Receiving bespoke swing analysis on your personal device has definitely become a thing in recent years, but did you know the first mobile instruction app to reach one million downloads was the V1 Golf App, launched in 2009? We didn't either.
V1 Sports was founded in Novi, MI (30 miles northwest of Detroit) in 1995 and provided video swing analysis, developed in partnership with Jack Nicklaus, called the 'Jack Nicklaus Coaching Studio'. This begot V1 Professional software which delivered the first ever online video lesson. That software is called V1 Pro HD these days and the mobile app, which just saw a significant upgrade with the launch of the V1 Golf 2.3 app, is known as V1 Pro.
The new system enables V1's network of 8,000 PGA professionals (including Butch Harmon, David Leadbetter, Mike Bender, Martin Hall, Mike Schy, Todd Anderson, Randy Smith, Dave Pelz, Dr. Jim Suttie, Dave Phillips, and Scott Hamilton) to capture students' swings and provide voice-over video lessons. To date, well over 3.5m lessons have been given using the app, including 30,000 last month according to Bryan Finnerty, CEO of V1 Sports.
"We've been developing V1 technology which is not only the easiest to use, but also the most effective, for over 20 years," says Finnerty. "This new update is another step on our continuing journey to simplify and expedite the learning process."
The updated version features new screen layouts supporting the iPhone X/XR/XS super retina display, upgraded analyzer tools, video filters, improved modes when comparing two different swings, enhanced video analysis, and downloads from the cloud. There's a lot more besides, including access to one of the largest tour swing libraries available online.
Free
v1sports.com (go to 'Students' then V1 GOLF APP)
TRUE Linkswear introduced its first knit shoe last summer, and it quickly became the ten-year-old company's best-seller. Adhering to its philosophy of enjoying the walk, the Knit was a ridiculously comfortable shoe that featured a water-repelling tri-blend knit upper, and a Cross-life gum rubber tread that provided plenty of grip. Unlike TRUE's first models whose soles were completely flat and designed with no heel-lift, the Knit's heel was raised 4-6mm to form what was called a 'transitional drop'.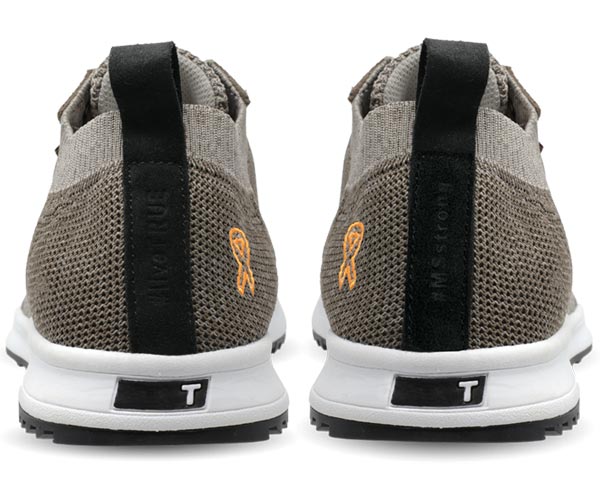 Given its high comfort and style marks, it's no surprise the Knit was so popular with both golfers and non-golfers, and it continues to sell well according to the company's VP of Marketing, Brandon Wallach. "It's our most versatile shoe," he says, "suitable for use on and off the golf course. A lot of people wear it even though they may not play golf."
Which is why TRUE Linkswear has chosen the Knit to help it raise awareness of Multiple Sclerosis, a disease that now affects someone involved closely with the company. "We decided to back the MS Society after a TRUE family member was diagnosed with progressive MS," says Wallach. "As a company, our mission is to enjoy the walk, and we've seen first-hand how MS takes away one's ability to do so. It was a natural fit for us because it's a disease that directly goes against our mission statement."
TRUE approached the MS Society in late 2018. In addition to raising funds, Wallack says promoting awareness was a huge piece of why the company chose to get involved. "Not a lot of people are aware of the severity of MS," says Wallach. "We felt like we have a platform to educate and engage."
The result of the partnership is the TRUE Linkswear #MSstrong Knit which is the same shoe as the original but available only in 'warm grey' with the MS Society's orange ribbon embroidered in the back.
For each pair sold, TRUE will donate $30 to the MS Society, and if you pre-order today (3/20/19) TRUE Advisory Board Member Ryan Moore will match all donations.

$130
Shipping begins April 1st
truelinkswear.com
---
Colorado AvidGolfer Magazine is the state's leading resource for golf and the lifestyle that surrounds it, publishing eight issues annually and proudly delivering daily content via coloradoavidgolfer.com.