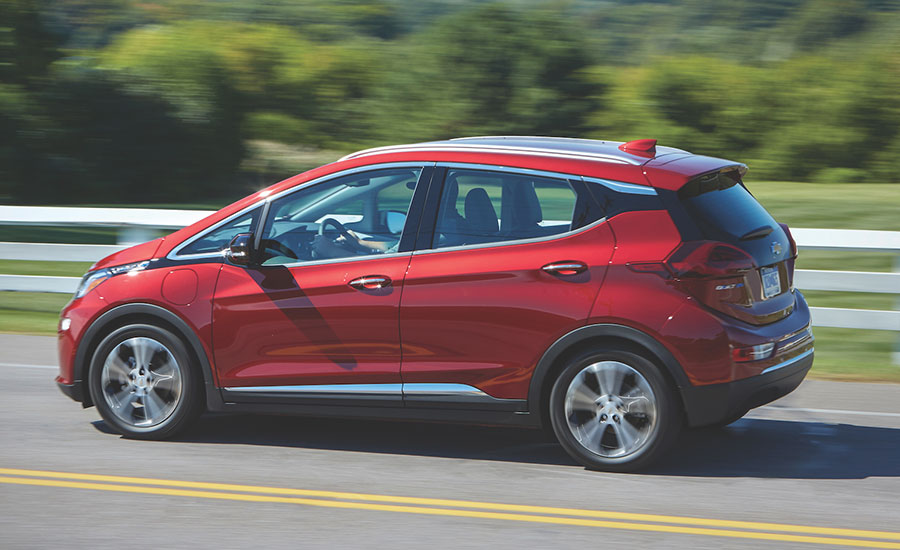 Trucks and SUVs used to mean gas-guzzling monstrosities. No more.
AMERICANS LOVE THEIR trucks and SUVs. Almost nobody seems to want a four door sedan. Fuel is cheap. And, Tesla has an electric vehicle (EV) market share of over 95 percent. Within the landscape laid out by these facts, there are still many great alternatives to obvious choices. Following are some for those who want cargo capacity and unlimited range, and for those who want performance and economy, along with the dynamic benefits of a lower silhouette vehicle like a sports sedan.
2020 CHEVROLET BOLT
EPA ratings: 118MPGe 0-60mph: 6.3sec
Price as tested: $43,735
Chevrolet is the unsung hero of EV cars. Languishing in the long shadow cast by Tesla, they continuously engineer incredibly reliable plugins like the Volt and the pure-EV Bolt, whose affordable, under $40,000 price and 259 mile range are basically unmatched. The Chevy leaps off the line and has strong acceleration at any sane speed. It is fun to drive, with accurate steering, decent body control and a generally smooth ride—albeit one more like a crossover, due to the Bolt's tall, upright architecture. Its interior is funky in design and color and well assembled, but many of the materials feel like they belong in an entry-level car. It's got most of the room of a crossover as well, but only comes in front wheel drive. For urban use the Bolt is almost unparalleled. Its turning circle is small, its dimensions tidy and its tall seating position and cab-forward stance gives excellent visibility. The Bolt's electronics and driver aids are fully competitive and it can do most everything the much better selling Tesla Model Y does at a significant savings. As long as one doesn't need AWD, it is a very compelling EV.

2020 HYUNDAI SONATA HYBRID
EPA ratings: 45/51/47mpg 0-60mph: 6.8sec (est) Price as tested: $36,430
An all new structure, radical styling and a high quality interior define the new 2020 Sonata. Hyundai hopes this will help return this midsize sedan to the market share it enjoyed two generations ago. The Sonata stands apart visually from anything in the segment and top models, like the test Hybrid Limited, have a stunningly nice cockpit, chock full of all the mod cons people go for and beautifully crafted. The 192hp gasoline-electric powertrain with the Sonata is smoother operating than before, with slicker shifts and more organic regeneration mode under braking. The Sonata also averages over 50mpg, quite astonishing for something so roomy. About the only noticeable demerit with the Sonata is stiff ride quality. If you desire all the attributes of a four door architecture but want to sip gasoline, the Hyundai Sonata is a great way to go.

2020 VOLVO S60 T8
EPA ratings: 69MPGe 0-60mph: 4.7sec
Price as tested: $64,190
That once staid Volvo now makes cars that are visually more alluring and cohesive than many other luxury brands is very cool. Their interiors are usually more daring, design-wise, and often more comfortable as well. Where they have lagged is powertrain refinement and performance. All are motivated by some versions of a 2-liter, turbocharged engine. A T5 badge means about 250hp; T6 adds a supercharger and roughly 50-60 ponies. However, both suffers from flat spots and surges throughout the rev band, and they can return some truly awful real-world fuel economy numbers, especially in urban areas. The 400hp, T8 plugin hybrid fixes all of this. Its 11.6kWh battery (housed where the driveshaft to the rear wheels would normally go) and electric rear motor grant it effortless, linear thrust at all speeds, and its aircraft carrier catapult-like launches are incredibly addictive. Fuel economy is in the mid-30s and the S60 T8 has the ability to go 22 miles on electricity. This combinations of talents makes the Volvo the most compelling midsize sporty sedan tested this past year.

2020 RAM 1500 ECODIESEL
EPA ratings: 21/29/24mpg 0-60mph: 8.1sec
Price as tested: $70,880
The stellar, award-winning Ram is now available with a 3-liter, V6 turbodiesel engine. Its 260hp and a stout 480lb-ft of torque mean it handily towed my 6,200 pound trailer up the long, steep grade to Genesee, only once briefly falling below 60mph. My average while towing this load was 14.7mpg, which is almost 50 percent better than any other diesel or gasoline truck I have ever used. My own Chevy 2500 Duramax routinely returned 9-10mpg, and new HD gasoline trucks I've tested from the Detroit3 were even worse, at roughly 8-9mpg. Unladen, the Ram got over 20mpg at very high average speeds, and mid-to-high 20s at lower velocities. It was also quiet and refined enough not to undermine the Ram's incredible polish. Both GM and Ford offer similar engines but the trucks they power are well behind the standard set by the Ram 1500.

2020 MERCEDES-BENZ SPRINTER 2500 PASSENGER VAN*
EPA Ratings: Not Rated 0-60mph: 11.0sec (est)
Price as tested: $61,333 *Test vehicle was 2019 model
The Mercedes Sprinter van has become so successful in the States that it's a wait of 12 to 18 months to get one. Time spent with the latest generation shows why. And, until recently it was the only full-size van equipped with factory all wheel drive, too. There are over 30 Sprinter variants available and the V6 diesel in our tester pulls it up any pass with commendable verve, thanks to its 325lb-ft of torque. While it can tow up to 5,000 pounds, that's best reserved for flatter stretches of highway. Aside from a moderate susceptibility to road roar, it is generally Mercedes quiet, which is astonishing when you realize how much air a high roof variant is moving out of the way at speed. The front seats are very supportive and have multiple adjustments, though their basic vinyl covering means that once you start out sweaty, you'll jump down from the almost Kenworth-high seating position with a damp backside. The instruments and controls are most all Mercedes standard, though made of cheaper materials. Ride quality is actually surprisingly good, as is steering precision and body control. Of course you don't drive the Sprinter like any old car, but that is part of the appeal, as you're set atop the front wheels and stare out at the unfolding scenery through what seems the world's largest windshield as if it's a movie shot in Vista-Vision. Adding to one's confidence is an available suite of driver aids and assist systems for parking and driving that is unmatched in the industry.
Behind you—depending on wheelbase, chassis spec and roof height of course—will be a flat-floored box that you can walk upright in. A giant sliding door allows access to nature or for people and cargo, though surprisingly, the rear doors hinges don't allow them to fold back on the Sprinter's flanks, like some competitors. The number and placement of windows is up to you, and can grant privacy or access to topography like almost nothing else. What goes inside, from rows of seats for 12 to 15 passengers, to beds, bathrooms and kitchens, is of course up to the owner. Payload ranges from just over 3600lbs in the 2500 model to over 6200lbs for the 4500, spread over up to 523 square feet if room. Quality in these newer Sprinters seems much more even than the earlier machines, rebuilt from what is known as "knockdown" kits to avoid very high import taxes. Peace of mind comes from a 5-year, 100,000 powertrain warranty, though bumper-to-bumper coverage is only 3/36. Turning a Sprinter into an RV is done by outside firms, and most anything is possible. In this Corona-fueled age, the concept of getting away from it all, and the "glamping" possibilities the Sprinter opens up, what with its large ground clearance, AWD and mile-crunching ability, is very desirable.
---
This article was also featured in the Fall issue of Colorado AvidGolfer.
Colorado AvidGolfer is the state's leading resource for golf and the lifestyle that surrounds it, publishing eight issues annually and proudly delivering daily content via coloradoavidgolfer.com.