By Isaac Bouchard
For model year 2020, Ford has updated their Super Duty trucks. Styling for the front has been tweaked and varies more from model to model, and there are new driver assist features. Power, torque and tow ratings are greater as well. While these improve on a solid foundation, the competition has introduced all new rigs over the past 24 months, and this leaves the Ford feeling left behind in some areas. The test vehicle was powered by the optional, new 7.3-liter, gasoline V8, known as "Godzilla". This is a terrific engine to drive behind, with its 430hp and stout 475lb-ft of torque meaning many won't necessarily need to go the diesel route and spend an extra $8,000. It returns Ford to pushrod activation—like Ram and GM—which should bolster reliability. Hooked to the corporate 10-speed, heavy duty automatic, the gear spread means it is strong off the line, relaxed at a cruise and has enough intermediate gears to handle heavy loads and mountain passes. Its observed fuel economy is in the same range as the new gasoline HD engines from GM and Ram: 9-11mpg with roughly 6,000-pounds behind it, and low-to-mid teens unladen. This matches very closely with the diesels; which is very impressive. Since GM only offers a 6-speed with its 6.6L gas engine (and Ram 8 with its 6.4L) Ford has a real advantage here. And, while not tested yet, one must acknowledge that the updated diesel engine has some class-leading ratings for torque, payload and towing.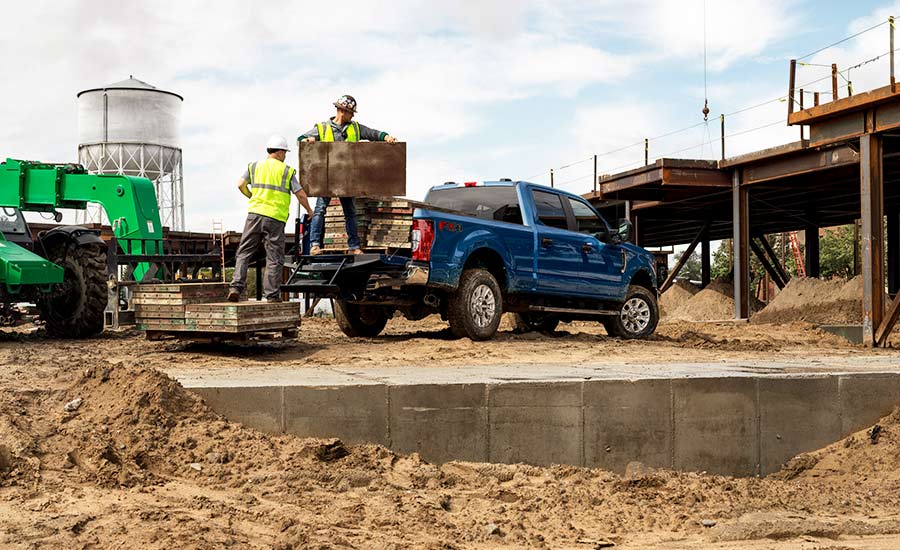 However, the F-250 feels its age in other areas. The frame seems flaccid compared to the ones in competitors, with some shivers working their way into the cab and shimmies over big bumps. The Ford's steering accuracy isn't on par with the Ram HD, and can't hold a candle to the superb helm in the Chevy and GMC. The interior is another area where Ford could make some more improvements. While the standard 8-inch infotainment screen is bigger than the tiny ones in basic versions of the competition, and Sync3 is a decent software suite, material quality feels a step or three behind the Ram's and certainly isn't good enough for the price point. Nits are the transmission tunnel hump that keeps the rear seat area's floor from being flat. Ways in which the F-250 beats the others are that it offers a power tilt/telescope steering column that ties into the memory function for seat, mirrors and pedals, massaging seats on top trim levels and the intuitive Pro Trailer Backup Assist system that allows neophytes to back a trailer up like a veteran hauler. One can also spec adaptive cruise, lane assist and blind spot monitors that auto-adjust to whatever trailer one is pulling. There's no doubt Ford will continue to sell record numbers of the Super Duty, and it is a decent rig. The addition of the new 7.3-liter engine is welcome, but one could wish they had moved the needle farther in this ultracompetitive class.  
EPA Ratings: N.A. 
0-60mph: 7.5sec (est) 
Price as tested: $66,249 
Here is what has to say. 
2.5 Stars 
Automotive Editor Isaac Bouchard owns Denver-based Bespoke Autos ([email protected]; 303-475-1462). Read his latest address on how COVID-19 is affecting the automotive industry: Click Here
---
For more auto reviews, visit our LIFESTYLE PAGE.
Colorado AvidGolfer Magazine is the state's leading resource for golf and the lifestyle that surrounds it, publishing eight issues annually and proudly delivering daily content via coloradoavidgolfer.com.