2022 Vehicle Roundup – Toyota and Lexus
By Isaac Bouchard
Toyota—and Lexus—make most of their profits off of trucks and SUVs. That isn't limited to them, of course; the entire industry loves these machines. These rigs don't cost a lot more to make, but sell for thousands—often tens of thousands—of dollars more than comparable sedans.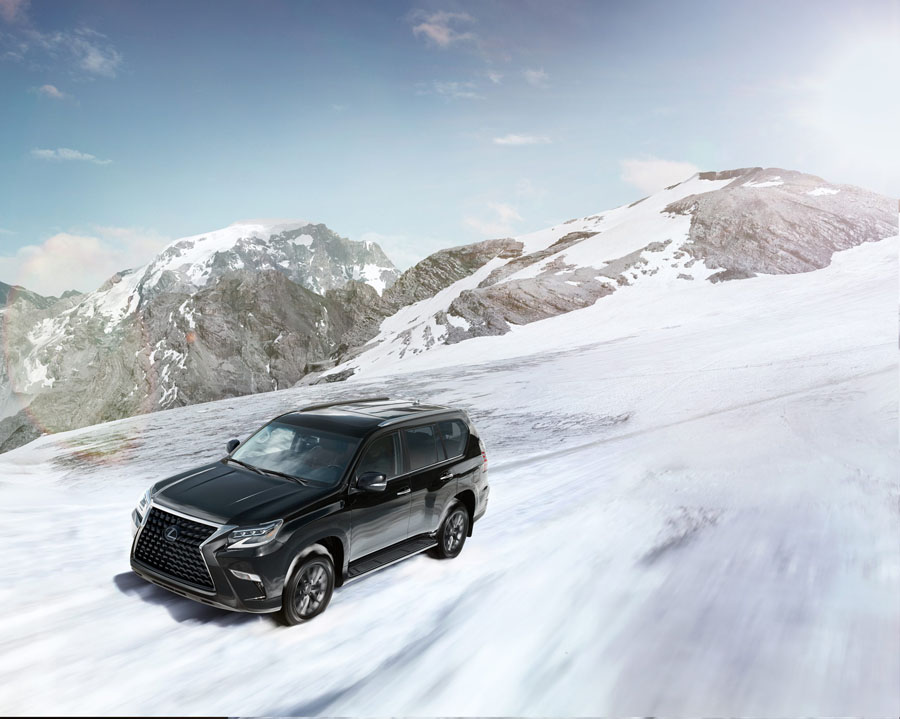 Toyota is in the process of updating or replacing almost all its core rigs; the Tundra fullsize pickup and Sequoia fullsize SUV were just redone for the first time since 2007, and the Tacoma pickup and 4Runner SUV will soon share the same TNGA-F chassis. Lexus' GX460 is built on the current "Prado" architecture of the 4Runner and Taco, yet it too will switch over to TNGA-F at some point. What are the pros and cons for purchasers in what the Japanese giant is doing? For context, you can read about the Tundra TRD Pro, which first used TNGA-F, here. As for the brilliant but aged 4Runner, we discuss its place in the firmament here.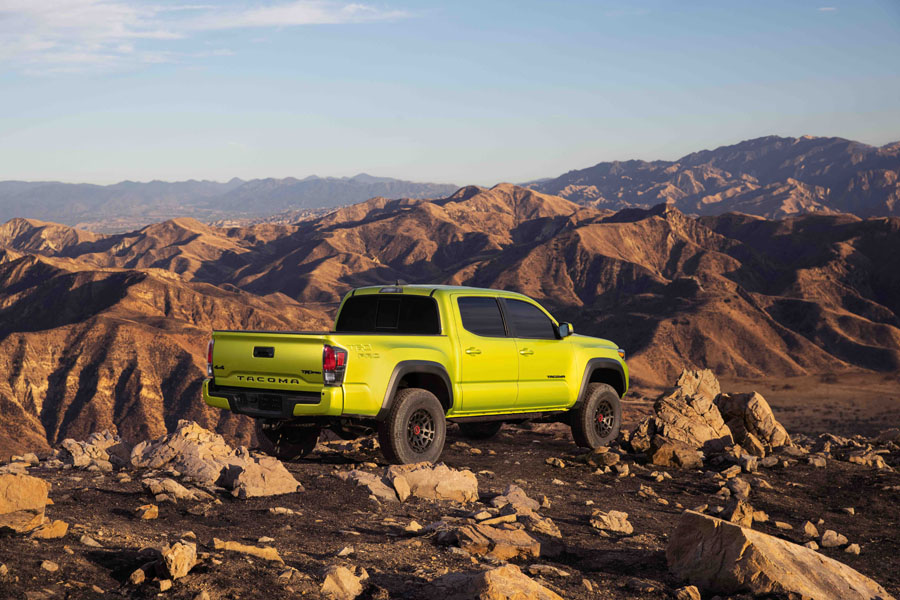 Let's start with the Lexus; the test vehicle is a top-of-the-line Black Line Special Edition, one of only 3,000 to be built. Power comes from an ultra-refined 4.6-liter V8; its 301 horses aren't that much more than what the V6 in the 4Runner makes, and its 0-60 of 7.2 is only a few tenths faster. But the Lexus is so much smoother, and doesn't have the tight, strained feel of the Toyota engine, that there is no comparison from the perspective of driver and passengers. If the 4Runner had offered this engine as an option (like the N210 series) it would've been an even more appealing vehicle.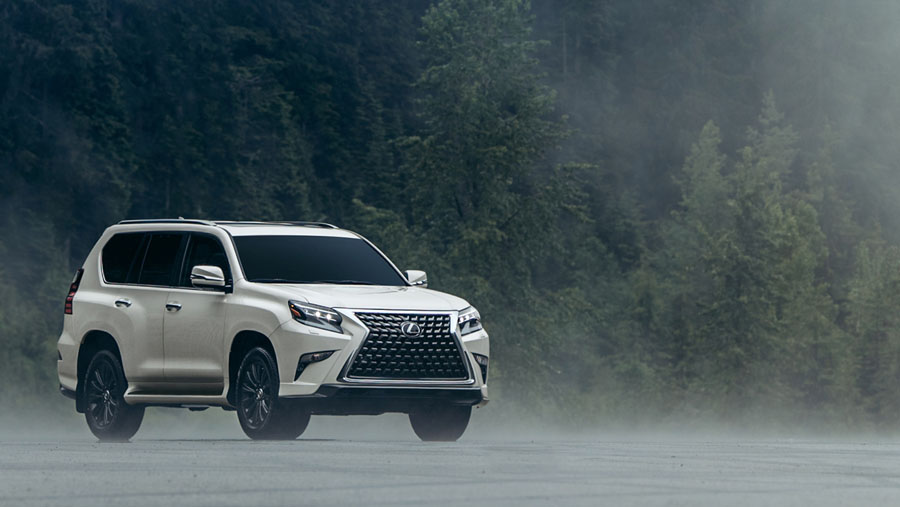 The GX460 has a much nicer interior than the Toyota, in terms of material quality, which is to be expected. The Lexus' more upright form grants it more headroom too, especially useful for those in the fold-flat third row. Its swing open door is appreciated by some of us, but others are turned off by it. What all can agree on is that the 4Runner's power rear window, that retracts into the tailgate, is a great feature that the Lexus doesn't share. The GX460's interfaces are a mishmash of haphazardly spread-out controls, some behind the shifter on the center console, some at the top of the upright center stack. Lexus moved the rarely-used four wheel drive controls to where the volume and tuning knobs, which emphasizes its off-pavement acumen but is otherwise a frustration. 8.1 inches of ground clearance, low range, and optional Off-Road Package make it a great choice for those who overland but want a luxurious ride the rest of the time.
The rest of the GX460 experience is generally very refined, if old-school. The steering has decent feel, most body motions are slow and deliberate, and the ride quality is generally good, though the age of the chassis shows up when certain pavement blemishes are encountered. A TNGA-F-based GX will certainly dump the refined V8 for the more powerful twin-turbo V6 that is the sole engine it offers, perhaps in hybrid form too. While not as sonorous, it will hustle much faster at our altitude. Other than that, there will certainly be a newer infotainment system with bigger screen and bolder graphics. Dynamically, the various Sequoias and Tundras that have debuted don't have the combination of good ride and tidy handling that distinguish European and domestic SUVs, but one can hope Lexus will have time to sort those. Meanwhile, the current GX460 reminds why the Prado-based rigs are so respected: bulletproof reliability, refinement, and true prowess on the trail and in the dirt mean it will always be loved and respected.
The Tacoma is next up for TNGA-F treatment and probably needs it the most. The current generation, which debuted in 2016, feels antiquated; its cabin is tight, not very high in quality feel, and its 3.5-liter V6 feels overwhelmed by what it has to haul around. It isn't quick, it feels unrefined and gets poor real-world fuel economy. The current Tacoma also makes a poor bet if you want to tow any type of heavier load. All that said, it is stone-axe reliable and needs very low maintenance. It's the midsize pickup truck class best-seller and has unrivaled resale value.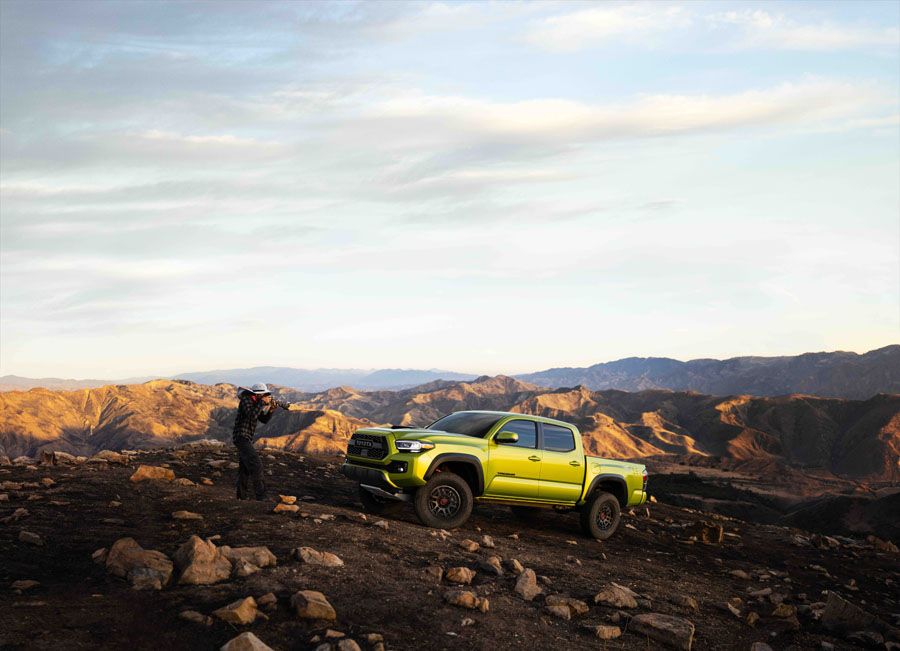 The TRD Pro version is its best expression; the more sophisticated dampers it runs contain many of the uncouth body motions of lesser models, and its compact width and stout underpinnings mean it will go anywhere. It looks great too; hopefully whatever follows the current iteration will have better proportions than the new Tundra, which is blocky and too big for its available wheel/tire combos. That fullsize truck also has a cheap interior, so there's not much hope for improvement there, but its available electronics are a generation newer than those in the Taco. It also has coils instead of rear leaf springs, so it will—in theory—ride better.
The biggest improvement will be the Tacoma powertrain; adding turbos and more gear ratios will make it a much better bet here in air-deprived Colorado. The current model's main competitors are all turbocharged and it would be great to see Toyota keep pace. Meanwhile, we can celebrate just how competent the current rig has become in TRD form; new springs give it one more inch of ride height, those Fox internal-bypass dampers are superb, and the stout front skid plate means you can really hammer it. That Pros sell for well over sticker—and hold insane resale value—make it hard to argue against; if the TNGA-F keeps those qualities while adding power and refinement, it will be win-win.
Lexus GX460               Tacoma TRD Pro
EPA Ratings:                                       15/19/16mpg              18/22/20mpg
0-60mph:                                              7.2sec                            7.7sec
Price as tested:                                   $62,460                        $50,733
Rating                                                      3.5 Stars                       3 Stars
Here is what they have to say.      Lexus                            Toyota
Automotive Editor Isaac Bouchard owns Denver-based Bespoke Autos ([email protected]; 303-475-1462). Read more of his automotive writing, reviews and recommendations on coloradoavidgolfer.com and bespokeautos.com.
---
Colorado AvidGolfer Magazine is the state's leading resource for golf and the lifestyle that surrounds it, publishing eight issues annually and proudly delivering daily content via coloradoavidgolfer.com.