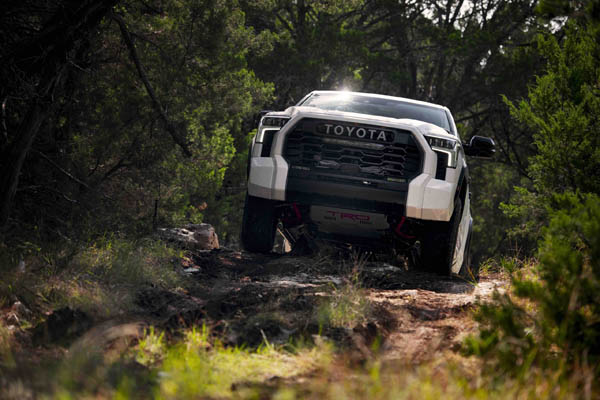 Go Off-road in the all-new and improved Toyota Tundra TRD Pro
By Issac Bouchard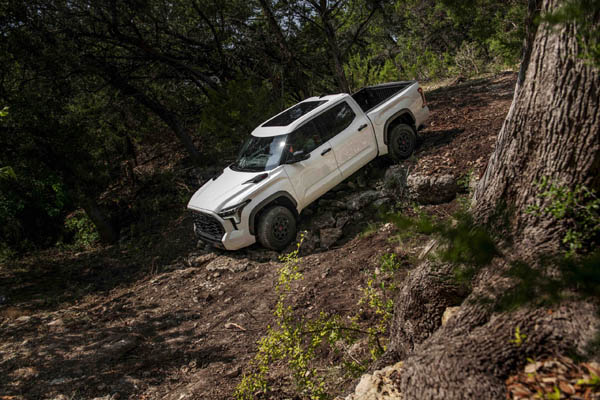 The all-new Tundra improves in many ways over its antiquated predecessor, which had been in production since 2006. Its steering is direct and accurate, its coil-sprung rear suspension means it rides most surfaces really well—at least as a TRD Pro model, which has more expensive and sophisticated dampers—and it is quiet and refined. It is also very powerful; gone is the sonorous, 5.7-liter V8, replaced by a 389hp twin-turbo V6 of 3.5-liter capacity. The test vehicle was the hybridized version, with an electric motor that spins out 48 horses and 184 pound-feet of torque. The Tundra gets to 60mph in 5.9 seconds, which is quick, though one imagines it would be faster yet if it wasn't the heaviest of half ton pickups. The hybrid does little to nothing for fuel economy; highway runs returned results of 13.5-16.5mpg, and in-town use dropped it lower still.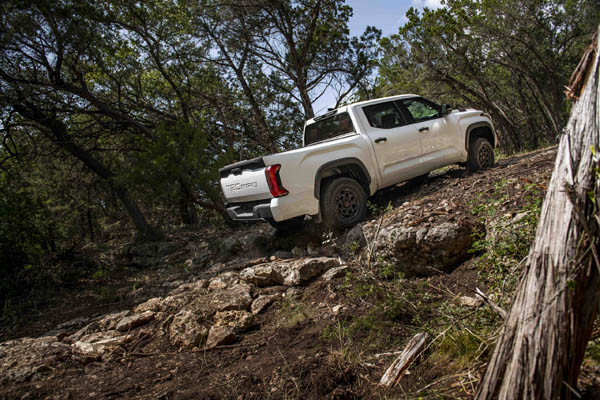 That Toyota used a large nickel-metal hydride battery means there is no space under the Tundra's rear seat, greatly reducing the usefulness of the cab for hauling stuff. The seats themselves are comfortable, and while leather isn't an option, the synthetic covering has a cool, camouflage-style pattern, which is also repeated in the plastic cladding that surrounds the wheel wells and bumpers. The rest of the interior is comprised of bold, chunky shapes, big buttons and a huge 14-inch touchscreen. Material quality is decent but doesn't appear to be up to the level of a Ram or new GM truck. The interface isn't as logical as theirs' either, but future software updates might solve that. Driver aids like adaptive cruise work fine but are more intrusive on the driver and less responsive than domestic trucks offer.
For those in Colorado, one continuing annoyance is that there is no AWD setting. It is either rear drive only, or fulltime four-wheel drive, which means the front wheels will skitter across the pavement in tight turns on dryer pavement, since the center diff remains locked. Toyota says its customers didn't want this feature; what they fail to realize is they lose customers who do want it to competitors.  But that "good enough" thinking seems to permeate the entire development of the Tundra. In almost no way does it move the needle compared to its competition. It doesn't ride, handle, steer as well; nor does it have powertrain options to match them, and its tech is out of date already. But Toyota knows they'll sell every single one they can make in this market, and that a certain set of buyers will focus on the company's legendary reliability and the Tundra's strong resale value. Hopefully the huge profits this truck will create will be reinvested into more bold and desirable vehicles.
EPA Ratings: 18/20/19mpg
0-60mph: 5.9sec
Price as tested: $69,185
Here is what Toyota has to say.
3 Stars
Automotive Editor Isaac Bouchard owns Denver-based Bespoke Autos ([email protected]; 303-475-1462). Read more of his automotive writing, reviews and recommendations on coloradoavidgolfer.com and bespokeautos.com.
---
Colorado AvidGolfer Magazine is the state's leading resource for golf and the lifestyle that surrounds it, publishing eight issues annually and proudly delivering daily content via coloradoavidgolfer.com.