Hip Expressions of The 4Runner and RAV4
By Issac Bouchard
The 4Runner and RAV4 represent the breadth of Toyota's SUV reach, and these TRD versions are their hippest expressions. In the USA, the RAV4 is the company's best seller, and the 4Runner, despite being basically the same rig since 2009, comes in at number three for sales in Colorado. Both illustrate how adroit Toyota has been at creating vehicles that send the right signals to buyers and the public at large.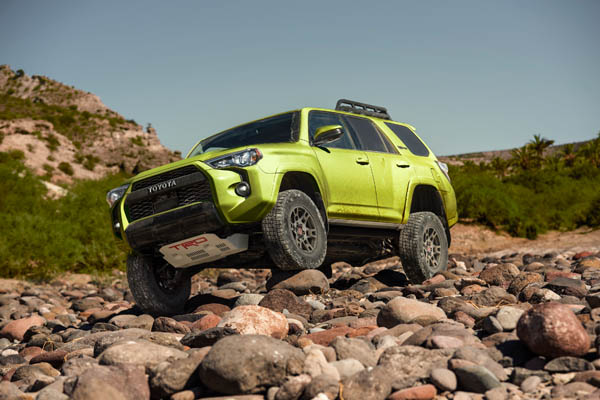 The 4Runner TRD Pro's ride and handling are improved by the use of more expensive, Fox-branded dampers; it dispatches the area's poor roads with a polish that eludes the antiquated suspension design of other models in the lineup. Likewise, the RAV4's softer springs, revised damping and new bump stops mean it rides the potholes, sunken manhole covers, transverse ridges and broken pavement of the Front Range better than others trim levels. However, the Off-Road doesn't handle as snappily nor brake as quickly as more road-focused RAV4s, due to its all-terrain Falken Wildpeak A/T Trail 01A tires. But it certainly looks badass, with its black and red trim, knobby rubber and raised ground clearance.
These two share the same weaknesses, as well as many strengths, in that their powertrains are not class-competitive. The 4Runner's ancient, 270hp 4-liter V6 always feels strained and unhappy when called upon for rapid acceleration, and its 5-speed automatic is several gears short of enough ratios for both sprightly performance and good fuel economy. A 0-60mph time of 7.7-seconds doesn't sound bad unless you're onboard the 4Runner. In which case all of the vehicle's otherwise excellent refinement gets overwhelmed by the unrefined engine's roaring machinations. The RAV4's 203hp four-cylinder isn't a bastion of decorum either, moaning and groaning its way to 60 in a mediocre 8.4 seconds. At lease the RAV4 can turn some decent fuel economy numbers. Speaking of which, a hybrid version of the TRD Off-Road would address most of its weaknesses, being faster, more frugal and more refined.
If one could find a 4Runner TRD Pro at sticker price, it would stand as one of the savviest buys there is, since they hold their value exceptionally well, often selling used, years later, for over their as-new MSRP. But with dealers routinely getting $10,000 or more in markup, the Off-Road Premium version, enhanced with a set of good aftermarket dampers from Bilstein, Fox or another top aftermarket company, might be considered the better move. The RAV4 TRD Off-Road, while competent and charismatic, doesn't improve on the Adventure model's 8.6 inches of ground clearance nor dirt-plugging abilities to a meaningful enough degree to offset the almost $4,000 increase in price, but such is the cache of the TRD name that most will find it worth the increase, just in perceived toughness. Regardless, both are Toyota-reliable and class-competitive in roominess and safety tech. Each has a simple to use infotainment system, making them practical, pragmatic choices, as well as ones that tell the world that their owner is an adventurous soul.
                                                4Runner                      RAV4
EPA Ratings:                      18/22/20mpg              28/32/28mpg
0-60mph:                             7.7sec                            8.4sec
Price as tested:                  $50,733                        40,460
Rating                                     4 Stars                          4 Stars
Here's what Toyota says about the 4Runner and RAV4
Automotive Editor Isaac Bouchard owns Denver-based Bespoke Autos ([email protected]; 303-475-1462). Read more of his automotive writing, reviews and recommendations on coloradoavidgolfer.com and bespokeautos.com.
---
Colorado AvidGolfer Magazine is the state's leading resource for golf and the lifestyle that surrounds it, publishing eight issues annually and proudly delivering daily content via coloradoavidgolfer.com.