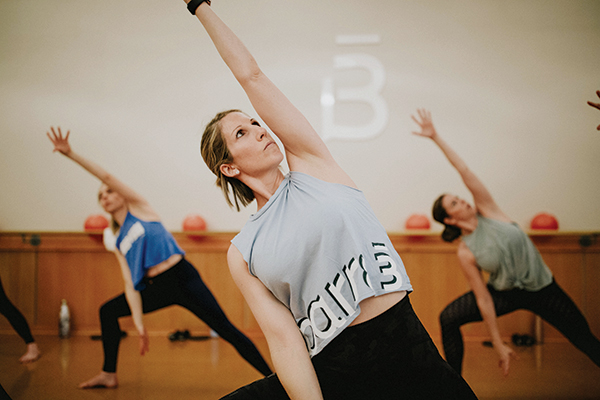 Achieve strength, flexibility and stamina— no pliés required.
By Kim D. McHugh
I'm 15 minutes into an hour-long exercise session at barre3 Belleview Station, and I've already broken into a sweat. My leg muscles are quivering, and my joints are threatening to notify social services about elder abuse.
The class is being led by Katie Heaps, the studio owner and instructor, who via a headset mic guides participants through a variety of movements focused on strengthening muscles, improving flexibility and balance, and boosting cardio stamina.
I was invited to the session by J.J. Keegan, a local golf industry strategist and barre3 devotee. The 18 classmates—12 women and six men of varied ages, body types, builds and fitness levels—make use of resistance bands, an exercise ball, and hand weights as we progress through the hour.
The studio speakers boom to an energetic soundtrack that is as inspiring as our instructor. Honed over five years of leading sessions, Heaps' verbal cues direct all our moves, each designed to sculpt a better self and, for golfers, a better game.
"You get a lot of different aspects of fitness all packaged into one class," Heaps says. "For golfers, there is a lot we do to promote range of movement, so think flexion of the ankles, knees, back, hips, and spine with the highlight being core strength."
Heaps, a former Division I tennis player at Notre Dame and skilled golfer, believes that the stronger your core, the better your spine is in supporting flexion, twisting, and bending. Classes have helped produce positive results for golfers, who report a more efficient swing, better ball control and more power.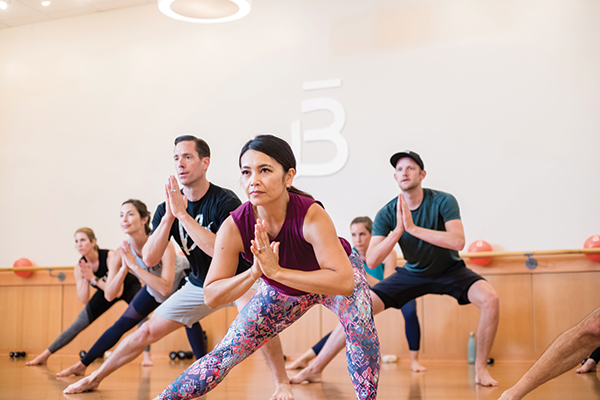 "I liked the stretching, the cardio and the movement," explains Kevin Collins, the owner, president and CEO of The Club at Ravenna in Littleton. "I've been doing yoga sculpting at Ravenna, and it really helped my golf swing and flexibility. The Barre 3 class adds another dimension. It's low impact and I think a class like this has everything you need to stay fit."
Not surprisingly, the word barre conjures an image of ballet dancers doing pliés, pirouettes, and leaps. But that is a misnomer.
"I thought it would be very dance-oriented and would involve the barre on the wall," admits Mike Brady, a Titleist Performance Institute Level III Golf Fitness Instructor and Level III Fascia Stretch Specialist. "Here we used our bodies for just about every one of the exercises, moving in all three planes of motion."
Keegan, 73, has attended north of 60 classes and is thrilled with his results.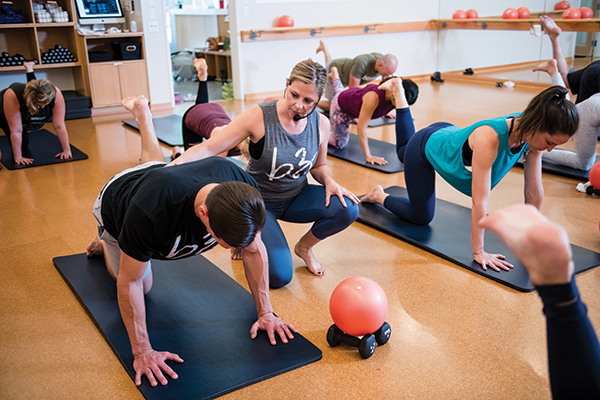 "When I do barre, I feel flexible, light and completely refreshed," he reports. "My shoulder turn has increased 12 degrees on the backswing and 20 degrees on the follow-through. I'm playing my best golf in 50 years, and even shot my age last November. It feels so good hitting the ball with a wider shoulder turn."
Ranging from those who haven't worked out in years to once-a-weekers to elite athletes, Heaps' clients benefit from their studio time.
"The more we promote core and spine health, she explains, "the more we can keep people moving, whatever they do: tennis, skiing, biking, golf—fill in the blanks."
Kim D. McHugh is a contributor to Colorado AvidGolfer.
---
This article can also be found in the May Issue of Colorado AvidGolfer.
Colorado AvidGolfer is the state's leading resource for golf and the lifestyle that surrounds it, publishing eight issues annually and proudly delivering daily content via coloradoavidgolfer.com.