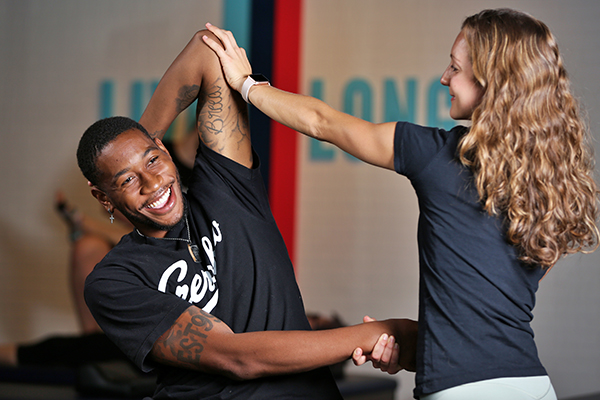 Can't make a turn like before? Back out of whack? Hammies too tight? The flexologists at StretchLab can help.
by Jon Rizzi
"I'm a solid club longer," 6-handicap Brett Story says as he lays on one of the TK treatment tables in StretchLab's LoHi studio. Story is getting his arms and legs leveraged by Erika, one of the studio's seven flexologists and the chief reason for his extra yardage. An investment banker in his early 40s, Story stops by once a week for 50 minutes to have Erika work on his entire body—from his hips, hamstrings and IT bands to his wrists, forearms, shoulders, chest and back.
"Hunching over a computer was decreasing my range of motion," Story remembers. Then I saw an assisted stretching scene in the show Billions, and came in.
That was two years ago. "We worked on getting my shoulders back and chest open; I no longer have to force my turn," he says. "The stretching has increased my range of motion and lag." It's also increased his stamina. "On a recent vacation, I played 36 holes three straight days, and the back held up great." he says.
Such testimonials are common at the LoHi studio and the six other Front Range StretchLab franchises (with three more "coming soon"). And the raves don't just come from golfers. "Our clients include a 13-year-old dancer who needs to kick higher and an 87-year-old couple who just want to stay agile," says the studio owner, Marci Colb. "As opposed to other modalities, we can work with every body."
"As opposed to other modalities, we can work with every body."
After a short interview to discuss any pains or injuries, StretchLab submits each new client to a MAPS assessment, in which you perform three overhead squats in front of a 3D camera. The camera instantly measures mobility, activation, posture and symmetry, providing a score for each and lighting up trouble areas. The flexologist—a certified body worker who has also gone through 60 hours of StretchLab training—will then customize your sessions. Regular MAPS scans track the progress.
What differentiates assisted stretching from stretching on your own is resistance. "It's called PNF, which stands for proprioceptive neuromuscular facilitation," Colb explains. Utilized by physical therapists, PNF "goes deeper—it puts you into positions you can't get into by yourself so you can build stability."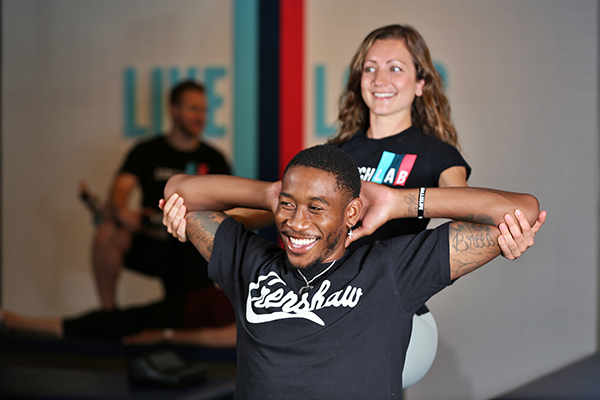 That said, StretchLab "almost always gives homework," according to Colb. "For golfers that could be a new way to stretch a hip flexor or to strengthen quads for a better pivot. We want to decrease pain and the potential for injury and allow people to enjoy the freedom to move. That needs to be a regular part of life."
Story, for one, can testify to the results. In addition to his sessions with Erika, he stretches at home and has made stretching a big part of his pre-round routine. "I spend more time doing stretches than hitting balls," he says.
StretchLab offers individual and group sessions. Individual sessions run 25 or 50 minutes. Four 25 min. sessions cost $169; four 50-minute ones are $289; a family plan of 12 50-minute sessions is $728. stretchlab.com.
---
This article can also be found in the May Issue of Colorado AvidGolfer.
Colorado AvidGolfer is the state's leading resource for golf and the lifestyle that surrounds it, publishing eight issues annually and proudly delivering daily content via coloradoavidgolfer.com.