The F2 Wedge is back with a new shape, new face design, and new sole. Could you consider it now?
By Tony Dear
Dan Ketcherside, a retired medical consultant from Phoenix, AZ., recently took part in an infomercial for the new F2 Wave Series Wedges, joining 14 other golfers on the Ironwood Course at Anthem GCC half an hour north of Sky Harbor. It was the first time he had seen the rather distinctive-looking club and he was more than a little skeptical. "I could see it looked a bit different," he says. "I really didn't know how to use it."
The typical infomercial golfer is generally perceived to be a high-handicap snowbird who plays a few casual rounds in the desert during the winter months. He or she might purchase a ten-round punch card at the start of every season, and probably has a bag full of other infomercial clubs—the Ebalon, GX-7, Flat Face One, Controller, TruFlex irons, C3i Wedge, Square Strike Wedge, Stand-Up Putter and, who knows, maybe even a Hammer X driver? Rightly or wrongly, the infomercial golfer is not regarded as a 'player'.
Ketcherside doesn't quite fit the mold, though. A member at the Arizona Country Club, the 72-year-old is a regular in the men's league and actually plays off 13. And instead of a disparate collection of dubious-looking sticks, he has played Ping for many years – currently the G400s with Glide wedges. On the day we speak, he's just signed for an 82 having missed four short putts he knows he should have holed.
Actually, he has strung a few rounds like this together since the infomercial was shot, and puts a lot of the success down to his new wedges. "Today I hit several shots from off the green to within three feet of the hole with my F2 56 degree," he says. "The guys were amazed at how well I was chipping." Despite his initial reservations, Ketcherside quickly got to grips with the F2 once he disregarded the unusual 'Face Forward' design that has become familiar to many since it first appeared on half-hour-long ads in 2004, and just swung the club the way he would with his Pings. "I soon became quite comfortable with it," he says, "and after a little practice at the range became very confident with shots of 40 yards and in – those key scoring shots." Sounding like he's reading from the tried-and-tested infomercial script, Ketcherside says his average score is coming down. "I've consistently dropped three to five strokes per round," he adds. "I've taken out my 56 Glide and replaced it with the F2. It stays in my bag!" Ketcherside is obviously convinced. And his fellow beta golfers at Anthem were too according to Derrick Dobbin whose Lakewood-based company 'Break Even Golf' now owns the license for F2 Wedges and Pyramid Putters (hence the website address—see below). But what about the non-infomercial golfer – the more mainstream, conventional, regular player? How about the typical Colorado AvidGolfer reader? What might he make of the F2?

The golf media has always been wary of infomercial products. Google 'F2 Wedge review' and you might see a few independent blog posts and even some articles from overseas. But very few, if any, of the major outlets in the US will touch them, and clearly don't take them very seriously. MyGolfSpy did test four infomercial wedges in December 2017 but didn't include the F2, and in April of that year it tested the infamous Hammer X against the TaylorMade M1. But it wasn't really a serious contest. The M1 unsurprisingly blew the Hammer out of the water, and everyone knew it would.
A large part of the reason infomercials products are still viewed with such skepticism is that some highly inferior products were allowed to see the light of day back when 60% of Golf Channel programing was devoted to infomercials. That and the fact there's no validation from any Tour players, says Dobbin. "But the industry's had to evolve," he adds. "Because of the way the business has gone the last few years, the typical infomercial product has vastly improved. You just can't afford to make anything whose tech doesn't stand up. You don't want to be dealing with returns. They are very costly. Ten per cent is considered bad in the industry. We've operated with just 4% returns in the past, and hope to keep it below 5%."
Dobbin was part of the team that first launched the F2 16 years ago. Andy North appeared in the extended commercials, and over 200,000 units were sold. That company went dormant around 2008, however, and Dobbin returned to his career as a CPA. But in 2016, he decided to return to golf and teamed up with Matt Stevens, an economics grad from the University of Northern Colorado and former General Manager at Thorncreek, Arrowhead, and Park Hill golf clubs, forming Break Even and updating the design of the F2.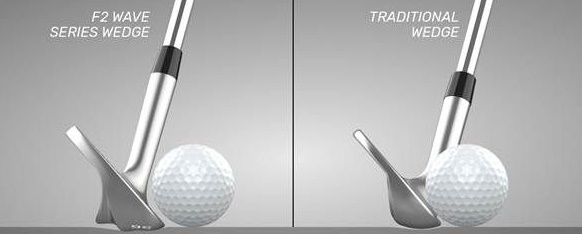 Stevens chose a softer head material to improve the club's feel, introduced Wave score lines to increase spin, and widened the sole, creating a Dual Bounce Sole to help the club glide through both sand and rough while keeping the leading edge sharp to facilitate shots off bare lies.
The resulting club was launched in April and is every bit as odd-looking as its predecessors. But an increasing number of golfers will confirm its technology does indeed stand up. Just ask Dan Ketcherside.
Or me. I tried the F2 and liked it very much. I wasn't sure if I'd need to alter the ball's position in my stance, forward press, be more or less handsy, or release the club earlier or later, and it certainly took a few shots to get used to. But not as many as expected.
Could the F2 replace my current wedges? Probably not—I'm rather fond of them, and I'm not sure I gained much with the F2. Could they replace yours? You might think it unlikely too. But never say never.
56˚ – $120
56˚ + 60˚ – $200
52˚ + 56˚ + 60˚ – $280
60-day money back guarantee.
---
For more on the latest and greatest gear in golf, visit our GEAR PAGE.
Colorado AvidGolfer Magazine is the state's leading resource for golf and the lifestyle that surrounds it, publishing eight issues annually and proudly delivering daily content via coloradoavidgolfer.com.