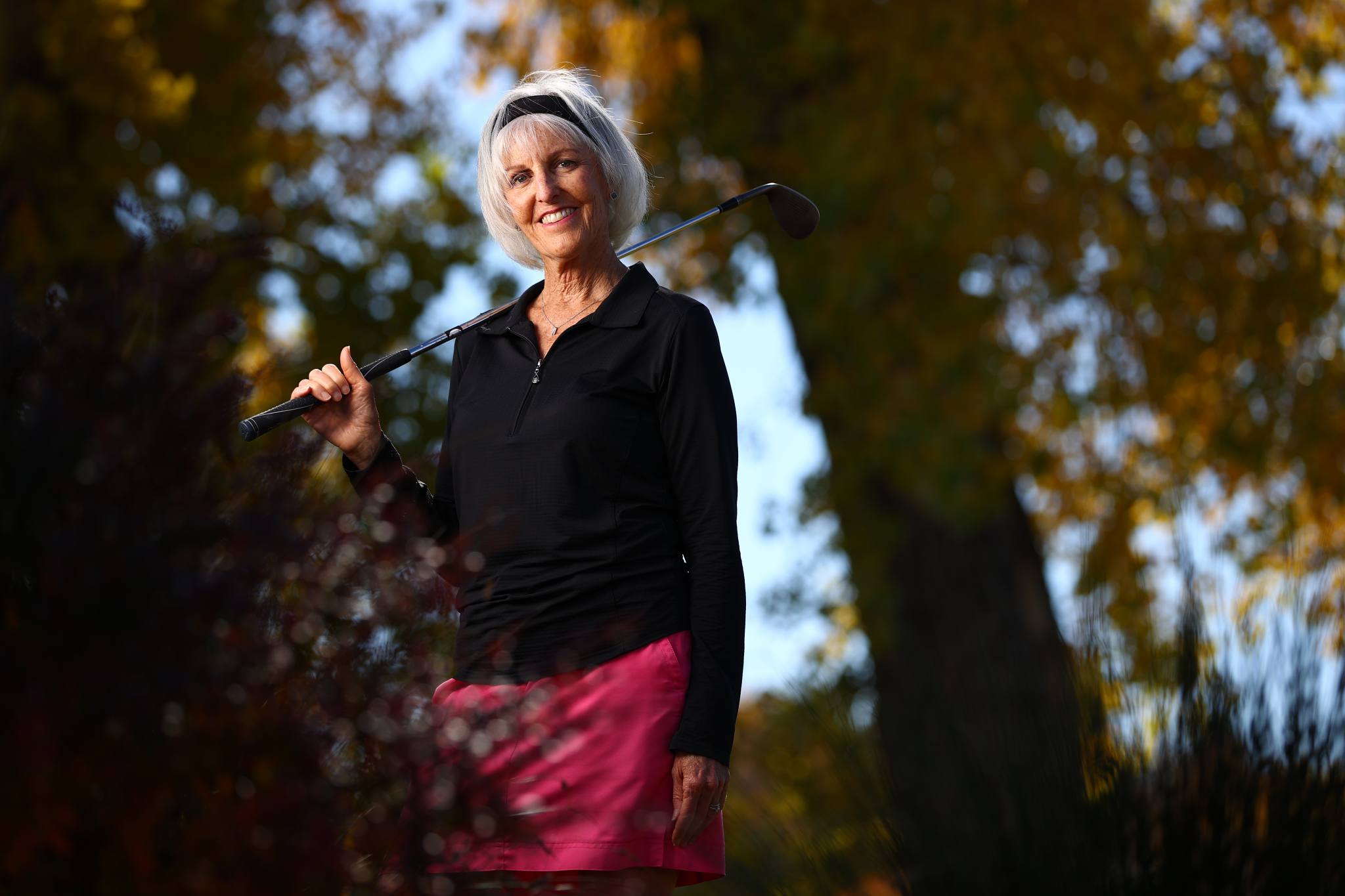 With each breast-cancer diagnosis, spirited instructor Ann Wolta Blackstone becomes more grateful for what golf has taught her.
By Jon Rizzi
LAST JUNE, on the first day of the CHSSA 3A State Girls Golf Championships at Pueblo's Elmwood Golf Course, the members of the St. Mary's Academy team surprised their coach, Ann Wolta Blackstone. The four girls wore pink socks and white polos sporting pink stitching bearing the school's name and the Wildcats logo, while their right sleeves featured a pink ribbon above the words "Coach Ann"—an inscription echoed on their pink rubber bracelets.
As this display suggests, Blackstone, now 62, is battling breast cancer— a disease she's fought three separate times since her first diagnosis in 1993. "All of us wanted to show how grateful we were for what an amazing coach Coach Ann is," freshman Maddy Bante explains. "Without her help and her amazing attitude and everything, none of what our team did would have been possible."
What Coach Ann's team did in the two-day state championship was cap off an undefeated season and capture the first girls' state golf title in St. Mary's history. Bante and juniors Mallory Hopper and Natalie Tatar finished 45 shots clear of runner-up Vail Mountain School. Bante finished second, Tatar third and Hopper T-11. (The score of freshman Reese Brown, who had helped win the Metro League Conference Championship, didn't count towards the team's two-day total.)
"It was incredible to see these young women understand there are more important things in life than golf and to support their coach," Blackstone, whose daily regimen of Ibrance and Letrozole keeps her Stage 4 metastatic breast cancer under control, says. "But oh my gosh, to have them win state by 45 shots was incredible! It was so awesome…so awesome."
The beaming coach commendably won't let her illness define her, nor let her story overshadow the accomplishments of her players—all of whom are returning to defend their title this spring before heading to Pinehurst Resort in North Carolina for June's High School Golf National Invitational. But make no mistake; Ann Wolta Blackstone's story bears telling.
PLAYER…TEACHER… COACH
Forty-five years before the 45-shot victory, the coach herself had won the individual Arizona High School State Championship. Her name was Ann Feist then, and she'd picked up the game at age 10, taking lessons at Phoenix's Papago Golf Course from local legend Arch Watkins.
"I got pretty good really fast," she recalls. She began competing at age 12, and during her teens, she found herself in the fields at the World Juniors, Women's Trans-Mississippi, U.S. Women's Amateur Publinks and the Broadmoor Ladies Invitation.
But, she says, she "didn't thrive on the competition, and I didn't really enjoy the pressure I put on myself to perform." A challenging home environment—her mother was on her fifth husband—didn't help. "If I didn't play well, my mother wouldn't talk to me for three days. If I played well, she'd buy me an outfit. It was interesting conditioning. It didn't work very well."
However, the teenager loved to practice. She would spend more time at the range hitting balls and putting than on the course playing golf. "That's the opposite of what most people do," she says. "And I'd always be around the driving area, helping my friends with their golf swings."
Teaching brought her joy. Competing didn't. After three years at Arizona State University on a golf scholarship, she redshirted as a senior, made the dean's list, graduated and moved to Colorado in 1983 with Bob Wolta, whom she'd met at Papago and married as a sophomore.
In the early 1980s, few clubs hired female golf instructors, but with some coaxing from his wife, Head PGA Professional Bruce Riley employed Ann at Meadow Hills Golf Course. "They actually sent the men's club president to take a lesson from the new woman pro to see if I knew what I was talking about," the Class A LPGA Teaching Professional laughs now.
During her decade at Meadow Hills, Ann got her LPGA certification and bore a son, Bryan, and daughter, Bre. She also bought merchandise for the ladies' section of the golf shop, which led to her involvement with the women who started Golf for Her, a pioneering retail shop at the corner of Arapahoe Road and Quebec Street in what is now Centennial. She gave lessons, arranged trips and bought apparel.
The store eventually failed, as did the marriage, and in 1995, Ann contracted to instruct students at Indian Tree Golf Course in Arvada, where she still schedules private lessons. After marrying Tom Blackstone in 2011, she started teaching at the nine-hole par-3 Southglenn Country Club in Centennial. She currently runs a junior golf program there with 100 children between the ages of eight and 18.
The St. Mary's gig—her first as a coach—came in 2016. The change from teacher to coach was "huge," she admits, as the players already have their own personal instructors and she does not want to infringe on that relationship. "What I've had to learn to do is ask the student what she's working on, even though I can see what it is," she says.
"Also, there's so much more psychology. Teenage girls! I would say, out of all the things I've done, coaching has been the most challenging challenging for me."
Given the health issues she's had to overcome during this time, you'd think Blackstone might want to qualify that last statement with "professionally."
Then again…
A CANCER ANSWER

When Ann received her first breast-cancer diagnosis, her kids were five and nine. "It was hard to accept that my life would be ending soon," she says.
So, she didn't. "You can be the victim and feel upset, or you can say 'OK, I've got to do this and this and this. And I'm going to get through that and then I'm going to enjoy life for what it's presenting to me every day.'"
Alas, squeezing the most out of every day involved pursuing activities she'd never done, like riding in an ATV. The vehicle hit a huge bump and ejected the helmetless cancer patient. It left her unconscious for three hours with a broken leg, four broken ribs and a closed-head injury that months later developed into a subdural hematoma requiring brain surgery. Short-term memory loss resulted.
To soldier through, Ann relied on her golf training. "Being involved with golf since I was ten taught me the skills to get through all of these obstacles," she says. "You learn perseverance, how to keep grinding, how to do the best thing to get out of a bunker or a bad lie. All that training helped me figure out a way."
She also figured out that teaching was great cognitive therapy. "After the injury, if I saw 10 things wrong with your golf swing, it would take me a lot of time to figure out which one I was going to work on and what words I was going to communicate to you," she remembers. "But that process made me better."
PGA of America Hall of Famer Vic Kline, who watched Ann work at Indian Tree, agrees. "As a cancer survivor myself, I watched Ann— who not only survived cancer, but also a serious head injury—come back stronger and more dedicated to what she was doing. She wants to teach people how to enjoy the game and enjoy life. She's done this all over the world."
Kline is referring to a trip Ann made to Kenya in 2016, right before she took the St. Mary's job. She went to support the Imani Collective, a socioeconomic empowerment program for female artisans. She brought BirdieBalls, a mat and a golf club and instructed 24 Swahili women wearing Kitenge fabrics.
"The joy on their faces, I can't even tell you how amazing that was for me as an instructor," she says. "To have them clapping for their friends and watching them hit the ball was the most rewarding experience of my life."
That trip came seven years after a second cancer diagnosis in 2009. This time, a triple-negative breast cancer had resulted in a mastectomy and chemotherapy. Again, she turned to golf, starting a tournament called Indian Tree Rally for the Cure, which, over 10 years, generated $120,000 for fellow survivors through Susan G. Komen Colorado.
"It was really cool to see her step into a leadership role," Ann's daughter, Bre, says. She has ridden the emotional roller-coaster of her mother's cancer for all but five of her 32 years. "I'm used to interacting with her as my mom, and to see her step into a professional space to raise money and even coordinate the day-of and be the speaker and command the room was amazing."
Before becoming Colorado's lieutenant governor, another breast-cancer survivor, Dianne Primavera, served as CEO of Susan G. Komen Colorado. She found Ann so inspiring that she took her first golf lessons at age 67.
"The qualities Ann has as a fundraiser are the same ones she has a teacher—passion, confidence, skill and a concern for others," Primavera says. "As a fellow survivor, she was aware of the limitations I might have as a result of my cancer and made accommodations in the way she taught."
In 2018, Ann herself had to make some accommodations in the way she played after she felt stabbing pain in her ribcage during a round at Cherry Hills. For nine months, the pain persisted as she went to different medical therapists.
She was also getting easily winded, and suddenly her left arm started swelling, as if she had lymphedema, "which was weird because my left arm was where they took the lymph nodes in my first cancer 25 years earlier."
She got a CAT scan and PET scan, the latter of which shows cancer through illumination. "My whole sternum lit up; the cancer was eating it," she says. "The ventricle to my lung lit up. And there's this tumor around my carotid artery restricting the blood flow to my arm."
Ann had Stage 4 metastatic breast cancer. As recently as five years ago, this diagnosis would have sealed her fate. However, an intensive 20-minute radiation session followed by daily drug therapy seems to be working.
"I'm so grateful that there is something that works for me right now," she says, praising her oncologist, Lily Klancar. The weakened sternum limits Ann's ability to play golf other than the pitch-and-putt Operation 36, but she still can teach, which brings her great joy.
Her happiness will also be on display August 28 at Columbine Country Club, where she will receive the Colorado Golf Hall of Fame's coveted Lifetime Achievement Award. Her inspiring presence will command the room, and who knows what kind of sartorial surprise her St. Mary's charges will have in store?
Jon Rizzi is the editor of Colorado AvidGolfer. For more information, visit indiantreerallyforthecure.com or komencolorado.org.
---
This article can also be found in the 2022 Spring Issue of Colorado AvidGolfer.
Colorado AvidGolfer is the state's leading resource for golf and the lifestyle that surrounds it, publishing eight issues annually and proudly delivering daily content via coloradoavidgolfer.com.