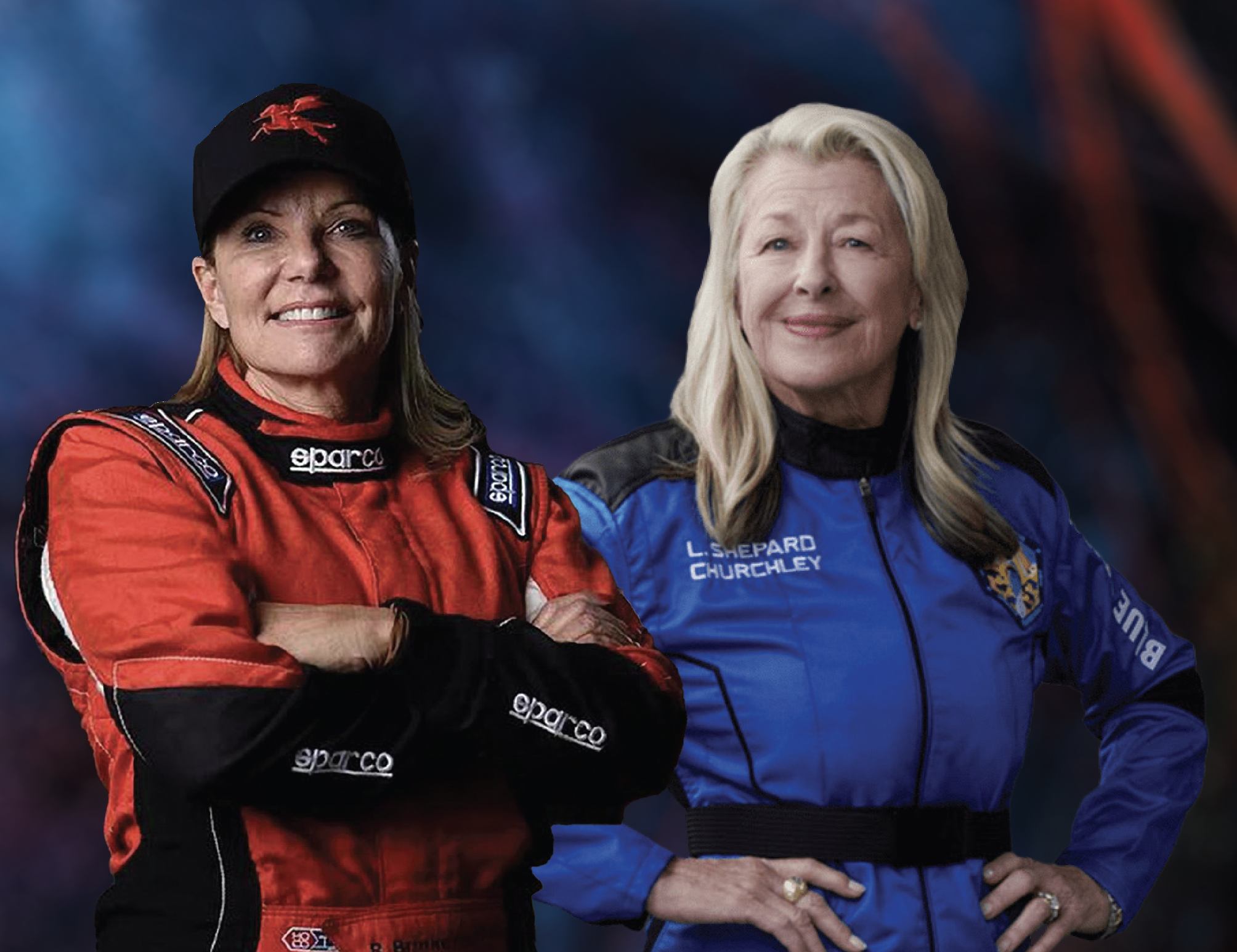 Last December, within the span of days, two intrepid Colorado women each completed an inspiring journey.
By Jon Rizzi
On December 10, RENÉE BRINKERHOFF, an endurance automotive racer from Sedalia, concluded a five-day, 356-mile drive through Antarctica in her 1956 Porsche to help bring awareness to one of humankind's most grievous scourges. The next day, Evergreen's LAURA SHEPARD CHURCHLEY blasted into Earth's orbit aboard a Blue Origin spacecraft, following the same trajectory that six decades earlier had immortalized her father. And in both cases, golf went along for the ride.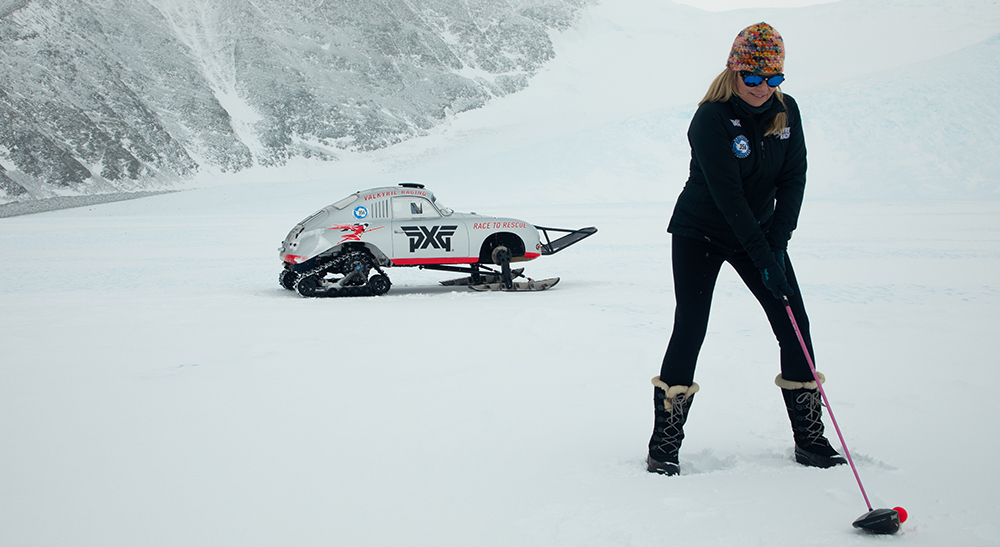 THE DAUGHTER-IN-LAW of Colorado Golf Hall of Famer Sonny Brinkerhoff, Renée Brinkerhoff admits she "plays at golf." Yet, shortly after the 65-year-old founder of Valkyrie Racing finished driving her heavily modified 1956 Porsche 356 across 356 frozen miles of Antarctica—the seventh and final continent in her 17,000-mile Project 356 World Rally Tour— she teed off on a red golf ball with a PXG 0811 X GEN4 driver.
Her swing took place in view of the frozen Drake Icefall, the same location at Union Glacier that the odyssey had begun five days earlier. Behind her stood the reengineered "Polar Porsche," replete with a reinforced chassis, hood-mounted solar-paneled-outfitted crevasse bar, steerable skis in lieu of front tires and, replacing the rear tires, a pair of ice-clawing, Snow Cat-like rubber tracks.
And on all four sides of the red-trimmed silver vehicle, the unmistakable black PXG logo announced Parsons Xtreme Golf 's support. PXG's sponsorship had less to do with Brinkerhoff 's golf game than with her endgame: Using her status as an extreme vintage rally racer to raise awareness and funds to combat the global scourge of child trafficking. The words "Race to Rescue" emblazon both front panels of the 356.
Brinkerhoff 's crusade began in 2017, four years after winning the Sport Menor class in Mexico's grueling 2,000-mile La Carrera Panamericana— her very first extreme race. She kicked off the Project 356 World Rally Tour in 2017 at the 30th edition of the event.
"Because I was one of the only women competing and because of our success as a team in this race, people wanted to know who I was and what I was doing," she remembers. "I realized we had a voice and had to use it every time someone put a microphone in front of me. We wanted to use this car literally as a vehicle to effect change."
Child trafficking, she knew, was "very difficult for people to want to hear about and insurmountable in so many ways." But after a chance meeting with an FBI agent tracking down child pornography peddlers and seeing a random man looking at child porn on an airport shuttle, she knew the cause had found her. "Child pornography fuels child trafficking," she explains, and child trafficking annually affects 1.2 million children.
"If you really want a big voice and you really want to effect change, you need to do something out of the box," she says. So, Valkyrie Racing created the nonprofit foundation, Valkyrie Gives, and entered the most challenging races on every continent—the Targa Tasmania in Australia; Caminos del Inca in the Andes of Perú; the 36-day Beijing to Paris Motor Challenge; and the East African Safari Rally in Kenya.
In interviews on each continent, she brought attention to child trafficking. In eight countries, she identified, vetted and supported NGOs that helped shelter and protect vulnerable groups. She even went undercover as an investigator to get evidence to supply to law enforcement.
"I've talked to traffickers; I've seen the girls they're selling on their phones; I've sat with the young girls who are being sold," says the married mother of four who home-schooled her own children. "It's really difficult, but it's changed my life and that of the kids who are being trafficked."
Another life-changing event occurred last August. After more than 18 months of having a UK-based team led by Senior Chassis Design Engineer Kieron Bradley transform the 65-yearold road racer into a one-of-a-kind "Polar Porsche," she and her daughter Christina (who oversees operations for Valkyrie Racing/Valkyrie Gives) flew to England to see their fully liveried machine right before it was shipped to Chile and on to Antarctica.
On the night of the big reveal, Bob Parsons, the founder of GoDaddy and Parsons Xtreme Golf, called her. "We were friends but not that close," Renée says. "I had texted him about a sponsorship a week earlier and he said he'd call me in a week."
Which he did. Parsons, who famously sponsored race-car driver Danica Patrick with GoDaddy and pushed the limits of golf performance with PXG, said he would underwrite the entire Antarctica odyssey and donate $100,000 to Valkyrie Gives.
"The Antarctica Ice Challenge is the ultimate intersection of performance and philanthropy," Parsons said in the company's press release. "It's a true boots-on-the-ground approach to making a difference. With 100 percent of dollars raised going directly to the cause, there was no way PXG wasn't going to get involved." The entire livery of the vehicle changed overnight, as did the fortunes of Valkyrie Racing and Valkyrie Gives.
In early December, the six-person team—Renée and Christine Brinkerhoff, polar navigator Jason de Carteret, engineer Bradley, ice mechanic Simon Redhead and filmmaker Neil Carey—arrived at Union Glacier from Punta Arenas, Chile, via a Russian Ilyushin plane.
No penguins greeted them. The sun never set. They slept in massive tents on the ice. Starting at 2,000 feet above sea level, the out-and-back trip (178 miles each way) took them through three different glaciers in the Ellsworth Mountain Range. Subtly menacing megadunes and sastrugi corrugated the terrain, claiming a shock absorber and stressing the suspension and skis.
An ice-packed air filter, sheared bolts, frozen throttle cable and other mechanical challenges arose for the team to remedy. Winds of 85mph produced whiteouts through which Brinkerhoff persevered. She rarely shifted out of second and widened her turn radius to accommodate the skis. The carbon-neutral vehicle reached a maximum speed of 38mph, about 50 percent faster than what the engineers thought the rear-track tolerances could handle.
It took five days to complete the 356 miles, and another five to wait out a storm before the team could fly home. The result: Valkyrie Gives now has more than $650,000 in donations. Her "Race to Rescue" the world's children from trafficking continues to build momentum, especially with the philanthropic horsepower of PXG Golf.
And to think, all this began 10 years ago with a 55-year-old woman's simple dream: "One day, I'm going to race a car."
LAURA SHEPARD CHURCHLEY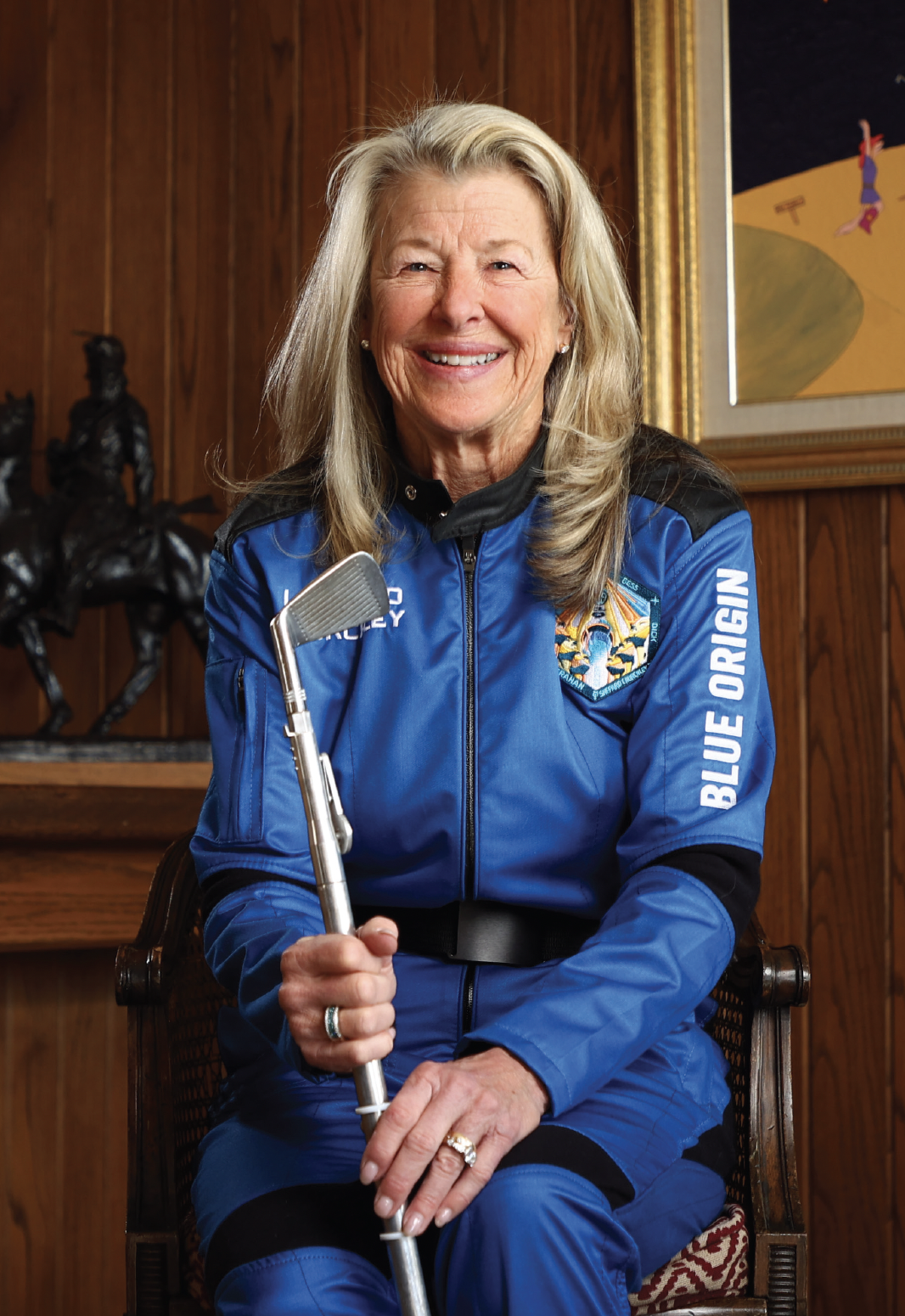 BY 2 A.M. ON FEBRUARY 6, 1971, the 23-yearold daughter of Apollo 14 commander Alan Shepard Jr. had momentarily dozed off while watching her father become the fifth man to walk on the Moon.
"Laura, Laura, wake up!" she heard her grandfather shout. "Your father is hitting a golf ball on the Moon."
"I thought Granddaddy Shep (Alan Shepard Sr.) had lost it," Laura Shepard Churchley remembers.
"Hitting a golf ball?"
Yes. Her father had brought a couple of balls and a customized Wilson 6-iron with a collapsible shaft from a tool used to scoop lunar rocks.
"Daddy didn't tell us he'd be doing that," Churchley says as she pulls the string that assembles a replica of the club.  The flight came less than a year after the near-disaster of Apollo 13. "Only if his mission was perfect would NASA let him do his little trick."
Shepard's "little trick" became the most famous golf shot in the galaxy.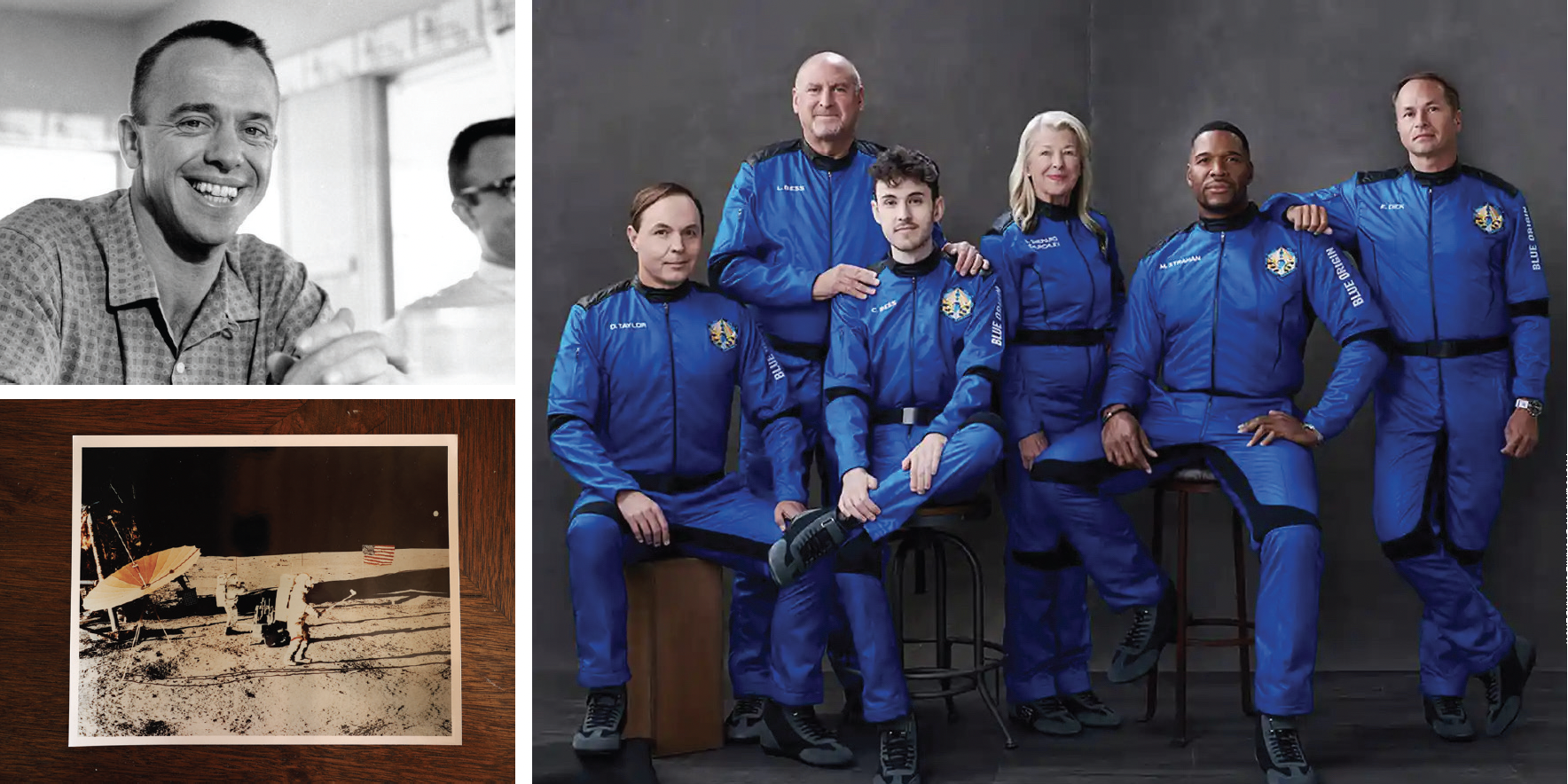 Churchley's slick fascimile is one of dozens of pieces of memorabilia mixed in among the tasteful appointments in the Evergreen home she shares with her husband, Fred, on the 11th green at Hiwan Golf Club. They're members at Hiwan and Sand Hills Golf Club in Nebraska. Until a few years ago, they also belonged to Monterey Peninsula Country Club, having bought Alan Shepard's membership after he and his wife Louise died, 35 days apart, in 1998.
Fred, whom she married in 1996, got her into golf. "Daddy wanted to teach me, but I wanted to water-ski," she says. She played her first-ever round at Pebble Beach, where her parents lived in later years. She currently plays to an 18.7 index and served a term as president of Hiwan's women's club.
The oldest of Alan Shepard's three daughters takes righteous pride in the man she still calls "Daddy." She cherishes memories of him playing piano, flooring his Corvette on straightaways, letting her solo in his plane and more. She also remembers whispering, "Daddy please don't mess up" to a tiny black-and-white TV in 1961, when Shepard became America's first space traveler, piloting the Project Mercury spacecraft he named Freedom 7.
Space travel had fascinated her since 1959, when she was in sixth grade. That's when Shepard, then a Navy test pilot, told Laura and her sister Julie that he was going to work for NASA as an astronaut—"a word that wasn't even in the dictionary yet," Churchley says.
"So, as he explained to us, 'They're going to take me and they're going to put me in a spacecraft that's going to be on top of a rocket, and they're going to blast me into space, and I'll come back to earth safely…'"
And?
"And that is exactly what I told my grandchildren I was going to do!" the 74-year-old Churchley says, excitedly recounting how she delivered the news that she would be joining five other civilians aboard Jeff Bezos's Blue Vision craft, New Shepard. "And my grandkids were as flabbergasted as I was 60 years ago!"
Promoting the launch, Churchley often said, "An original Shepard will fly on the New Shepard." But much has changed since 1961. Alan Shepard trained for more than two years before his suborbital Mercury flight; his daughter trained for three days before hers. The helmeted, pressurized spacesuit in which Shepard walked on the moon weighed 200 pounds; her helmet-less flight suit weighs around 15. "He was working," she jokes. "I was on a ride."
When the ride got postponed a day, the Churchleys played golf with Laura's fellow New Shepard crewmember and Good Morning America host Michael Strahan and his friend, Eugene. Another member of the crew, Voyager Space Chairman Dylan Taylor of Denver, flew them to the course closest to the remote West Texas launch site—the nine-hole Mountain View Valley Golf Course in Van Horn. "Michael and I versus Fred and Eugene," Laura Churchley says. "The astronaut team won on the last hole."
On the day of the flight, as her father did in 1971, Churchley packed golf balls. Hers were logoed—one each from Hiwan, Sand Hills and Principia (her boarding school in St. Louis)—and she has since framed them to present to each institution. To honor her father, with six seconds remaining in the countdown, she bellowed "Let's light this candle"—Shepard's famous command from the Mercury launch.
"I just loved every second of it," Churchley says of the 10-minute flight. "We were so well-trained in the simulator about what to expect, right down to the noises we'd hear." Only the eight seconds after the booster separated disoriented her. "I couldn't tell if we were going up or down, and then we unbuckled and experienced three minutes of weightlessness, which was a gas. All I was aware of was my mind. I just rose out of my chair. I did a headstand, and I didn't know how my feet got up."
Greeted by Fred, their children, grandchildren and her sister upon her safe return to Earth, Churchley now has an even deeper appreciation for what her father accomplished. She honors his legacy by chairing the Board of Trustees for the Astronaut Scholarship Foundation, which he started with the six other original Mercury Seven astronauts. Thanks to private investment, she believes civilian space travel will continue to grow.
"So, if you ever get the chance," she advises, "go on the New Shepard."
---
This article can also be found in the 2022 Spring Issue of Colorado AvidGolfer.
Colorado AvidGolfer is the state's leading resource for golf and the lifestyle that surrounds it, publishing eight issues annually and proudly delivering daily content via coloradoavidgolfer.com.