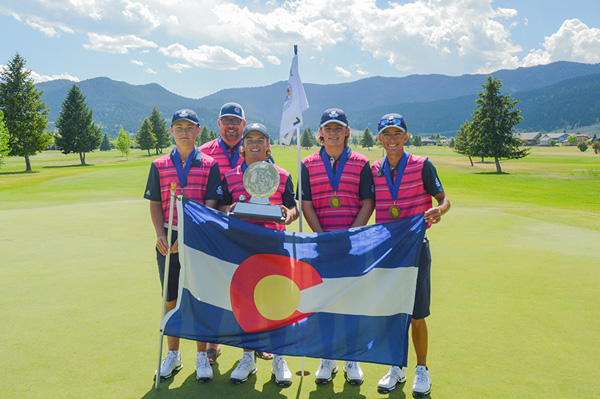 Dillon Stewart leads Colorado squad to victory
By Jon Rizzi
---
Behind the stellar play of medalist Dillon Stewart of Fort Collins and a clutch back nine by Cal McCoy of Highlands Ranch, Team Colorado won the Junior America's Cup for the first time in the event's 46-year history.
The Junior America's Cup—which features 18 teams of four boys from the U.S., Canada and Mexico representing their state, province or country—is a college-style 54-hole competition in which each team counts its best three scores each round. This year's event took place at the par-72 Fairmont Hot Springs Resort in Anaconda, Mont.
Represented by Stewart, McCoy, Davis Bryant and Walker Franklin, the Colorado team found itself in third place after two rounds, three strokes behind Mexico and one behind Utah.
Individually, Stewart went into the final round in second place, his 12-under-par 132 three shots behind Utah's Zachary Jones and one ahead of Mexico's Alejandro Madariaga. The three comprised the last group of the day.
Interestingly, Stewart and Madariaga had both just played in the U.S. Junior Amateur at Baltusrol Golf Club in New Jersey. The Fossil Ridge High School senior didn't make it out of the stroke play portion and the Mexican lost 1-up in the quarterfinals to last year's champion and this year's eventual runner-up, Akshay Bhatia.
At the America's Cup, Stewart, who won this year's AGJA Hale Irwin Invitational, went out in 33 on the front nine. Madariaga shot an even-par 36 and Jones struggled to a 41 (he would finish his round with three birdies en route to a 74 and a third-place finish for himself and his team).
Showing the focus he'll bring to Oklahoma State in 2019, Stewart shrugged off a double-bogey on the par-5 10th, following it with birdies on 12, 14 and 16, and a thrilling up-and-down par from behind the 17th green.
"His ball was in a divot and he hit the best shot I've ever seen," says team captain Dustin Jensen. "He somehow slid his wedge under the ball and got it just high enough to skid onto the green within two feet of the hole."
He needed that par and the one after it, as Madariaga closed with a birdie. Stewart's 68 (he finished with a 16-under 200) nipped the Mexican phenom's 69, the single stroke serving as the margin of victory between the two teams.
Stewart's teammates made that possible. Each of the three had two of his three scores count towards the team's total.
Similar to Stewart, McCoy countered a double-bogey on the second hole with two birdies to go out in 36, but the incoming DU freshman came in with a 33—highlighted by birdies on 16 and 17—to shoot a 69, his low round of the tournament. McCoy tied for 14th with a  4-under 212 (71-72-69).
Franklin, a 15-year-old playing in his first America's Cup, shot a 1-under 215 (73-70-72) for the three-day tournament, demonstrating "incredible composure," according to Jensen.
Bryant, playing in his fourth and final America's Cup, shot a final-round 73 to finish the tournament at 3-under 213 (70-70-73).
The victory came as a surprise to Jensen. Not because he didn't believe in his team, but because he intentionally didn't pay attention to the score. "We knew Dillon had the individual medal won, but when I saw the Utah kid (Jones) finish birdie, birdie, birdie, I thought that was it," he admits. "As Dillon's group finished, the Utah captain came up to us, but before I could say anything, he said 'Congratulations on the team win.' The rush of adrenaline was unlike anything I'd experienced."
Prior to this year, Jensen had captained Colorado America's Cups teams that had twice finished in third place. "It's so great to see what junior golf has become in Colorado," he says. "The talent is incredible."
Past Junior America's Cup participants who have gone on to successful professional careers include Tiger Woods, Phil Mickelson, Fred Couples, Corey Pavin, Rickie Fowler, Ryan Moore and Tony Finau.
For a list of the players in the Championship and complete scores, please CLICK HERE.