Peak to Peak (3A), Montrose (4A) and Regis (5A) claim team honors in CHSAA  championships.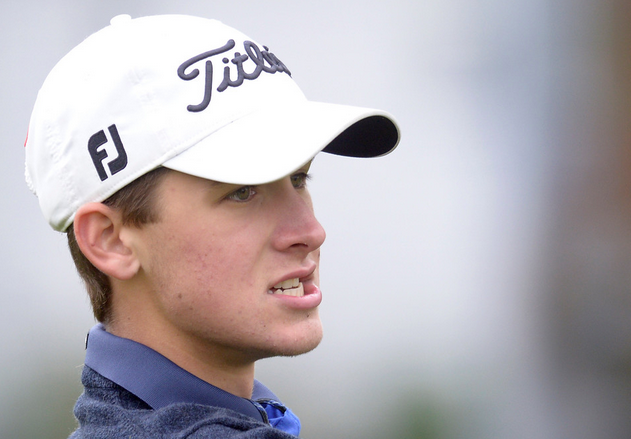 The sport is golf, not tennis. But this year's CHSAA High School Championships could also have been called the Davis Cups.
Davis Long of Peak to Peak and Davis Bryant of Eaglecrest respectively won the 3A and 5A State individual Championships on Tuesday. Another "D" player—Darren Edwards of Thompson Valley—captured the 4A.
Class 3A Boys State Championship
In a competition shortened to one round because of weather on Monday, Davis Long shot a 3-under-par 69 at Lafayette's Indian Peaks Golf Course. Located less than four miles from the charter school, the course serves as the Peak to Peak Pumas' home course.
Paired with defending champion Oliver Jack of Kent Denver, Long played aggressively on the familiar turf. He birdied the 16th and 18th, putting him a shot ahead of Jack and into a tie with Prospect Ridge's Walker Franklin.
Franklin needed to make a par putt on the 18th to force a playoff with Long, but his effort lipped out.
Long wasn't finished, however. After 18 holes, Peak to Peak found itself tied with Kent Denver.
The schools played a two-team sudden-death playoff  consisting of one foursome per team. Taking the three best scores on each squad, Peak to Peak—consisting of Long, Ian Thorpe , Nishant Datta and Ethan Tartaglia—nipped Kent by a stroke.
Class 4A Boys State Championship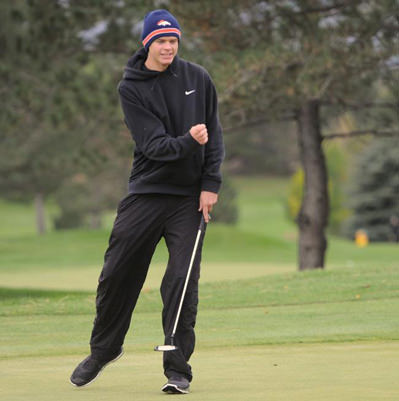 Only one golfer in the entire field at Raccoon Creek Golf Course—Eagle Valley's Barrett Jones—managed to card a red number (a 3-under-par 69) on Tuesday.
That didn't matter to Thompson Valley's Darren Edwards, who shot a 1-over 73 to capture the championship.
Edwards, who started the day knotted atop the leaderboard at 1-under-par with Valor Christian's Jake Welch and Roosevelt's Tyler Severin, took advantage of his opponents' miscues, playing mostly par golf, offsetting all but one bogey with a birdie.
Edwards finished at 2-over, three shots ahead of Jones and of Bridger Tenny of Evergreen.
In the team competition, the Montrose Indians equaled their 17-over from Monday to finish six strokes ahead of Evergreen to win the team championship.
The team features three sophomores (Micah Stangebye, Dawson Hussong, Ryan Lords) and a freshman (Jordan Jennings). The Indians, who had led by a stroke on the first day, pulled away with all
four players finishing in the top 29. Stangebye finished fourth, Thompson seventh.
Class 5A Boys State Championship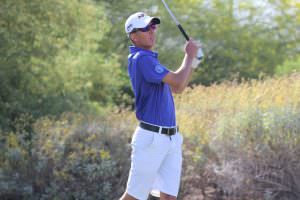 Having won both the Colorado Junior PGA Championship and the Colorado Junior Amateur Championship, Davis Bryant was the favorite coming into the Class 5A Boys State Championship at CommonGround Golf Course.
And after coming in second in the event last year, he had to tend to some unfinished business.

Bryant started the day tied at 1-under-par with Canon Olkowski of Grand Junction and Regis Jesuit's Calvin McCoy. The three were one shot behind leader Dillon Stewart of Fossil Ridge.
After making par on the first 10 holes Tuesday, Bryant birdied holes 11 and 12 to tie Stewart at 3-under and pull ahead of Olkowski by a stroke.
As Davis made pars, bogeys on both numbers 15 and 16 sank Stewart and Olkowski.
Davis's bogey-free round left him 3-under for the tournament, two shots clear of Stewart and three of Olkowski.
Olkowski's Grand Junction Tigers pushed hard in the team competition, but they proved no match for the mighty Regis Jesuit Raiders, who captured their third consecutive 5A boys golf title, and seventh of the last eight.
McCoy, Cameron Kirke and Drew Anderson provided the scoring for Regis, which finished at 16-over, seven shots ahead of Cherry Creek and eight ahead of Arapahoe and Grand Junction.