The All-Day Knit 3 is another ridiculously comfortable shoe from the Moore brothers
By Tony Dear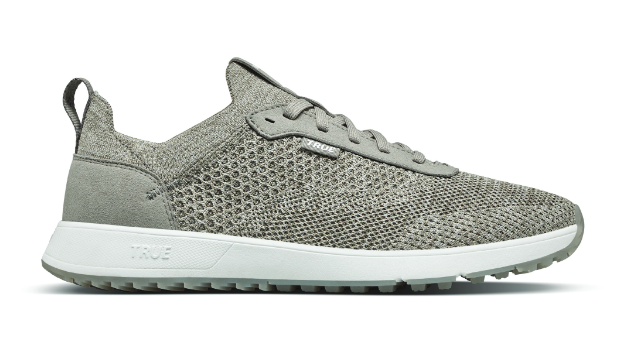 According to the Product Guide, TRUE Linkswear's new Knit 3 is part of the company's 'ALL DAY' family of shoes – an accurate appellation given how unlikely users are to wear anything else during their waking hours. Sometime in 2020, a couple of years after the Tacoma, WA-based company had released it to a now deeply-appreciative golfing public, I got myself a pair of the original All-Day Knit shoe. It looked, and certainly felt, very different to any golf shoe TRUE, or anyone else, had ever made as the upper was created with a thin (but, as it turns out, surprisingly hardy) layer of breathable fabric rather than a genuine or synthetic leather, rubber or polyester. And it gave the person fortunate enough to own a pair more a feeling of pulling on a sock than putting on a shoe. Yes, the sole was solid, there were laces, and the upper obviously had a measure  of rigidity to prevent it from caving in, but the overwhelming sensation was how snug, soft, cushioning and comfortable it was. So I wore them a lot. Still do actually. After slipping them on to take the dog out first thing in the morning, I'll typically take them off moments before going to bed.
They're good in the house, around the office, and at the restaurant. You can drive in them or walk the dog. If you go to a gym, I'm sure they'd work there too. And they're a constant feature on the golf course.
You might wear something a little sturdier, heavier, and which comes with a waterproof guarantee (like the TRUE Linkswear Major) if playing on a particularly wet day at a course with significant climbs and impenetrable, clay soil, but for every other round the Knit is ideal and, for me anyway, as irreplaceable a piece of 'equipment' as my driver. Seriously, I'd feel happier swapping my driver for that of another brand, than I would my shoes.
The Knit was replaced in late 2020 by the Knit II which looked very similar to its predecessor but for a few cosmetic updates. The main difference though, was the addition of Wanderlux Foam in the midsole, a springy material that made walking feel totally effortless.
Two and a bit years on, we now have the third generation of the Knit which, incidentally, is TRUE's best-selling model in its 14-year history.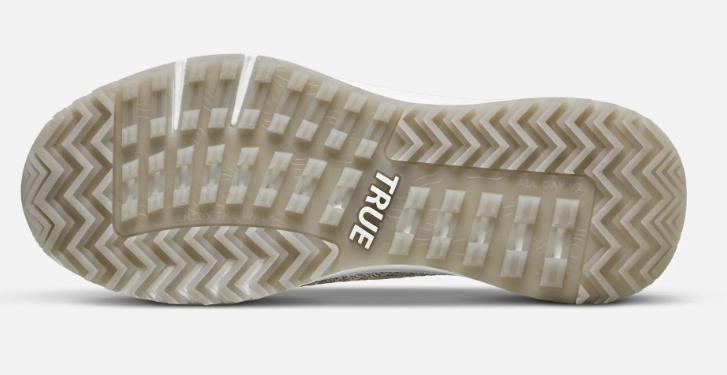 The people at TRUE – specifically Jeremy, Jason, and Ryan Moore (Ryan is a fairly silent partner as he still plays the PGA Tour) – say they started with the basics then made it even more comfortable. "The one-piece sock fit knit upper is ultra-breathable, lightweight, and durable,' says Jason. "The one piece knit design sits atop the all-new AD sole, which is our most comfortable midsole to date while sporting an even more versatile, terrain-ready, mountaineer-inspired tread."
The breathable, one-piece Knit upper is 90% polyester and 10% spandex. It's a mix that's not only comfortable but makes it extremely easy to get the shoe on and off your feet. An updated Wanderlux EVA compound is found in the midsole and, like the Achilles Memory Foam Heel Pad and microsuede overlay is there for…you guessed it, comfort. The Open Cell Antimicrobial Cushion Insole, meanwhile,  ensures your feet and the shoe remain stink-free no matter how many holes you play.
The sole features TRUE's new Crosslife Tread made up of deep, chevron-patterned channels at both the front and back and a mid-section that has a golf/outdoorsman-inspired lug pattern designed to keep you stable. They're not metal spikes, or even replaceable cleats, but these are some pretty rugged lugs.
The heel drop, in true TRUE fashion, is a barely noticeable 4mm – considerably less than the average athletic shoe drop, and the shoe weighs in at a similarly well-below-average 10oz.
And that is how you make an inconceivably comfortable golf shoe – one that will further the legend of the Knit and end the grim, somber cry of  "Oh my poor, aching feet" forever.
Sizes – $160
Sizes – 7-12 (including half sizes), 13, 14, 15.
Colors – Onyx, Deep Sea, Legend, and Nimbus. Limited quantities of Pine, and Aloe.
Women's version available in sizes 5.5- 11.
truelinkswear.com
---
Colorado AvidGolfer Magazine is the state's leading resource for golf and the lifestyle that surrounds it, publishing eight issues annually and proudly delivering daily content via coloradoavidgolfer.com.