The adidas TOUR360 has been around a long time…well, for a golf shoe design. And it keeps getting better.
A telling indicator of something's, or someone's, greatness is how long it remains part of the conversation. Tom Watson's legend was already assured with eight major championship victories in an eight year spell between 1975 and 1983, but coming so close to winning a ninth at the 2009 Open Championship, 26 years after his last major victory, added to it in spades. The 29-year span between Sam Snead's first and last PGA Tour victories, and three consecutive top-ten finishes at the PGA Championship at ages 60, 61 and 62 were almost as incredible as the number of tournaments he actually won in his prime. The length of time Karsten Solheim's Anser putter has been used as a template for thousands of subsequent putters after first appearing in 1966 is testament to its standing in the game. Robert Trent Jones may not have been everyone's design cup of tea, but he set out alongside Stanley Thompson shortly after graduating from Cornell University in 1930 and designed (or rather co-designed with his son Robert Jr.) his last course at Southern Highlands in Nevada in the late 1990s. There's a lot to be said for staying professionally active for over 65 years. And though it hasn't quite reached that level yet, adidas's TOUR360 shoe is well on the way to accomplishing similarly revered status.
It was 17 years ago that the company first wrapped its three iconic stripes around the entire shoe for added stability, and last week the 2022 model arrived with a raft of new technologies but a very familiar TOUR360 look.
The TOUR360 has always been about performance. It never has been a dainty, superlight, nine-holes-at-twilight shoe that slipped on like an espadrille and lasted one glorious summer when you were out until 10.30pm every night. Yes, it's had some fancy colors and design twists through the years, but it's always been a sturdy shoe you can rely on for grip, waterproofing and durability. And despite an occasionally rugged, almost industrial appearance, it has always been surprisingly comfortable. That'll be the Boost – expanded thermoplastic polyurethane (eTPU) padding/energy-release technology that adidas introduced to its running shoes in 2013 and added to golf shoes in 2016.
So what are the new technologies? Be warned; they have all the overly-technical, poorly-spelled and grammatically-incorrect names you expect from modern, cutting-edge golf equipment, but don't be put off, they all do something worthwhile and make an already great shoe even better.
DUALSTACK MIDSOLE – The sandwich-filler bit in the middle, the Dualstack midsole features end-to-end Boost cushioning with a horseshoe-shaped EVA stability frame. This ensures lightweight stability.
GEOFIT COLLAR PAD – Designed to give a more personalized fit on the top of the foot for a more personalized fit.
3D TORSION SYSTEM – Like half a cylinder or half-pipe in shape, the 3D Torsion System gives extra support and prevents twisting from heel to toe.
INSITE SOCKLINER – A play on 'inside' sockliner (perhaps), the Insite Sockliner is a padded sock providing comfort and support.
SPIKEMORE
Irreplaceable cleats injected directly onto the TPU sole, which is not to say cleats so good they can't be matched but literally that they can't be removed. That might alarm some concerned with how long they'll last, but adidas insists they are more durable than other cleats. They are broader too for better traction and, says adidas, will treat the green better. There's also an extra cleat in the arch from where most golfers push off into the downswing.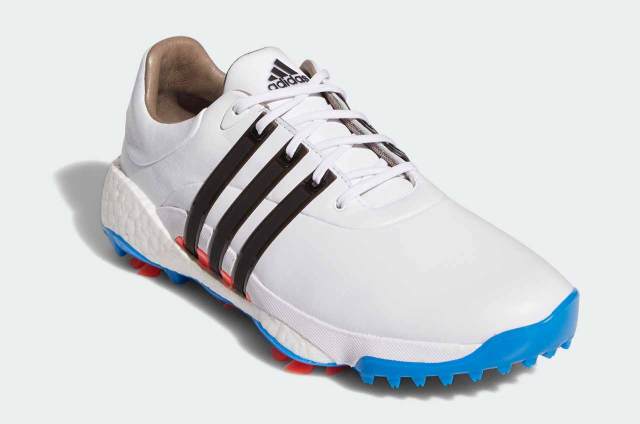 $210 ($250 with BOA tightening system), $200 (women's)
Sizes – 7.5-15
Colors – Cloud White / Core Black / Blue Rush
Cloud White / Silver Metallic
Cloud White / Silver Metallic / Collegiate Navy
Core Black / Iron Metallic
---
For more on the latest and greatest gear in golf, visit our GEAR PAGE.
Colorado AvidGolfer Magazine is the state's leading resource for golf and the lifestyle that surrounds it, publishing eight issues annually and proudly delivering daily content via coloradoavidgolfer.com.
Follow us on Twitter, Facebook and Instagram.