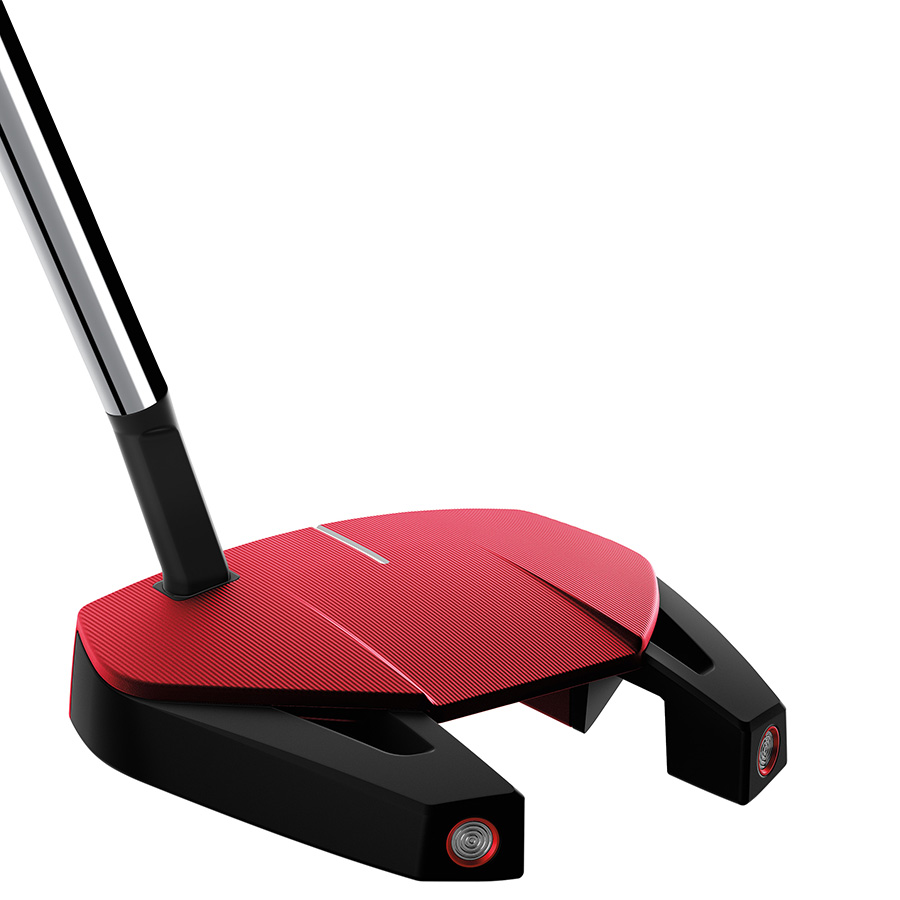 TaylorMade is coming out with a new line of Spider putters with the high Moment of Inertia you'd expect of a Spider.
It's PGA Show week in Orlando which obviously comes with a massive spike in equipment news. Juggling it all and choosing what to feature here, and when to feature it, has always been tricky, especially in recent years when basically zero bad equipment, unworthy of a little Colorado AvidGolfer.com space, has been released.
Fantastic new drivers have been under the microscope lately, but this week we've chosen to feature TaylorMade's Spider GT putters because we know how popular former generations of Spider mallets have been with Colorado AvidGolfers readers…well, readers of any and every golf publication to be fair. And though stats continue to reveal just how important distance off the tee is and that 'driving for dough' appears to be the new mantra, among professional golfers anyway, the importance of good putting will obviously never disappear.
There are four GT models – GT, GT Splitback, GT Rollback and GT Notchback. While the Spider is essentially known as a high-MoI mallet, there have been versions in the past that defied that standard – Spider Blade, Spider Mallet. Of the four new shapes, there are two that clearly are of the mallet persuasion and two that aren't immediately recognizable as such. And the two models that do fit the mallet profile – GT and GT Splitback differ from previous Spiders in that they do not feature an enclosed ring of metal but rather wings whose purpose, like that of the ring, remains to create as high an MoI as possible.
The center of the GT is made from lightweight 6061 aluminum. Each of the steel wings, which have tungsten weights in the rear, weighs 90g, however, meaning a good deal more weight is pushed to the edges of the putter. About 60% of the head's weight was located toward the perimeter in the original Spiders. With the GT that number is over 80%, and roughly 99% of golfers know that enables poorly-struck putts to perform adequately…well, better than adequately, virtually as well as a putt struck on the sweetspot in fact. On top of the wings toward the front is an aluminum pad on which there is a single alignment line and the tapering central section is the width of a golf ball which further aids alignment.
The Tri-Sole features raised heel and toe sections which should help you sit the putter evenly on the ground. And the familiar TPU Pure-Roll2 insert, with grooves pointing 45 degrees downward, is of course designed to produce a rolling putt rather than one that skids immediately after being hit. This version is 23% firmer than before because as balls have got softer so the sound began to feel a little…well, soft. This insert should give more of a click than a pat. Fluted Feel shafts allow you to sense a little more weight in the clubhead and feel the toe release. The GT will be available in three colors – matte black/silver, black/red and white/blue. It also comes with single-bend or short-slant hosel options. The single-bend shaft produces a face-balanced putter which favors golfers with a straight back and through stroke while the short-slant has 21 degrees of toe-hang which is better for those with arcing strokes.
The Splitback looks similar to last year's SR. The wings are very prominent as there is no aluminum top. With very little metal in the middle of the putterhead, obviously most of its weight is found in the steel wings which also have tungsten weight in the back. You'll hear a slightly different sound at impact as the underside of each wing possesses a urethane insert to deaden the sound a little. The Splitback comes in black/white with either the short-slant (21 degrees of toe-hang) or single-bend hosel. The Tri-Sole, Fluted Feel shaft and Pure-Roll2 insert are present.
The Rollback, one of the two non-mallet-style models, may not look like a mallet but it is weighted like one with aluminum front and center and heavy tungsten weights toward the rear on either side of putterhead. There are two color options – all silver and silver/black with the black section running down the middle and being the same width as a golf ball which acts as an alignment aid in addition to the extended white line in the center. The all silver model has three black alignment lines. Again, short-slant (21 degrees of toe-hang) and single-bend hosel options are available. And the Fluted Feel shafts, Tri-Sole and Pure-Roll2 Insert are all here.
The Notchback doesn't really have a notch in the back and, like the Rollback, isn't really a traditional Spider shape. But there is plenty of tungsten on each side towards the back, so the MoI is elevated. Yes to Fluted Feel shafts, Pure-Roll2, Tri-Sole, and short-slant (30 degrees of toe-hang) or single-bend hosels.
GT is $350, the other three $300.
My Spider GT customizing will be available.
Right and left-hand.
Pre-ordering begins on February 14th and the putters will be available at retail on March 4th.
taylormadegolf.com  
---
For more on the latest and greatest gear in golf, visit our GEAR PAGE.
Colorado AvidGolfer Magazine is the state's leading resource for golf and the lifestyle that surrounds it, publishing eight issues annually and proudly delivering daily content via coloradoavidgolfer.com.
Follow us on Twitter, Facebook and Instagram.