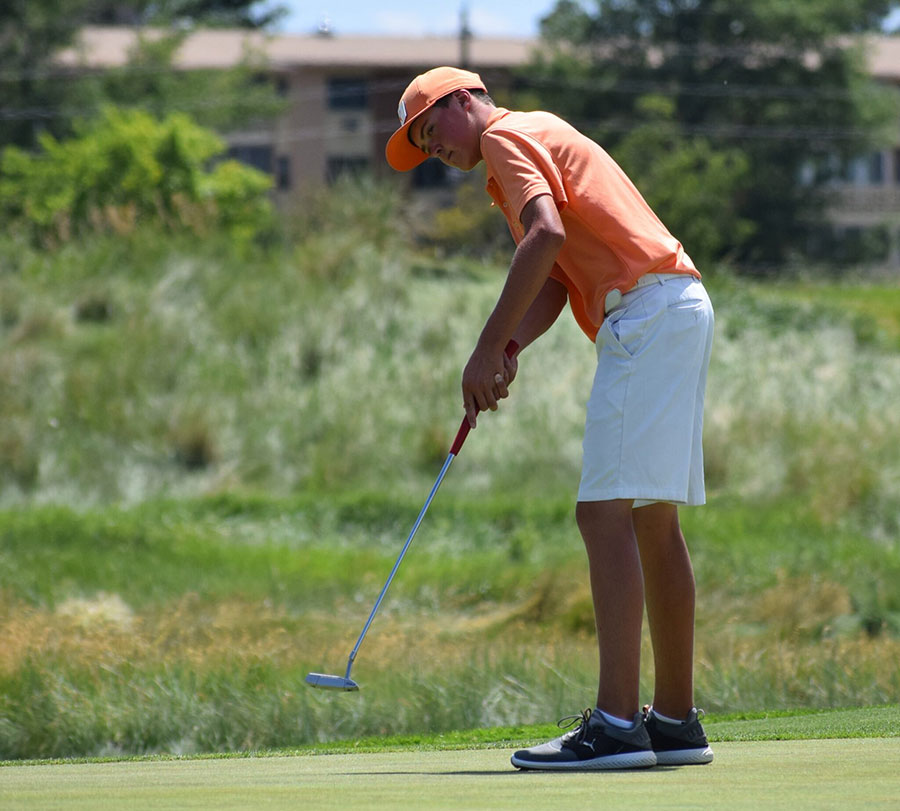 Hunter Swanson Put on a Show at the First Tee National Championship.
Heading into the final round of Wednesday's Colorado Junior PGA Championship at the Country Club of Colorado in Colorado Springs, Hunter Swanson found himself in a familiar spot.
It wasn't that the incoming Northfield High School senior sat six shots behind the leader, Matthew Wilkinson, at 4 over par. It's that he was paired with his friend and fellow First Tee GVR member Kyle Leydon, whom he joined last week at the inaugural First Tee National Championship at Clemson University's Walker Course.
The two were among the 24 boys and 24 girls selected from 150 First Tee chapters across the country to play in the prestigious event, which according to Swanson "was first-class all the way—from the stuff they gave us as gifts to Steve Scott, who talked about what it was like to be runner-up to Tiger in the '96 U.S. Amateur. Hearing him talk really fired me up."
A chance at winning the three-round tournament also fired up the 2020 Junior Golf Alliance of Colorado (JGAC) Player of the Year. Victory would bring an automatic pairing with a pro in the pro-junior portion of September's PGA TOUR Champions' PURE Insurance Championship at Pebble Beach Golf Links. "A dream come true," says Swanson, whose parents enrolled him in First Tee-GVR at the age of five.
"None of my family has ever been into golf," Swanson explains. "My parents put me into The First Tee for the life lessons. Without it, I doubt I'd even be playing golf, let alone thinking about making it my career."
Oh, So Close
Swanson doesn't just play golf; he's excels at it. Earlier this month, the verbally committed University of Colorado Buffalo advanced from his pod to the Quarterfinals of the 121st CGA Match Play Championship. He defeated his club-fitter, 2015 champion Nick Nosewicz, 4 & 3 before losing to eventual champion Cole Nygren 2 & 1.
At Clemson, he says, "I wasn't nervous; I was excited. Just walking along the range and watching those swings made me want to buckle down and give it my best." Which he proceeded to do during the first two rounds. His scores of 69 and 71 placed him third, three shots off the leader, Trenton Mieri of Austin, and one shot behind Ashton Harper of Roanoke, Va. The three comprised the last group on the final day.
Although Mieri would card a 1-under 71, the battle came down to Harper and Swanson. "We really fed off each other," Swanson says. "I think he hit every fairway and made all but one putt within 15 feet. And then he poured in a 45-foot birdie putt on 17 to go up by one."
But hitting a gap wedge from 126 feet out on the 357-yard 18th, Swanson stuck his approach to two feet and buried his eighth birdie of the day to force a playoff. His five-under 67 was the low round of the tournament.
Back at 18 again for sudden death,  Swanson's approach flew the green while Harper's alighted a few feet from the hole. "I kind of choked in the playoff," Swanson admits, though he gamely chipped to within four feet before Harper punched his ticket to Pebble. "I think this was one of his first wins," Swanson observes.
Next Up
"I've never seen a tournament with nicer kids and more ball marks fixed," the 13-year First Tee participant says with a laugh. "I made a lot of friends." (And speaking of friends, Leydon finished a very respectable 10th with a 7-over-par 223.)
For now, Swanson's focused on staging a Clemson-like comeback the PGA Junior and working with his PGA Instructor, Jason Witczak, in preparation for the next JGAC major, the Colorado Junior Amateur Championship at Legacy Ridge Golf Course July 12-14.
Before that last event begins, on July 6, Golf Channel will announce the First Tee participants who'll play with the pros in Pebble in September. "It would be unreal if I got it," he says.
But when you consider Swanson's performance at Clemson, his embodiment of First Tee values and his aspiration to become a professional golfer who eventually opens a golf academy "to give back the knowledge," it would be even more unreal if he didn't hear his name announced.
---
For more of the latest Colorado golf news, visit our NEWS & PROFILES PAGE.
Colorado AvidGolfer Magazine is the state's leading resource for golf and the lifestyle that surrounds it. CAG publishes eight issues annually and delivers daily content via coloradoavidgolfer.com.