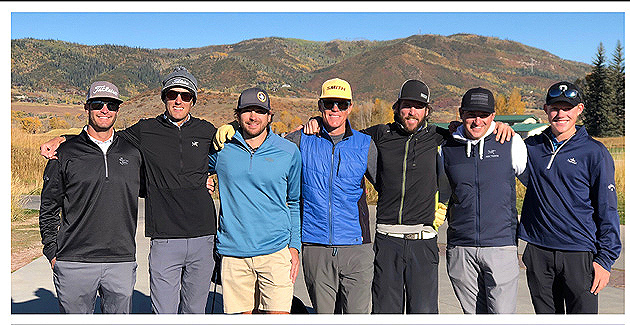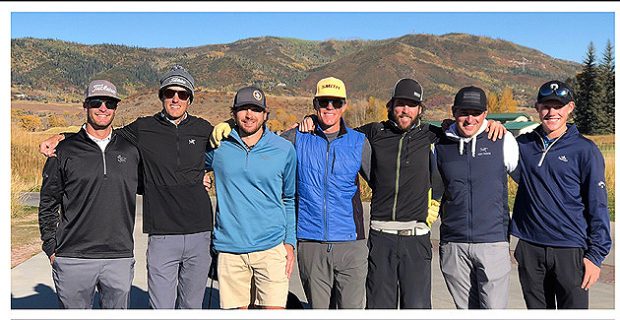 Seven golfers hoof 54 mountain holes to bring attention to the tragedy of domestic violence.
By Jon Rizzi
Were it not for the invention of the golf car, Steamboat Springs would still be a nine-hole town.
But in the 55 years since the eminently walkable Steamboat Golf Club opened, three 18-hole layouts have joined it.
Rollingstone Golf Club (née Sheraton Steamboat Golf Club), Haymaker Golf Course and the private Catamount Ranch & Club now traverse "Ski Town U.S.A."
Of the three, only Haymaker, which sits in a valley south of U.S. 40, truly invites play by pedestrians. Ambulating at Rollingstone and Catamount, however, takes the old saw of a "good walk spoiled" to entirely new levels—from 6,500 to nearly 9,000 feet above the sea.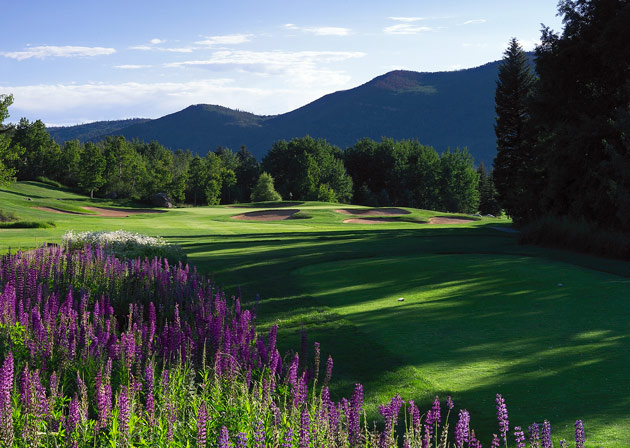 Completing rounds on all three courses while carrying a 30-pound golf bag on a short October day therefore has all the makings of a fool's errand.
Multiply it by seven golfers, though, and you have "a crazy idea that grew organically into something really positive for the community," says A.J. Fleming, one of the seven who set out to squeeze 54 holes of golf into 12 hours of sunlight on October 1st—the first day of National Domestic Violence Awareness Month.
Playing for the Advocates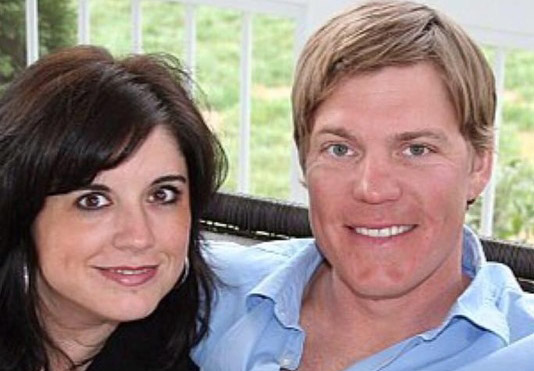 In 2015, Fleming lost his sister, Tifanne K. Wells, to a domestic violence incident. Since he and others in his group knew many friends and family members affected by this type of brutality, they decided to devote their 54-hole endeavor to raising awareness of (and money for) Advocates of Routt County, a 30-year-old nonprofit devoted to serving victims and survivors of sexual and domestic violence—and to bringing and end to it.
Calling the endeavor "The Full Send"—an expression he and fellow Catamount member Kevin Riegler use to say "we're all in"— Fleming set up a Colorado Gives website explaining their mission and how people could donate to the cause.
All-Day Play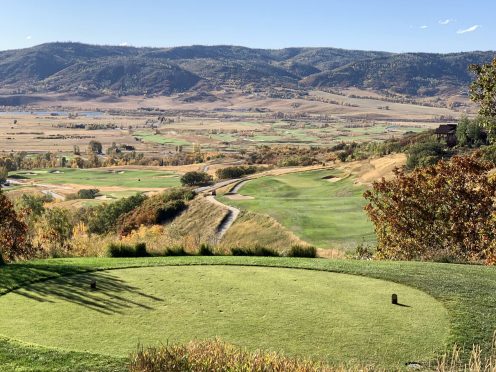 Fleming, Riegler, Nick Roma, Zach Patterson, John Ostergar, Jason Gilligan, Colton Sankey had planned first to play Catamount—by far the course with the most undulation and elevation change—and then take on Rollingstone and finish at Haymaker.
"We had to work around the courses' schedules and be as unobtrusive as a big group could be," Fleming, a 6.5 index, says.
They would play a skins game as a seven-some from the tips—the full send—and forgo hunting for lost balls in favor of the USGA's new time-saving, two-stroke-penalty New Local Rule.
"We contemplated having a forecaddie, but decided against it," he says. "Everybody was pretty solid and losing balls was pretty uncommon."
A Frosty Start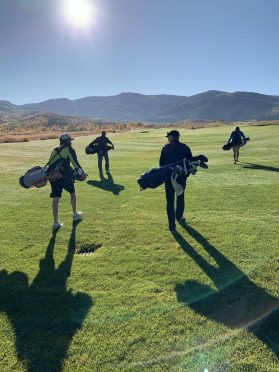 A two-and-a-half-hour frost delay at Catamount forced a "game-day audible." They flipped the order, starting at the municipal Haymaker, where Fleming volunteers as vice-chairman of the Golf Course Management Committee.
Having already burned up daylight waiting out the frost, they polished off the 7,308-yard Keith Foster layout, in two hours and 25 minutes.
"We had [Haymaker PGA Head Professional] Cody Hasten with us and were passing twosomes," Fleming recalls. "They were aware and amazed by our attempt."
A similar escort from Rollingstone's PGA Director of Golf James MacDougall helped them hoof in three and a half hours the 6,730 yards of glorious, Robert Trent Jones Jr.-designed terrain adjacent to the ski resort.
Bagging Catamount
With less than four hours until sundown, Tom Weiskopf's 7,088-yard private Catamount layout loomed. "It's the newest of the three courses and has the highest elevation and the biggest drops and climbs," Fleming says.
For speed, the group went off on hole 10, which meant the their odyssey would end with a climb to the back tee of the par-3 eighth, which drops 80 feet to the putting surface, and the No. 1-handicap par-4 ninth. 
"I finished with a glow ball," Fleming says. "I brought a bunch as a contingency plan. We played 18 in four hours."
Light in the Dark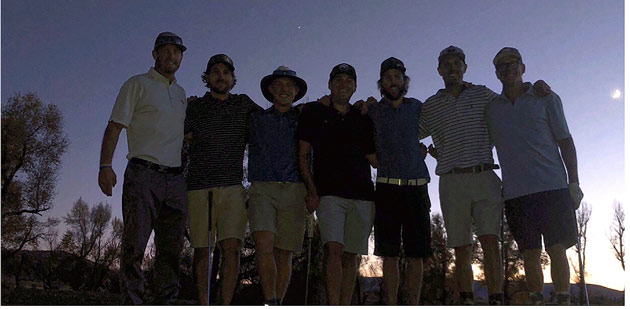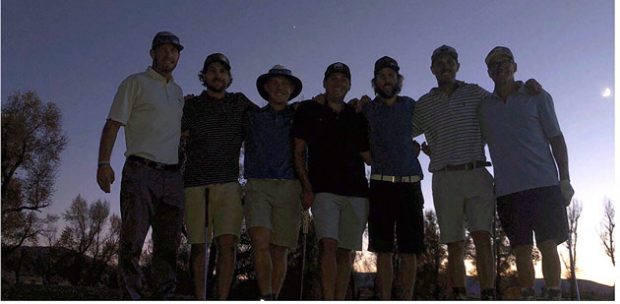 With neither light nor an appetite for a playoff remaining, Riegler and Patterson tied for the win at 4-under par (based on the 27 holes each player elected to "accept.")
The overall winners, of course, were the Advocates of Routt County, for which The Full Send raised "about $4,000."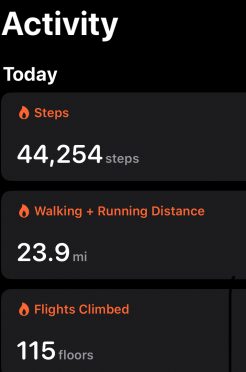 The final tally: 10 hours and 21,126 yards of golf. That comes to a little more than 12 miles of actual fairways and greens. Fleming's Apple Watch (left) counted an actual walking and running distance nearly twice as high—23.9 miles, accomplished in 44,254 steps and 115 flights.
He and his crew intend for the event to be the first of many. "We put this together on really short notice," he says.
They envision next year's to attract more participants, take place earlier in the year and, possibly, even include nine holes at Steamboat Golf Club, making it a 63-hole affair with players on different courses at the same time.
"This is just the beginning," Fleming says. "We hope to do our small part to effect real change."
---
For more of the latest Colorado golf news, visit our NEWS & PROFILES PAGE.
Colorado AvidGolfer Magazine is the state's leading resource for golf and the lifestyle that surrounds it. CAG publishes eight issues annually and proudly delivers daily content via coloradoavidgolfer.com.