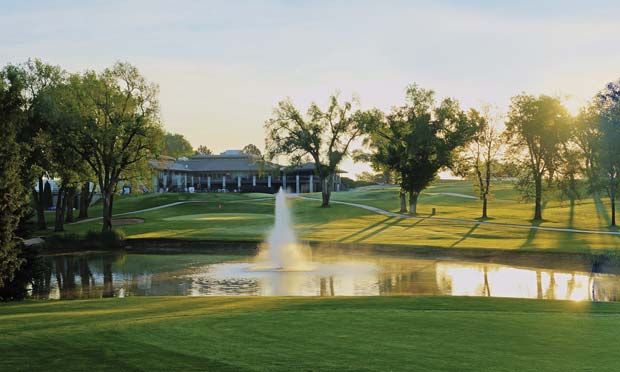 WHEN THE GRAND DAME of Northern Colorado's private clubs turns 100 next year, people might not recognize her. Greeley Country Club— known for its glorious tree-lined golf course designed by Tom Bendelow and Press Maxwell—is undergoing a $7.85 million renovation to its entire facility that will debut next summer.
The club will spend roughly $700,000 on the golf course. Arvada's Phelps-Atkinson Golf Course Design is supervising the retrofitting of greenside bunkers with Better Billy Bunker linings, the expansion and leveling of teeing areas, and the addition of forward tees for juniors and beginners.
The new tees speak directly to the family-friendly philosophy that informs the entire undertaking. "We're looking to create a family and multigenerational experience in all areas of the club," General Manager Mike Fleig says.
The process started in early 2018 when club leadership, facing the problem of dwindling membership, looked into the best way to recruit new members while retaining existing ones. "We had to look at where the industry was and the changing demographics of the Greeley area," Fleig says. With "great input" from its management company, KemperSports, and research by Aurora-based THK Associates and other firms, the club got its answer.
"The big issue was having year-round amenities," Fleig says, "and they had to be for all ages, because families now do so many things together. The clubs that have moved to this paradigm have created a sustainable model for members." In May, 75 percent of the voting members elected to proceed with the Facility Improvement Program. Funding will come from mineral rights owned by the club and the implementation of a monthly $50 per member funding fee. "Instead of an assessment, this allows people to pay as they go, builds a reserve and evens the playing field between new and existing members," Fleig explains.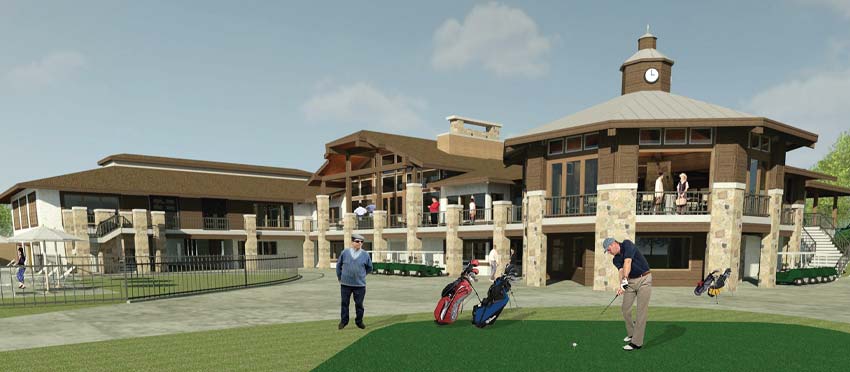 Plans call for a reconfigured three-level clubhouse by the Boulder-based Z Design Group that will bring in more light via glass panels; feel bigger as a result of "popping the top" to create higher, Colorado lodge-style beamed ceilings; and flow more freely with fewer walls between rooms.
The opening up of the main lounge and dining room invites a casual, family-friendly atmosphere centered around the existing fireplace and enhanced by the installation of 12- to 16-foot high windows. The lounge will lead to an octagon-shaped veranda crowned with a clock tower, highlighted by a central fire pit and featuring 270-degree views through glass-paneled walls that open during the summer onto an ample deck with views of the pool and golf course.
Sporting a similarly scenic overlook, a new full-service fitness center with an athletic director, personal trainers, classrooms and juice bar will replace the 200-seat ballroom. "We won't be competing in the banquets and events area anymore," Fleig says. "And no more once-a-month dinner dances; that's not how people today socialize."
They gather around fire pits and at places like TopGolf; they dine casually; and they prefer engaging with their families rather escaping from them. All of which explains why the club is converting its racquetball courts into two golf simulator zones with a gathering space, where members can order food and drinks, play in winter leagues and socialize. The club is also moving its golf shop beneath the veranda to free its existing space for use as a family activity zone featuring billiards, shuffleboard, ping-pong, foosball, video games and supervised childcare for parents enjoying other club activities.
The club's pool will also undergo a facelift, with a remodeled kid's zone, the introduction of a pool bar and new cabanas to provide shade and functional space with outdoor soft seating.
These changes won't come at the expense of the club's heritage. There'll still be a small formal dining room with wood paneling, and a hallway near the golf shop will display trophies, photos and other historical items.
"The renovations take the best elements of the club's first 100 years and add year-round amenities," club president Glen Droegemueller says. "The members and staff of Greeley Country Club have worked with industry professionals to create a family-centered club for all ages. We are very excited about what the future holds for our members." greeleycc.org
---
This article appeared in the 2019  Fall Issue of Colorado AvidGolfer.
Colorado AvidGolfer Magazine is the state's leading resource for golf and the lifestyle that surrounds it, publishing eight issues annually and proudly delivering daily content via coloradoavidgolfer.com.