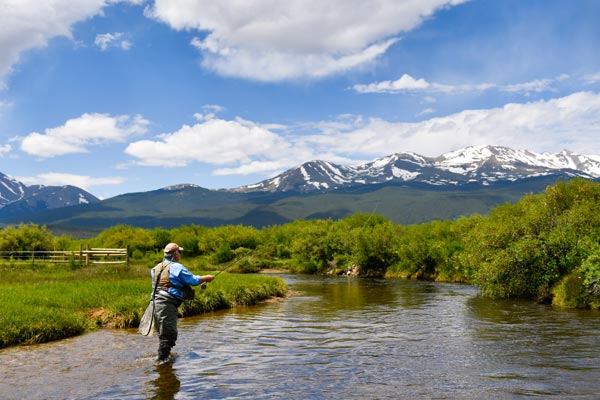 The fisherman stands in a tributary of the Arkansas River as it snakes through a meadow near Leadville and effortlessly casts his line so the fly lands in the perfect spot to entice a hungry trout.
Towering over Charles Duke are two of Colorado's 14-ers, Mt. Elbert, the state's tallest at 14,439, and neighboring Mt. Massive, elevation 14,429, which sprawls like a giant with enormous shoulders.
Duke reads rivers the way Arnold Palmer knew the greens. Duke points to a fork where a current of moving water meets a still pool.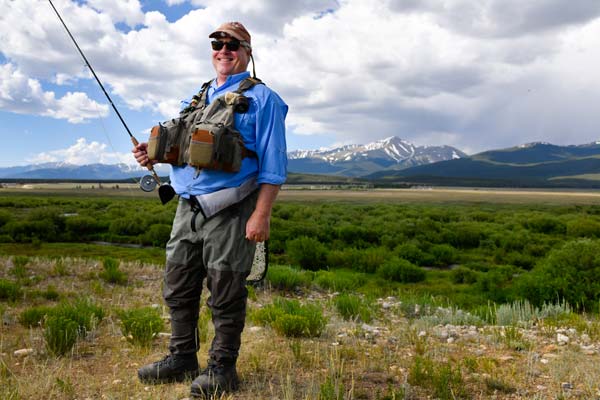 "That's where the fish like to hang out," says Duke, 61.
He grins because the river is his happy place. And so are the ski slopes, the golf links, tennis and paddleball courts and his cabin in the pines where the Eagle River rushes past the back deck.
"Charles is the quintessential Coloradan. He grew up here. His life is about enjoying everything that Colorado has to offer," said Dr. Ted Schlegel, Duke's friend and the man Duke trusted to fix his shoulder when a fall on ice on his Littleton driveway left him with a devastating and very large tear to his rotator cuff.
The injury was so bad that Duke would have found it very difficult to keep using his dominant shoulder for all his favorite activities.
That meant he'd need a pro to fix him. And Schlegel and his team pioneered the minimally invasive surgical technique that offered hope to Duke. The recovery wasn't easy. Duke had to endure surgery, then months of hard work and physical therapy to bounce back. But, it was all worth it for Duke because the next summer, he was meeting his goal of spending at least 6 days each month fishing.
"The beauty of fishing is all the beautiful, wild places it takes you," said Duke, who runs a specialty food business called To-Table, which supplies the public, caterers and private chefs alike.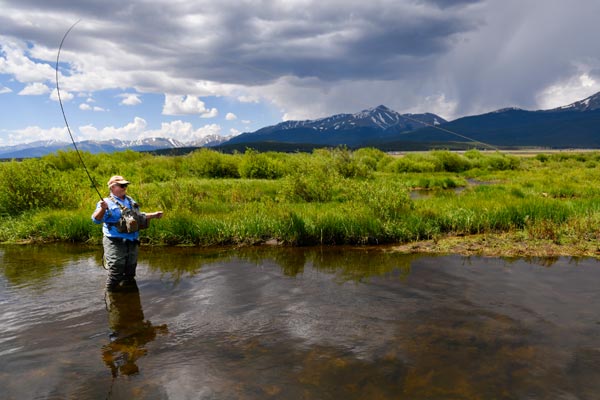 Schlegel has gotten to see his buddy fish and is thrilled that the surgery got him back in the water.
"There's this connection with nature and this inner peace," Schlegel says. "Because he's fished for so long, he has this ability to synchronize the motion of his line with the movement in the water. It's this beautiful harmony of two things happening at once."
As Duke is to fishing, Schlegel is to orthopedics. He served as the team doctor to the Denver Broncos and is Director of Research and Innovation for the new UCHealth Steadman Hawkins Clinic Denver.
The stunning Steadman Hawkins Clinic in Denver caters to professional athletes, students and weekend warriors alike, with cutting-edge orthopedic care, physical therapy and training facilities to boost sports performance. The facility features a state-of-the-art motion analysis lab along with an outdoor field so doctors and therapists can see patients of all levels in action.
"Ted's the best," said Duke, who has a contagious grin and a great sense of humor.
The walls of Schlegel's office feature jerseys from professional athletes who have benefited from his care. The way Duke sees it, he fits right in.
"I consider myself a pro fisherman. I'm surprised he doesn't have my fishing vest up on his wall," Duke said with a wink.
For more information on the UCHealth Steadman Hawkins Clinic Denver, click here.
---
For more on life around the greens, visit our LIFESTYLE PAGE.
Colorado AvidGolfer Magazine is the state's leading resource for golf and the lifestyle that surrounds it, publishing eight issues annually and proudly delivering daily content via coloradoavidgolfer.com.