Golfers Added an Average of 21 Yards Off the Tee
By Leonard Finkel
---
With advances in club technology, most golfers could easily hit the ball further and more accurately. Yet, a Golf Magazine study found that 90% of U.S. golfers may be playing with improperly fit clubs. A Golf Digest study found that 8 out of 9 Club Champion custom fit golfers lowered their score by as much as 6 strokes per round and added an average of 21 yards off the tee.
Club Champion is the country's premier club fitter, builder and retailer of the best brands in golf. The company delivers a Tour-quality fitting that produces longer, more accurate shots, with a nearly 100% satisfaction rate. Their approach is unbiased; no specific vendor is promoted. The only goal, for any skill level player, is to find the best combination of components to lower a golfer's scores.
Ranked by Golf Digest among the 100 best club fitters eight times in a row, Club Champion's unique coupling system allows them to combine any head and shaft together, so golfers can hit the precise combination to be custom built for them. Most golf stores use fitting carts provided by club manufacturers and while these carts offer options, golfers are unable to mix and match from different carts to determine ideal combinations. Club Champion offers hundreds of shafts, many not available through most other fitters and retailers.
Chuck Autry (Longmont) wrote, "I've taken my golf game to a new level. Being 64, I was struggling with almost every club in my bag. At the time I came to see you, I had a 13.5 handicap but was beginning to see much higher scores. Club Champion did some magic and it made an incredible difference. I have played many rounds in the past month in the 70s and of lowered my handicap to 8.3. This was the best investment I have ever made in my golf game!!!!"
Former PGA Tour player Jay Williamson says, "I had access to every brand of shaft and head, but I never understood what they did for me. I didn't have the opportunity to experiment like I do at Club Champion. They provide the same level of service players receive on Tour, including the newest heads and shafts and most advanced fitting technology. If you are a committed golfer at any level, I highly recommend it." Incidentally, Club Champion was able to add an average of 15 yards to Jay's drives.
To obtain results like Jay's, Club Champion fittings utilize Trackman launch monitors and the Science & Motion PuttLab. Both are considered the gold standard in fitting technology and are used by Tour players around the world to improve their game.
Club Champion stands out because they actually assemble clubs in-house to exacting, unrivaled tolerances. Club variables such as shaft flex, swing weight, club length and loft/lie DO alter performance. The experience and know-how in combining these intricate parts together is what separates Club Champion from its competition. TaylorMade CEO David Abeles believes, "Club Champion truly is one of the most innovative club fitters in the business. They provide a consumer experience that is undeniably helpful for all golfers to play better. We couldn't be more thrilled with our partnership with Club Champion."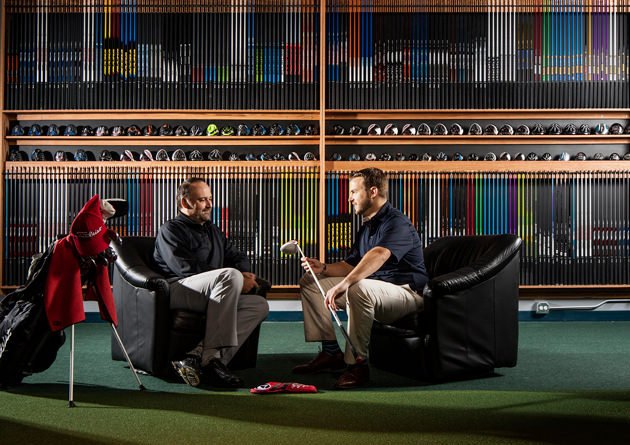 While any caliber of player can benefit from premium club fitting, it's for the golfer who wants maximized performance. "I chose Club Champion due to reputation and depth of the fitting process." wrote Michael Rowells (Lakewood). "I've played 19 rounds with my new clubs. I've also played six new golf courses, not normally good for the handicap. I've lowered my handicap from 8.2 to 5.6 in less than two months. My best round? A 74 with five birdies and a triple bogey on 18 (water)! I could not have improved like this without getting fitted. I implore all serious golfers, and those not so serious to get fitted for their clubs."
Club Champion Studio manager Mitch Anderson relates, "I've become enamored with the differences between shafts in golf clubs. I wanted to pass that knowledge down to my clients. One of the best things about working for Club Champion is the chance to offer the best possible club fitting to the client, while maintaining a brand-agnostic approach. Club Champion is the major leagues of club fitting."
When Club Champion says you'll add 20 yards off the tee, they mean it. Whether you're looking to buy new clubs or optimize your current set, premium club fitting is the answer. Fitting prices range from $150 for a driver to $350 for an entire bag. The local state-of-the-art studio is conveniently located at 2670 E. County Line Rd in Highlands Ranch. Don't just buy clubs, buy guaranteed improvement!
OR CALL 888-335-9692
---
Colorado AvidGolfer is the state's leading resource for golf and the lifestyle that surrounds it, publishing eight issues annually and proudly delivering daily content via coloradoavidgolfer.com.