By Todd Hartley
IF YOU'RE LOOKING to play pain-free golf well into your twilight years, Justin Leonard's got your back. The 1997 Open champion and 12-time PGA TOUR winner, who currently makes his home in Aspen, has teamed with Aspen chiropractor Dr. Jeremy James to create GolfForever, a subscription-based online program that features personalized regimens designed to increase mobility, prevent injuries and strengthen golf-specific muscles.
"In my practice, a big chunk—if not the biggest chunk—of my patients were golfers," said James, creator of BackForever, a similar online program focused specifically on back health. "I had to learn the mechanics of golf really quickly to be good at rehabilitating people that played golf because it's a unique set of demands on your body. It's a one-sided, asymmetrical repetitive motion. If you're going to describe something that would be bad for your back, that's how you'd describe it."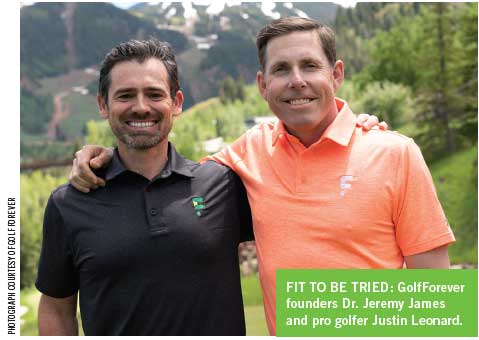 James wasn't a golfer himself (he's since taken up the sport and is hooked), but a number of his patients were friends with Leonard. Seeking greater input on the mechanics of the golf swing, James consulted with the longtime tour pro about the best ways to minimize golf's potentially damaging effects.
"We share very similar philosophies on health, fitness and lifestyle," said James, "and he's made me much better about understanding the finer points of the game and the swing and how we can build a program specifically for that."
The result is the GolfForever website, which launched July 18, and mobile app, which went live in August. The $9.99 monthly fee gives subscribers access to a program that starts with a self-assessment and then directs them to the strengthening, stretching and pre-round warmup exercises best suited for their needs (a subscription to BackForever is included with the price for those who need more in-depth work).
The site adds new content regularly and also has a "Lessons with Justin" section, wherein Leonard, always known for his course-management skills, offers up tips to help golfers play smarter and achieve lower scores.
"With a specific golf workout and by following some of my tips, I think we could shave three or four strokes of a 10-handicapper's game," said Leonard. He figures high-handicappers could benefit even more.
No one can really play golf forever, of course, but with GolfForever, you can expect to play better golf for longer—and with less pain—than you might once have thought possible. golfforever.com
---
This article appeared in the 2019  Fall Issue of Colorado AvidGolfer.
Colorado AvidGolfer Magazine is the state's leading resource for golf and the lifestyle that surrounds it, publishing eight issues annually and proudly delivering daily content via coloradoavidgolfer.com.