On the football field and the putting green, Broncos' placekicker and 4-handicap golfer

Brandon McManus

always wants to hear those words.
By Sam Adams/Photographs by E.J. Carr/Game photo courtesy of the Denver Broncos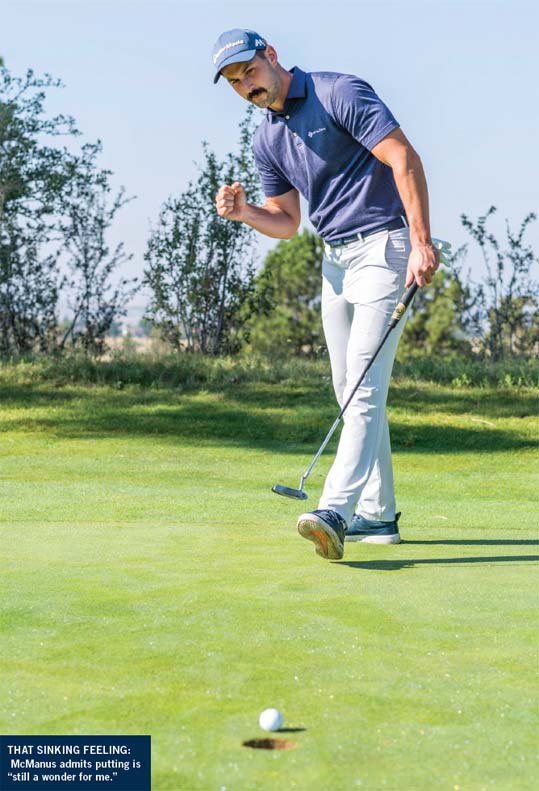 WORD AROUND THE Denver Broncos' training facility is that Brandon McManus is the best golfer on the team. But the team's veteran field goal kicker is quick to punt that designation.
"I'm probably No. 2," McManus says, seated in the Broncos' empty auditorium— and away from the card game near his locker. "John Elway would be No. 1. Of the (current) players, just because I have the most time to play, it's probably me."
On the football field, McManus, 28, has been one of the most accurate kickers in Broncos' history. Now playing in his sixth NFL season, McManus' scorecard is filled with threes. He ranks fifth on the team's all-time scoring list, and his 30 field goals made in 2015 are second on the all-time single-season record list to the 31 Broncos' Ring of Famer Jason Elam made in 1995 and 2001.
"A HUMBLING SPORT"
McManus spends some of his playing time on the golf course with quarterbacks. Pretty good ones, too—a couple with Super Bowl Most Valuable Player awards in their trophy cases. "I took (new Broncos quarterback) Joe Flacco out to my course—I'm a member at Colorado Golf Club," McManus says. "And he hits the ball incredibly far, especially his 3-wood. It's incredible. He just destroys it.
"I've played a bunch with Peyton (Manning), he's a great player. Last year, I played a match with Peyton and Case Keenum at Cherry Hills. I still haven't played with (Elway). I think he's scared or something and doesn't want to invite me— you can write that—but I'd love to.
"I just like taking a lot of the guys out because it's a humbling sport for how good these guys are athletically. Once you get them to try to hit a small ball straight, it's near impossible. I really enjoy playing it as often as I can get out there."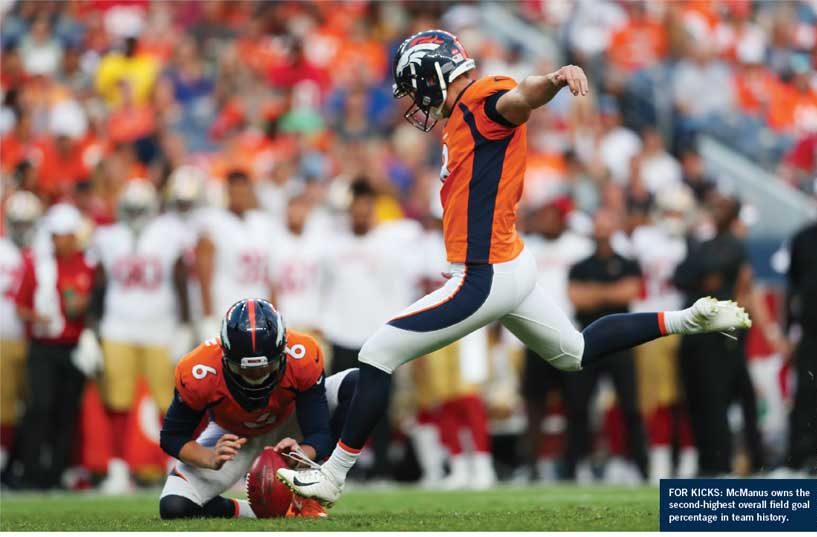 This year has provided McManus with memorable moments long before the Broncos' season began. In January, his wife Nadia gave birth to sons Cada and Luca. Three months later McManus caddied for two-time major champion Zach Johnson at the Masters Par 3 tournament. The kicker also got some time to talk football with Joe LaCava, caddie for the tournament's eventual winner, Tiger Woods.
It wasn't McManus' first time inside the ropes. Four years earlier, he spent three weeks as a USGA intern at the 70th U.S. Women's Open at Lancaster Country Club in Pennsylvania. The NFL Career Development Program arranged the job not because he loved golf, but also because he'd voiced an interest in becoming the director of operations for the Super Bowl once his playing days were over. By all accounts, he worked incredibly hard educating himself on the challenges of running a major sporting event.
"That's why I'm doing this, even though I'm in the younger part of my career," McManus said during the championship. "I always want to have my options open. You never know what could happen, some kind of freak accident, so I want to create my path after football."
THE GOLF BUG BITES
McManus' first experience with golf came at age 7, while growing up in Lansdale, Penn.— 30 miles north of Philadelphia.
"I probably lived about a mile from a nine-hole municipal course," he says. "My parents would drop me off there for about an hour, it was like a summer camp-type thing. So I played a little bit as a kid. The camp was more of just hitting the ball around, not really playing golf."
Once McManus finished his playing days at Temple University (where he still holds records for field goal kicking and punting), he re-introduced himself to golf. His swing and scores have improved over time. Putting still is McManus' bugaboo, as is the occasional urge to crush the golf ball a mile—both of which keep McManus working to take strokes off his score.
"I'm still a little more rambunctious," he admits. "I do hit the ball long off the tee, but sometimes it's not always straight. So a lot of my game is scrambling … I went from a 12 handicap to a five two years ago, and now I'm down to a four. But I've never gone super-low. I'm a very interesting 4 handicap. No matter what course I play, I pretty much shoot the same score—which is anywhere from 78 to 81.
"I really had to let go of my ego, trying to go for greens in two all the time and losing a ball here and there. That's what dropped my handicap down a bunch." McManus plays TaylorMade clubs, and carries five wedges in his bag because "unfortunately I hit the ball too far, I feel like."
"ALL ABOUT FEEL"
Whether it's confronting swirling winds for a potential game-winning kick at MetLife Stadium in New Jersey, or hitting a tee shot to begin a round played on the Old MacDonald course at Oregon's Bandon Dunes Resort, McManus takes the same approach to his swings.
"It's all about feel to me and the visual. The one thing that I love about kicking is, I don't even need to know the yardage of the kick. It's all a feel to me. A lot of guys, when they're playing golf, they need to know the number and they're shooting their range finders at the pin.
"As long as I'm under 200 yards I can pretty much get within five yards just by looking at it because I'm so visual from kicking. And obviously with wind you feel the elements in golf, as well. That's the one thing I love, the way I guess I play my game; it's a lot more fun just visually trying to figure it out and then go through the shot itself."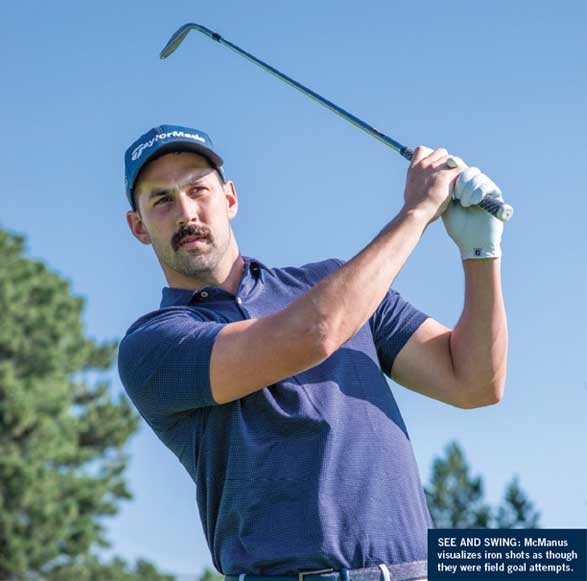 "Golf and kicking—the actual golf swing of driver and irons—is very similar," he explains. "It's all about, at the point of contact, having square hips to square shoulders in golf, all about having that perfect rotation. Kicking and golf swings are very similar in that respect."
SEEING THE LINE
That similarity explains why so many kickers excel on the course. According to Golf Digest's latest ranking of professional athletes, Mason Crosby, Steven Hauschka, Robbie Gould and Ryan Succop all play to a 5 or better. Former Jacksonville Jag-uars kicker Josh Scobee, a +2.5 index, once challenged Tiger Woods to a match, spotting him two strokes per side. Woods declined. And retired Titans kicker Al Del Greco, who now coaches the men's golf team at Samford University, twice won the American Century Championship.
McManus has yet to receive the invitation to participate in that star-studded tournament in Tahoe, but he says he would welcome the opportunity.
Asked if there is a line to be drawn between how he lines up a 50-yard field goal and a 50-inch putt, McManus takes the question a step further.
"Something I do every pregame is, when I'm warming up, I'll find spots in the stadium to aim at through the uprights, so they're high and way beyond the uprights. That's my target line, where I'm kicking it through. In golf, I know you're supposed to see the line, the read and maybe you're supposed to find the spot, six inches I believe, in front of the ball. I need to work on that because I don't do that.
"One of the worst parts of my game is putting and seeing the reads on the green. I know it's not easy to do, but it's one of the toughest things for me to figure out. In kicking, when I find that spot … I've been doing it my whole life and I feel super-comfortable. I feel I can do it blindfolded. Golf and putting … I don't feel like that. Putting is still a wonder for me.
"So, with the game on the line, if I had to pick between kicking a 50-yard field goal or making a 50-inch putt, I'd take the kick, no question."
Longtime CAG Contributor Sam Adams, a former sports columnist for the Rocky Mountain News, was recently inducted into the Denver Press Club Hall of Fame. He is also an award-winning stand-up comedian. samadamsdoescomedy.com
SWING SEQUENCE
Swing analysis by Stan Sayers/Photographs by E.J. Carr
Brandon, as you can imagine, is extremely athletic and a very good player. What impresses me most about him is his mental toughness. He is possibly the most mentally tough person I have ever worked with. Which I believe is the secret to why he is such a good kicker.

1. At address he sets up well athletically. Great balance without strange angles. Knees wide and over his feet promoting good body structure and just enough natural spine tilt because the right hand is lower than the left.
2. In the backswing Brandon maintains width with a good shoulder turn and a right arm that folds gradually.
3. At the top is where Brandon shines. A complete shoulder turn, width of swing and very centered. He hasn't shifted to the right but turned and his knees have changed flex—all marks of a great swing.

4. This is a favorite position of mine. Weight has moved onto the left foot. His right knee remains wide and the left shoulder is still low. (This is where the average player loses most of his or her structure, as their left shoulder goes up too early, weight stays on the right foot and the club gets cast toward the ball.) As for Brandon, though, this is a textbook position.
5. Brandon has a great impact position. I would love to see a little more right-arm bend, but his arm speed is so high the right arm gets a little too straight. However, most are not strong enough to have the left wrist in such a strong position with the amount of speed he applies. Again, another mark of a good player.
6. Brandon completes his swing with great balance. Here is a swing that will almost never result in back issues.
Stan Sayers is the award-winning PGA Director of Instruction at Colorado Golf Club and the owner of Stan Sayers Golf. Reach him at 720-201-1975; [email protected].
---
This article appeared in the 2019  Fall Issue of Colorado AvidGolfer.
Colorado AvidGolfer Magazine is the state's leading resource for golf and the lifestyle that surrounds it, publishing eight issues annually and proudly delivering daily content via coloradoavidgolfer.com.