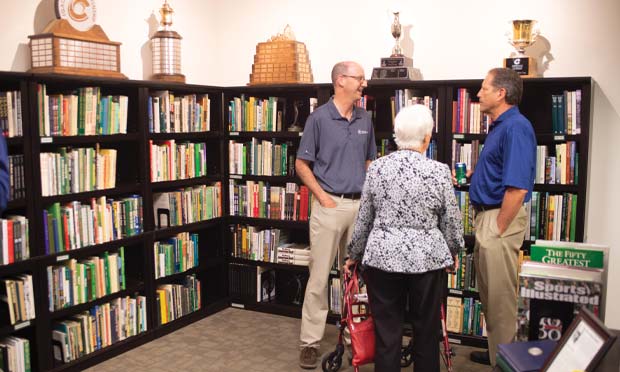 COLORADO GOLF HALL of Famer Dan Hogan could easily have written a book on what he knew about golf. Instead, the state's preeminent golf historian read and collected 1,215 of them in his Bonnie Brae home.
With the 88-year-old Hogan convalescing from serious medical issues and unable to return to his house, that collection now resides in systematized and catalogued form at Colorado Golf Association headquarters in Greenwood Village. Hogan had instructed fellow Hall of Famer and longtime board member Gary Potter to donate them to the Colorado Golf Hall of Fame—an organization into which he had been inducted in 1998 "as both a well-trophied player and as a walking encyclopedia of history," and on whose board he'd served for decades.
A lack of appropriate space at the Colorado Golf Hall of Fame in Brighton prompted Potter to contact the CGA. "I was so thrilled when I heard from Gary that the collection had been passed on to the Hall of Fame, and that this is the place for them to be housed for now," CGA Executive Director Ed Mate says, referring to the CGA's new Dan Hogan Golf Library. "To me this collection is an embodiment of Dan Hogan, and when I look at the books, I don't see books, I see him."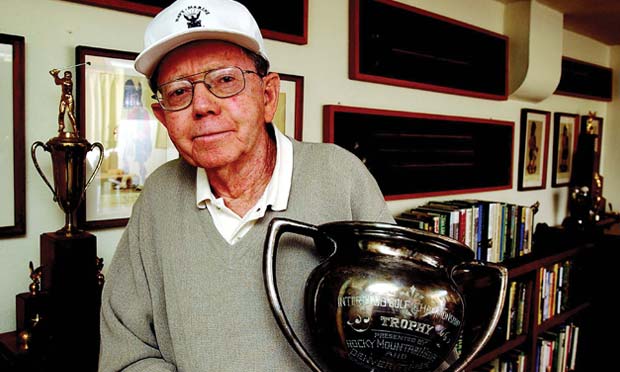 According to Mate, the formidable task of creating an actual, organized library out of Hogan's boxes and boxes of books fell to "three rock stars"—retired USGA Regional Affairs Director Mark Passey, CGA Managing Director of Golf Operations Ashley Barnhart and her mother, Jean Barnhart, a Montana schoolteacher with library experience who spent her spring vacation helping out. "Ashley was the computer person. Mark was the Golf Guy organizing the categories. And Jean had expertise in the Dewey decimal system. We couldn't have had a better group." Passey counts 100 man-hours went into the process.
The books are divided into two-dozen categories—including instruction, golf course architecture, biographies and tournaments. First-edition gems from the early 1900s share shelf space with books about Tiger Woods. "This was an organic collection," Mate says. "And they are all quality books. Let's face it, there are a lot of garbage golf books. Golf for Dummies. These are quality, intellectual golf books, and he read them all."
If so, why did he have two and three copies of some? Were they gifts? "I just don't think Danny knew he had them," says his good friend and fellow Colorado Golf Hall of Famer Kaye Kessler. "It grew over a lifetime. They weren't organized the way they are now. He had no idea he had three copies of Down the Fairway by Bobby Jones. They were on coffee tables and tucked into corners."
Duplicates of some of the 966 unique titles come in handy because this is a lending library for board members and committee members of the CGA and CGHOF who can check out titles as they would at a traditional library. "It's on an honor system," Mate says, likening it to golf.
And it honors a great man. In that vein, the collection will keep growing. People are welcome to donate appropriate titles. "My personal view is that what we have is the original gift, and we need to build it so it honors him." coloradogolf.org
---
This article appeared in the 2019  Fall Issue of Colorado AvidGolfer.
Colorado AvidGolfer Magazine is the state's leading resource for golf and the lifestyle that surrounds it, publishing eight issues annually and proudly delivering daily content via coloradoavidgolfer.com.