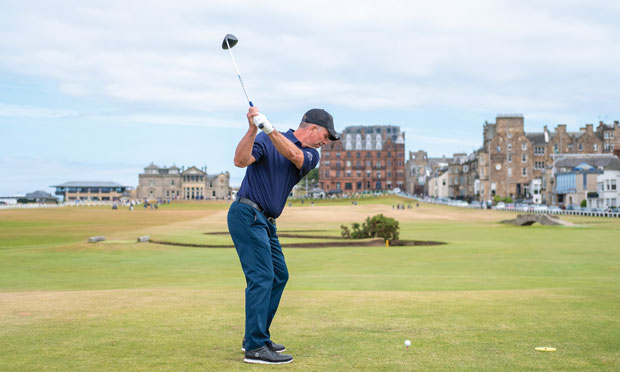 A CU grad who learned the game at Aurora's Meadow Hills, Troon Golf CEO Tim Schantz is the heir apparent to the title of "most powerful person in golf."
By Andy Bigford
THE PROFILE PHOTO for Tim Schantz's LinkedIn account depicts him as a smiling University of Colorado undergrad in apron and ballcap, diligently scrubbing dishes at Le Peep, the Boulder breakfast institution that opened back in 1983. Those brutal early-morning "dishdog" duties remain relevant to Schantz today as his entry-level introduction into the hospitality business, where he ascended to busboy and eventually landed a coveted waiter's job at the Boulder Cork, Le Peep's fine-dining sister restaurant. "I really believe in customer-facing work," Schantz says. "It leaves an indelible mark and forms you."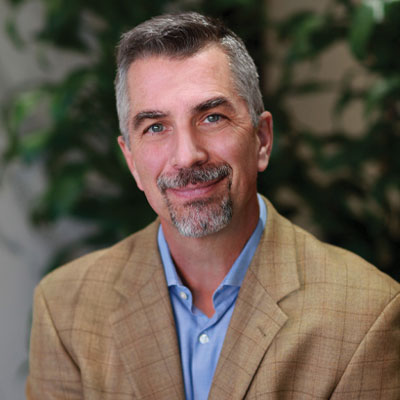 Now, as the CEO of Troon Golf, which operates some 500 golf courses worldwide, including seven in Colorado, Schantz can touch more people in golf than almost anyone else—and is indeed poised to be among the most powerful people in the game. The son of an Orvis fly-fishing guide and a needlepoint shop owner, Schantz was in the first graduating class of Aurora's Overland High School in 1982. He learned the game at Meadow Hills as a teenager, then played Flatirons Golf Course and begged an occasional round at Boulder Country Club as he worked his way through CU as a scholarship student.
In April, Schantz stepped into the "Shaq-sized" shoes of Troon founder Dana Garmany, who established the company in 1990 with the opening of Scottsdale's Troon North and its goal of providing a "country-club experience for a day." Garmany, who remains as Troon's chairman, began as a PGA club professional and is now something of a legend, regularly being named by Golf Inc. magazine as one of golf's most powerful people from a financial impact. He was No. 1 in the Golf Inc. rankings for 2018, followed by PGA Tour Commissioner Jay Monahan in second, Tiger Woods in seventh and President Donald Trump in 11th (Trump Golf owns or operates 21 courses).
Schantz, who turns 55 in October, has worked for just three companies in his 30-plus year career. After receiving his CU degree in political science, he earned a law degree from the University of Kansas and went to work for the internationally acclaimed law firm of Latham & Walkins LLP in California for five years. His next critical move was to the DoubleTree Corporation, the Phoenix-based lodging and hospitality company that was building a network of third-party operated hotels and forging new ground in that category (it is now part of Hilton Hotels). A casual lunch with Garmany in 1998 led to a meeting of the minds, and triggered Schantz's decision to take a pay cut and throw in with Troon, which at the time had just 25 employees in their corporate headquarters in north Scottsdale's Kierland Commons.
Schantz quickly moved up to run Troon's global business development, recruiting courses to join the fold as executive vice president. Troon now has 15,000 employees worldwide, offices in 10 cities throughout the U.S. and the globe, and is the world's largest operator of resort, daily fee and private clubs.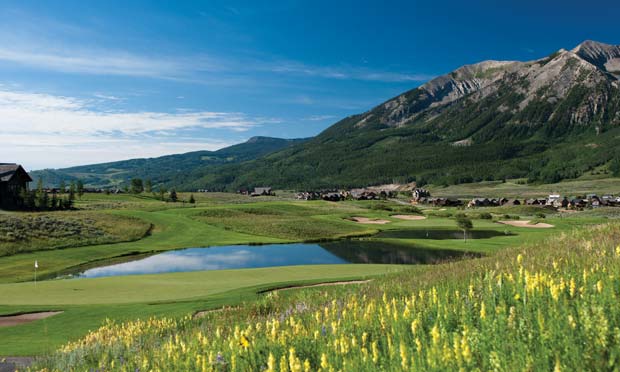 TROONING UP
The golf course business is beginning to follow a path set by hotels, where mega-companies like Marriott and Hilton together control more than 2 million room keys, and in other leisure sports such as skiing, where roughly half of the U.S. "skier visits" are recorded at resorts owned by (or partnering with) the big two conglomerates, longtime leader Vail Resorts and the up-and-coming Alterra Mountain Company (both are Colorado-based).
Management companies operated just 10 percent of U.S. golf courses in 2006; the number had jumped to 16 percent by 2018, according to the National Golf Foundation (NGF), and is projected to grow to 23 percent by next year. "There is no end in sight," says NGF CEO Joe Beditz in assessing Troon's upside and the industry-wide trend toward multi-course management firms. With 14,631 courses in the U.S. and 34,000 globally, Troon itself oversees just a fraction, so there is a lot of what founder Garmany calls "white space."
Schantz believes a 1,000-course portfolio is attainable, and his industry colleagues agree. According to NGF figures, there are some 230 multi-course operators in the country, but only 10 operate more than 40 courses. Other key players include Billy Casper Golf, KemperSports, Arcis Golf and American Golf Corp.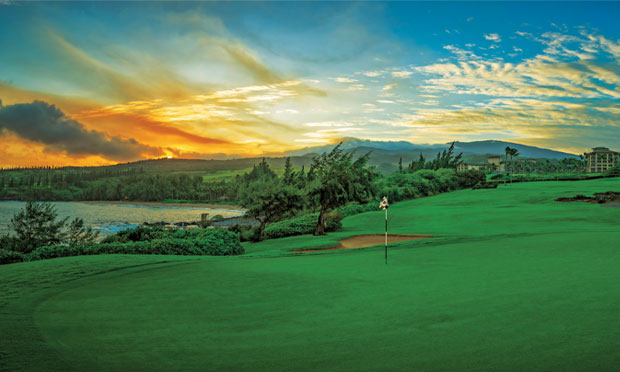 Troon is the powerhouse in the golf world, operating courses in some 40 states and 25 countries. It got there by building an impeccable brand founded on service and the agronomy standards it established at that first Troon North facility, under the guidance of Jeff Spangler, Troon's senior vice president for science and agronomy, and Ron Despain, who oversees golf course development. In January, Troon courses hosted five PGA TOUR events in a four-week period, headlined by the Tournament of Champions at its Kapalua Resort in Maui and the Abu Dhabi HSBC Championship at Abu Dhabi Golf Club.
Troon even has a pro staff, with four of its PGA players reaching the recent FedEx Cup Tour Finals (major-winners Justin Thomas and Gary Woodland, plus Matt Kuchar and Patrick Cantlay). LPGA rising star Cheyenne Woods, Tiger's niece, is also on the team. Troon's portfolio is studded with A-List courses, among them the Silverado Resort & Spa and PGA West in California, Florida's Tiburón Golf Club, Pronghorn in Oregon, The Grove in England, the Ocean Club in the Bahamas and Lofoten Links in Norway. Troon courses in Colorado include the Ridge at Castle Pines and Rollingstone Ranch in Steamboat, plus three private clubs under the Troon Privé label: Cordillera in the Vail Valley, the Club at Crested Butte and Bookcliff Country Club in Grand Junction.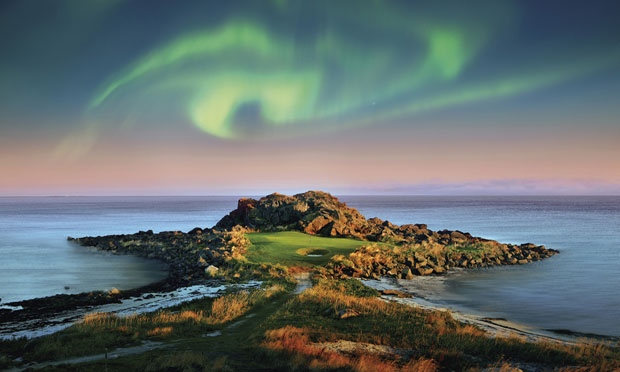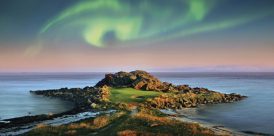 Troon's public-access courses are mostly upscale, $200-a-round facilities, but the portfolio also extends to other pricing levels. Just as Schantz was settling into the corner office, Troon announced it was buying OB Golf Management, overseeing 70 courses in Arizona and the West (including Colorado National Golf Club in Erie and Aurora's Heritage Eagle Bend), and then Midwest-based Green Golf Partners, with some 20 courses in 15 mostly central states. These collections have retained their brand names and identities, as has Honours Golf, which has 20 courses in the Southeast and was acquired by Troon in 2014. Just as Hilton and Marriott offer different pricing in their folds, from Waldorfs and Ritz-Carltons down to DoubleTrees and Fairfields, Troon has complimentary courses under its umbrella, including muni courses at OB and Green Golf.
A CHANGING LANDSCAPE
Troon has also looked outside its core business with the recent acquisitions of CaddieMaster, which provides complete caddie services to 130 clubs (including some Troon courses); Cliff Drysdale Management, which has 30 tennis facilities in premier destinations; and RealFood Consulting, a Boston-based food and beverage consulting company. RealFood tripled the size of Troon's F&B department; it works with Troon courses but has its own clients too. Hewing to his Boulder restaurant roots, Schantz wants to make Troon's 450 F&B operations as highly regarded as its agronomy, while also keeping a keen eye on the 850 lodge rooms, 100 swimming pools, 80 fitness centers and 1,000 tennis courts that fall under Troon's purview.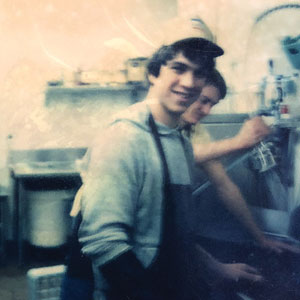 Golf is not an easy business, and the carnage of the Great Recession, with some 1,200 courses closing in the last decade, is in the not-too-distant past. Troon itself has shown discipline in avoiding ownership and the topsy-turvy pitfalls of real-estate development; besides its flagship Troon North, it owns only two other facilities. By contrast, Club Corp., founded in 1957 as the leader of the multi-course operations model, primarily owns roughly 200 private clubs, including Fire-stone Country Club in Ohio and Mission Hills in California. It suffered during the economic downturn, but was bought by Apollo Global Management in 2017 for about $1.1 billion and now promotes a diverse network that includes dining and athletic clubs. Troon is also privately held, and its majority owner is Leonard Green & Partners, a Los Angeles-based private equity firm that bought its stake from Kohlberg & Company in 2017.
Despite recent upticks in new golfer participation, courses face mounting challenges to thrive. Troon offers sophisticated systems for everything from yield management to digital marketing. Their powerful purchasing department can negotiate game-changing bulk discounts on everything from burgers to greens mowers. Critically, the HR department, overseeing 15,000 employees, can offer ample opportunity to move up to positions at other facilities. The company has a history of promoting from within, and has a long list of employees who started, for example, as a low-level analyst at corporate and moved up to be a general manager at a premier Troon club. "We have a broad and deep bench," Schantz says.
A GAME OF SCHANTZ
Castle Rock-based golf consultant J.J. Keegan calls the Troon model "an inspired strategy" and commends Schantz for his vision and leadership. He learned at the knee of Garmany, an atypical unstuffy golf executive who was loved by all, always good for a colorful quote and even plays in a garage band. Competitors say the sometimes law-
yerly Schantz will need to continue to refine a softer touch while wielding the velvet hammer when needed. Colleagues say he is more than up for it.
"He can dial it up, and dial it down," says former PGA of America CEO Joe Steranka, who calls Schantz one of his "favorite people in golf." Steranka, who now runs the Buffalo Agency (his clients include Billy Casper Golf), says, "He's always approachable, whether it's a person in the housekeeping department up to a fellow CEO. I think that's what made him so successful in business development." Indeed Schantz can be introspective and reflective; in late August he was lamenting the exit of his second son, who was heading to attend the University of Southern California, leaving he and his wife as empty nesters. Garmany calls him a "caring leader, high IQ, really smart dude," who fits well in the Troon culture, where the top executives promote a "carrot over stick" style, seek to remain approachable and answer their own email and phone.
Schantz, an 8-handicap, plays 20 to 30 rounds a year, about half of them for business. He's visited all of Troon's Colorado courses, but not usually to play. He stresses that he is in business first and foremost, though he thoroughly enjoys the perks. He flies 100,000 miles a year, and in December will be heading off to Australia for the Presidents Cup at Royal Melbourne while also making a stop at the Troon property in Abu Dhabi.
If Schantz could change one thing, it's this: "I've asked probably 5,000 people if they play golf, and 99 out of 100 say, 'I'm horrible, but I like to play.'" He wants to alter that perception so the answer is, "I don't always play as well as I'd like to, but when I play, I really enjoy it." The experience is not just about the score, but immaculate playing conditions, quality of the layout, friendships, the guest service, the views and the wildlife, the drinks and dinner afterward … all of the things Troon excels at providing.
Contributor Andy Bigford is the editor and collaborator on Chris Diamond's Ski Inc. 2020, which dissects the ski resort transformation of that past three years. It is available on Amazon and at select bookstores starting Oct. 29, 2019.
---
This article appeared in the 2019  Fall Issue of Colorado AvidGolfer.
Colorado AvidGolfer Magazine is the state's leading resource for golf and the lifestyle that surrounds it, publishing eight issues annually and proudly delivering daily content via coloradoavidgolfer.com.