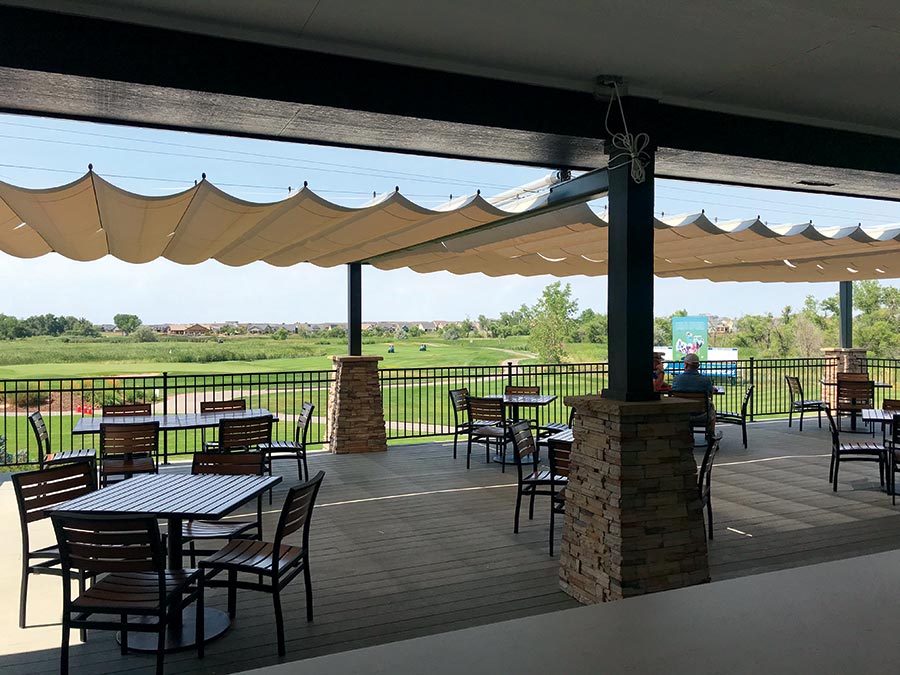 A surprisingly diverse range of dining options awaits in and around Green Valley Ranch during the CoBank Colorado Open.
WHEN THE CoBank Colorado Open takes place July 29 to August 1, it will mark the 18th time Green Valley Ranch has hosted the annual state championship.
A few years back, dining options in the emerging area 13 miles southwest of Denver International Airport hadn't quite caught up to the level of the event, which now ranks as the richest state open in the country. But that's changing. Green Valley Ranch and the nearby area boast a surprisingly wide range of nibbling and sip- ping destinations, especially now that COVID-19 restrictions have lifted.
EBERT'S TERRACE
After watching dozens of holes of Colorado Open competition out in the wind and sun, you can head from the greens directly into Ebert's Terrace at Green Valley Ranch Golf Club. The restaurant is open to the public for breakfast, lunch and dinner seven days a week.
"Early arrivals can grab eggs Benedict or a green chile bowl at Ebert's before the action begins," Ebert's Terrace Sales and Marketing Manager Kelly Tuley says.
From 11 a.m. on, the lunch and dinner menu include everything from a rib eye steak French dip with au jus to a Southwestern salad crowned with cilantro vinaigrette dress- ing and a skewer of blackened shrimp. The menu's big bestsellers are the sweet tea fried chicken and the Denver Burger topped with bacon and roasted chilies, Tuley says.
The newest entrée is Colorado Wagyu skirt steak in chimichurri sauce with tomato corn salsa. Tuley recommends making dinner reservations for tables on the expansive deck overlooking the course and a Rocky Mountains vista. "It's spectacular at sunset," she says.
4900 Himalaya Road, Denver, 303-957-4096, ebertsterrace.com
DICICCO'S ITALIAN RESTAURANT (3.1 miles from GVR Golf Club)
DiCicco's reminds visitors of every movie scene or song set in an East Coast Italian-American restaurant. The enormous two-level eatery on Tower Road is elaborately painted and decorated and Italian opera soars in the background. Warm bread, cold salad, hot soup and red wine are a given. Pasta in all its shapes and sauces takes center stage, as do veal and chicken preparations such as Marsala, Parmigiana, Cacciatore and Piccata. For special occasions: rib eye steaks with bleu cheese sauce and a side of gnocchi.
6701 Tower Road, Denver, 303-574-1956, diciccoscolorado.com
GREEN VALLEY RANCH BEER GARDEN (0.1 miles from GVR Golf Club)
This summery place is built for gatherings with an 8,000-square-foot garden area and pavilion with picnic tables. Brews on tap range from Coors Light to Copper Kettle Mexican Chocolate Stout brewed in Aurora. Beer-friendly appetizers include fried cheese curds, smoked pork nachos and a pretty "Maui-Style" seared tuna salad. The Beer Garden prides itself on doing things in-house including baking pretzels, grinding beef cuts for burgers, and hand-cutting potatoes for fries. Note: There is no tipping; gratuities are included.
4995 Argonne St., Denver, 303-375-7880, gvrbeergarden.com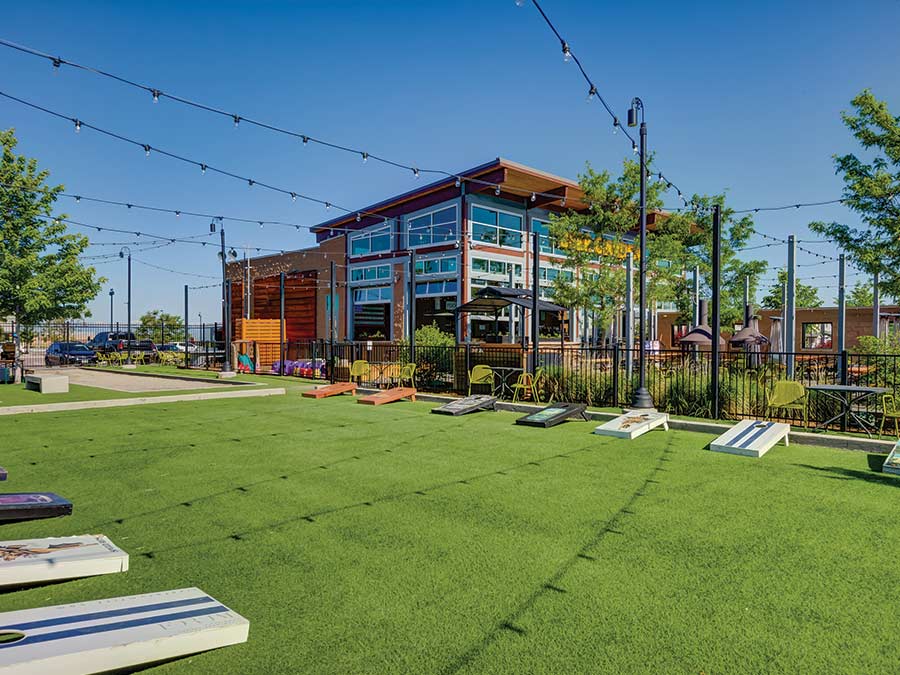 MONDO'S PIZZA (2.3 miles from GVR Golf Club)
True New York-style thin crust rules at this mostly take-out pizzeria. Fans recommend the specialty pizzas like the white (no tomatoes!), the al pastor, jalapeño popper and BBQ chicken. Mondo's also features salads, sandwiches and pasta dishes.
3751 Tower Road, Aurora, 303-375-7834, mondospizzaco.com
OLD HICKORY STEAKHOUSE (3.2 miles from GVR Golf Club)
If you haven't toured the Gaylord Rockies Resort near Denver International Airport, then a visit to the on-site steakhouse will provide an opportunity to be wowed by all the fun tucked under one roof. Old Hickory Steakhouse is old-school with an à la carte menu featuring top cuts of beef, pork, lamb, bison and fresh seafood, plus butters and sauce enhancements. Generously portioned side dishes like grilled asparagus and creamed spinach fill the table. Impress your guests with a chilled seafood platter overloaded with lobster, shrimp, oysters, clams and Alaskan King crab. Dress code is "smart casual," i.e., no shorts and flip-flops.
Gaylord Rockies Resort, 6700 N. Gaylord Rockies Blvd., Aurora, 720-574-1476, gaylordrockies.com
CORIANDER TASTES OF INDIA (1.4 miles from GVR Golf Club)
The beauty of this classic Indian eatery is that you can satisfy everyone in your dinner entourage if they are: a) vegan, b) dairy-free, C) gluten- free, or d) a total carnivore. Don't miss the saag paneer (cheese cubes in creamy spinach) or the array of charcoal-grilled meat, seafood and fish kabobs with chutneys. If you like it fiery, start with tandoor oven-baked coriander bullet naan layered in garlic, serrano chile and chopped cilantro, and then sweat over the chicken vindaloo.
4968 Tower Road, Denver, 720-216-0301, corianderdenver.com
MOONLIGHT DINER (2.4 miles from GVR Golf Club)
With its shining chrome exterior, you can't miss the Moonlight Diner, a recreation of classic diner sport- ing memorabilia, an early rock soundtrack and a breakfast-all-day menu. It's the kind of place where you can side your pressed sandwich with mashed potatoes and gravy or onion rings and top it off with an ice cream soda, a beverage originally created in Denver.
6250 Tower Road, Denver, 303-307-1750, moonlightdinerco.com
PHO KITCHEN 88 (1.1 miles from GVR Golf Club)
Besides noodle bowls, egg rolls, banh mi sandwiches, spring rolls with pork and big bowls of consistently good pho, fast casual Pho Kitchen 88 features spicy Cajun-Asian sea- food boils and juicy char siu (Chinese BBQ pork) buns. Seating is limited.
18630 Green Valley Ranch Blvd, Denver, 720-328-6092
LOS ROBLES MEXICAN RESTAURANT (2.3 miles from GVR Golf Club)
You can tell how popular Los Robles has become based on the steady flow of carry-out orders heading out the door of this off-the-beaten-track location. The family-run eatery does a great job with the usual burritos, tacos and fajitas, but be sure to explore the well-made alambres, sopes, moles and seafood dishes ranging like camarones al mojo de ajo.
5910 N. Tower Road, Denver, 303-373-3915, losroblesmexicanfood.com
BLUE BAY ASIAN CAFE (1.1 miles from GVR Golf Club)
Blue Bay's giant roster of dishes can satisfy diverse cravings and diets. However, hiding in plain sight on the menu are mouthwatering chef's specials such as crispy duck, creamy honey walnut shrimp and fiery Thai mango chicken.
18607 Green Valley Ranch Blvd, Denver, 303-307-0222, bluebaydenver.com