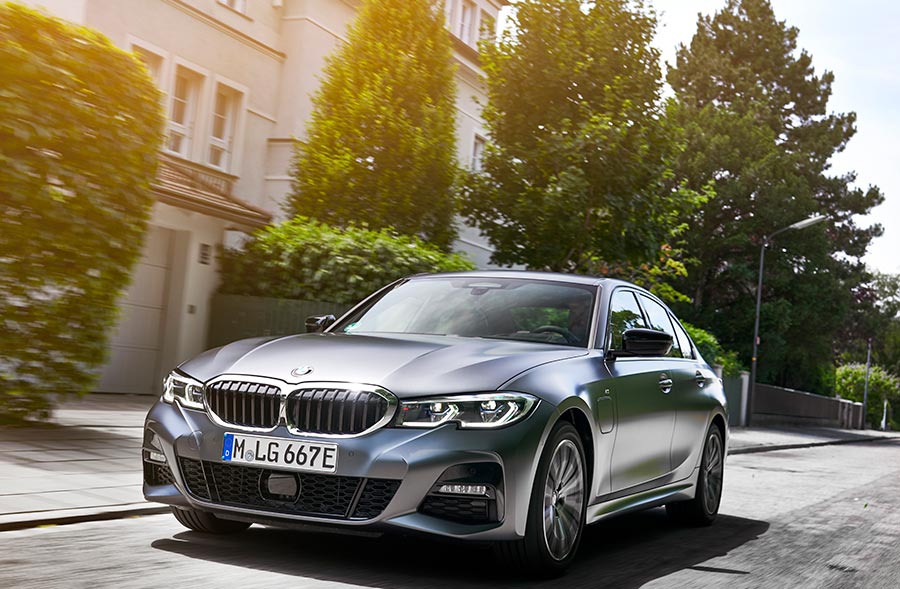 With trucks and SUVs in short supply, consider these sweet alternatives from BMW, Genesis and Mazda.
By Isaac Bouchard
THIS YEAR'S promised "return to normal" certainly didn't materialize in the auto business. While demand is as high as ever, shortsighted thinking last year led most automobile companies to cancel orders for critical components—most crucially, microchips.
Medical and electronics companies snapped up that chip supply. And with the semiconductor industry unable to replenish stocks at most car companies, the net result is lower inventory levels than at any time since the Great Recession.
That means the most popular types—trucks and SUVs—are in many cases the shortest in supply. It also requires those shopping for a new vehicle to think creatively—not unlike a golfer who finds himself stymied by a tree or short-sided in a bunker and comes up with an inspired way to save par.
Until we achieve a national charging infrastructure for electric vehicles, plugin hybrids can always be topped up with good old petrol on road trips, yet handle the daily commute in pure EV mode. A great example of this electric subspecies, the recently updated BMW 330e, delivers uncompromised economy and performance.
While the 2-liter engine and motor- generator, with combined outputs of 288hp and 310lb-ft, are also available in the 5-series and X3, they work best in the 330e, whose lighter, slippery body allow it to cheat the wind better at high velocities and get around town with the shove needed to get it up to speed. The 330e has quick reactions—especially when you summon the nitrous-like Xtraboost function, giving a 40hp jolt, good for up to 10 seconds. The BMW also routinely goes 20 miles on pure electricity. Blending power sources gives amazing results, like Denver to Colorado Springs in only 45 minutes, with an average economy of 38mpg.
The test vehicle was trimmed out in M Sport regalia, and its adjustable suspension almost recreated some of the magic of the stellar 3-series of decades past. Iron-fisted body control allowed the BMW to be tossed about with abandon, and the steering faithfully communicated tire grip. BMW is on the leading edge of useful, intuitive tech, both in its the powertrain and interfaces that combine touchscreen ease with the brilliance of iDrive logic.
Material quality seems to have slipped from the halcyon days of the E46 and E90 3-series, but room is excellent (this gen 3 is a big as an older 5), and the sports seats are supportive and comfort- able for long distances.
Its combination of progressiveness and punchy performance makes the 330e plugin more captivating than the gas-only models.
Taking a page from the Toyota playbook that so successfully launched Lexus in 1989, Hyundai has created its own upmarket brand, Genesis. Five models are available through stand-alone dealers: two crossovers called GVs and three sedans, of which the G80 test car is the midsize. The smaller G70 has won numerous awards as a valid rival to the iconic BMW 3-series, the larger G90 is the plush flagship.
So where does that leave the G80, a classically conceived luxury liner? This Genesis's design is as bold as things get, with perhaps the largest grill available today. Stacked, slit-like, rectangular LED lighting front and rear repeats in the form of fender vents, and a fastback roofline like the last generation Audi A7 and artfully flared flanks also draw the eye. The design language comes courtesy of recruits from companies like Bentley, and elements of the venerable British firm's machinery echo in the G80's flowing fenders and detailing.
The Genesis interior is extremely appealing in its simplicity and sophistication, and the astonishingly high-quality material shames almost everything at the car's price point. The nicely executed standard leatherette trim is more appealing than the real hide in many competitors.
Credit Genesis for rethinking controls and interfaces. Some are very successful, such as the diamond-textured, barrel-like rollers that control volume on the steering wheel and center console, and the climate control interface, whose lovely graphics and clear controls are a textbook example of how to execute a human-machine interface. Others need honing, such as the shallow, backlit "bowl" that can be used as a trackpad input for the large, 14.5-inch center screen. That said, the 21-speaker Lexicon audio system ranks among the best in class and the G80's driver aids work as well or better than those in top Euro-rides.
It seems Genesis is trying for the same blend of old school, refined progress that defines cars like the Mercedes Benz E-Class, and in some ways, they have the Germans beat. Road noise is conspicuously absent and the primary ride of the G80 is supple and long-limbed. But smaller, sharper bumps do upset the ride more than they should. Steering precision lacks the interaction that makes one yearn to drive the Genesis harder, and the 2.5-liter turbo's 300 horses and 311lb-ft of torque allow it to hit 60mph in 5.7 seconds, the large, heavy vehicle betrays its four-cylinder design by being a bit uncouth when pushed hard.
However, one thing beyond reproof is its value. A nicely equipped version runs in the mid-$50s, and even fully kitted out, it doesn't crack $70,000.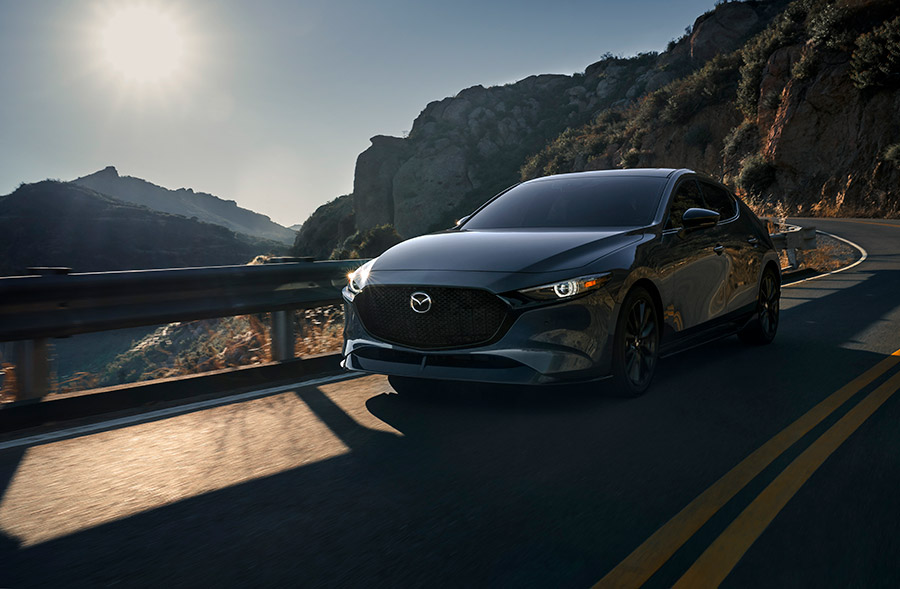 At the end of the last decade, Mazda's new CEO set a goal: the company would become a premium brand by the mid-to-late '20s. Average transaction price is already up $4,000, and many showrooms and facilities are being redesigned to be as nice as those from premium players like Audi.
The Mazda3 2.5 Turbo is a great example of what's afoot. The new version is a full-frontal assault on the Audi A3, with which last year's version was often cross-shopped. Its skin is sleek and the trim discreetly upscale; the hatchback a radical looking thing with a uniquely radiused tail.
The Mazda3 interior is beautifully turned out, most everything a giant leap above the quality of mainstream rivals, including Audi. The clean and simple cockpit aesthetic reflects investment in better materials, like switches that give good satisfaction as you twist, prod or push, and lovely leather that adorns the wheel and shifter. Front seat comfort is superb, but the sloping hatch roofline makes entry to the supportive back bench tight, and the view out claustrophobic. (A mechanically identical four-door version provides more rear-seat space.)
The 2.5 Turbo has a stout 250hp and a massive 320lb-ft of torque, twisting its way through a responsive AWD system. It only takes 5.6 seconds to hit 60mph, and the car is effortlessly fast at all times. The 6-speed trans- mission is smooth and unobtrusive but not as fast-shifting as the best from competitors, and Mazda really needs to allow it to go into top gear in Sport mode. This is not a hot hatch, though; refinement is too big a part of the mix, and this generation of Mazda3 doesn't have the at-the-limit discipline nor interactivity of earlier versions. However, it resists wind and road noise as well or better than most mainstream rivals.
Perhaps as Mazda's new, aspirational place in the automotive firmament becomes more secure, its talented designers and engineers will reintroduce their legacy of driver connectedness and fun. Mazdas consistently rank among the most reliable and least expensive cars to run. Meanwhile, it's wonderful to see the small company from Hiroshima realizing its aspirations while offering such superb value
Automotive Editor Isaac Bouchard owns Denver-based Bespoke Autos ([email protected]; 303-475-1462). Read more of his automotive writing, reviews and recommendations on coloradoavidgolfer.com and bespokeautos.com.