Legendary Golf Writer Kaye Kessler Finishes His Final Story.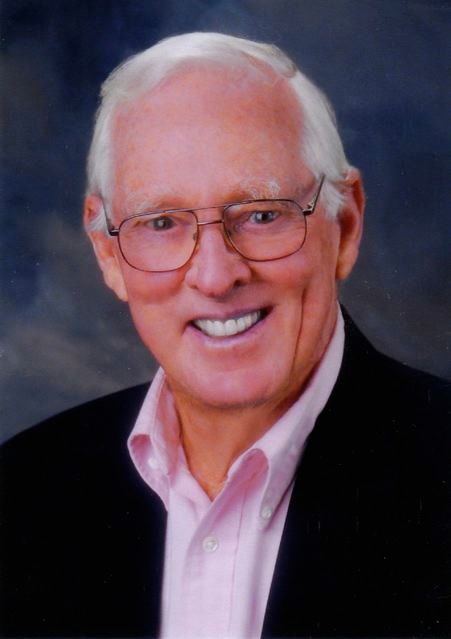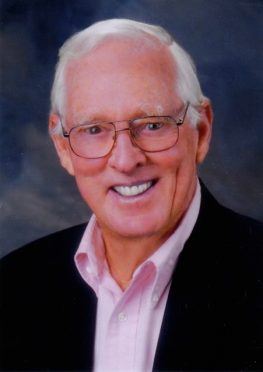 By Jon Rizzi
Last Thursday, December 9, the golf community lost one of its true lions when Kaye Kessler passed away just 11 days shy of his 98th birthday.
A sportswriter, media liaison and a member of both the Colorado and Ohio Golf Halls of Fame, Kessler covered Jack Nicklaus for the Columbus Citizen (which would later become the Columbus Citizen-Journal) when the Golden Bear was a 10-year-old cub at Scioto, and he enticed rising young players like Sergio Garcia and Ernie Els to compete in The International during its 21-year run at the Nicklaus-designed Castle Pines Golf Club.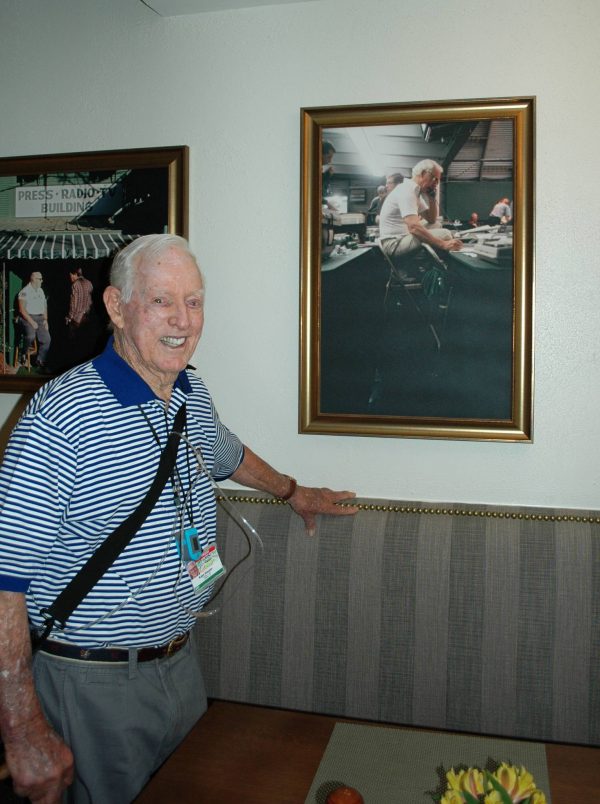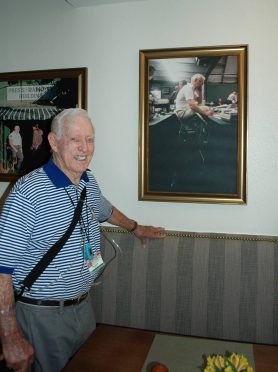 In a career that spanned the heydays of Byron Nelson and Dustin Johnson, the World War II intelligence officer reported on 120 majors including 56 Masters. He made his final trips to Augusta and to The Memorial in his Columbus hometown in 2019. I was fortunate enough to attend a practice round at the 2018 Masters, during which Kaye gave my companion and me a tour of the media center that seemed more like a cruise ship. Every person we encountered treated him like royalty.
As well they should have. He belonged to a golf writers fraternity that included the likes of Dan Jenkins, Furman Bisher, Herbert Warren Wind and Jim Murray. He'd written about all the greats—from Hogan to Snead to Arnold and Jack to Tiger and Phil to Justin and Dustin. He knew them and they knew him.
Raconteur and Gooser
I only knew of him prior to publishing Colorado AvidGolfer's premiere issue in 2002. We became fast friends over lunch and grew closer over the ensuing years. A frequent contributor, Kaye wrote numerous pieces for us, the most noteworthy being "Death of a Hummingbird" after the demise of the International, a 50th Anniversary recreation of Arnold Palmer's 1960 U.S. Open victory and an online piece about Palmer's final Masters appearance.
Early on, we also played golf together. The first time, to our horror, his skulled approach on the second hole at Inverness only stayed out of the water because it nailed one of the many Canada geese congregating in front of it. The flock's wildly hissing, gesticulating defense of its fallen comrade prevented him from playing his next shot. We left the dimpled pellet where it lay.
"That's a FIDO," he said before one of the rare times I'd ever heard the consummate gentleman curse. A FIDO?
"F*** It, Drive On." Classic Kaye.
Breaking 90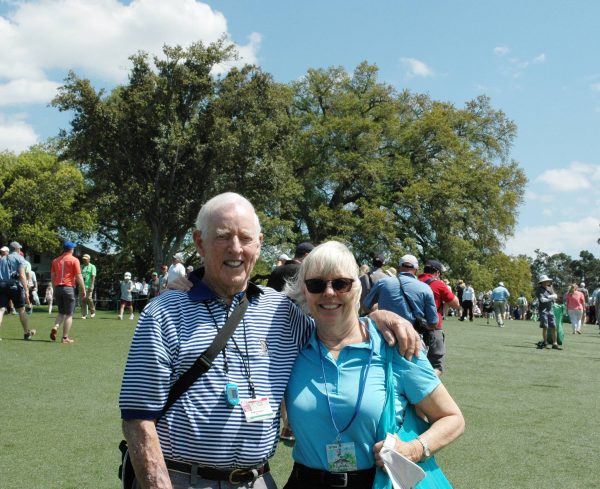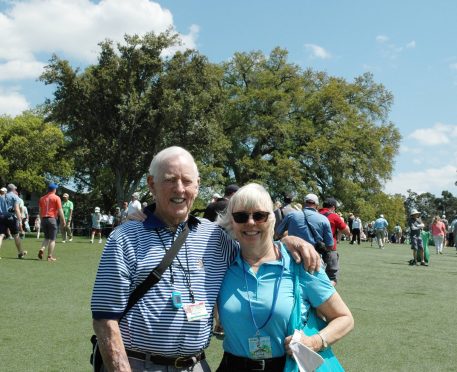 Kaye drove himself everywhere until 2019, when his daughter Kris—whom he called "my designated driver and guardian angel"—took over the responsibilities.
But back in 2013, with me riding shotgun, he piloted "The Beast"—as he called his 1986 Chevy Suburban—to Colorado Springs for the Southern Colorado Golf Expo. The Colorado Golf Hall of Fame shared space with Colorado AvidGolfer.
During those two days, he not only captivated attendees with his stories, but our two 20-something representatives, Kate Stromberg and Vanessa Van Horn, grew so fond of him that later that year, they (along with my future wife, whom he'd charmed with his worldly accounts) made the cut for inclusion at his surprise 90th birthday lunch at Castle Pines Golf Club.
A Hall of Fame Person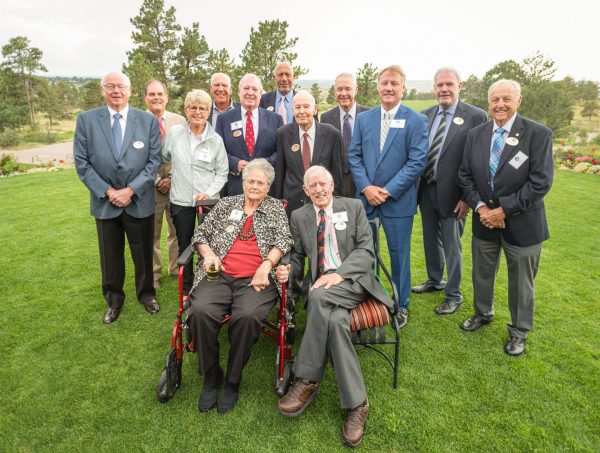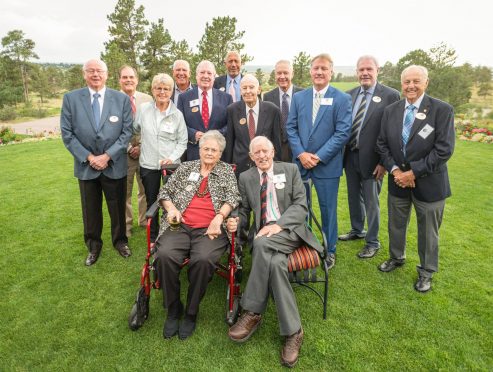 Kaye actively served on the Colorado Golf Hall of Fame board. He attended every induction dinner, including this year's at Colorado Golf Club, and he had a front-row seat at the October press event announcing the Hall of Fame's move to The Broadmoor.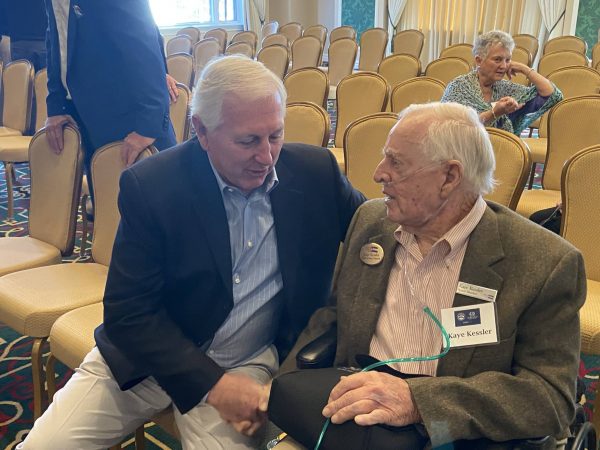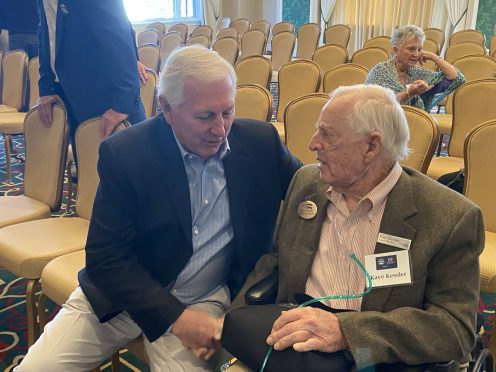 His role on the board of directors was far from ceremonial. As recently as November, the 97-year-old scribe was bloodhounding contact information for dozens of inductees and, if necessary, their descendants, to find memorabilia to display at the Hall's new home.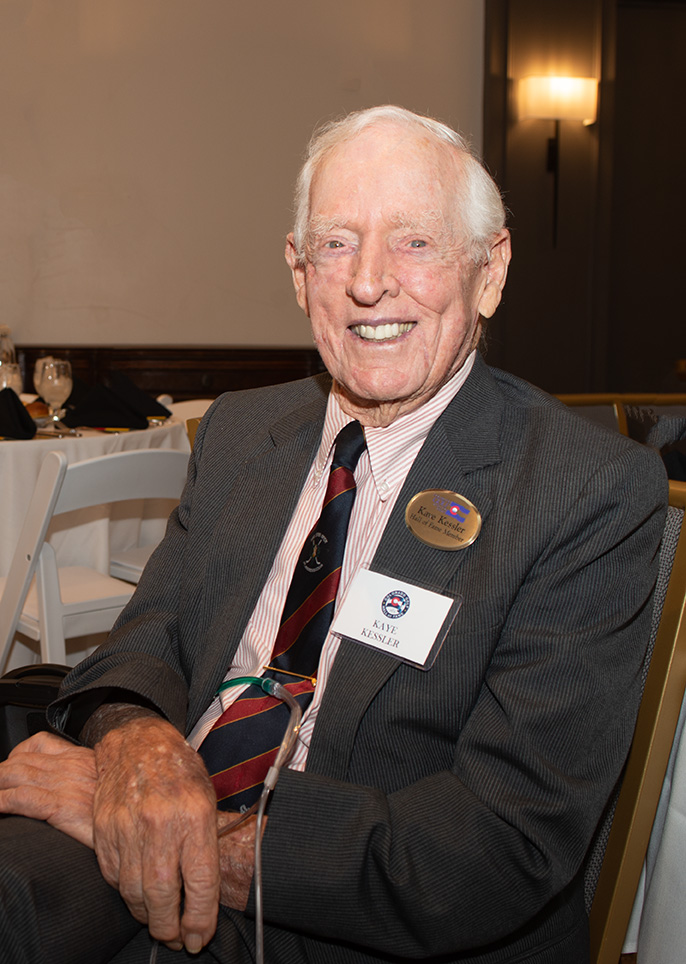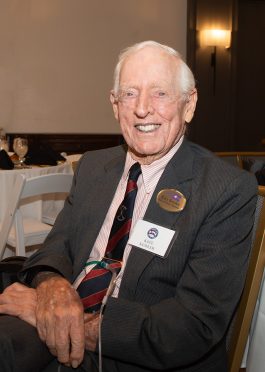 Along with Dan Hogan, the historian who also passed away this year, Kaye was indispensable to the Hall of Fame and to the Colorado golf community. His memory remained sharp even as his body began to betray him and a canula "and my damn green snake tether" became his constant companions. For more than 20 years, he contributed to the Hall's selection process and guided its relationship with the media.
Appropriately, his induction classmate was the golf course architect Jay Morrish, a protégé of Jack Nicklaus and design partner of Tom Weiskopf—both of whom, like Kessler, happened to be Ohio State University alums whose careers he'd chronicled since they were juniors.
His skills as a writer, coupled with his infectious personality and deep sincerity made Kaye both an admired colleague and dear friend.
I, like many others, consider myself truly blessed to have known him.
---
For more of the latest Colorado golf news, visit our NEWS & PROFILES PAGE.
Colorado AvidGolfer Magazine is the state's leading resource for golf and the lifestyle that surrounds it. CAG publishes eight issues annually and delivers daily content via coloradoavidgolfer.com.