The Denver golfer might need three very good reasons to go to northern Alabama on a golf trip.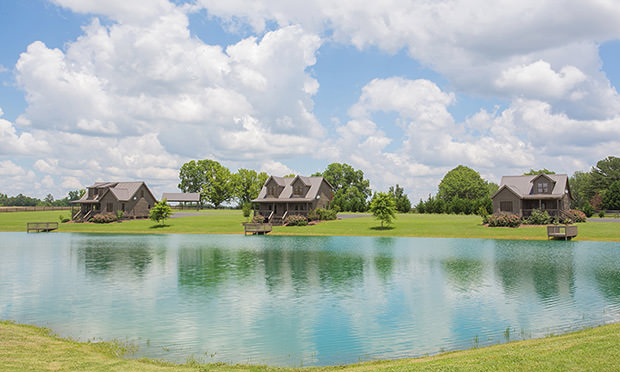 1) 126 RTJ Trail holes, plus a handful of other enjoyable courses. 2) Significantly warmer temperatures. 3) Beer and food worth traveling over 1,000 miles for. There, that was easy.
---
Bert McGriff is the sort of guy small communities need in order to thrive. Born in Cullman County, Ala in 1926, McGriff went to war in 1942 and returned home in '47. He found a job in shipping, but money was tight, and at the end of the year he remembers having $35 to his name. So in 1948, he borrowed $1,000 and opened a Shell gas station.
The business fared well enough for McGriff to establish one of his own – McGriff Tire, in 1955 since when 12 more offices have opened. And two more companies followed – McGriff Treading in 1960, and McGriff Transportation ten years later.
He served on the board of numerous banks, was largely responsible for the creation of the Cullman County Fair, and in 1954 was a charter member of the Cullman Lions Club. And then, in 1980, he built a golf course – a course that everyone who knows him will tell you he built largely for the benefit of the county.
McGriff lined up 50 local businessmen to cover the cost of construction. But only 27 paid up, so he took it on himself and hired Tom Jackson to design the 18 holes of the Terri Pines Country Club (McGriff named the course for his youngest daughter). Jackson's impressive routing moved in multiple directions, cut through handsome woodland, and featured plenty of elevation changes. The first nine opened in May 1980, the second a year later.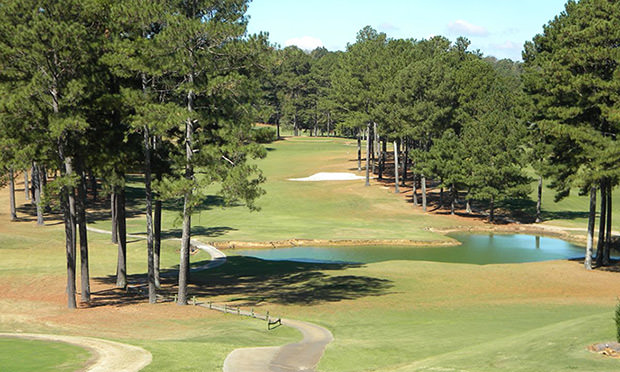 While McGriff retained ownership of the property, he leased the club and its amenities to the members. The arrangement stood for 29 years before the Great Recession hit.
The club's finances declined quickly, and at the September 2010 membership meeting, the Board of Directors announced they had no choice but to close the club at the end of the month.
At that point, Barry McGriff, Bert's son, was given the floor. He announced his family would buy back the club's assets, and that it would continue to operate as usual, though under a different name – TP Country Club.
Seven years on, the clubhouse is still a little rough around the edges, but the course (especially its bentgrass greens) looks superb. And the hospitality you receive from John Hunt in the pro shop makes your visit all the more enjoyable.
You might even meet a seven-time Guinness world record holder – Bob Kurtz who once beat his age seven times in one day, played 1,850 holes in a single week, and who is up at the club most days beating balls. Or you may come across Julian Campbell and his wife of 69 years, Marie. Mr. Campbell, 97, still carries his bag for nine holes four or five times a week.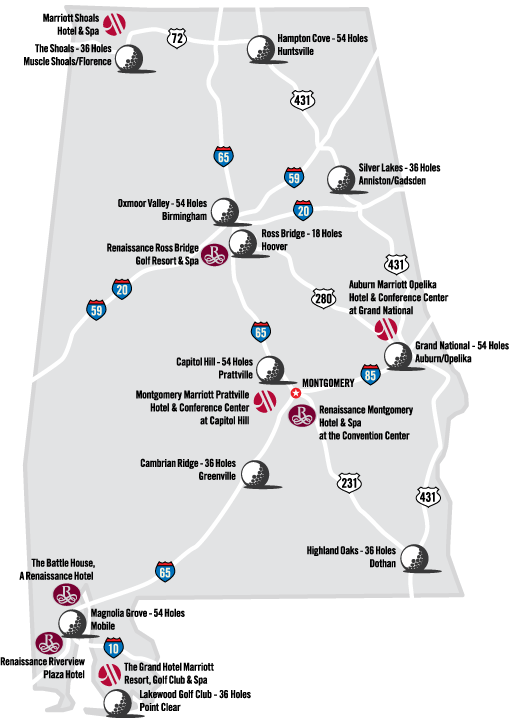 Though a sprightly 97 certainly, it's unlikely Campbell could maintain such a pace if 'Fighting Joe' at The Shoals, the second youngest (2004) of the Robert Trent Jones Golf Trail's 11 properties, was his home course. At 8,092 yards from the back tees, it's a bit of a trek. And the facility's other layout – The Schoolmaster, isn't exactly a pitch-and-putt at 7,971 yards.
There are plenty of tee choices though, and when you find the right set, chances are you'll have an absolute blast on what is a beautiful journey through woodland and meadows with more than their share of water hazards. The 18th on Fighting Joe is delightful with the wide Tennessee River to your right, and the plantation-style clubhouse high above the green.
Roger Rulewich, Jones's young associate (Jones died in 2000), designed both courses at the Shoals and was indeed largely responsible for most of the others on the Trail as his boss and mentor was in his 80s, and essentially retired, when construction on the first courses began in the early 1990s.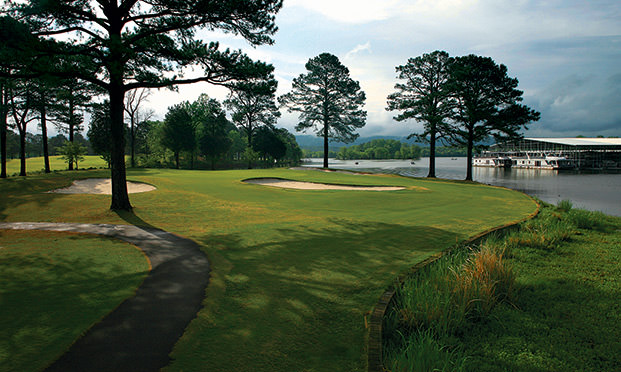 There are two other RTJ Trail courses in Northern Alabama – Hampton Cove in Huntsville, and Silver Lakes outside Gadsden. Both, like the Shoals, should definitely appear on your itinerary.
Hampton Cove was among the Trail's first courses to open, in 1992. There are 54 holes here – the Highlands Course, bunkerless River Course, and the Short Course with 18 par 3s.
Silver Lakes opened in 1993 with fairways lined with red oak, southern pine, elm, cottonwood, maple, river birch, shagbark hickory, and the occasional stark, white sycamore. On April 27th 2011, however, an EF4 tornado (166-200mph wind speeds) ripped 40,000 of them out of the ground, leaving the place looking a little barren in spots. For those that have known Silver Lakes's before and after, the contrast must be stark. Newbies though will surely enjoy the more exposed parts and think this is how it should have been all along. There are four nines – Mindbreaker, Heartbreaker, Backbreaker, and Short. Guess which one is the least demanding.
---
For lodging, the Marriott Shoals in Florence is a fine choice. Just a few hundred feet from the mighty Tennessee and the Wilson Dam which opened in 1924, it is an 11-mile drive over the dam to the Shoals GC while Hampton Cove is 76 miles away and Silver Lakes 131 miles. It's not out of the question you base yourself here, though there's plenty of lodging nearer to Hampton Cove and Silver Lakes if you'd prefer not to face such a long drive after a long day's golf.
One other stop you must make is at the excellent George Cobb-designed Lake Course at Goose Pond Colony in Scottsboro (pictured above). It opened in 1971, and though you've played some fine golf getting here, this might just be your favorite course of the lot.
---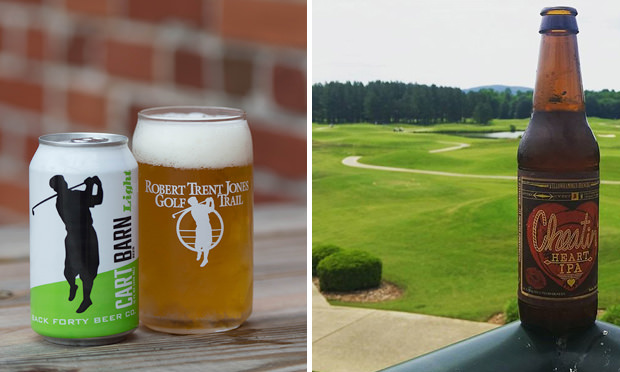 Hmm, perhaps there is one other place you should go – Campus 805, a 13-acre mixed-use development ten minutes west of downtown Huntsville where the Roy Stone Middle School once stood. Actually it's still there, but instead of classrooms and hundreds of 6th, 7th, and 8th grade students, the building is now full of bars and breweries thanks to a significant 're-imagining' by developer Randall Schrimsher in 2009. The breweries based here are Straight to Ale and Yellowhammer – two of Alabama's rapidly rising number of beermakers.
The state's craft beer industry doubled in size every year from 2010 to 2013, and it is still on the rise with a number of Alabama beers now served in bars and restaurants all over the South and southeast. The biggest 'Bama brewery is Back 40 whose delicious and refreshing Cart Barn Light is served around the Robert Trent Jones Trail, and is a perfect choice when the drinks cart swings by.
---
Northern Alabama won't be the first place Coloradoans think of for a golf trip. It may not be the tenth. But with temperatures getting back up into the 60s, even 70s as early as February, beer the connoisseur will definitely appreciate, food just about anyone would appreciate, and a number of really good golf courses, this is an unforeseen trip you'll be glad you took.
---
Colorado AvidGolfer is the state's leading resource for golf and the lifestyle that surrounds it, publishing eight issues annually and proudly delivering daily content via coloradoavidgolfer.com.