CaddieMaster is Resurrecting the Art of the Looper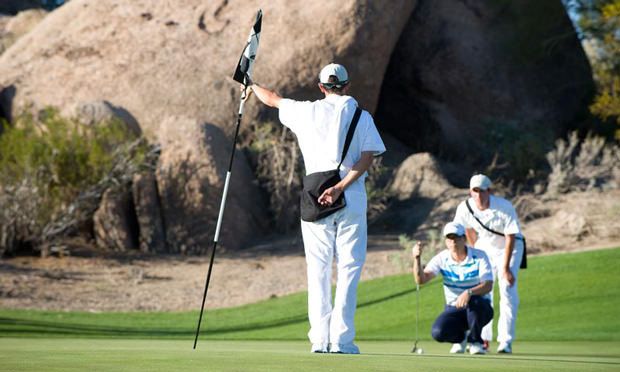 By Chris Duthie
---
I'm an unabashed fan of golf caddies. Some of my earliest and fondest golf memories stem from when I first learned the timeless art of the bag looper — for years working local events like Durango's Navajo Trail Open — which led to a unabated love and respect for the game.
Much later in life I discovered, to my eternal gratification, how much a caddie can impact my own personal play, perceptions and experiences on the links. Having someone tend my clubs, measure yardages, offer strategic insight, rake bunkers, replace divots, find errant balls, and be a calming influence are big reasons why employing a caddie can be overwhelmingly rewarding.
That's why I was pleased to learn that a new caddie services program offered last year at a handful of Troon-managed golf clubs in metro Phoenix is not only being renewed, it's being expanded — from four courses to 11. Apparently the once-dying art of looping is making a definitive comeback in the Valley of the Sun.
"Caddies provide an additional level of service and enhance the overall golf experience for members and guests," says Mike Ryan, executive vice president and COO of Scottsdale-based Troon. "The caddie services were very well received and utilized by guests during the 2016/2017 golf season, [and] we're thrilled to expand the caddie option at many top public and private clubs in Arizona."
Troon contracts with highly regarded CaddieMaster, which employs more than 2,000 professional caddies at dozens of courses across the United States and abroad, including Pinehurst Resorts, Whistling Straits, Pebble Beach, Sea Island, Inverness, Medinah, GlenEagles and several PGA Tour properties.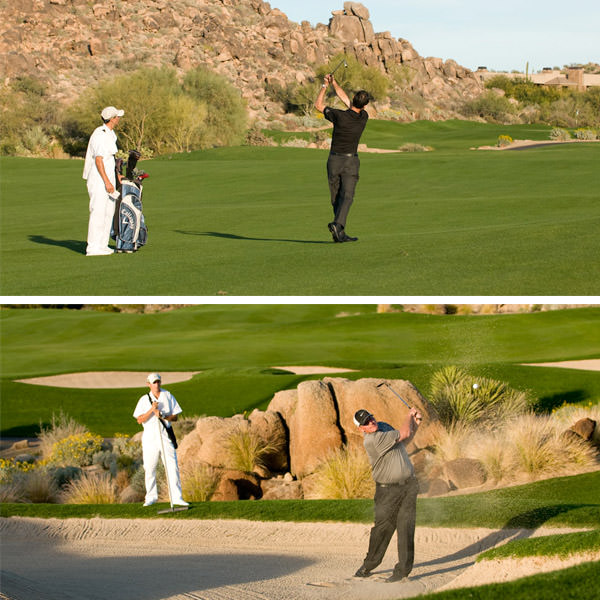 ---
In Greater Phoenix (and with at least 48 hours notice), golfers can arrange for CaddieMaster-certified caddies at the following daily-fee and resort properties:
Troon also features CaddieMaster loopers at two area private clubs —Blackstone in Peoria and FireRock in Fountain Hills.
---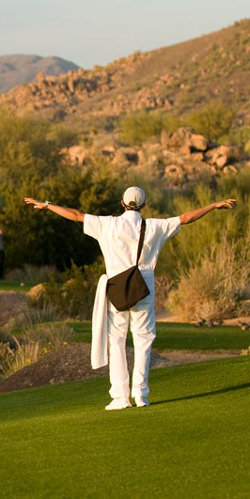 If unfamiliar with caddie services, it's worth noting that CaddieMaster features the three most popular varieties:
1) Forecaddie: Positioned ahead of the group to track shots for each player in the group, the forecaddie also offers course management advice including helping players select the target lines. Additionally, forecaddies rake bunkers, replace divots, tend flagsticks and clean balls and clubs.
2) Double-Bag Caddie: Working with two golfers in the group, the caddie offers best-play strategies, assists with yardages, rakes bunkers, replaces divots, helps around the greens, tends the pin and performs any other duties required.
3) Single-Bag Caddie: Working with a single golfer, the caddie describes the best play for each hole, assists with yardages, rakes bunkers, replaces divots, helps around the greens, tends the pin and performs any other duties required.
Caddie services range from $30 per player for a forecaddie to $100 per player for a single-bag caddie. The recommended gratuity is $20 and up per player for forecaddies and $30 and up for walking caddies.
For more information go online to Troon and CaddieMaster. What are your favorite memories of playing with a caddie? Share your comments below.
---
RELATED LINKS
CaddieMaster Elevates Scottsdale Experience
Back in the Loop: The Caddie Summit
14 Colorado Caddies Awarded Evans Scholarships
Scottsdale Golf Week is Jan. 8-14
---
Chris Duthie is a Durango-based contributor to Colorado AvidGolfer. Colorado AvidGolfer is the state's leading resource for golf and the lifestyle that surrounds it, publishing eight issues annually and proudly delivering daily content via coloradoavidgolfer.com.