Consider the surreal scene in the final round of this year's WM Phoenix Open: On the 16th hole of TPC Scottsdale's Stadium course, Harry Higgs drains a birdie putt and lifts his shirt to expose a torso sorely in need of a gym. Playing partner Joel Dahmen does him better and takes off his top, inciting the gallery to shower them with beer—and beer cans—in a display that shattered golf's unwritten rules. Although the PGA TOUR undoubtedly fined the pair, Dahmen and Higgs generally received rave reviews instead of searing condemnation.
Look at the decidedly un-golf-like physique of Bryson DeChambeau, whose dramatic, heavily documented efforts to drive the 575-yard par-5 6th hole at Bay Hill in the 2021 Arnold Palmer Invitational became one of the season's most-watched shots. However, many fans have forgotten that he also won the tournament).
And, let's not forget the tatted girls and bearded boys, their shirts untucked, hats on backward, toting their clubs like a bowling ball into a Topgolf facility—or at a growing number of Colorado's indoor offshoots, like X Golf or the "non-members only" South Broadway Country Club. Here they can enjoy a few hours of casual entertainment, testing their skills in friendly competition with music, gambling, and cocktails (while also keeping a watchful eye on PGA TOUR coverage on numerous big-screen TVs, including the periodic updating of gambling odds).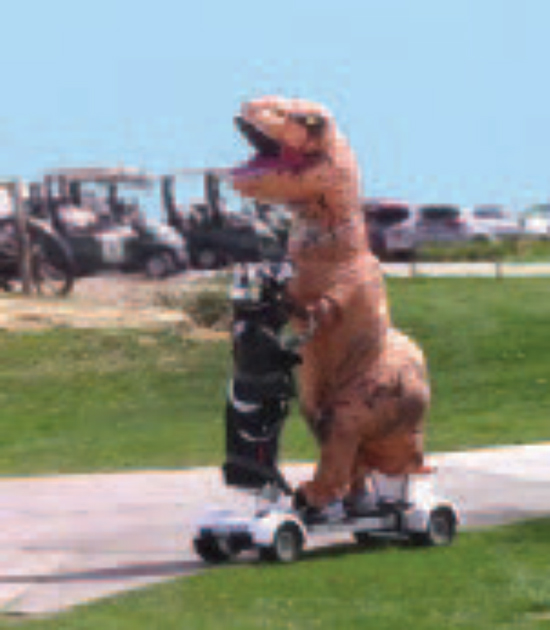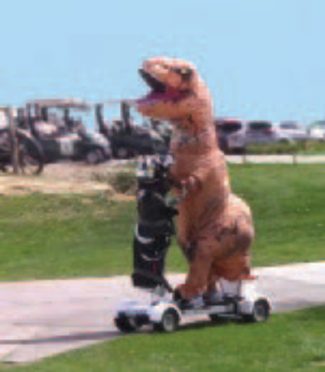 The centuries-old worship of the WRigid "Game" is torched by a new breed of open-minded golfers who want to be entertained while rejecting the notion that golf must be a fussy grind. Just as snowboarding upended the staid, stagnant ski scene in the late 1980s and eventually made winter sports cool (and more popular, accessible, and healthier), a similar, less easily defined dynamically is giving golf a jolt of energy.
Inspired by alternative personalities and stories being humorously presented N social media, in Podcasts, and on websites (from players like Higgs, Dahmen, and Max Homa, and outlets such as No Laying Up, Skratch, Barstool Sports, And The Fried Egg), A whole new way to Approach and enjoy the Game, and to laugh out Loud, is taking center stage. The new genre Doesn't even have an official name.  However, Bloomberg termed it "Fun-To-Do" golf. Combined with the unprecedented boom triggered by Covid—more than 500 million rounds played in 2020, followed by an estimated 5 percent bump for 2021—the result is a badly needed refresh and re-definition of what constitutes golf.
"There isn't one game of golf; there are many," says Ed Mate, who admittedly spent most of his 22 years as the executive director of the Colorado Golf Association promoting (and protecting) golf's sanctity. The CGA, a licensee of the USGA, tends to represent the state's most traditional golfers— the 69,000 players from 600 clubs who carry USGA handicaps.
Mate recalls the USGA coming up with the "Keeping the game you love the Game you love" tagline, invoking the wisdom of always hewing to tradition. That may be your grandfather's slogan, but the times are changing. "You actually can do it all different ways," says Mate, who grew up playing City Park and ensured that the name of the CGA's golf course, CommonGround in Aurora, would emphasize inclusion. "It's an exciting time for golf," he says, adding that the CGA saw an unprecedented, nearly 10 percent increase in members for 2021.
"The staid nature of the game is bowing to the less formal aspects," commentator Brandel Chamblee opined in the wake of the WM Phoenix Open's delightful debauchery. "I can't imagine how it could be any better." For years, Saddleback Golf Club in Firestone has been using social and digital media, TV advertising, and a laid-back on-site vibe to woo unpretentious players who value this "less formal" approach. Billing itself as "not normal" and proud of it, Saddleback's scorecard declares, "USGA rules apply only sometimes." Saddleback's Rob Finley, the architect of the club's messaging, says, "This game can be fun, provided it's not reckless."
Mike Ruvolo, who pitched for the Air Force Academy and now plays to a five at the private Harmony Club near Fort Collins, owns and oversees the booming X Golf indoor simulator facilities in Denver, Fort Collins, and Grand Junction. "This is an entertainment facility," he says, noting that 80-90 percent of the clientele are green-grass golfers. "We are not quiet."
It's impossible to categorize or pigeonhole the progressive, new-school golfer, other than that they share a desire to have fun and enjoy the unequaled pleasure that comes from striking a golf ball pure or sinking a curling 20-foot birdie putt. The Gen Z and Millennial crowd won't be seen in pleated khakis, but they may or may not show up in athleisure-wear, smoke a cigar, drink cocktails, listen to hip-hop, play with their mobile and hit bombs. They may shoot three-under…or 111.
They hate old-school rules, like the exclusive private clubs that don't allow equal access and enforce dress codes on the course and in the dining room. They switch channels when CBS TV analystNick Faldo laments Bryson's long ball and pines for the older adult Mondays and 185-yard five irons.
Just as non-traditionalists applauded Fernando Tatis Jr.'s bat-flipping (and unwritten-rule-breaking) home run celebrations for the San Diego Padres, open-minded golfers look for free spirits in the fairways (they love the Bryson- Brooksie feud, partly because the old school considers it undignified, but mostly because it is entertaining). Nobody can root against the steely Patrick Cantlay, but his sponsor logos (Goldman Sachs, Lexus, Hugo Boss) immediately turn off the new breed. They'd likely prefer Patrick Reed's CBD product logo and would probably get a laugh out of Jason Dufner's DUDE wipes cap (yes, "keep your DUDE parts fresh").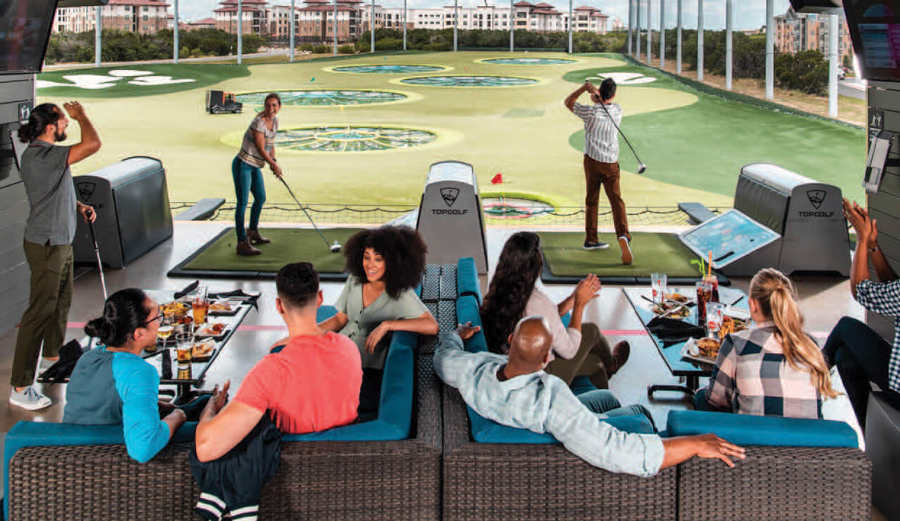 The new wave is represented on the PGA TOUR by unlikely stars like Max Homa, who grew up playing Los Angeles muni golf; they never take things too seriously. but plays the game with skill and respect. When he won the hometown Genesis Invitational at the fabled Riviera Country Club, it was one of his most famous victories. Humble and self-deprecating, Homa built his fan base with his deadpan swing critiques, which he offered to anyone who'd send a video. He now has almost 350,000 Twitter followers and, along with social media starlet Paige Spiranac, is a spokesperson for X Golf.
Joel Dahmen, who publicly and humorously sparred with a profane Twitter follower recently lost a $1,000 bet against him cutting, is another unlikely leader. So is the bespectacled, whiskered, gregarious Harry Higgs, whose couch-like physique, fondness for Tito's, and down-home outlook is relatable to all. Higgs looks more like a Philadelphia Eagles fan (which he is) than a PGA TOUR player, and that's central to his appeal.
The new approach is seen in course architecture, where select designers craft a new golf course, perhaps even the anti-club. The flag bearer is the 9-hole Sweetens Cove, carved out of a featureless floodplain by Tad King and Rob Collins in the middle of nowhere (South Pittsburg, Tenn.), where you buy a day pass (possibly to hang out on the "Heckler's Deck") rather than a tee time.
With Peyton Manning as an investor and its bourbon brand, Sweetens Cove opened in 2014 with a shed and porta-potty serving as the clubhouse, although it would soon appear on those vaunted Top 100 course lists. Approach shots often must be aimed 90 degrees from the flagstick to take advantage of the bumps and berms that will ultimately help funnel the ball toward the hole. One par-3 green is a half-acre in size so that the tee shot can range from 90 to more than 200 yards.
In a nod to the new school, author Tom Coyne, who played every one of the country's signature tracks for his book, A Course Called America, singled out a 7-hole DIY backyard course outside Kansas City as representing "the best of both golf and America."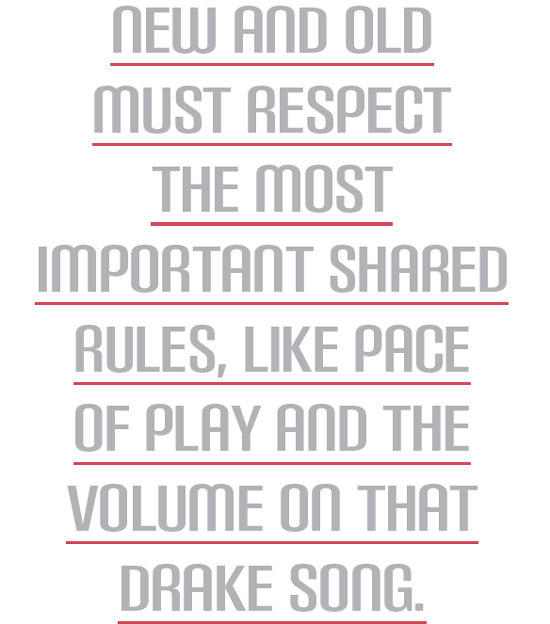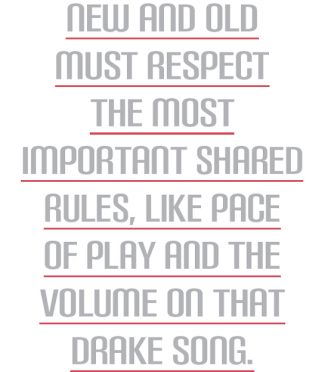 Ben Hotaling built Brough Creek National with his own hands and a few friends, but he had several thousand advisers and members helping light the way. The backyard build went viral when his call for advice hit No Laying Up's, message boards. As Coyle summarized, Brough's rough-hewn holes may only range from 50 to 120 yards, but it was a self-made, brave, bold, communal place where anyone with an email address could play.
Along with polo and yachting, golf's origins in America are affluent, exclusive, blue-blooded, and conservative. The game's come a long way, with many generational changes and barrier breakers along the route—from everyman Arnold Palmer to the dignified domination of Jack Nicklaus to the hurricane-like arrival of Tiger Woods, whose preference for mock Ts banished the collared shirt requirement from most golf facilities almost overnight. The newest transformation promises bigger change, and it will depend on the new and the old assimilating—and agreeing to respect the most important shared rules, like the pace of play and the volume on that Drake song.
When snowboarders elbowed their way onto the skiers' segregated slopes, conflicts erupted, ranging from shouting matches and fistfights to fatal collisions. Golf has mostly avoided such ugliness, but it will need to proceed with diplomacy, compromise, and patience to meet in the middle. The first step for the industry: Seek out and listen to the new breed— their ideas and energy will make the game better and more popular.
Even the ultra-upscale Boulders Club in north Scottsdale now warmly welcomes Bluetooth speakers. With these caveats: Always check with your playing partners before turning it on; inquire about the genre; not all music is appealing to all; keep the volume down to a 15-foot radius.
The line between the new and the traditional is as much attitudinal as generational. But age does play a factor, and the Baby Boomer vs. Millennial / Gen Z matchup is setting up as critical. In musing on generational traits, on strong wills, and my-way-or-the-highway temperaments, Saddleback's Finley offers this observation from when he sees the two parties mingle. "I think the Baby Boomers recognize themselves," he chuckles.
—
Contributor Andy Bigford, a Baby Boomer with two opinionated, new-school nephews, is a member of Lake Valley Golf Club in Niwot, where the dress code allows blue jeans everywhere.
---
This article can also be found in the 2022 April Issue of Colorado AvidGolfer.
Colorado AvidGolfer is the state's leading resource for golf and the lifestyle that surrounds it, publishing eight issues annually and proudly delivering daily content via coloradoavidgolfer.com.