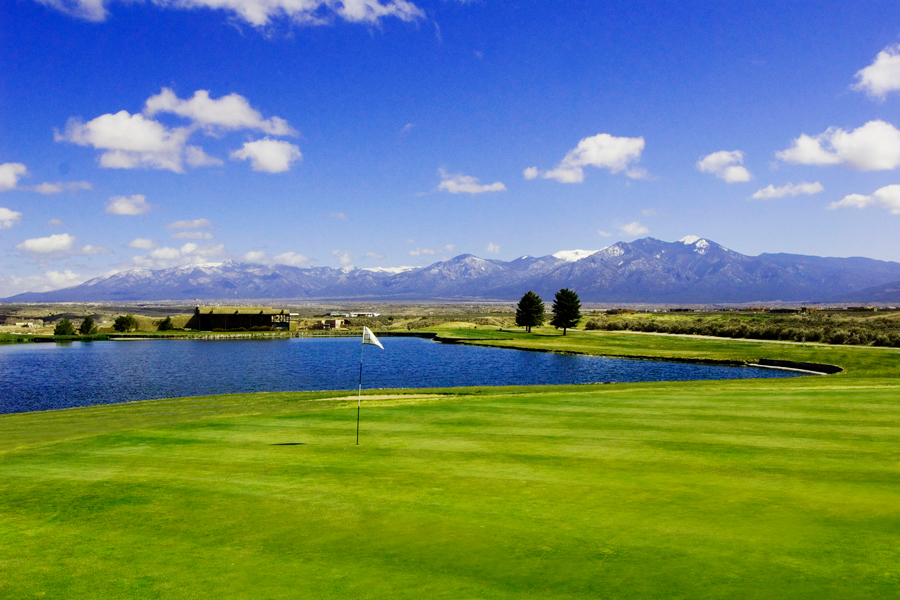 Crossing the state line into New Mexico, I begin a thrilling journey of discovery.
In 1961, a 13-year-old Jep Wille spent a week in the New Mexico town of Taos on a family vacation. Thirty years later, he returned to the high desert, marked by its tangly, scented sagebrush, to build a golf course that has defined his career as an architect. Something of a star of the Austin, Tex., golf scene in his youth, Wille (pronounced"Willy") played at Louisiana State University before working for course designers LeonHoward and Joe Finger as well as the team of Robert von Hagge and Bruce Devlin while continuing to play top-level amateur golf. Wille turned pro at age 37, breaking even on California's highly competitive GoldenState mini-tour. That's where he met fellow professional Tad Bourg, who, after leaving the tour, joined three other investors in developingTaos Country Club. Aware of Wille's past life in course design, Bourg hired him to design his course, thus saving the project a good deal of money."I liked the way Jep thought," Bourg says, "He was a big Alister Mackenzie fan and appreciated more natural courses.
I liked that from a golfer's perspective and a businessman's."Wille was especially pleased when he discovered what lay underneath the never-ending sagebrush. "The views north, east, and south to the Sangre de Cristo mountains were spectacular, obviously," he says, "but there was plenty of undulation and lots of little ridges and kinks that would make interesting golf holes."Taos opened its first nine in 1992 and was completed two years later for around $2 million total. It marked the first of Wille's eight solo efforts, but none attracted as many accolades as Taos. At 7,000 feet above sea level, it stretches to 7,302 yards from the back tees. Taos CC might strike some bleak with few trees, a frequently mighty wind, 20-mile views west to the Tusas Mountains, and just a handful of residences dotted here and there. But challenges, such as the water carry on the par-3 11th, keep things interesting, and scoring opportunities—especially on the risk-reward par5s on eight, 14, and 15 and the short par-417th—reveal themselves throughout this arroyo-rich landscape garlanded by silver-green chamiso. However memorable Taos might be, the highlight of your trip to the Land of Enchantment.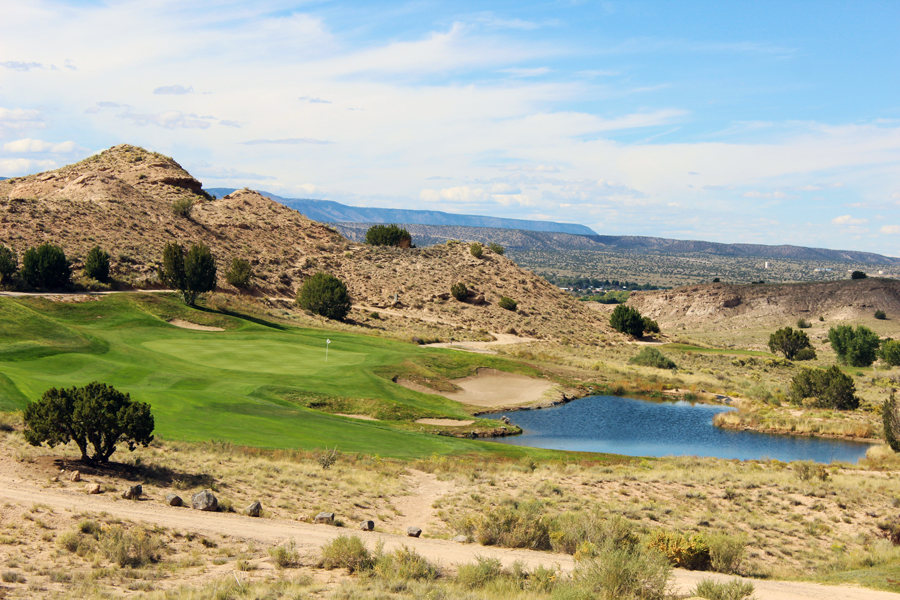 Ment could well come 45 miles southwest near Española, where the genuinely remarkable black Mesa Golf Club takes you on a wild journey through a rocky moonscape of ridges and valleys. Designed by Baxter Spann and owned by the Santa Clara Pueblo, it opened in 2003 and received a near-constant stream of positive press. The five-star rating dried up around 2013/14 following a significant disagreement between the Pueblo and the course's lessee, resulting in rapid deterioration of course conditions. Since day one, Tom Velarde, pro at Black Mesa, winces at the memory. "Some of the comments we got on TripAdvisor and other sites were brutal," he says. "But they were accurate."Indeed, the course took on some unwanted color—yellow in the fairways as the dandelion went untreated and brown on the once-revered greens as needy bent grasses without the close attention it demanded and died, leaving unsightly, reputable patches. Thankfully, that unfortunate period in the life of Black Mesa is now a distant memory, owing to a new management initiative and support from the excellent Santa Claran Hotel that opened in Española in 2012.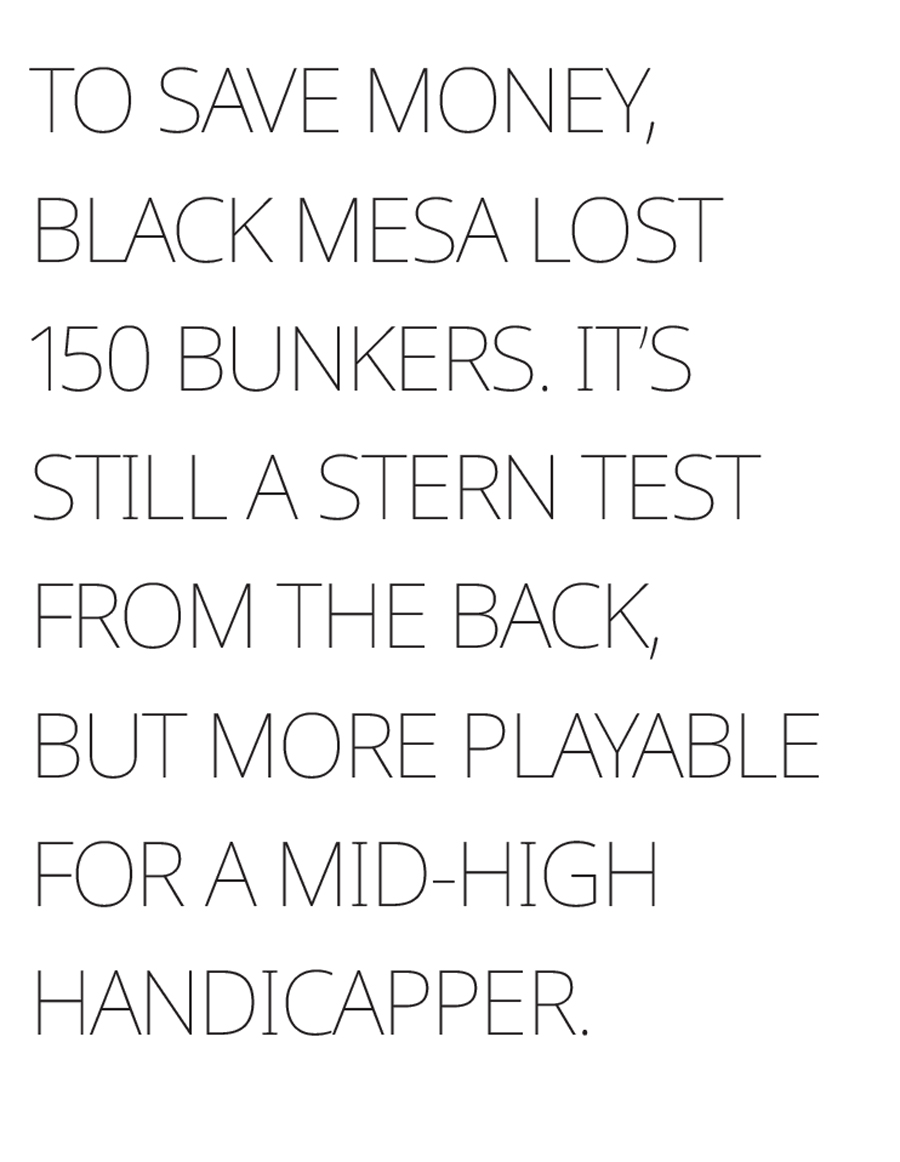 Equally crucial to the course's survival and healthy evolution was the arrival of a young, talented. Eager superintendent by the name of Aaron Sunderlin quickly identified his priorities, the most crucial of which was repairing the course's failing irrigation system."The first step was solving the plethora of electrical faults and replacing the pump station panel," he says(Black Mesa gets its water from the Rio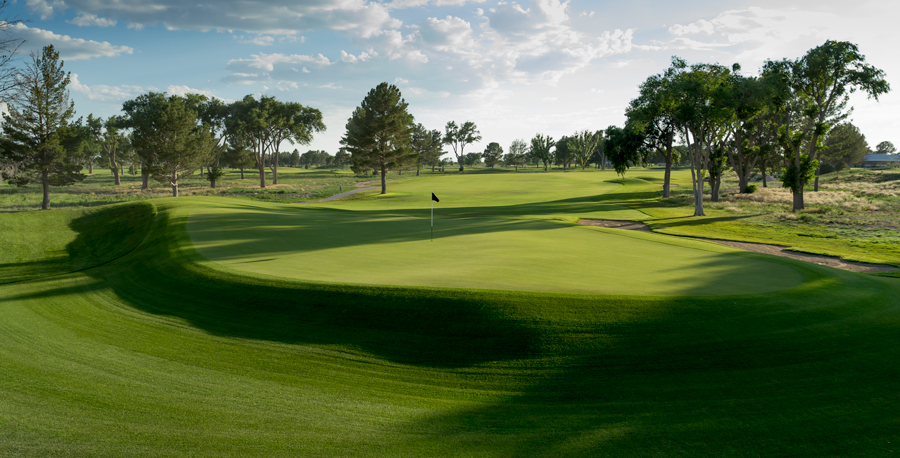 Grande). "Then I needed tore-grass the greens, train and motivate my staff and complete the bunker project that began before I arrived." To save money, the Pueblo had decided to take out 150 bunkers, a plan that has worked out financially and improved playability. It's still a stern test from the backmarkers, but the mid-high handicapper can now look forward to fewer missteps in the sand. Three years after Sunderlin arrived, Black Mesa is looking as good as it ever has and is, quite rightly, attracting the attention of golf's most prestigious course rankings(#99 on golf.com's most recent ranking of top 100 public courses) once again. Ten miles southeast brings you to the resort-course version of the same Lazarus story. Towa Golf Club, which adjoins the magnificent Hilton Buffalo Thunder casino resort in the Pojoaque Valley, sports three nines—the Boulder, Piñon, and Valley. A favorite of local "Butterfly Club" members and Buffalo Thunder guests, the 27-hole facility saw a 60 percent increase in rounds during the pandemic—a spike that would have gravely concerned PGA Director of Golf Linda Howell during her first tenure at the course, from 2009 to '13)."I did not agree with how Hilton was managing it," she shares, recalling the dramatic deterioration of course conditions. "So, I left." After five seasons at the award-winning Rockwind Community Links in Hobbs, Howell returned to Towa in 2018, when the Pojoaque Pueblo ownership took over the club's management. Thanks to SuperintendentJimmy Rodriguez—with whom she'd previously worked in the Colorado cougar Canyon Golf Course in Trinidad—the conditioning shines like never before. Each nine opens with a 600-yard Par5, and the toughest of the trio, the BillPhillips-designed Boulder Course, features the state's only island green Par 3on its fourth hole and an unforgettable plunge. On its ninth."You have spectacular views of the Sangre de Cristos and the Jemez Mountains from the tee," Howell says. "And then there's the unique nature of hitting to a green 100 feet below."
Jemez vistas also present themselves on every hole of Towa's Valley Course, Irwin's resort-friendly counterpoint to his challenging Piñon. The charms of Santa Fe and several excellent courses await between Towa and Albuquerque. Cochiti, Twin Warriors, Santa Ana, Sandia, and Panko Ridge. Panko, a vaunted Ken Dye design, was purchased in 2018 by New York turnaround specialists has upscaled Alvarez & Marsal, which has upscaled the property. It is still open to the public, but the green fee has risen to a very splurge-worthy $225 plus tax. In Duke City itself, you won't find a better round than the University of NewMexico's Championship Course, which opened in 1967. Yes, it fits snugly between a busy airport and interstate but doesn't let that deter you from taking on Red Lawrence's demanding layout that has hosted multiple NCAA Championships.Although remotely and respectively located in the northeast and southwest corners of the state, the highly decoratedPiñon Hills (Farmington) and Rockwind Community Links (Hobbs) will more than repay the effort of getting to them. Then again, you can say the same for most New Mexico courses.