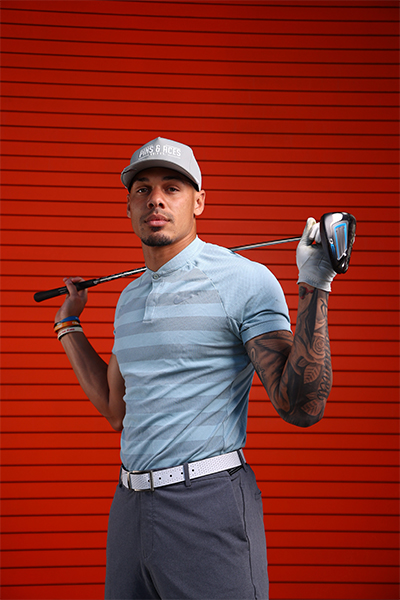 Devoted to making a difference on the field and in the community, Broncos safety Justin Simmons now brings his game-changing passion to the golf course.
By Sam Adams
Two-time All-Pro safety Justin Simmons enters the spacious lobby of the Denver Broncos' training facility wearing what initially appears to be a Karate Kid headband. A closer look reveals a bandana covered with Bible verses.
Smiling, he offers a handshake before the start of an interview which encompasses his values of family, faith and philanthropy—with a bit of football, fairways and foursomes included.
In his first six seasons as a Bronco, Simmons, 28, has made a sizable impact on the Denver defense and the Colorado community. Drafted 98th overall in 2016 out of Boston College, he has not missed a start for Denver since 2017 and already ranks 10th all-time on the Broncos' interception list with 21.
The athleticism Simmons displays on a football field borders on freakish. A lean, lanky build (6-foot-2 and 202 pounds) has allowed him to make some incredible interceptions for the Broncos' secondary, and timely blocked kicks on special teams.
"Justin has a lot of versatility as a safety," KOA's long-time Broncos play-by-play man Dave Logan says. "He's athletic and long, and that allows him to cover well. He also has great instincts when playing the middle of the field. You've got to be careful with him back there because of his range."
However, Broncos' Ring of Fame safety Billy Thompson cautions that Simmons' athleticism will carry him only so far. "It looks like he's learned a lot on his own," Thompson says. "He's athletic, no question about that. It's just the nuances—and you pick them up with experience."
GIVING BACK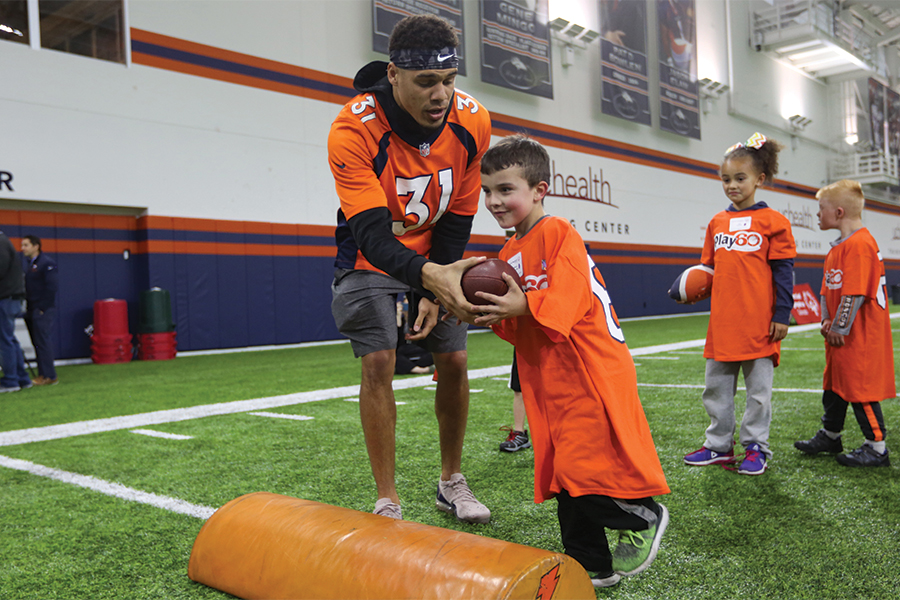 When he's away from the roars of thousands of pro football fanatics, Simmons invests his time in the work of the Justin Simmons Foundation, which he established during the pandemic in 2020 and extends itself to several local organizations—the Boys and Girls Clubs and Denver Rescue Mission among them.
His foundation also has been active with charity work in Florida's Martin County, where he grew up and attended high school in the town of Stuart on the Atlantic Coast.
To be sure, Simmons' philanthropy predates the creation of his foundation and his $16.5 million annual salary. "I grew up with
a giving-back mentality," he says, and ever since arriving in Denver in 2016, Simmons has dedicated himself to being actively involved with the organization's community outreach efforts.
He says it's meaningful to walk the same path as many of his former teammates, as well as current Broncos players who are involved with charities and foundations.
"Guys like Chris (Harris), D.T. (the late Demaryius Thomas) … when I got here (2016) D.T. was huge in the community, especially with the Boys and Girls Club," Simmons says. "Guys like Emmanuel (Sanders), Von (Miller), they all were doing community work.
"From a young rook's perspective, I'm coming in and watching our top stars on the team give back. That was cool for me because that's how I grew up.
"I didn't get to where I am on my own. I want to make sure that along this journey the Lord has me on, that I'm able to be the person that's giving back to someone who's looking up to my position in life.
"I want to give that person hope, vision and joy in what they want to do."
FINDING FAITH
Simmons credits much of his perspectives about life on a biracial upbringing. "My dad (Victor) is black, my mom (Kimberly) is white—and that was just interesting in itself, growing up a mixed kid," Simmons says. "A lot of time I just felt I'm not black enough to hang out with my black friends, or not white enough to hang out with my white friends. There was just a lot of timefiguring out who I was."
That moment, he continues, "caused me to grow closer to my family. In that closeness I naturally was drawn to a relationship with Jesus. That's my parents' foundation." Simmons, who with his wife Taryn has a pair of daughters, says he has a passion for kids and for young adults.
"No matter what it is, I want to be there," he insists. "I want to show up, like Jesus showed up in scripture."
To see how Simmons has shown up, you only need to look at the Broncos' team webpage, where a slideshow of more than 100 photos chronicles Simmons' involvement with food banks, shelters, schools, hospitals, blood drives, Boys & Girls Clubs, military bases, NFL Play 60 events and dozens of other situations where he can make a difference in people's lives.
Before last season's home opener, he flew in eight family members of another man named Justin Simmons, who had died from a heart attack at age 32. Like the Broncos star, the other Justin Simmons had devoted himself to helping others, and before being taken off life-support, the organ donor was wheeled around the hospital in an "honor walk." His final act of giving— his liver and kidneys—saved three lives.
"I saw the video of the honor walk and right then and there I knew I had to find a way to help his family," the All- Pro said in an ESPN interview. "I have all the respect in the world for what Justin did."
For three consecutive years, the Broncos have shown their respect for their star safety by nominating himfor the Walter Payton NFL Man of the Year award, which is given annually to a player for his excellence both on and off the field. He is one of only two Broncos to be thrice nominated, and the only one to have the nominations come consecutively.
ACTIVISM
During the racially charged summer of 2020, Simmons was a leader among the Broncos' players and team personnel who attended a Black Lives Matter rally held in downtown Denver. Simmons delivered a heartfelt message to the crowd—one that allowed many people to see and hear him in a different light.
"I really had a moment, at the rally, where I felt I didn't want to waste an opportunity to stand up for something that I know in my heart is right," he says. "I'd rather do what I know in my heart is right, and whatever happens because of it, I'm cool with happening.
"That's been my M.O. ever since. How people think, how they take things, I can't help how they may perceive the things I'm doing—even though I'm telling you why I'm doing what I'm doing."
Simmons has become a fixture at the Boys and Girls Club in Montbello, where he mentors youth participating in the national RISE leadership program.
RISE is a nonprofit that educates, empowers and encourages the sports community to eradicate racial discrimination, while championing social justice and the improvement in race relations. The program also offers youth a platform to share experiences and perspectives on race, and diversity and inclusion.
Simmons is on site as a willing listener and discussion participant. "I feel like one of the most important commodities, as a person, that you can give to someone else is your time," Simmons says.
"You can give money and other things, but when you show up and give of your time to someone else, that shows the dedication of how much you care.
"You gain a lot of people's respect when you show up."
THE GOLF GAME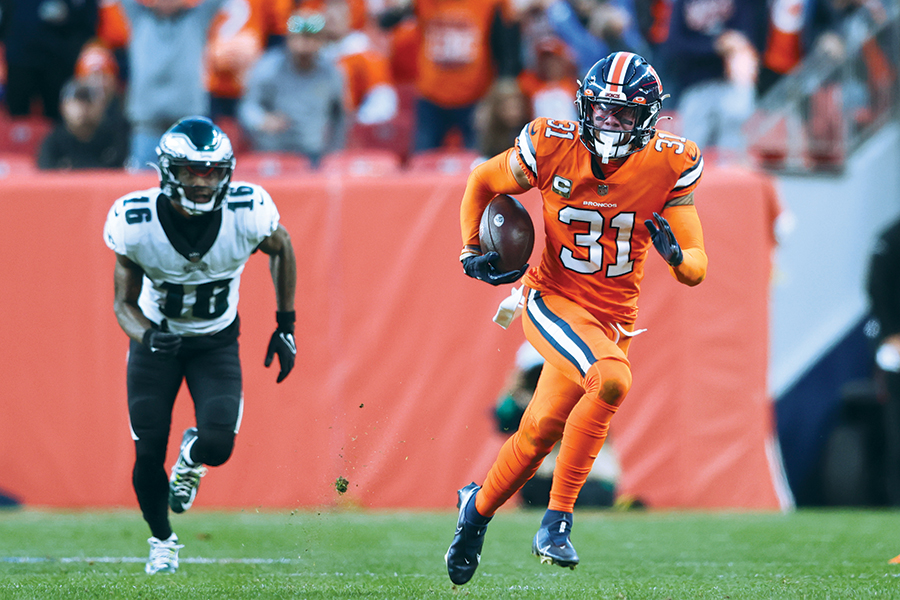 SSometime during the 2022 NFL season Simmons is expected to play his 100th game. That number also represents the benchmark on his scorecard.
"I'm consistently a high 90s, 100s type of golfer," he says. "I'm too inconsistent for my liking at this point. For the most part I can feel a consistency of progression in my game. I think that's what makes it fun. I'm a workaholic in that aspect."
Carrying a bag full of PINGs, Simmons hits the links with hopes of competing. Thus far, it's proven to be as rough as containing quarterback Patrick Mahomes of the Kansas City Chiefs.
"I want to be competitive at it, but I'm just not there yet," Simmons says. "A lot of times, I just love going to the course. I like to kick back, have good company and just great vibes. I think I fell in love with golf because of that.
"I thought it would be awkward. Like, you're out there for four hours with the same three guys. That, to me, just sounds like an exaggerated or prolonged conversation. I'm not that type of person."
Simmons enjoys golf outings with teammates like Justin Strnad, Josey Jewell and Brett Rypien. "If I had to say, Brett Rypien is one of the best golfers on the team," Simmons says. "B-Mac's (kicker Brandon McManus) up there too."
McManus has played in the Inspirato Colorado Open, and Rypien, who will compete to become quarterback Russell Wilson's backup, is the nephew of Super Bowl XXVI MVP Mark Rypien, the winner of two American Century Celebrity Championship golf tournaments in South Lake Tahoe.
"It's fun to play with Brett because I get to see what a really good golfer plays like," Simmons muses. "I'm picking the brains of guys that are better than me. I haven't taken private, personal lessons. That's the next step I need to take."
Clearly, Simmons, who has played golf since his rookie year but has yet to break 90, has the right attitude and work ethic to lower his golf scores. They're the same qualities that have made him a stellar football player, ambassador to the community and model citizen.
Before turning his talents to standup comedy, contributor Sam Adams was a columnist for the Rocky Mountain News. This marks his 26th cover story for Colorado AvidGolfer. samadamscomedy.com