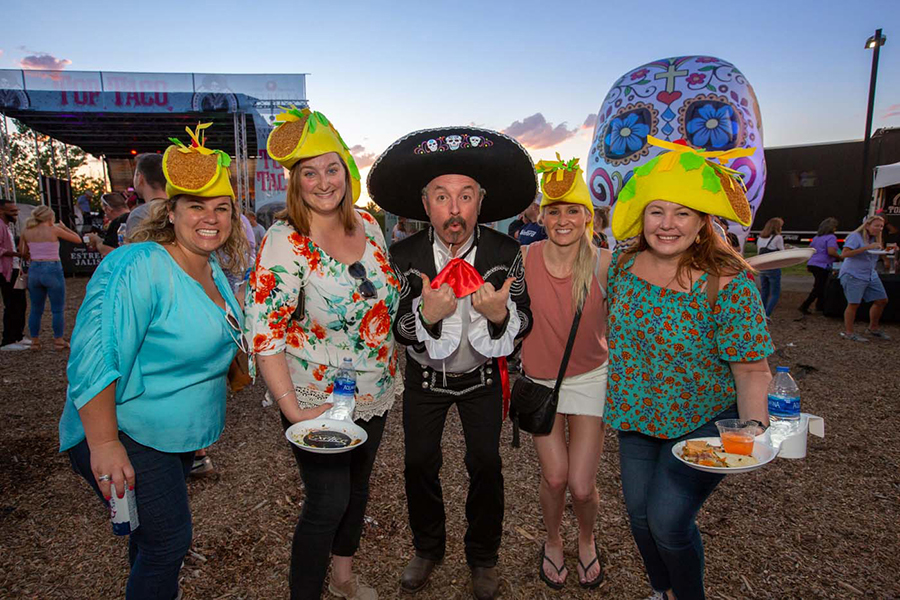 COURTESY TOP TACO
Colorado's food festivals return with a full slate of events.
By John Lehndorff
Once upon a time, summer in Colorado meant road-tripping to mountain towns every weekend for food and drink festivals. It was all blue skies, bright sun, roadside peaches and sipping local beer and wine at altitude.
Now, after two fallow years, we can head for the hills again as the state's remarkable menu of seasonal edible events returns in all its gustatory glory. Colorado's myriad culinary experiences can make it hard to choose one that fits specific tastes. Colorado AvidGolfer offers this curated guide to the very best don't-miss summer taste experiences across the state—and within minutes of great golf.
June Swoon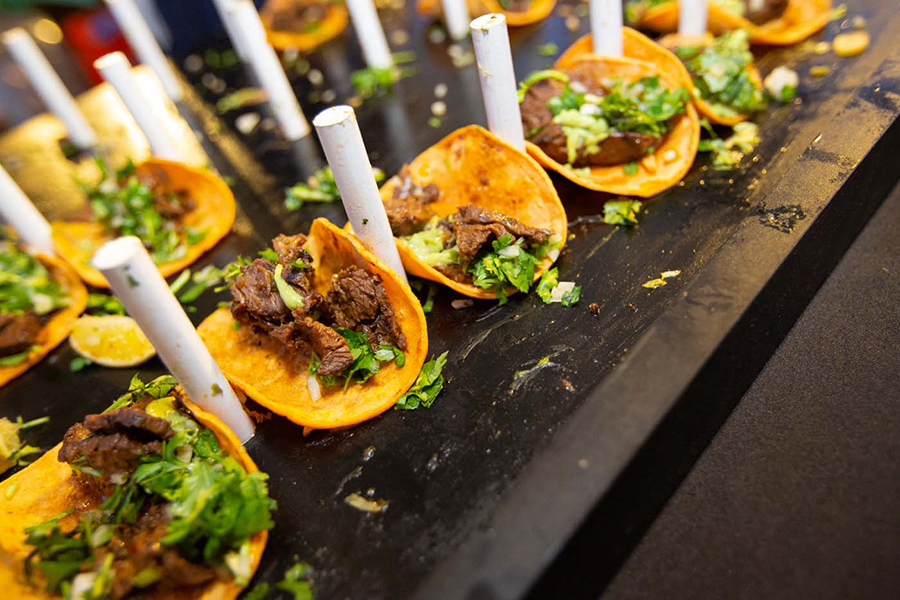 What Dad craves for Father's Day is hardly a mystery—and there are festivals in June to satisfy his appetite for barbecue, beer, tacos and bacon.
Smoked pork, beef, turkey and sides are on the menu at two Dad's Day barbecue competitions. Downtown Frisco's long-running Frisco BBQ Challenge (June 17-18; townoffrisco.com) is a serious, sanctioned barbecue competition focused on food without any carnival distractions. The newer Denver BBQ Festival (June 17-19; denverbbqfest.com) at Empower Field focuses on large scale fun. The latter event's VIP Q Pit Pass gets you access to lounges, all-you-can-eat barbecue, free cocktails and … private bathrooms.
If dad is a hop-head who's easily bored by standard beers, treat him to the rare and one-off historic beers, ancient recreated ales and long-gone craft beers on tap at the Brewsology Beer Fest (June 18; brewsology.com) at Denver's History Colorado Center.
Top Taco (June 23; toptacofest.com) in Westminster is billed as a taco competition, but it's really one of the best parties of the summer. Attendees sample and vote for everything from Top Creative Taco to Top Cocktail with live music, and tequila and mezcal tastings.
Meanwhile, the name tells you all you need to know about the Keystone Bacon and Bourbon Festival (June 25-26; keystonefestivals.com) at Keystone Resort.
Grape Expectations
There's a lot of talk about "immersive" entertainment experiences. Frankly, we'd like the sound of immersing ourselves in a weekend of wine, song, taste treats and sun in the mountains. Summer in Colorado brings mountain festivals for casual wine fans and wannabe sommeliers.
A reputation as one of America's top summer wine events, according to Forbes magazine, will draw an international crowd to the Telluride Wine Festival (June 23–26; telluridewinefestival.com). The upscale gathering features tastings of rare vintages, Telluride's scenic charms and four-star wine pairing dinners.
Vintage wines and golf make a perfect twosome at the Vail Wine Classic (Aug.11-13; vailwineclassic.com). Besides the outdoor tasting of wine, beer and spirits and the exclusive Best of Fest sampling at Vail Nordic Center, the Classic's Nine & Wine event invites guests to play nine holes at Vail Golf Club with a golf pro and a sommelier followed by a wine-pairing lunch.
Other "wine and" mountain gatherings include Reds Whites & Brews (June 25; redswhitesandbrews.net) in Steamboat Springs; Keystone Wine and Jazz Festival (July 16-17; keystonefestivals.com); and the Crested Butte Wine & Food Festival (July 20-23; cbwineandfood.org).
Colorado Grown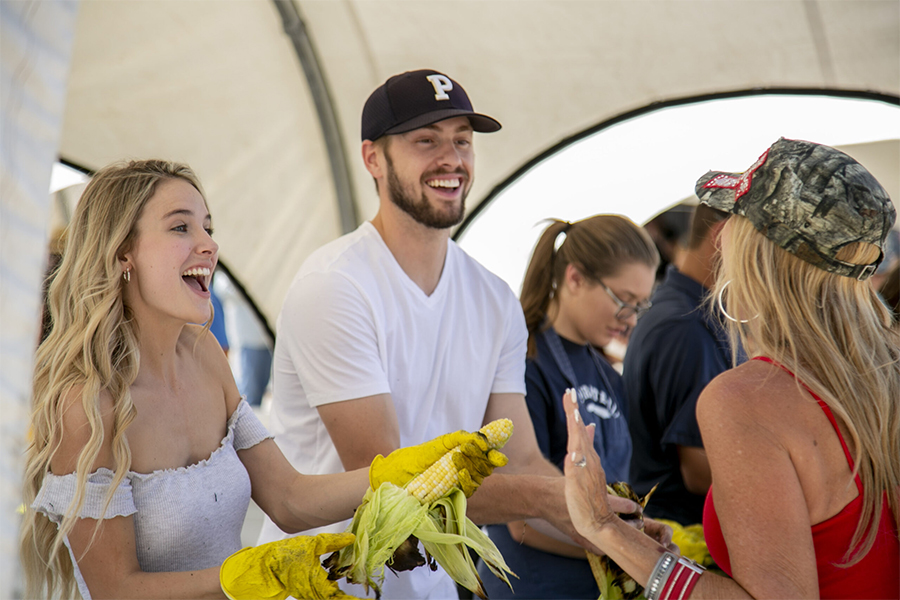 Come August, the celebrations focus on the world class fresh produce synonymous with certain Colorado towns.
Buttered corn on the cob tops the menu at the Olathe Sweet Corn Festival (Aug.6; olathesweetcornfestival.com).
Up the road, peach pie and bushels of sweet juicy fruit are the draw at the Palisade Peach Festival (Aug. 12–13; palisadepeachfest.com).
For 145 straight years, the Arkansas Valley Fair (Aug.17-20; arkvalleyfair.com) in Rocky Ford has celebrated the juicy cantaloupes, yellow and red watermelons and honeydews ripened in southeastern Colorado. Don't miss the messy-but-sweet Watermelon Day on Aug. 20, with a watermelon carving contest, free watermelon for all and the always Instagram-able Watermelon Seed Spitting Competition.
Good for What Ales You
With more than 400 craft brewery tasting rooms across the state and local beers filling local store shelves, it's impossible (and unwise!) to taste them all. Colorado is justly famous for a series of summer beer festivals set in stunning mountain locations. These fun rendezvous make it easier to locate local ales, lagers, stouts and bocks you'll love.
Start your summer quaffing by waters' edge at the Lake Dillon Beer Festival (June 11; townofdillon.com) in Dillon.
The following weekend, suds lovers will be sampling brews in the Ford Sculpture Garden Park at the Vail Craft Beer Classic (June 17-18; vailcraftbeerclassic.com).
Serious beer nerds already have reservations for the Colorado Brewers Rendezvous (July 9; coloradobeer.org) on the Arkansas River in Salida. This 27-year-old event attracts more than 60 of the state's most celebrated breweries.
Colorado may seem like a state of beer, but a growing roster of artisan hard apple cider makers are gaining critical fame and a national audience. Sample dozens of these hard-to-find ciders ranging from very dry to mildly sweet in Snowmass at Cidermass (August 20; cidermass.com).
Fall for These
You'll never forget the aroma and pungent haze of roasted chile varieties wafting through the air along Pueblo's Union Avenue during the Pueblo Chile & Frijoles Festival (Sept. 23-25; pueblochilefestival.com). It's like the shrimp monologue from Forrest Gump as you sample from the food vendors. You've got your green chile stew, deep-fried chilies, plus green chile-infused chocolate, cheese, jelly, sausage and simple quesadillas with salsa. Chill out with a green chile beer at the Chihuahua Parade and the Jalapeño Eating Contest.
Colorado's Western Slope is now recognized as one of the nation's most promising grape-growing regions. The Colorado Mountain Wine Festival (Sept. 17; coloradowinefest.com) in Palisade is the best place to sip award-winning vintages from the state's 100-plus wineries, most of which also open their nearby vineyard tasting rooms.
Grab tickets to Denver's Great American Beer Festival (Oct. 6-8; greatamericanbeerfestival.com) as soon as they go on sale July 13. Forty years after its birth in Boulder, the event remains the nation's premier craft brew tasting event, our homegrown Oktoberfest.
Hungry For More?
Taste of Fort Collins (June 11-12; tasteoffortcollins.com)
Food & Wine Classic in Aspen (June 17-19; classic.foodandwine.com)
The Big Eat, Denver (July 28; eatdenver.com/the-big-eat)
Eagle Mushroom & Wild Food Festival (Aug. 5-7; eaglemushroomfest.com)
Denver Burger Battle (Aug. 9; denverburgerbattle.com)
Steers & Beers Festival (Sept  24; steersandbeersbrewfest.com)
Steamboat Food & Wine Festival (Sept. 29-Oct. 2; steamboatfoodandwine.com)
---
This article can also be found in the June Issue of Colorado AvidGolfer.
Colorado AvidGolfer is the state's leading resource for golf and the lifestyle that surrounds it, publishing eight issues annually and proudly delivering daily content via coloradoavidgolfer.com.