Innovatory offerings from major car companies in the automotive luxury category are the start of a
REVOLUTION

.

By Isaac Bouchard
2019 Jaguar I-Pace
The floodgates are about to open on electric vehicles (EVs), whether Americans are ready or not. This is a result of not only Tesla's success but of regulations in the other largest car markets—Europe and China—that dictate their adaptation.
Jaguar is the first to reach consumers with a compelling alternative in the luxury sector, and the I-Pace shows just how serious the venerable British brand is about going electric. One of the most intriguing aspects of the I-Pace is its design, which truly defines the term "crossover." Long, sleek and even a bit sexy, it rides higher than a conventional sedan, boasts massive interior space for its footprint and sports surprisingly pleasant-feeling materials in its cockpit.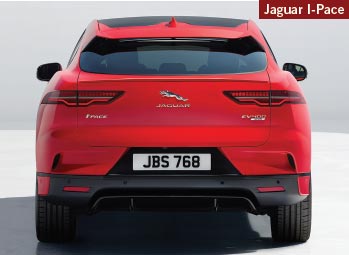 While the I-Pace's roominess says SUV, its driving dynamics hew closely to the contemporary Jaguar ethos of incisive, accurate steering, incredibly fluid body motions, neutral handling and satisfying driver interaction. Ride quality doesn't suffer either; the I-Pace is smooth over most surfaces and very refined. Both of these traits result from the low center of gravity; in fact, the cg is more than 5 inches lower than the Jaguar F-Type sports car.
It has real off-road chops too, thanks to its height-adjustable air suspension and the AWD traction provided by its two electric motors (one for each axle) and the instant torque they make.
In June, Jaguar Land Rover and BMW announced they were joining forces to develop EVs going forward; this reflects the massive capital investments necessary to play profitably in the post internal-combustion engine world. As of now, there is no national Supercharger fast-charge network in place, meaning filling the battery backup can be a fraught affair—at least for now. The Jaguar excels as a perfect do-it-all BEV for Colorado as long as one doesn't plan many trips beyond its estimated 234-mile range.
EPA ratings: 80/72/76 MPGe (1 gal=33.7 kWh)
0-60mph: 4.3sec (independent test)
Price as tested: $89,050
2019 BMW M850i & X7 50i
As BMW moved over the past decade from creating beguiling drivers' cars to better-selling crossovers and SUVs, it lost some of its "Ultimate Driving Machine" focus. But with the M850i convertible and X7 50i—two seemingly disparate vehicles that share many fundamental qualities as well as the same platform—the company has rediscovered much of its mojo.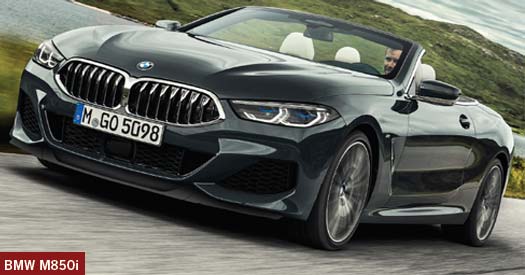 Both are beautifully constructed of uniformly high-grade materials and have industry-leading infotainment and driver aid systems. The X7 is sized between an Audi Q7 and Mercedes GLS and can be had with seating for six or seven. The M850i proportions are spot-on for a flagship coupe or convertible, meaning a long hood and tight cockpit. Both BMWs satisfy over a much greater bandwidth of conditions than the cars the Bavarian company made its reputation on.
Heavy traffic? Engage the latest suite of driver aids, labeled Extended Traffic Jam Assist, and either will competently navigate the minefield of distracted, dangerous numbskulls with nary any intervention required by their pilot. A few button pushes to resume or tweak trajectory on their lovely steering wheels and you're at journey's end.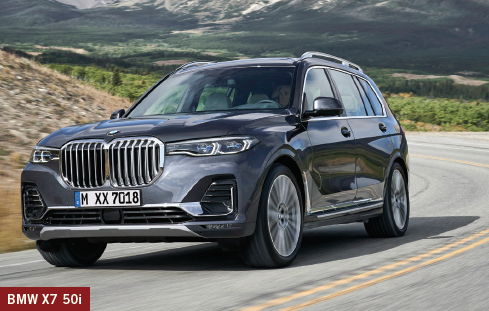 Both 8-series and X7 excel at incredibly supple rides matched by staggering refinement. Whisper quiet over most surfaces, they define modern luxury motoring. And when that rare chance comes to get after it, the M850i and X7 50i both thunder forward with aplomb, their characterful twin turbo V8s channeling up to 523hp through eight slick gears and transparent, intuitive AWD hardware.
Of the two, the M850i is the slightly better-defined offering, with the ability to transform from consummate coddler to rip snortin' GT in no time. The X7 is a little too floaty, which BMW has obviously recognized, and almost all future eight-cylinder X7s will be M50i versions, with the same power as the convertible and more athleticism baked into their chassis.
EPA ratings: 17/26/20mpg M850i; 15/21/17mpg X7 50i
0-60mph: 3.5sec M850i; 4.6sec X7 50i (independent test)
Price as tested: $131,395 M850i; $112,245 X7 50i
2019 Lexus LC500h
Rarely has a show car reached the streets in as unmolested a state as this radically conceived coupe, and Lexus had to unleash some serious engineering to make the production LC500h happen. Its fender tops are supercar-low yet provide room for the gorgeous 20-inch or forged 21-inch wheels to move properly. Its center of gravity seemingly hovers just above the ground, creating a supple ride with precise body control and neutral handling.
This GT has the reflexes and steering precision of a sports car. Like the BMWs featured here, it has four-wheel steering, which operates in a more noticeable manner. Make an aggressive lane change or dive bomb a corner and it feels almost as if the LC500h has teleported itself onto the new trajectory. It takes a bit to get used to this, but they afford the Lexus pilot access to a whole other level of fun.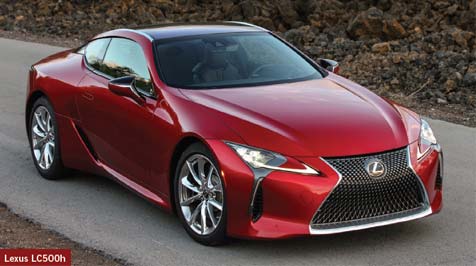 The LC is available with a raucous-sounding 471hp V8 or as a hybrid; the latter comprising a 3.5-liter, 354hp V6, two electric motors and a really funky transmission. To increase driver involvement, Lexus combined a CVT (normal for a hybrid) with a four-speed planetary transmission. Together they create up to 10 speeds and a really unique sound signature, part superbike, part hypersonic jet.
While its 4.8sec 0-60mph run isn't as fast as the LC500h's shape suggests, this Lexus is really all about style. It generates more positive reaction than most anything on the road, and the impact only intensifies when you swing open the long doors and let gazes take in the acres of supple leather and Alcantara. The design itself is simple yet futuristic and the detailing—inside and out—exquisite.
With strong overtures of coach-built classics from Italy and England, the LC's cockpit is among the most pleasing places to spend time of any car currently on sale. With regulations and the need to reach as broad an audience as possible, it is hard to make any vehicle stand out visually these days, but the LC500h has managed to create a wasp-waisted homage to flamboyance that also has all the company's revered engineering excellence—a combination of virtues that allows the LC500h to stand proudly amongst some of the great automotive designs of all time.
EPA ratings: 27/35/30mpg
0-60mph: 4.8sec (independent test)
Price as tested: $108,895
Automotive Editor Isaac Bouchard owns Denver-based Bespoke Autos ([email protected]; 303-475-1462). Read more of his automotive writing on coloradoavidgolfer.com and bespokeautos.com.
---
This article appeared in the 2019  Fall Issue of Colorado AvidGolfer.
Colorado AvidGolfer Magazine is the state's leading resource for golf and the lifestyle that surrounds it, publishing eight issues annually and proudly delivering daily content via coloradoavidgolfer.com.