Teeing up the best Front Range pizzeria styles.
By John Lehndorff
OUT-OF-STATERS are prone to argue that nothing in Denver compares to pies dished in New Haven, Chicago and every pizzeria in New York City. I understand their opinionated passion despite the fact that they are wrong.
Pizza joints have a hold on our hearts. Pizza often means a party. The same cannot be said for quinoa tuna power bowls.
I grew up in the so-called Pizza Belt of central New England and I've been a dining critic in Colorado. Let's just say I have a few authentic slices of various style pizzas under my belt. I will put the pizza at Front Range pizzerias up against any in the country.
Is there a "Colorado-style" of pizza? Many places have claimed to serve "mountain-style pies" but most are simply faux Chicago deep-dish. (A tip of the toque to Colorado's Beau Jo's for introducing honey on the table that turns excess crust into instant dessert.)
Colorado has always been a collection of newcomers who bring their styles with them. There's Neapolitan, New York, Chicago, Sicilian, Detroit, New England Greek, California, New Haven, St. Louis. … Look, if a great pizza is made with Colorado-produced flour, meats, cheeses and veggies, that's a Colorado-style pizza.
All I want to know: Is it great pizza? Would I take my friends to the pizzeria? Is it pizza that makes me sigh when I find it in the fridge the next day?
I listed my nominees for outstanding pizzerias randomly to avoid ranking debates. I can't say whether these are the "best" among Colorado's thousands of pizzerias, but I trust these crusts from Boulder to Manitou Springs.
WHITE PIE
Style: New Haven-style pizza
Baked directly on the stone in a wood-burning oven, White Pie's irregularly shaped individual pizzas arrive smelling like a campfire, charred around the edges with crust dusted in singed flour. After one piping-hot bite I went from skeptic to believer. This is the real deal from my homeland. I appreciated every bite of the Porky Porkorino pie layered with red sauce, serious mozzarella, thinly sliced sopressata, pickled chiles and hot honey. However, the pizza de resistance is White Pie's signature namesake dish which is one of the best pizzas I've ever tasted.
Order this: White Pie topped with creme fraiche, mozzarella, garlic, bacon, crimini mushrooms and a sunny-side-up egg.
1702 Humboldt St., Denver
RUFFRANO'S HELL'S KITCHEN PIZZA
Style: New York City pizza
The owner told me he dreamed he owned a pizzeria, so he studied a pizza joint in New York City's Hell's Kitchen and opened a tiny, bright red eatery in Manitou Springs famous for painfully hot combinations including hot Italian sausage, pepperoni, chile-fired sauce and various kinds of peppers. It is worth the 45-minute wait for the bona fide Sicilian square pie.
Order this: Deep-dish Sicilian pizza with meatballs, garlic sausage, red sauce, mozzarella, Parmesan and fresh basil. Allow one hour.
1670 E. Cheyenne Mountain Blvd., Colorado Springs; 9 Ruxton Ave., Manitou Springs
facebook.com/ruffranoshellskitchenpizza
PIZZERIA LOCALE
Style: Authentic Napoletana pizza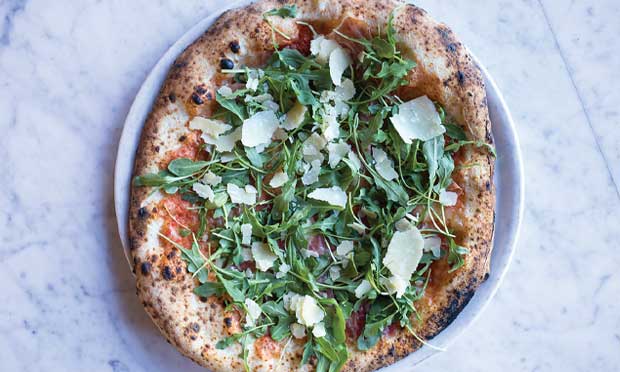 This is Colorado's Neapolitan pizza temple. The knife-and-fork pizzeria with excellent service and a superior wine list is operated by the next-door Frasca Food and Wine, Boulder's much honored Italian restaurant. A red-hatted pizzaiolo stretches the individual pies made to traditional specifications that spend just two minutes in a wood-fired Italian oven. The toppings are only the best, from prosciutto cotto on the corn pizza to the Grana Padano cheese on the shrimp pizza. There are two fast-casual Pizza Locale locations in Denver that dish a good pie, but the original location is something special.
Order this: Funghi pizza topped with oyster mushrooms, green onions and garlic oil plus mozzarella, Taleggio and Pecorino Romano cheeses.
1730 Pearl St., Boulder
FAMOUS ORIGINAL J'S PIZZA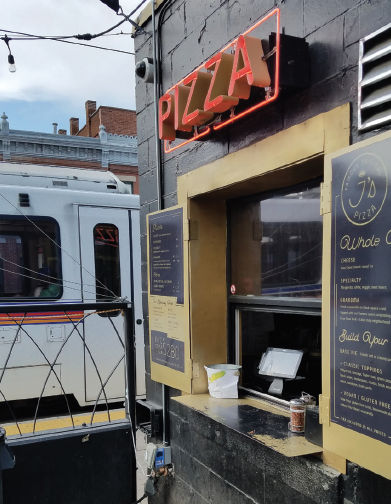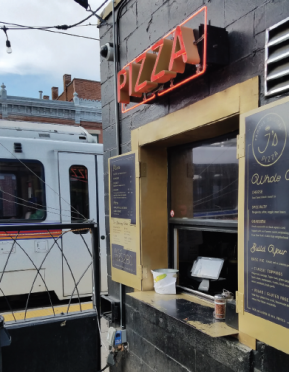 Style: Saturday Night Fever-style pizza
The folks behind nearby Rosenberg's, Colorado's top bagel bakery, use the same secret ingredients—New York city-style water and flour—to create credible New York-style thin crust pizza. Famous Original J's serves slices and pies from a take-out window on Welton Street within arm's-reach of the RTD Light Rail line. (The name and service style pay tribute to New York's Famous Original Ray's pizza.) Sit at picnic tables or carry it into the 715 Club. Better yet, order a slice and walk down Welton eating it slightly folded from a paper plate. The short list of toppings includes Taylor ham, wide pepperoni and fresh garlic.
Order this: Two slices of cheese pizza with pepperoni and add a shake of Parmesan. Don't forget the napkins.
715 E. 26th Ave., Denver
BLUE PAN PIZZA
Style: Detroit-style pan pizza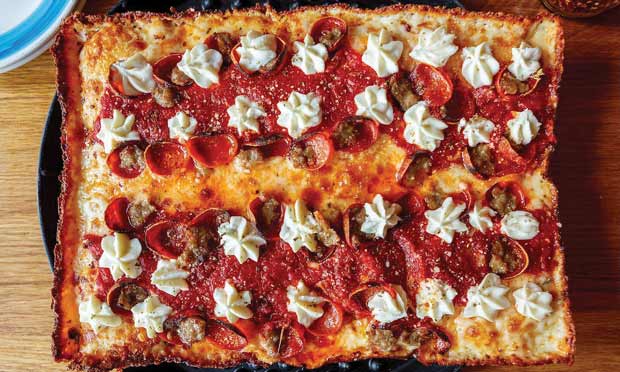 The two Blue Pan Pizza locations serve reputable Chicago thin-crust and classic New York-style pies, but the award-winning Detroit-style pizzas are the reason to wait for a table. Baked in a square pan, the deep bready crust is encased in mozzarella and brick cheeses resulting in a grilled cheese-like, crispy caramelized edge that is simply unbeatable.
Order this: The Brooklyn Bridge generously layered with mozzarella, brick, Pecorino Romano and fresh ricotta cheeses, tomato sauce, pepperoni, Italian sausage, garlic and oregano. It's well worth the wait.
3930 W. 32nd Ave. and 3509 E. 12th Ave.,
Denver
CARL'S PIZZA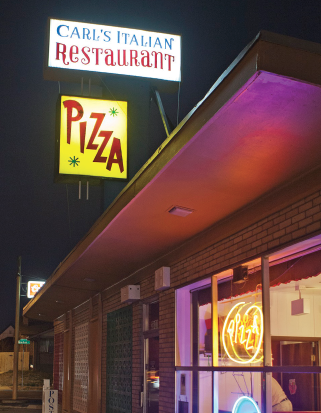 Style: Old-school Italian-American pizza
From its throwback neon sign to the red vinyl booths, the North Denver eatery looks like a casual restaurant chain's attempt to recreate a Rat Pack-era pizza joint. That's because it actually is one. Carl DiGiacamo opened it in 1953 and the art depicting Frank Sinatra, Rocky Marciano, the wines of Italy and the Broncos has hung on the walls for generations. This is what American pizza was like before everybody started styling it. Crusts come in regular, thick, thin and pan-fried, the pizza sauce is thick and heavily herbed and the mozzarella is whole milk. The toppings cover the crust from edge to non-puffy edge. The simple pizzas have no cutesy names and there are only 15 toppings. Put some Dean Martin on the jukebox and save room for frita: fried pizza dough bites drenched in butter, cinnamon and sugar.
Order this: A pan-fried 14-inch crust with red sauce and sausage, meatballs, fresh garlic and onions on top of melted mozzarella.
3800 W. 38th Ave., Denver
PIZZERIA LUI
Style: Traditional Neapolitan (with a twist)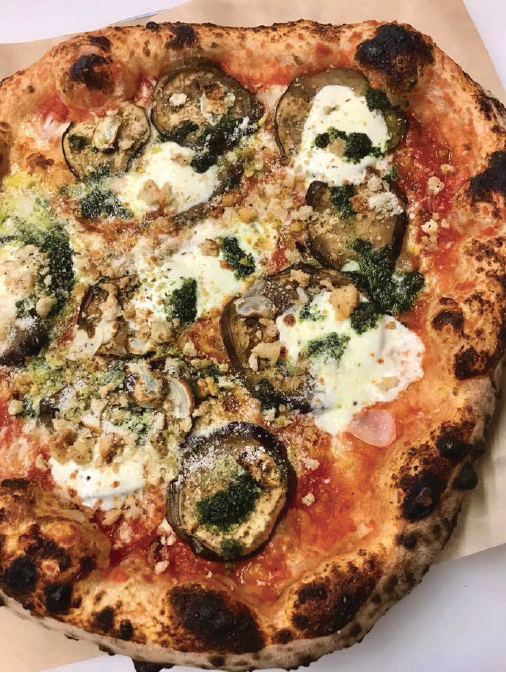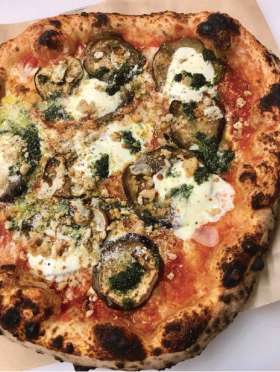 The space isn't fancy and there's just a few communal tables, but pies constantly fly out of that 900-degree oven. Pizzeria Lui makes a fine classic organic flour crust with great chew, great taste, nice char on the edges and a light coating of simple tomato sauce. What elevates it all are the first-class, out-of-the-ordinary toppings. The BBQ pork pizza arrives crowned with house-smoked pork, roasted Walla Walla onion, jalapeño, cream cheese, smoked mozzarella, barbecue sauce and cilantro. Other toppings on specials have included roasted pineapple puree and pistachios. Spicy honey is available on the side along with house-made hot sauces.
Order this: The Eggplant "Parm" topped with thin roasted eggplant slices, fresh mozzarella, pesto sauce, chopped garlic, Parmesan and breadcrumbs.
5380 W. Mississippi Ave., Lakewood
CURES FOR THE COMMON SLICE
Butter-basted pizza crust: Denver Pizza Company (309 W. 11th Ave. and 908 Jersey St., Denver; denverpizzaco.com)
GLUTEN-FREE PIZZA?
Gluten-free crusts are often crumbly, rubbery or tasteless. One exception comes from Denver's Victoria's Gluten-Free Kitchen. Made with white rice flour, tapioca flour, egg whites, sunflower oil and yeast, these hand-stretched pizza crusts closely approximate the taste and texture of the gluten-rich originals. Available at select markets, the company's GF crusts are used by many Colorado restaurants including Oskar Blues, White Pie, Postino, Etai's Bakery Cafe, Oblio's Pizzeria, Bar Dough and Denver Deep Dish Pizza.victoriasglutenfreekitchen.com
Contributor John Lehndorff burned the roof of his mouth while researching this feature. He persisted. He writes Nibbles for the Boulder Weekly and hosts Radio Nibbles on KGNU.
Editor's note: Visit these pizzerias first and then let us know which pizzerias should be added to the list of nominees at: [email protected].
---
This article appeared in the 2019  Fall Issue of Colorado AvidGolfer.
Colorado AvidGolfer Magazine is the state's leading resource for golf and the lifestyle that surrounds it, publishing eight issues annually and proudly delivering daily content via coloradoavidgolfer.com.