The legendary Apex iron continues to impress, and 2024's line-up could be the best yet.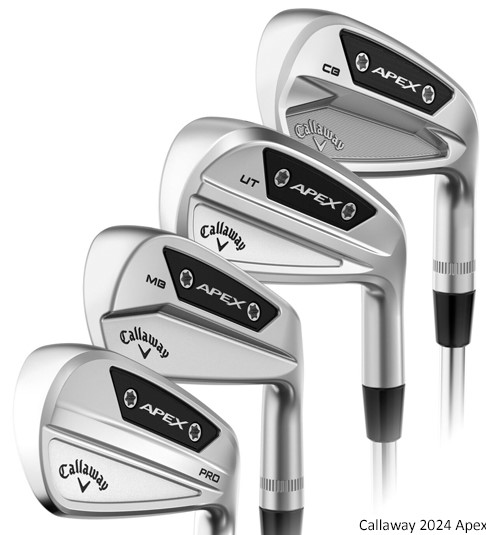 by Tony Dear
Pity, dear reader, the golf-gear journalist.
Sometimes there are some equipment releases you absolutely must cover. Other times you may want to avoid writing about a certain equipment segment because you just featured products of a similar nature in recent weeks. And then there are items that come up which may not appear in any other publication's equipment section but which you think Colorado AvidGolfer readers will appreciate knowing about.
Sometimes, a legitimately good Colorado company will be looking for some much-needed coverage. Or, the timing is just off.
So, for whatever reason, you miss something significant occasionally. Callaway announced its new Apex line-up of irons a couple of months ago and they've been in stores for three weeks or more. But because there weren't many interesting gear stories coming out of the Ryder Cup – a subject that otherwise of which we must not speak – and nothing else is angling for the space this week, we're able to highlight the new version of the famous iron Callaway purchased along with its acquisition of the Ben Hogan brand in 2003. (In 2013, Callaway sold the brand to Perry Ellis Inc. but retained the rights to certain Ben Hogan trademarks including Apex).
Despite the Paradym, Big Bertha and Rogue all making names for themselves, Callaway's Apex remains the best-known club in the company's iron line-up. The two new models, along with the utility iron, will no doubt cement its place. The removal of 2021's DCB (Deep Cavity Back) from the line-up shows the Apex is meant really for better golfers only, a theme that has grown since Jon Rahm joined the Callaway stable.
The Apex Pro is the flagship of the flagship and features a multi-material forged construction with both a forged 455 Steel face and, in the short irons (6-AW), a forged 1025 carbon-steel body. And, for the first time, Callaway has inserted its urethane microspheres in the hollow body to dampen vibration and sound. A common feature throughout the 2023 line is the refined sole, shaped to improve interaction with the turf thanks to the pre-worn leading edge, which cuts into the turf, and trailing edge to exit the ground efficiently.
The classic muscleback Apex MB has a forged, one-piece, 1025 carbon-steel construction that, Callaway says, gives the "purest feeling iron imaginable". A progressive Center of Gravity (CG), which starts low and ascends as the club gets shorter, ensures a higher launch with the long irons and a flatter, more controllable trajectory with the short irons.
The Apex CB (Cavity Back) features a five-step forging process to create incredible feel. A Metal Injection-Molded (MIM) weight in the toe balances the clubhead. The same progressive CG position as in the MB promotes higher long irons and lower, flatter short irons.
Thin top lines and minimal offset tell you who these clubs are designed for though very slightly longer blade lengths give a modicum of forgiveness.
Forgiveness…pfft! These clubs are unashamedly for better golfers who consistently strike the ball cleanly and powerfully. And those better golfers will drool over the Apex's looks and performance capabilities – just as it should be.
Pro
Price – $1,505 or $215/iron
Lofts – 4-iron 22°, 7-iron 33°, PW 45°
Shaft – MCA MMT Taper Iron Shaft, True Temper Dynamic Gold Mid 115
Right and left-hand.
CB
Price – $1,505 or $215/iron
Lofts – 4-iron 23°, 7-iron 34°, PW 46°
Shaft – MCA MMT Taper Iron Shaft, True Temper Dynamic Gold Mid 115
Right and left-hand.
MB
Price – $1,505 or $215/iron
Lofts – 4-iron 23°, 7-iron 34°, PW 46°
Shaft – MCA MMT Taper Iron Shaft, True Temper Dynamic Gold Mid 115
Right and left-hand.
Utility (forged 455 Cup face)
Price – $275/iron
Lofts – 2-iron 18°, 3-iron 20°, 4-iron 23°
Shaft – Mitsubishi MMT 80 UT Graphite, True Temper MCA MMT Taper Iron
Right and left-hand.
---
Colorado AvidGolfer Magazine is the state's leading resource for golf and the lifestyle that surrounds it, publishing eight issues annually and proudly delivering daily content via coloradoavidgolfer.com.