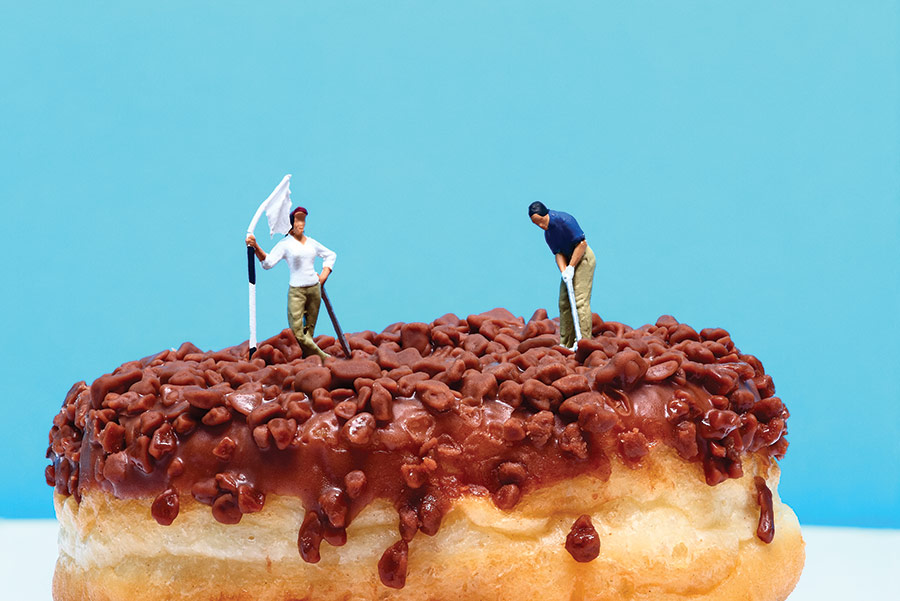 Fitness experts say it's OK to enjoy Colorado's fine bean-to-bar dark chocolate.
By John Lehndorff
CHOCOLATE IS probably not the first food you think about when choosing a healthy snack to consume at the 9th hole. Reasonable people might wonder: "Is chocolate good for golfers?"
When asked, two noted Colorado sports nu- trition and fitness experts admitted that nobody had ever asked them that question, nor had they ever recommended that any athlete or golfer con- sume chocolate.
That said, Laura Anderson of the University of Colorado's Performance Nutrition Department and golf fitness guru Dee Tidwell both grudgingly admit that chocolate is not always just candy; it can be a vitamin- and nutrient-packed superfood.
However, when you belly up to the chocolate bar, much depends on the kind of chocolate you choose as well as the quantity.
JUST DESSERTS FOR A COLLEGIATE GOLFER
"I can confidently say that none of our CU golfers would be carrying dark chocolate bars with them on the course," says Laura Anderson. As Associate Athletic Director in the Performance Nutrition Department at the University of Colorado Boulder, she oversees feeding nearly 400 CU Buffs in sports ranging from football to track. She is a former sports dietitian with the United States Olympic Committee.
"A big thing you have to think about is large fluctuations in blood sugar. The good thing about dark chocolate with a high cacao percentage is you get less sugar. The cocoa butter is a good fat. So, it doesn't tend to spike blood sugar," she says.
Dark chocolate also includes some good flavanols—also found in tea and red wine—that lower blood pressure and improve blood flow, along with nitrates that produce nitric oxide. Important minerals like magnesium, selenium, zinc, potassium and phosphorus, as well as Vitamin E, are also plentiful in dark chocolate.
"I could see dark chocolate with nuts and dried fruit in a reasonable quantity as a great snack for golfers," Anderson says.
However, not just any chocolate can fill the nutritional bill. It has to be dark chocolate with a high percentage of cacao—at least 70% or higher. That means no milk chocolate. "You need to look at the ingredients: there shouldn't be more than three or four ingredients including cacao," she says.
GOLF: THE ONLY SPORT THAT COMES WITH CATERING
Golf presents a fitness challenge because it is the only major participatory sport that offers extensive snacking opportunities while you are playing, not to mention mobile cocktail service.
The most famous Colorado golf course dish is the super-rich chocolate ice cream shake served at the turn and elsewhere at Castle Pines Golf Club. That's not a surprise since the designer of Castle Pines, Jack Nicklaus, is a famous fan of ice cream.
"Most golfers grab something easy—a hot dog, grilled cheese or beer. They don't tend to think about good food choices," says Dee Tidwell, owner of Colorado Golf Fitness in Greenwood Village. He has twice been voted among the Top 50 Golf Fitness Professionals in the country by Golf Digest magazine.
"I encourage golfers to eat raw nuts, a turkey sandwich or other protein at 6 and 12 to keep going," Tidwell says.
Tidwell is dubious about chocolate for practical reasons. "The melt factor is problematic with chocolate, given how hot it is on a golf course," he says.
Basically, most of the chocolate sitting on the grocery shelf is not the kind of chocolate Laura Anderson and Dee Tidwell recommend. Most commercial chocolate is a commodity with little transparency. The wrapper will not tell you where the cacao was grown or its environmental impact. The truth is that most big chocolate companies can't guarantee that wage slave and child labor isn't used to harvest their cacao.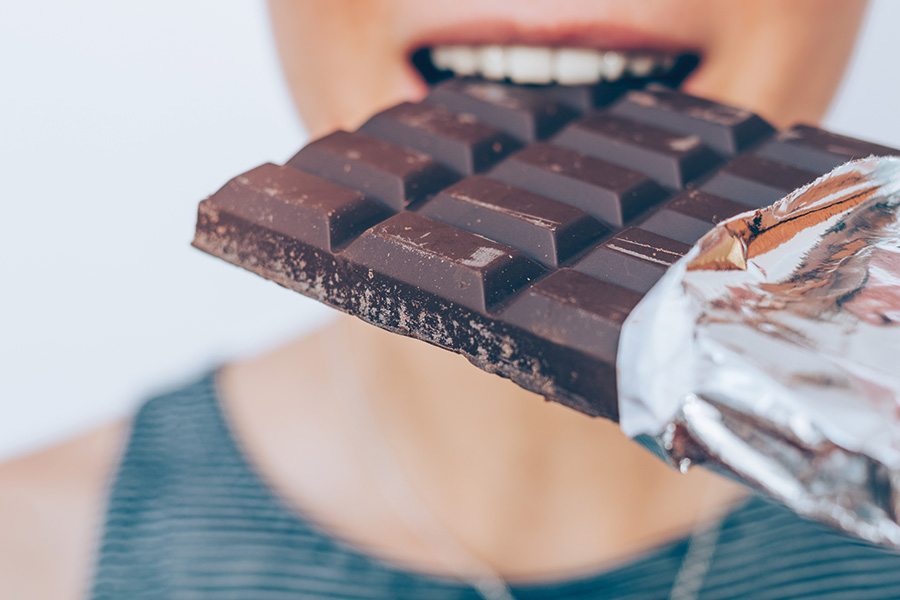 WHY AN $8 CHOCOLATE BAR IS WORTH IT
Thankfully, a new generation of chocolate makers are producing better chocolate. They source the beans from the farmers themselves and make sure they are paid a fair price. These artisan bars advertise their high percentage of cacao and boast mouth-filling flavors ranging from floral to nutty along with complex and yummy aromas.
It's remarkable considering that the best bean-to-bar single origin dark bars use only two or three ingredients: cacao beans and sugar and sometimes additional cocoa butter.
Good dark chocolate isn't bitter. Bitterness is a sign of badly made chocolate that is often covered up with sugar and artificial flavorings.
The lengths these chocolate makers go to in order to assure quality and transparency means that these chocolate bars are much more expensive than their Hershey's and Cadbury counterparts—as much as $8 to $10 or more per bar. It's a small price to pay for chocolate you feel good about eating and can appreciate the same way you savor top-shelf coffees, teas, wines and spirits.
DARK CHOCOLATE, PUTTING AND THE 17TH HOLE?
"Golf is interesting from a physiological perspective because it's a sport involving low- intensity exercise that has these bouts of high-intensity movement," says Laura Anderson.
"They are out there so long—31⁄2 to 41⁄2 hours, and that doesn't include delays throughout the day. It's a stretch to say it is 'performance-enhancing,' but the different compounds in dark chocolate can help with the cognitive component of the sport," she says.
Chocolate contains two eye-opening compounds—caffeine and theobromine— which also account for its reputation as an aphrodisiac.
"People don't think of chocolate as necessarily a health food, but it is…or at least it can be," Anderson says.
A Coloradan since 1976, John Lehndorff is the former Dining Critic of the Rocky Mountain News and Food Editor of the Boulder Daily Camera. He hosts Radio Nibbles on KGNU.
---
This article was also featured in the May Issue of Colorado AvidGolfer.
Colorado AvidGolfer is the state's leading resource for golf and the lifestyle that surrounds it, publishing eight issues annually and proudly delivering daily content via coloradoavidgolfer.com.