At the end of the last decade, Mazda's new CEO set a goal: the company would become a premium brand. For golfers and non-golfers, alike, this means hitting the open road (or to the course) in style.
Mazdas would be viewed—and priced—more like Acuras and Infinitis by the mid-to-late 20s. This would entail the price of its average vehicle sold increasing by $6,000. At the time, all this seemed a tall order, but Mazda seems to be coming good on it. Average transaction price is up $4,000 already, many of their showrooms and facilities are being redesigned to be as nice as those from bigtime players like Audi, staff is being paid for treating people well, and the vehicles themselves are generally superb. The Mazda3 2.5 Turbo is a great example of what's afoot.
According to the company's own internal tracking, even the prior model was often cross-shopped with the Audi A3; embracing this, the new one is a full-frontal assault on that gussied-up VW Golf. Its skin is sleek and the trim discreetly upscale; the hatchback a radical looking thing with a uniquely radiused tail. The Mazda3 interior is beautifully turned out; most everything is a giant leap above the quality of mainstream rivals, and some is indeed better than Audi (which has, frankly, been cost-cutting of late). The cockpit aesthetic is clean and simple; meaning more money could be spent on materials, like switches that give good satisfaction as you twist, prod or push, and lovely leather on the wheel and shifter—areas where the VW Group (which includes Audi) used to set the standard. The Mazda infotainment interface is a step forward too, though having to use the control knob and buttons—as opposed to a touch screen—makes Android and Apple mirroring more cumbersome and too many features are still buried a layer or two down. But the way the driver's aids (lane assist, adaptive cruise control) work makes up for this, so refined are they in operation. Front seat comfort is superb, but the sloping roofline makes entry to the supportive back bench tight, and the view out is claustrophobic. Mazda probably felt that putting form ahead of function was a good choice, as one can always get the mechanically twinned four door sedan version if more room is needed. 
You can still get a Mazda3 with front drive and a normally aspirated engine, but the 2.5-liter turbo, with 250hp and a massive 320lb-ft of torque, twisting its way through a responsive AWD system, is the standout. It only takes 5.6 seconds to hit 60mph, and the car is effortlessly fast at all times. That's partially down to its large displacement and high static compression ratio; it feels like it can actually get out of its own way even before the turbo spools up. The 6-speed transmission is smooth and unobtrusive but not as fast shifting as the best from competitors. The Turbo is really not a hot hatch, though; refinement is too big a part of the mix, and this generation of Mazda3 doesn't have the at-the-limit discipline nor interactiveness of earlier versions. The steering is accurate, but it is tied into what Mazda has labeled G-Vectoring. This tweaks individual brakes as the car is rotated into a corner so it resists front-end push better. The downside is the 2.5 Turbo takes a line and can't be easily moved off of it, unlike say a Honda Civic Type R or the much older MazdaSpeed3. Body control is decent and the ride refined if firm, yet you'll rarely feel the urge to give this Mazda3 a good pasting, unlike previous generations. Mazda's switch to a cheaper torsion beam rear suspension from a fully independent setup plays a part here, as the former makes it hard to achieve the kind of wheel control needed for superb handling while retaining ride quality.  
This Mazda3 certainly is quiet, though, resisting wind and road noise as well or better than the Audi A3, entry-level Mercedes, and most every mainstream rival. Perhaps as Mazda's new, aspirational place in the automotive firmament becomes more secure, its talented designers and engineers will feel confident to reintroduce their legacy of driver connectedness and fun, whether with sportier suspension packages or even the return of some MazdaSpeed offerings. In the meanwhile, it's wonderful to see the small company from Hiroshima realizing their aspirations and offering shoppers such superb value; when you consider how loaded their vehicles are and that they consistently are ranked amongst the most reliable and least expensive to run, it is hard to argue against where the company is going.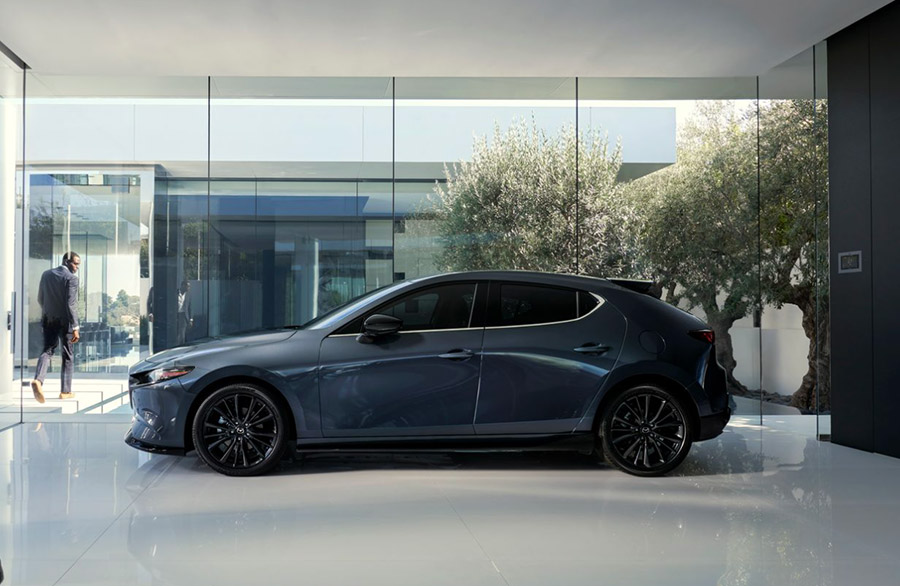 EPA Ratings: 23/31/26mpg 
0-60mph: 5.6sec (indep test)  
Price as tested: $34,945 
Here is what Mazda has to say. 
4.5 Stars
---
Contact Isaac Bouchard for help saving time, money and hassle when buying or leasing one at [email protected]
Colorado AvidGolfer Magazine is the state's leading resource for golf and the lifestyle that surrounds it, publishing eight issues annually and proudly delivering daily content via coloradoavidgolfer.com.
Follow us on Twitter, Facebook and Instagram.