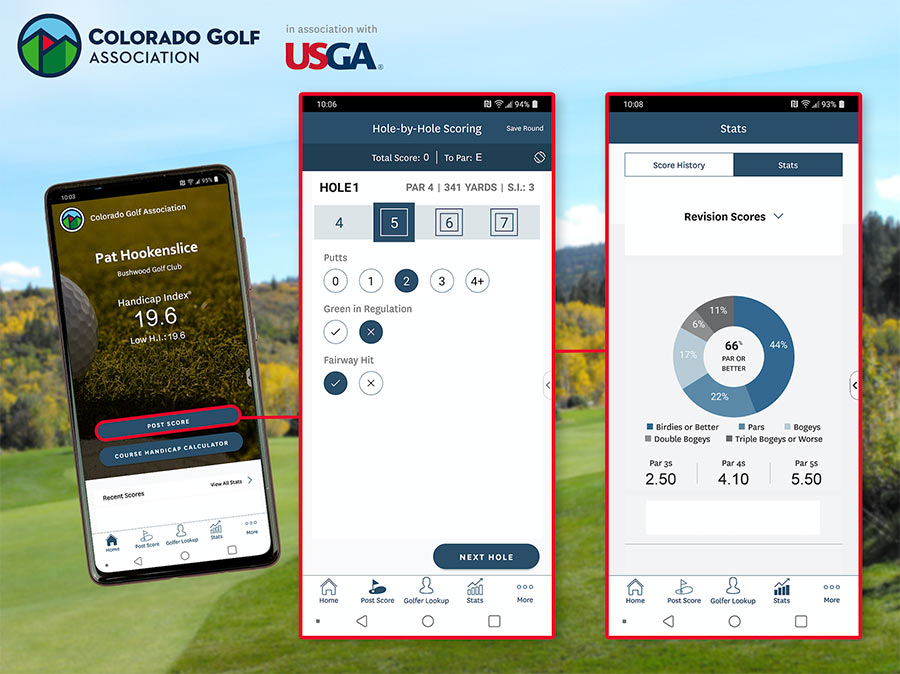 Track your scores and improve your game.
AT THE CGA, we know many people prefer to put their phone away and enjoy a quiet round of golf without the distractions it might bring. For our 62,000 members we say, hit your Do Not Disturb button and launch your free USGA-GHIN Mobile app to get the most out of your round. The ability to track scores and manage your game has never been easier since the launch of the updated app.
Ed Mate, CEO of the CGA, shared his feelings plainly: "I am addicted to the game-tracking statistics now available on the new USGA-GHIN App! A USGA handicap has always been a great way to measure your game and track your progress and now it goes way beyond a simple number."
In a recent survey of CGA members, we found that 74% of our members are using the app to post their 18- or 9-hole total scores. Surprisingly though, less than 25% of our members are taking advantage of the new upgrades which include hole-by-hole scoring and the ability to track your stats to help you improve your game.
With the GHIN Mobile app, you can view your recent scoring summary and track your putting, approach shot and driving accuracy. The app allows you to utilize the handicap calculator to simplify the new World Handicap System when you post hole-by-hole shots, either during or after your round. Another benefit of the updated app is the ability to connect with your friends, follow competitors and keep track of your group scores.
To help you navigate the GHIN Mobile app, the CGA has developed simple videos on our website that teach you how to use the updated software. This series of videos provides simple step- by-step instructions about how to post hole-by-hole scores and game information from your round. Advancements in the system are continuous, as the USGA continues to improve the system. You didn't hear it from us, but we were excited to learn the app will soon have GPS range finder capabilities. This technology is on the way and being prepared to launch during the 2021 golf season.
If you are not a member of a club or golf league in Colorado, it is easy and affordable to become a CGA member. One great way to receive a handicap is by visiting coloradoavidgolfer.com and becoming a Colorado AvidGolfer Golf Passport Plus member, which includes an official USGA Handicap, the Golf Passport and access to the GHIN Mobile app. The GHIN Mobile app is free to download on Apple or Android app stores. Visit coloradogolf.org to learn more about membership or how to access the GHIN Mobile system and score posting videos.
---
This article was also featured in the May Issue of Colorado AvidGolfer.
Colorado AvidGolfer is the state's leading resource for golf and the lifestyle that surrounds it, publishing eight issues annually and proudly delivering daily content via coloradoavidgolfer.com.