A California start-up is using a mix of sales models to disrupt the rangefinder business.  
By Tony Dear
What do the Blue Tees mean to you? We're keen to avoid wild generalizations at Colorado AvidGolfer about who plays from which tees nowadays, but in our experience (which may be entirely different to yours, of course) there's at least two things that can be said for the golfer who plays from the blue markers. First, he/she can probably play a bit – hits it a good distance, keeps it in play, gets up and down fairly often. Second, despite their competency, they tend not to be under the mistaken impression they're capable of playing from the Blacks.
We very rarely tee it up with the tiny percentage of golfers for whom the Black tees are a suitable test of their abilities (Tour professionals, college players, and the handful of amateurs at your club who aspire to be Tour professionals or have played college golf), though we have teed it up quite often with those who like to think the Blacks were built for them but who would do much better five or six hundred yards further forward. They'd have a lot more fun and, of course, be far less likely to slow play down unnecessarily.
The Blues are a sensible above-middle ground where good players get the challenge they need while slightly less-able players can experiment with their improving skills or participate in an enjoyable team scramble.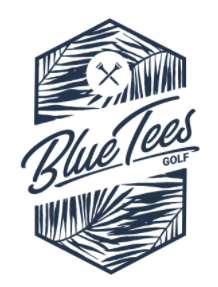 This is the sort of thinking that appealed to Chris Markham and four of his friends when coming up with  a name for their start-up company making rangefinders a couple of years ago. "We wanted it to sound inclusive," says Markham, a 2012 graduate of Point Loma Nazarene University in San Diego. "It resonated with us because we've played with numerous golfers of different ages, genders and abilities from the Blues. We know it can be a bit intimidating for newer golfers though, but we still felt it appropriate because we make high quality, stylish equipment that doesn't break the bank but will give those less able golfers the confidence they need to need to play from the blue tees."
In the summer of 2019, Blue Tees released its debut product – the Series 1 Sport – and sold roughly 3,000 units direct to the consumer. "In today's market, that was remarkable," says Taylor Herber, a golf industry veteran with experience in sales, marketing and entrepreneurship and who has improved numerous companies' bottom line, including his own. "I was really impressed and wanted to know more about the product and company so reached out to them on social media. The result of the ensuing conversations was that Herber was installed as Vice President of Sales, a position that has become increasingly busy as Blue Tees's product line-up has grown along with its national exposure and reputation.
The co-founders, owners and management team – Markham, Brandon Francisco, Drew Koehler, Christian Nicolini and Cristian Wheeler – all friends, golfers, investors and talented creative types, had decided on the mission and direction of their company after testing a number of rangefinders and finding most of them wanting. "Eye pieces fell off or they weren't very accurate," says Herber, "even some of those that were selling for $600 or more."
So the team decided to not only make a quality, feature-rich, durable rangefinder but sell it for a very affordable price too. The Series 1 sold for $160 and the Series 2, released in April 2020 went for $190. The Series 2 Pro which soon followed had all the features of its predecessors – 800-yard range, Flag Lock Technology and Pulse Vibration – but came with an added slope feature enabling golfers to determine the exact yardage to the target after accounting for elevation change. The Series 2 Pro cost $220.
And it wasn't long before the Series 3 Max was available. This time, the Slope feature could be turned on an off, the auto-ambient display gave superb clarity whatever the lighting conditions, and the Flag Lock and Pulse Control were updated. An all-black model was introduced last week adding to the existing navy and pink models and, though it had an MSRP of $360, the Series 3 Max is currently available on the company's web site for an incredible $260.
Herber says it's completely feasible for Blue Tees's competitors to offer the same quality for a similarly low price, but marketing budgets and their Third-Party (Business-to-Business) sales model prevent them from doing so. "We've been able to walk the line with both Direct-to-Consumer and Business-to-Business (launched in September with accounts at Dick's Sporting Goods, PGA Tour Superstore and Golf Galaxy) and be extremely profitable as a company," he adds. "We understand that both avenues of business drive brand awareness."
Something else Blue Tees needs to do in order to drive brand awareness is add to the product line and not just with additional rangefinders. "We've earned a reputation for creating an outstanding product at a great price," he says. "But we're aware we need to diversify. Speakers have become very popular over the last couple of years, so we're partnering with an audio company to produce one." Given Blue Tees's past releases, it's probably safe to assume that speaker will be a top-quality product priced attractively.
There will always be people that buy the most expensive model of something either because they assume it must be the best available or because it boosts their ego. Herber knows that. But he and his colleagues see no reason to change the Blue Tees mantra. The company has wasted little time in becoming profitable and will continue to attract golfers who appreciate affordable quality…no matter what tees they play.
---
For more on the latest and greatest gear in golf, visit our GEAR PAGE.
Colorado AvidGolfer Magazine is the state's leading resource for golf and the lifestyle that surrounds it, publishing eight issues annually and proudly delivering daily content via coloradoavidgolfer.com.
Follow us on Twitter, Facebook and Instagram.