True Linkswear and Foray Golf team to make one-off women's shoe.
By Tony Dear
True Linkswear created its debut shoe – the True Tour (T1) – in 2009 and almost immediately won a loyal following of walking golfers that appreciated the minimalist design that allowed them to 'feel' the ground beneath them. Traction, stability, waterproofing and, to a degree, even styling, while not forgotten about entirely, definitely weren't priorities.
In the years following that initial success, however, the Tacoma, WA-based company, part-owned by PGA Tour player Ryan Moore, lost its way a little. Instead of making shoes for that loyal following which liked the simple approach and shoes they could wear for virtually any activity, True Linkswear got big ideas about competing with much bigger manufacturers and began coming out with more mainstream-looking shoes that didn't target the walking golfer necessarily.
A rethink and reconfiguration of the company saw co-founder Jason Moore, Ryan's younger brother and former Tour caddie, rise from Creative Director to CEO and now President. And between May 2017 and the start of 2019, partner, proven businessman and finance/strategy professional Justin Turner provided crucial expertise.
The upshot of the changes was that True Linkswear returned to doing what it did best. The original philosophy became the primary focus again, with a nod to contemporary styling, of course.
Every shoe-manufacturer makes comfortable shoes these days. When was the last time you owned, or tried on, an uncomfortable pair, assuming you had the correct size? Companies have improved their lasts and added cushioning, padding and softer zones in all the right places. And yet, since True Linkswear returned to its 'old' ways and its simpler model in 2017, it has produced shoes that seem to outshine the competition, every time.
The original Knit shoe it introduced in 2018 did extremely well and possibly had a higher comfort rating than any True Linkswear shoe had ever received. Then, toward the end of last year, the company replaced it with something even better. The Knit II was so light and comfortable, a handful of reviews mentioned the feeling of 'walking on a cloud'.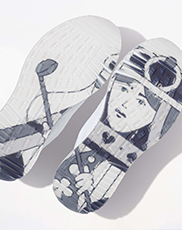 As well as producing great shoes, the company has shown a commendable inclination to improving society first by rejecting wasteful cardboard boxes in favor of reusable shoe bags, second by introducing a specially-designed Knit model that supported the MS Society and, most recently, by collaborating with women's golf clothes manufacturer, Foray Golf, in the creation of a Knit II shoe designed specifically for women.
New York-based Foray Golf was established in 2016 by Megan LaMothe who saw how tennis and yoga/fitness brands had been modernizing women's clothing while women's golf clothing had seemingly stood still. In a 2020 zoom call with Abby Liebenthal, founder of 'Fore the Ladies', a 501(c)(3) whose simple goal is to encourage more women to try golf, LaMothe explained that besides designing comfortably, stylish and functional clothing, Foray existed to support women, adding that all the factories with which it did business were either owned or run by women, or had programs to put women in positions of management.
Jason Moore explains the origins of the two companies' partnership. "When we set out to create our first ever women's exclusive release, we thought 'Who better to team up with than our friends at Foray Golf?' We have bonded over the years through a shared desire to reinvigorate golf lifestyle and culture, and the QOC Limited Edition Knit II is part of that mission. We're honored to be a part of the Foray story."
Foray Golf describes the QOC Limited Edition Knit II as 'the intersection of comfort and style'.
The company adds: "Built on the lightweight True Linkswear Knit II platform, with an engineered footbed that allows for increased breathability and comfort on warm days, the QOC Limited Edition Knit II features a Wanderlux Midsole that offers maximum comfort and rebound."
The 'QOC' part stands for 'Queen of Clubs' as her familiar features appear on the sole. It was designed by Mike Davis, creative director and co-owner of Burlesque of North America, an award-winning graphic art and screen-printing shop based in St Paul, MN.
"The expression on the Queen of Clubs' face is confident and commanding, and that's exactly the vibe we wanted this ground-breaking shoe to project," says Megan LaMothe. "Our mission is to bring more women into the sport by providing apparel they can feel comfortable and confident wearing. Mike's Queen of Clubs artwork is a pure reflection of our mantra and TRUE is the perfect partner for executing our vision."
The shoe is available while supplies last with free shipping for domestic orders. Each pair comes in a Foray-designed leatherette carry bag with magnetic clasp handle and Queen of Clubs detailing.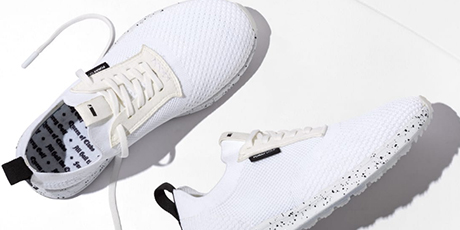 $175
Sizes – Women's 6-12
Colors – White
truelinkswear.com, foraygolf.com
---
For more on the latest and greatest gear in golf, visit our GEAR PAGE.
Colorado AvidGolfer Magazine is the state's leading resource for golf and the lifestyle that surrounds it, publishing eight issues annually and proudly delivering daily content via coloradoavidgolfer.com.
Follow us on Twitter, Facebook and Instagram.