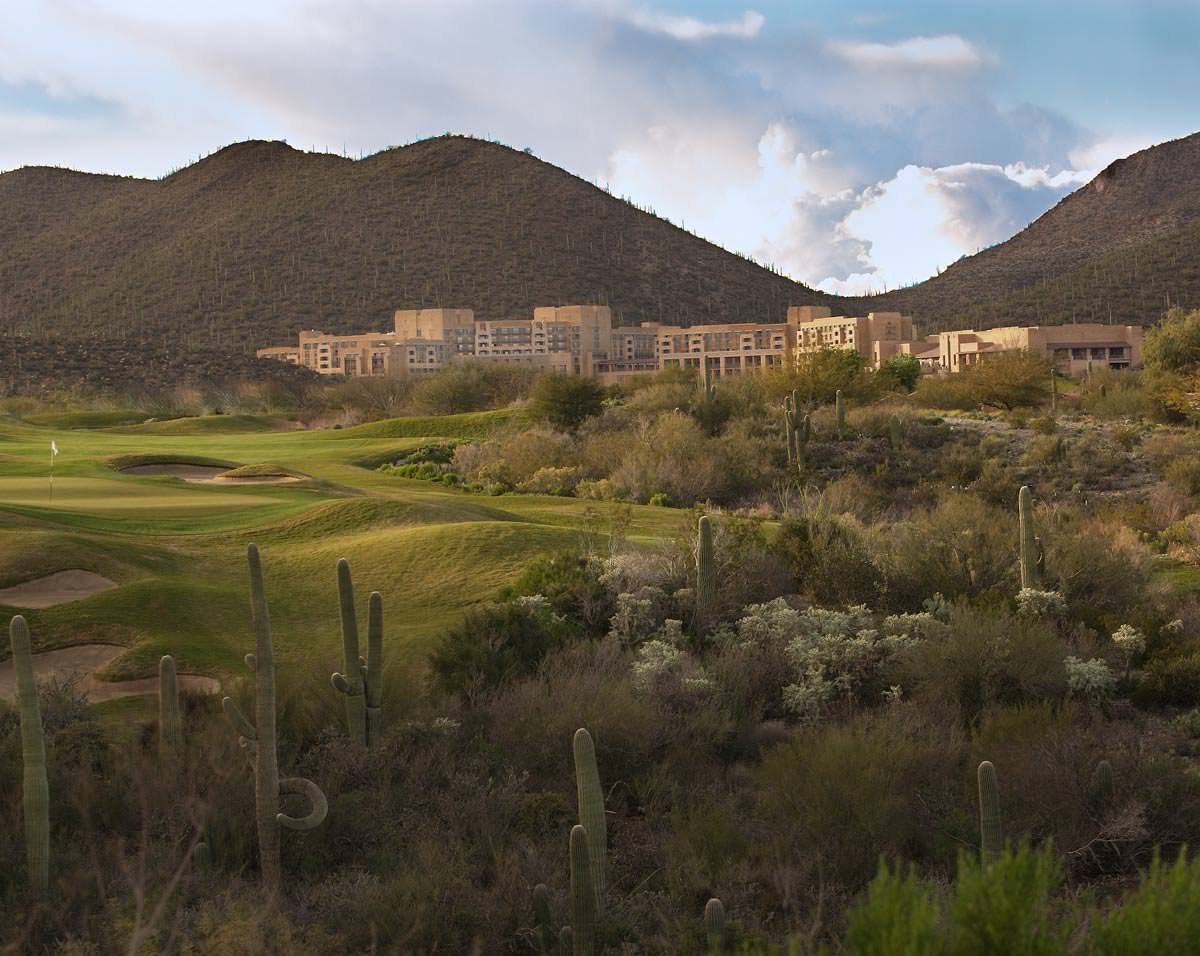 The monarch butterfly fluttered over the fine needles of the large cactus before landing on an open blossom, its sienna wings opening and closing in silent but hypnotic rhythm. During this brilliant and quiet Sunday morning, he and I were the only representatives of our respective species in the Butterfly Garden at Tohono Chul, the restored botanical park in north Tucson.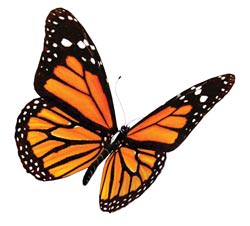 The Monarch searched for sustenance, and I was in Tucson for something a little more ethereal, namely "Old Arizona"—impressions of which can be found in myriad places. But it became clear at Tohono Chul that to have these experiences you have to do what the locals do—get outdoors. Late winter and spring in Tucson can be a time of wondrous beauty, albeit very temporal, and the best way to see it is be in it—on the trails or in the gardens and even the golf courses amidst the Sonoran desert. Nighttime amplifies the experience, as Tucson's efforts to curb light pollution fill the heavens with stars.
Tucson celebrates the expansive Sonoran Desert, and locals assimilate the experience via the many hiking trails on the outskirts of the city. Surrounded by five mountain ranges, dozens of trailheads lead to countless up-close moments with nature. Popular hiking spots like Sabino Canyon, Tumamoc Hill, and Saguaro National Forest West become more than a source of physical activity; they often serve as social hub as well.
Both Loews Ventana Canyon and the JW Marriott Starr Pass have trailheads on their property. If I had to pick one hike for a day, it would be Sabino Canyon, a 3.5 mile walk or tram-ride up 650 feet to the deepest part of the canyon. The steep walls and creeks are stunning, and you'll find yourself stopping at any number of spots to take in all the colors and topography. After a rainfall, head to Sabino Canyon as soon as possible to catch the wildlife that often congregates at the watering holes.
A Desert Education
The region is home to two of the world's best nature museums, and within their confines you come to understand a line said to me years ago: "To live in the desert you have to be civilized."
The Arizona Sonora Desert Museum west of Tucson is a world-class organization that brings the desert to life through classes and exhibits. Eighty-five percent of the museum is outdoors and includes a zoo, botanical garden, various desert habitats and—saluting Arizona's mining tradition—one of the world's most comprehensive regional mineral collections. The Museum's well-regarded Ocotillo Café hosts in-garden dinners during the winter and spring. There's something refined about enjoying fine fare in the desert.
Also on the west side is the International Wildlife Museum, which is associated with the Safari Club Foundation. The IWM brings to life more than 400 species of insects, mammals and birds from around the globe. Some of the collections are more than 100 years old and all the animals found at the museum were donated by various government agencies, wildlife rehabilitation centers, captive breeding programs, zoos and private individuals.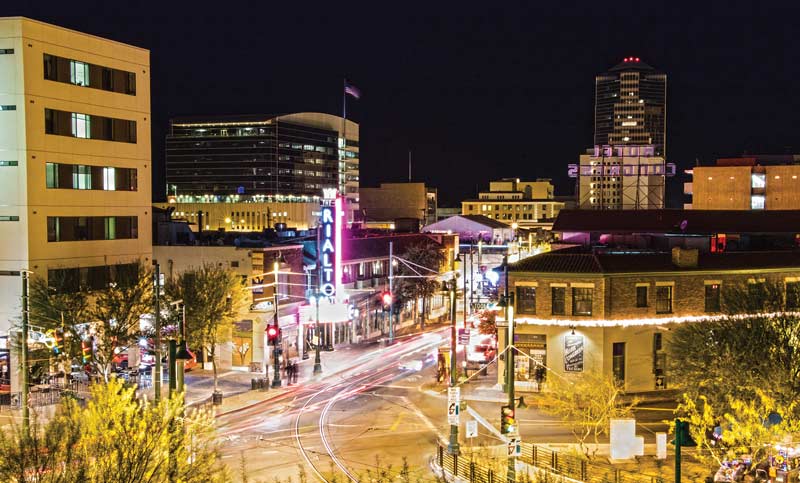 On the north foothills is the aforementioned Tohono Chul, a perfect place for a stroll through the 37 acres of manicured gardens of Sonora flora and fauna. The Garden Bistro at Tohono Chul is one of Tucson's leading brunch spots which, like the Ocotillo, focuses on local ingredients (e.g.: cholla buds) and utmost freshness.
To get a better understanding of what's going on outdoors, go indoors. Five years ago, the University of Arizona bought Biosphere 2—that 3.7-acre, $200 million failure of science that attempted to demonstrate the viability of closed ecological systems to support human life—and transformed it into a center for the study of climate change.
Two B2 scientists, Jayne Poynter and Taber McCallum, stayed in Tucson to develop Worldview, a start-up company aimed at using a helium-based launch vehicle that will take passengers into what is called "near space"— about 75,000 feet—high enough to see the curvature of Earth. Cheaper than satellites, this company aims to lead "the way in the emerging stratospheric economy." No cost yet on a ride.
More conventional flying machines are very popular in Tucson. A must for aeronautical enthusiasts, the Pima Air & Space Museum boasts two hangars full of WWII aircraft and dozens from various eras sitting outside.
The dry climate and alkali soil under the Davis Monthan Air Force Base makes it the perfect place to store aircraft. That means it is the best place to see and touch row after row of fighter jets, supply craft and other winged wonders, including the A10 "Warthog," the only aircraft built around a gun.
Tucson's historic 4th Avenue teems with eclectic shops, including Mr. Heads, a bar that also houses a large glass blowing studio, complete with computers for design, acetylene tanks and cooling shelves. Sip a local IPA and see some hot sand get transformed into a work of art. Is there a better metaphor for Old Arizona?
---
Playing the Old Pueblo
Although the greater Phoenix region is very popular for golf, I prefer Tucson for my  midwinter rounds. The courses feature elevation changes, panoramic vistas and reach-over-and-touch-it proximity to the desert fauna. Add in names like Fazio, Nicklaus and Palmer
as course designers, the result is challenge mixed with beauty.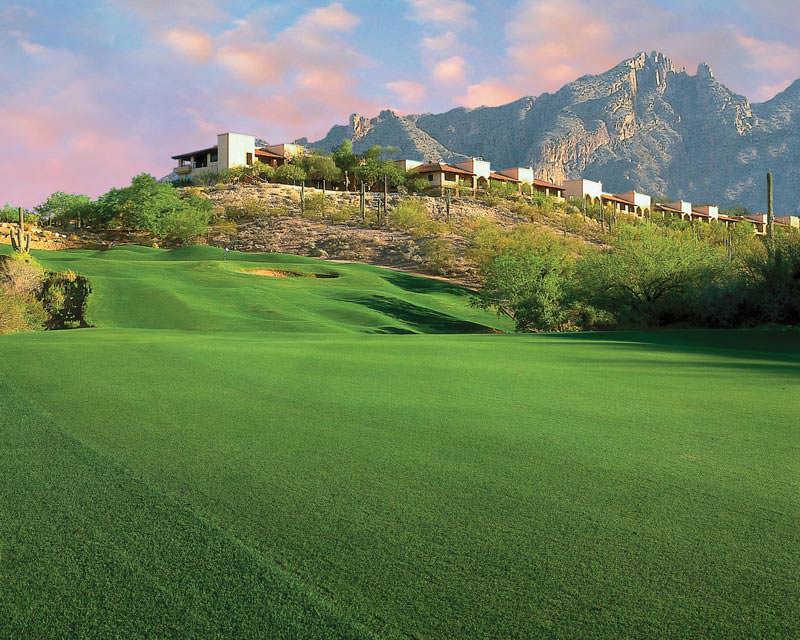 Westin La Paloma Resort
This northeast Tucson resort exudes a classy elegance, with its private course accessible only to members, resort guests and Troon Golf card members.  This classic Jack Nicklaus layout from the late 1980s century has three nines—Canyon, Hill and the Ridge, which is the narrowest. On all three, easy par-4s and reachable par-5s come early, then it gets serious. What you'll want: Good friends, family or even a company tournament to enjoy resplendent resort golf. Higher handicappers: There are forced carries, so choose the right tee. Can't find the tee shot on the grass? It's gone. Drop and advance. Single-digit players: Bomb away. The fairways on many holes are "dished," meaning slopes or mounds are higher and tend to kick the ball back toward the fairway. westinlapalomaresort.com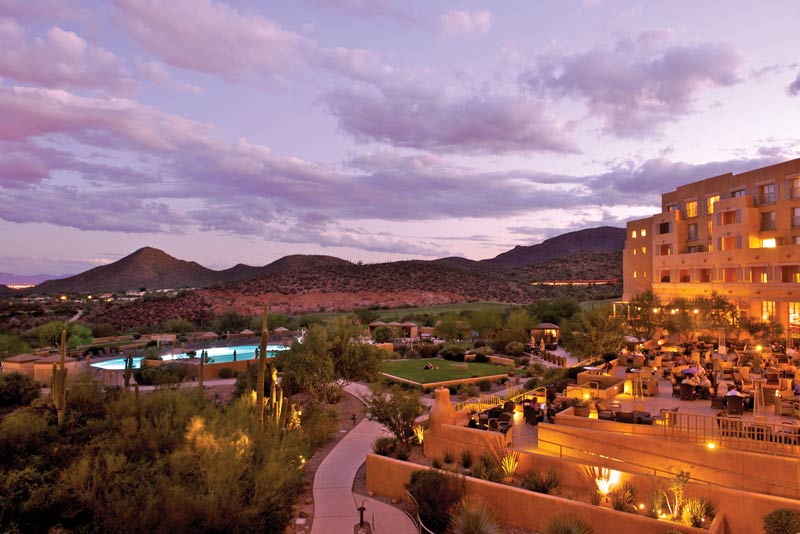 JW Marriott Starr Pass Resort & Spa
Starr Pass, on the southwest side of Tucson, has become a stunning property anchored by a seven-story resort set against the slopes of Tucson Mountain Park. This all-in-one resort attracts families, business meetings and conventions. I hadn't played here since December 1990 on the original, Arnold Palmer-designed 18-hole routing. Two months later, a sophomore at Arizona State named Phil Mickelson won the Tucson Open on that course. Now it's three nines—Rattler, Roadrunner and Coyote—and it's hard to recognize the original holes, which are spread throughout the 27. What you'll want: Plenty of balls and a range finder that calculates slope. Higher handicappers: Move up one tee—or two. Forced carries are the norm and some are blind, so be easy on yourself. Single-digit players: Do your research. Read the course guide. Know the bailouts. Some green complexes squeeze into very tight spaces. marriottstarrpass.com
Loews Ventana Canyon
Loews Ventana Canyon features two areas of accommodations – the resort and the Lodge. Either allow for access to spa, tennis, hiking, swimming, golf and access to hiking trails. Luxury ambiance resonates from this 36-hole facility ranging from the first-rate practice facility to Tom Fazio's ingenious layout on the Mountain course, particularly No. 3—the Sonora Desert's answer to the famous par-3 No. 7 at Pebble Beach. What you'll want: The chance to play the Mountain course again right after the round—perhaps the ultimate compliment. The Canyons is flatter and lacks the character of the Mountain, but still enjoyable. Higher handicappers: Play the standard tees, enjoy the wide fairways and stay out of devilish fairway and greenside bunkers. Single-digit players: Always know where the Catalina Mountains are in respect with your putts. loewshotels.com/ventana-canyon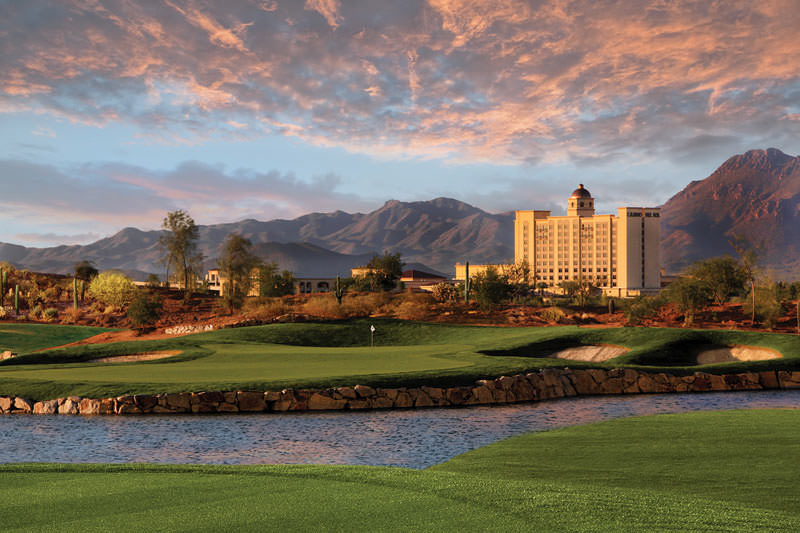 Sewailo Golf Club at Casino Del Sol Resort
In the southwestern part of town, the Pascua Yacqui Indian Tribe owns Casino Del Sol, which features a casino, hotel, restaurant and the Notah Begay-designed Sewailo Golf Club.  The tribe had plenty of land to use, and you see it on Sewailo's first hole—a fairway 60 yards wide. Ten acres of lakes, cavernous fairway bunkers and large greens define this layout that is the home course for the University of Arizona golf teams. What You'll Want: A couple of rounds to get to know the greens. Higher Handicappers: Favor the shorter tees to ensure hitting fairways, which makes the second shots into these tricky greens much more exciting. Single-digit players: Back it up to increase that risk-reward thrill. casinodelsol.com/sewailogolfclub
Also, The Golf Club at Vistoso (vistosogc.com) north of Tucson is a Tom Weiskopf layout that has drawn raves from locals. The Robert Trent Jones design at Arizona National Golf Club nestles in the Catalina foothills. In Marana, north of Tucson lie The Gallery and The Golf Club at Dove Mountain—both of which hosted the WGC Match Play Championship—and the Highlands at Dove Mountain (dovemountain.com/golf). The Randolph Park courses in downtown Tucson, (tucsoncitygolf.com) rank among the best urban munis in the country.
---
Going Way Back in Tubac
A first-hand experience of Old Arizona awaits 45 miles south of Tucson in the town of Tubac, where in 1752 Spanish Captain Juan Tomás de Belderrain built the presidio from which Captain Juan Batista set out to claim new lands, including San Francisco, California. In 1789, a rancher named Toribio de Otero received the first land grant from the King of Spain, and today his home holds the conference rooms at Tubac Golf Resort & Spa. Its thick oak shutters and other architectural fortifications provided protection against sun, heat and Apaches.
You can sense this history as you walk among the resort's casitas. The mesquite fences are constructed as they were in the 1700s. From the thick stucco walls and Spanish oak beams you can almost smell tanning aromas that swirled in 1881, when cattle king Sabino Otero's hacienda served as the cultural center of the region. You can still feel it today in the resort's Stables Ranch Grille, whose hand-cut vigas and uneven stone floor date back more than 200 years.
Bing Crosby bought the property in 1939 and built the resort casitas and first 18 holes. Old Hollywood celebrity photos hang in Stables. Ron Shelton filmed the golf scenes in Tin Cup here in 1995. After some more ownership changes, Ron Allred, the man who developed the Telluride Ski Resort, took control in 2003 and has focused on preserving the site's historical feel while imbuing the accommodations and amenities with modern features, including a new swimming pool.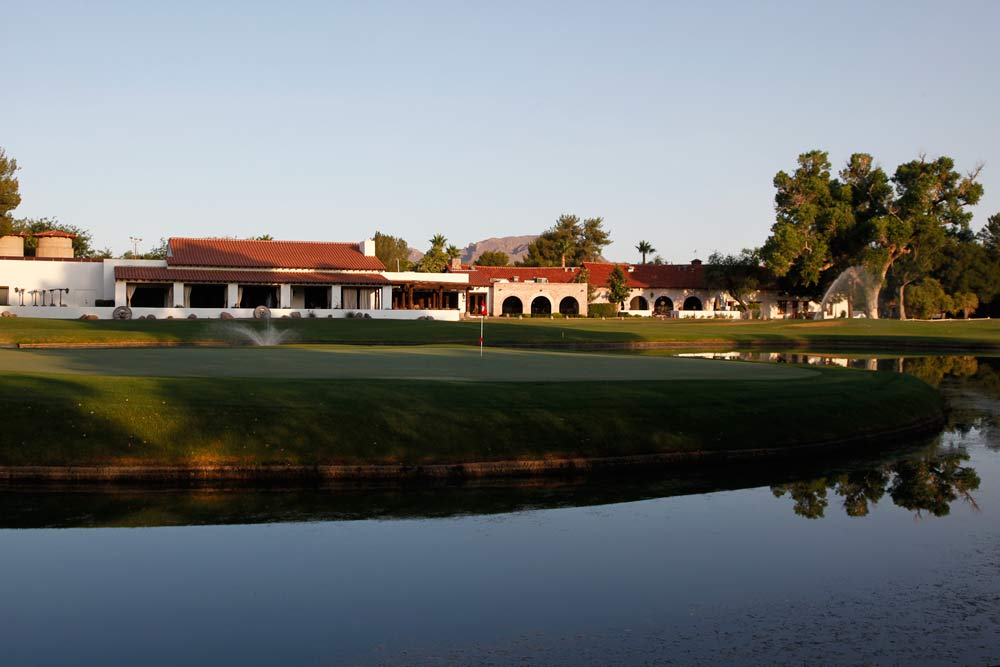 Across from Stables Grille on the resort's center walkway is the world-class spa, and just down from there is the health club. On the other end stands a charming, mission-style chapel. Pancho's, a gallery selling local art and home décor items, and the golf pro shop comprise the center of the resort.
Composed of 18 holes designed by Red Lawrence and nine by Ken Kavanaugh, the expansive course features three distinct nines—Rancho, Otero and Anza. The picturesque Rancho rambles through the cottonwoods; Anza features an island green outside the Stables Bar; and Otero, the original course's front nine, has abundant water. On Rancho's fourth hole, a plaque 240 yards out invites you to attempt the famous 3-wood over the lake immortalized by Kevin Costner's character in Tin Cup.
As for the city of Tubac and its galleries and stores showcasing works produced by local artists and craftsman, you might want to mail your credit card home prior to visiting. Either that or have a mortgage broker on speed dial for a quick refinance. You don't need to bring home anything more than the respite and regeneration that comes from time in Old Arizona.
tubacgolfresort.com; 520-398-2211
---
Contributor Ted Johnson lives in Danville, California. He regularly covers travel and gear for Colorado AvidGolfer. This article appears in the Winter 2016 issue of Colorado AvidGolfer. Subscribe today!
[box]DEAL ALERT: See all golf travel deals and Stay & Plays in Tucson, Scottsdale, Phoenix, Nevada and more![/box]
RELATED:
[related_posts limit="8″]
Colorado AvidGolfer is the state's leading resource for golf and the lifestyle that surrounds it, publishing eight issues annually and proudly delivering daily content via coloradoavidgolfer.com. Follow us on Twitter, Facebook and Instagram.