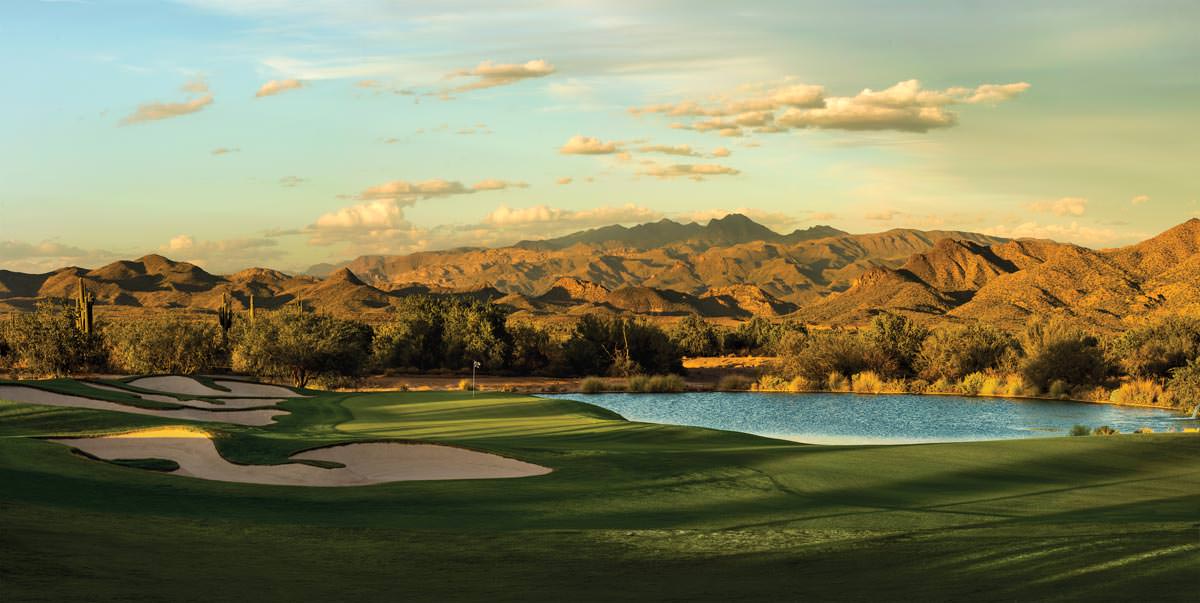 Golf, in general, has not been up to par for the better part of a decade. Far more courses have closed than have opened since 2006, and according to the National Golf Foundation, the game lost about 600,000 golfers in 2015 even if numbers remained strong in several crucial areas: among committed golfers, beginning golfers and the number of people interested in taking up the game.
And then there is Arizona, where participation remains solid if not strong, thanks in large part to seasonal migration patterns from states like Colorado, 330 annual days of sunshine and nearly 400 golf courses—of which more than three-fourths are accessible to the public and nearly 200 are in the Phoenix-Scottsdale entertainment market, giving those golfers the non-golf activities they crave.
Another four courses—Verde River Golf & Social Club, Victory at Verrado Golf Club, Li'l Wick at Wickenburg Ranch Golf & Social Club, and the Short Course at Mountain Shadows—make their debut this winter. Their appearance reflects not only the vitality of the Arizona golf scene, but also what's really "new" in AZ golf—namely, a more fun and accessible approach towards the game.
VERDE RIVER GOLF & SOCIAL CLUB (Rio Verde)
Verde River Golf & Social Club is actually the second reincarnation of Tegavah Golf Club, which formerly was known as Vista Verde. The first two renditions of this north Scottsdale club located off Dynamite Road went bust, but not because they were bad layouts.
As the latest architect of record, Tom Lehman, explained it: "The bones of the course were excellent, a tribute to the work Ken Kavanaugh did on the original design. The course has always had amazing views and some really, really good golf holes, so this was not a massive overhaul; it was our attempt to make every hole better."
In that regard, Lehman redesigned only three holes of Kavanaugh's original work, which believe it or not, had opened in 2005 to rave reviews.
"We did touch—or did something—to all 18 holes," Lehman added. "In the end, I think we made it more fun, more exciting, more playable."
Therein lies the key words to golf in the future—fun, exciting, playable. Golfers are looking for those elements more and more, and they will find them at Verde River, a Shea Homes/Blue Star Resort & Golf production. They'll also get that "social club" element, as Verde River will soon include an incredible clubhouse, as well as swimming and tennis complexes. And while Verde River is slated to become private at some future date, it currently is open to the public with a green fee that is $60 to $75, very reasonable by AZ standards.
verderivergolf.com; 480-471-3232
---
LI'L WICK  (Wickenburg)
Li'l Wick is the short course at Wickenburg Ranch Golf & Social Club, and if that Golf & Social Club brand looks familiar it's because the same guys (Shea and Blue Star) did the big course at Wickenburg and Vista Verde. Talk about catching a wave! Li'l Wick comprises nine of the biggest par 3s you'll ever run into, right down to greens averaging 8,000-square feet and small lake that serves as the center point.
"It's the best little-big golf park in the whole darn state," said Blue Star's vice president of marketing, Ben Keilholtz, of the course that is located about 45 minutes northwest of Phoenix. "These are very creative par 3s that range from 85 to 200 yards with regulation-sized greens."
Better yet, there are stereo speakers that pump the tunes into every green complex. Five of the holes are lit for night golf, and, in the middle of it all, is the Watering Hole—a sports bar with nine big-screen TVs where you can stop and have a drink and then pick up your round where you left off.
There are other things that make Li'l Wick the shape of things to come: no tee times, you just walk up and put your name on a chalk board; from the front tees you could use a putter the entire way around, meaning it's manageable for the nongolfer; and it costs just $25—or $15 if you play it in conjunction with the highly acclaimed big course. Oh, yes, and did we mention that the club's Jake's Spoon restaurant and Wick's Hideaway saloon are very cool, too?
wickenburgranch.com; 928-668-5535
---
VICTORY COURSE AT VERRADO GOLF CLUB (Buckeye)
First-timers also will enjoy the new Victory Course at Verrado Golf Club. Tucked into the White Tank Mountains on the western-most edge of Phoenix, this time Lehman went solo on Victory after teaming up with John Fought to design the original Verrado Course, which is located about a mile away. But Victory is nothing like Verrado if for no other reason than the playing field.
Built on what once was the testing site for Caterpillar tractors, this is a rocky, challenging terrain, where Lehman sculpted massive, sweeping fairways and gentle green settings. The course is the main amenity of the 55-plus active community being created by Scottsdale-based DMB. It will open to the public in February with a green fee that will range from $89-$99 or twilight rate of $49-$59. Again, a very unArizona-like fee.
"Every hole kind of gives you something unique and different, with that theme of being a surreal, beautiful, rugged rock environment with immaculately maintained fairways and greens running throughout," the designer said. "We've truly used whatever the land has given us—if that's a cliff or a nob or a boulder or a drop-off or a sudden rise up the mountain – and left the terrain all natural, so it looks like it's been built right into the land.
"In fact, I can't think of another course in Arizona that is quite like it. It just looks so compelling that I'm sure it will be quite an experience for those who play it."
Victory will amaze you, whether it's the four and a half acres of grape vines planted on the hillsides (yes, Verrado will soon have its own wine label) or the first two holes, which due to a large outcropping find the No. 1 and No. 2 greens just 50 feet apart (no, it's not a double green).
There are other holes you will never forget, like the short par-4 14th, where a natural stone wall dissects the fairway—the chief challenge if a player tries to drive the green. Or the 18th, a picturesque par 4 over water that plays down and then up the hill with those aforementioned grapevines lining the mountain backdrop. Visitors also will want to check out the club's new restaurant called The Vic, a totally upscale retreat that sits high on the hill above the 18th green with a panoramic view of the entire Valley of the Sun.
verrado.com/victory; 623-399-9001
---
THE SHORT COURSE AT MOUNTAIN SHADOWS (Paradise Valley)
The last of this new Fab Four to come on line will be the Short Course at Mountain Shadows in posh Paradise Valley, which opens in mid-February. An upscale par-3 by local architect Forrest Richardson with 18 completely different holes from the original executive layout built by his mentor, Jack Snyder, there will be much to like about Mountain Shadows, such as a round of golf that takes a little over two hours to play. Hey, if there is one thing we've learned in today's ever-changing golf market it's that golfers want less time on the course, not more.
"It's the perfect destination course for the traveler, as you don't even have to bring your bag; we'll provide the clubs," Richardson said of the course that is tied into a new 200-room resort of the same name. "My goal was to build 18 interesting par 3s that required some thought, yet you could play it in less than three hours – and we've played it with partners in less than two (hours)."
Richardson created some very demanding ("not easy") par 3s that range up to 220 yards. The signature hole is No. 10, which goes 95 yards straight up Camelback Mountain, smack dab into the head of the famed beast. Normally this would be a very tough green to hold except Richardson built a punch bowl-shaped green to cradle tee shots.
Tom McCahan, the club's new director of golf and club operations, thought so much of the latest edition of Mountain Shadows that he left his job as director of golf at The Boulders after 25 years. As McCahan pointed out so succinctly: "To me, Mountain Shadows, a high-end, par-3 course that doesn't take all day to play, is the future of our game."
People will like the price, too, although that is not set in stone yet, McCahan added, guessing that the average green fee "will be around $50 and maybe slightly higher in season with rental clubs from PING." There's also a comfortable, relaxed 19th hole in the resort called Rusty's Patio & Lounge, named after the late Russ Lyon, whose family also owns or runs The Sanctuary on Camelback Mountain and Hotel Valley Ho in Scottsdale.
It all goes together, as it did in its heyday, when Mountain Shadows was the benchmark for desert luxury, and the golf course boasted perhaps the best weekly skins game in Arizona.
mountainshadows.com; 480.624.5400
---
The author of Arizona's Greatest Golf Courses, Bill Huffman writes about golf for azgolf.org and hosts Backspin: the Golf Show, a twice weekly radio program on Fox Sports Phoenix.
This article appears in the Winter 2016 issue of Colorado AvidGolfer. Subscribe today!
RELATED:
[related_posts limit="8″]
Colorado AvidGolfer is the state's leading resource for golf and the lifestyle that surrounds it, publishing eight issues annually and proudly delivering daily content via coloradoavidgolfer.com. Follow us on Twitter, Facebook and Instagram.