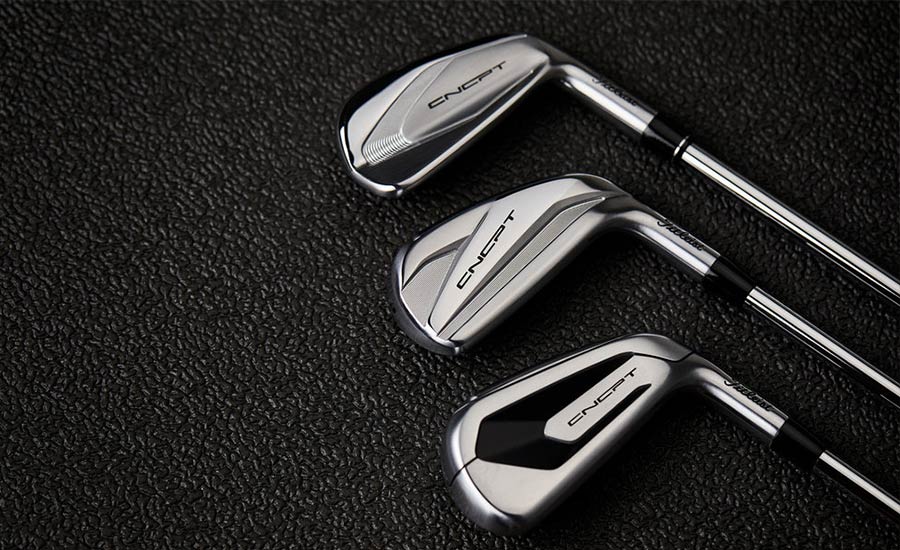 Titleist has launched two new CNCPT irons and, like their immediate predecessors they are not, er, competitively-priced.
By Tony Dear
This post won't interest many. It will likely get the attention of only a tiny number of readers in fact. But we thought they'd both appreciate the heads-up.
Only joking.
Seriously though, we're guessing there won't be many for whom the information herein is much use. Why bother? Good question. Well, there's not much else happening this week, and we can always treat it as aspirational.
Truth is, we are talking about some very expensive gear this week. No, not some goofy, novelty clubs built from the QE2's propellers or some such, but very real clubs built by a very real club manufacturer where factors like market share, economies of scale, mass marketing, and value for money probably weren't even considered. All that mattered was creating the best clubs the company's best clubmakers could conceive.
Titleist launched its first Concept clubs – the C16 Driver and C16 irons – in April 2016. While they certainly borrowed from existing Titleist tech found in the 915D2/915D3 drivers and 716AP1/716AP2 irons, they pushed design envelopes and used hitherto unheard of metals. As a result, the driver, of which only 1,500 were made, sold for $999. Just 1,000 sets of the irons were built and they set buyers back $2,700.
In April 2019, two new Concept irons arrived – the CNCPT CP-01 and CP-02, and they made the original models look positively affordable. Each iron in either set cost a remarkable $500 meaning eight CP-01s or CP-02s would require deep-pocketed golfers to part with $4,000.
Late last week, Titleist announced the launch of the next generation of CNCPT irons with the CP-03 and CP-04. And while there would be no price hike this time, there'd be no cost reduction or discounts either.
So what does a $500 CP-03 iron look like? No doubt it's an attractive-looking club, but there are plenty of pretty clubs on the market that cost half or even a third as much. So what does it offer under the bonnet, so to speak?
The CP-03 looks much like a better player's muscleback. It has a thin top-line and very little offset. The body is cast from 17-4 Stainless Steel. That's all fairly standard stuff up to now. The top-line and offset are design styles and shouldn't affect how much the club costs, and 17-4 Stainless Steel isn't exactly exotic.
Things get a little less vanilla elsewhere in the clubhead, however. The face is forged from a metal Titleist refuses to name and, they insist, takes eight months to source. Who ever heard of a metal that takes a billion-dollar company eight months to get its hands on? Consider us wildly curious.
Anyway, this uncommon material is uncommonly strong, and allows Titleist to make the face incredibly thin which helps create impressive ball speeds. The front of the L-shaped faces wraps under the leading edge meaning those ball speeds are maintained even on low hits. There's a terrific amount of tungsten positioned inside the hollow body (an average of 104g split between the heel and the toe in the 3-7 irons) to increase Moment of Inertia (MoI) and lower the Center of Gravity (CG) thus making them very forgiving clubs.
The CP-04, an update on the CP-01, has the look of a game-improvement iron with a back cavity, thicker top-line, and a little offset. Tungsten again features heavily with 100g shared between the heel and toe in the 4-7 irons. And the head is composed of the same 17-4 Stainless Steel/forged mystery metal (Titleist calls it 'Super Metal') combination found in the CP-03.
The CP-02 blade irons are still very much available, meaning buyers have the choice of three models – blade, player's distance, game-improvement – from which to customize their own set.
However you configure it, though, it won't be cheap.
To schedule a CNCPT fitting with a Titleist specialist, visit titleist.com/fitting/appointments.
Shafts available – Your choice of the 171 shafts in Titleist's custom matrix:  https://www.titleist.com/fitting/golf-club-fitting/golf-shafts

---
For more on the latest and greatest gear in golf, visit our GEAR PAGE.
Colorado AvidGolfer Magazine is the state's leading resource for golf and the lifestyle that surrounds it, publishing eight issues annually and proudly delivering daily content via coloradoavidgolfer.com.