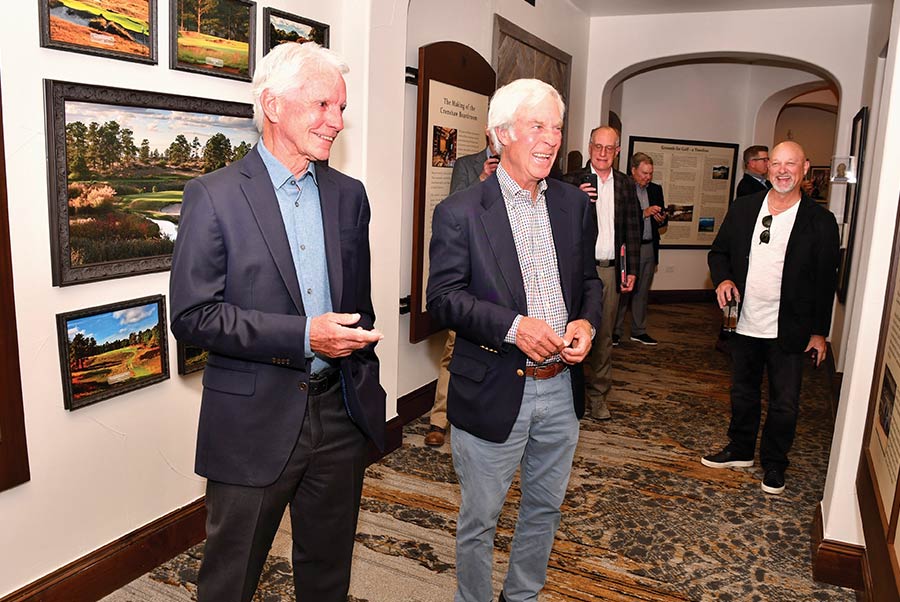 During the past year, Colorado Golf Club transformed 4,850 square feet of its clubhouse into a museum-quality homage to the club's course designers, Bill Coore and Ben Crenshaw. 
By Jon Rizzi | Photographs by Chip Bromfield
In late April, the pair finally got to see it. "IT'S EXTRAORDINARY…I'm totally speechless."
So said Ben Crenshaw on April 26 upon seeing the Crenshaw Boardroom at Colorado Golf Club for the first time.
For a man given to making dramatic statements—consider his poignant "I had a 15th club in the bag today" tribute to the late Harvey Penick after winning the 1995 Masters and his "I have a good feeling about this" prophecy of the 1999 U.S. Ryder Cup team's historic victory—this one wasn't quite as colorful.
But there was no reason for it to be. Crenshaw expressed all the sincerity, humility and gravitas of someone literally overwhelmed by one of the most thoughtfully curated, artistically executed and tastefully rendered tributes ever mounted in a golf clubhouse.
The Crenshaw Boardroom serves as the centerpiece of Colorado Golf Club's Coore & Crenshaw Wing, a sweeping tribute to the dynamic architectural team behind the layout that has already hosted the 2010 Senior PGA Championship, 2013 Solheim Cup (LPGA) and the 2019 U.S. Mid-Amateur since opening in 2007.
As described in framed panels lining the impressive Coore & Crenshaw Hallway, Colorado Golf Club's place in history extends beyond those championships to a centuries-old golf-architecture pedigree that Coore & Crenshaw can trace directly to Old Tom Morris through Coore, who worked with Pete Dye, who bonded at Fort Bragg and Pinehurst with Donald Ross, who learned from Old Tom.
The pair's reverence for the history of course design expresses itself in each of the 30 courses they've designed (among them Sand Hills in Nebraska, Cabot Cliffs on Cape Breton Island and Bandon Trails and Sheep Ranch in Oregon) and classics they've restored or renovated (including Pinehurst No. 2, Prairie Dunes and Riviera).
"None of the courses we've designed has anything like this," Crenshaw marveled while looking around the Boardroom before dinner. "For the membership, it's really something else. It's a departure from other clubs. It shows what they deem important."
"We have a real appreciation of heritage and history here," Tom Ferrell, Colorado Golf Club's membership and marketing director, said. "Any club that considers itself a culture-driven club should think seriously about telling its story."
A golf historian who also founded the Coore & Crenshaw Society, Ferrell headed up the research, penned the text, gathered photography and even commissioned a rendering from Bill Coore of a now-extinct hole in Lexington, N.C. that sparked his boyhood interest in course design.
The club also enlisted the talents of Arvada-based fine artist Robert Fletcher, whose drawings of Old and Young Tom Morris and miniature busts of architectural icons Morris, Ross and Charles Blair Macdonald gaze into the hallway.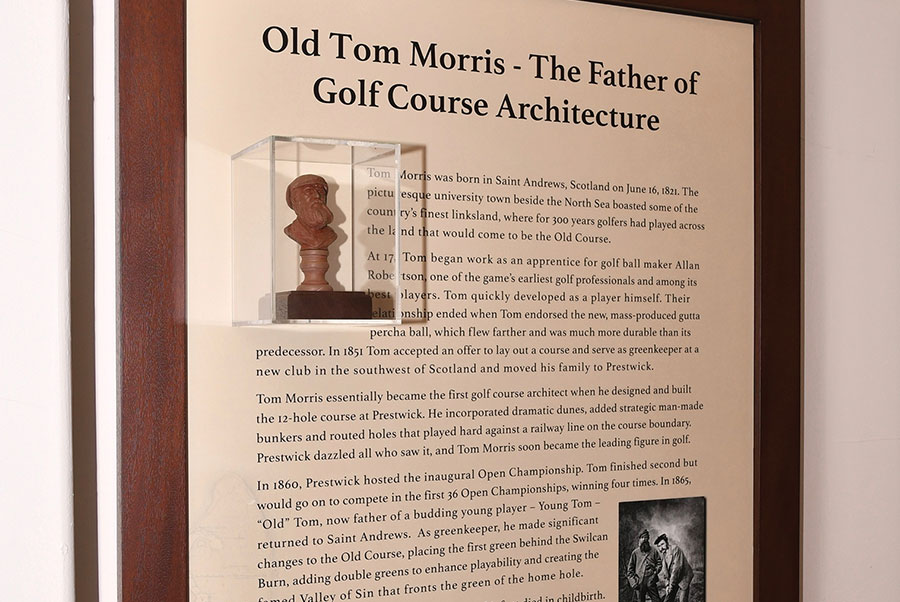 Fletcher's work shines most brilliantly in the high-ceilinged Crenshaw Boardroom, which celebrates the World Golf Hall of Famer's playing career. Amid items such as a caddie bib from one of Crenshaw's 20 Open Championships and his 1999 Ryder Cup captain's tour bag, full-length paintings of the five individuals who had the greatest influence on him—Penick, Coore, Jackie Burke, Bobby Jones and Charlie Crenshaw, his father—surround the black-oak table at the center of the room.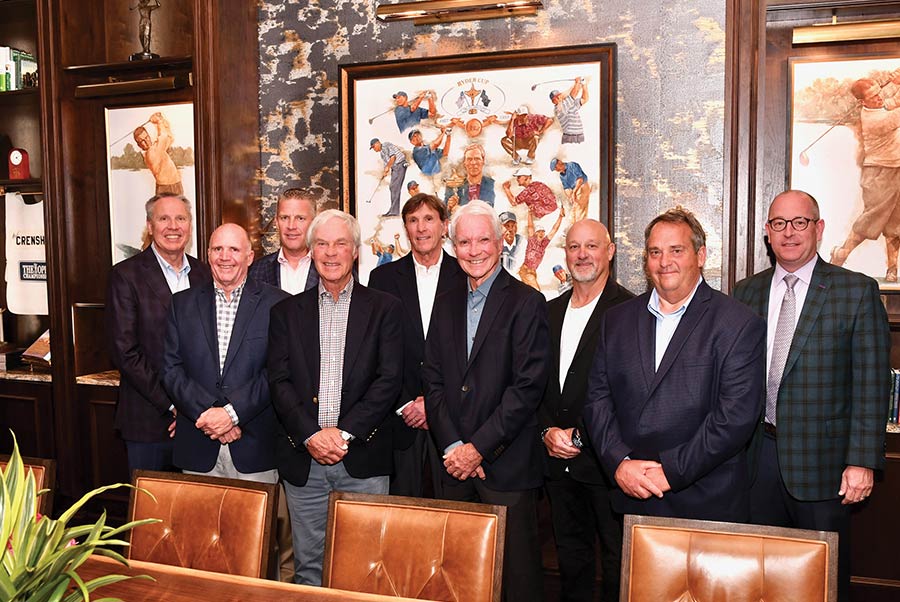 "Tom Ferrell casually asked what people in my life were most influential… and here they are!" Crenshaw said, surveying the boardroom. "I had no idea this is what it would be like."
"You know, this may have our names attached to it," Coore added. "But this is a tribute to Bob Fletcher."
The room's dominant canvas immortalizes Crenshaw's captaincy of the 1999 U.S. Ryder Cup team, showing each player on the winning squad in action. A smiling Crenshaw, Cup in hand, centers the work, and to his right grins basketball legend Michael Jordan—whose presence some of the players credit with inspiring them during the competition.
A case near the entrance to the boardroom holds original items from that event at Brookline—a program, the flag from hole 17 signed by Justin Leonard, a promotional banner and even the memorable shirt the captain (and team) wore on Sunday—as well as a photograph of Ben fatefully wagging his finger at the media on the Saturday before the singles matches.
A similarly populated adjacent case commemorates Crenshaw's 1984 and 1995 Masters victories. Among the objects hangs the patterned blue shirt he wore that Sunday in '95 when he crumbled, overwhelmed by sinking the winning putt just days after burying Penick, and the bib worn by caddie Carl Jackson as he consoled the emotional Masters champion.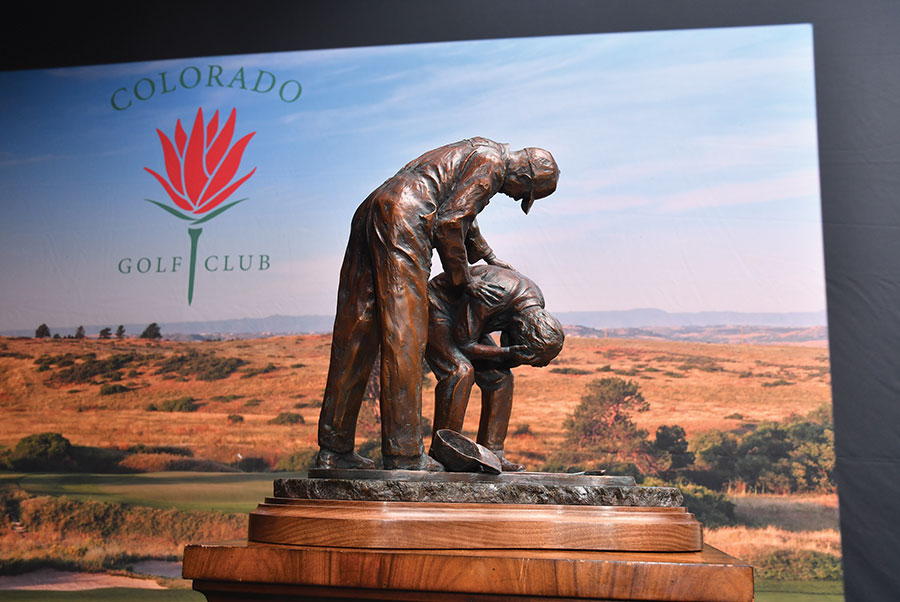 Fletcher's stunning bronze of that iconic moment stands nearby in faithful tribute. During the dedication dinner, which took place in the remodeled and rechristened Bill Coore Ballroom ("Because I'm such a social gadfly," Coore quipped during a postprandial Q&A with golf media personality Matt Ginella), Colorado Golf Club President Matt Kellogg and Fletcher unveiled a second casting of the statue and presented it to an obviously moved Crenshaw.
"Ben," Kellogg said, "we want you to take part of this room with you."
Spearheaded by Ferrell, Kellogg and CGC member Chris Pitaniello, who sat next to Crenshaw at dinner, the project cost more than a half- million dollars and was completed during the pandemic by reclaim- ing some underused conference and administrative space. Members at- tending the dinner saw the proceeds benefit Crenshaw's Save Muny Conservancy as well as the Junior Golf AllianceofColorado.
"It's so beyond anything I could ever have expected, even hoped for," Crenshaw said. "It's so beautifully done. The workmanship is extraordinary, and the artistry is beyond extraordinary—if there is such a thing."
Jon Rizzi is the editor of Colorado AvidGolfer.