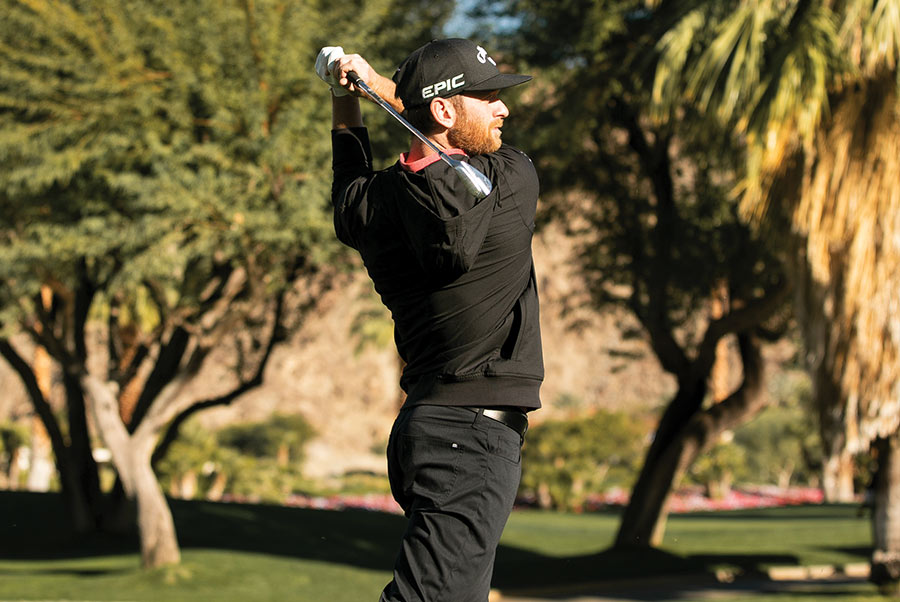 Free-spirited surfer, snowboarder and rising PGA TOUR star Tyler McCumber has traveled his own path to Lyons, where he recharges at the gateway to the Rocky Mountains.
By Andy Bigford
ESCAPING TO THE mountains for snowboarding, mountain biking and hiking is how countless Coloradans recharge their batteries after a long stretch of work. Tyler McCumber is no different: Returning from a demanding month-long business trip in March, during which he banked more than $200,000 in winnings, he flew nonstop from the Dominican Republic to Denver, dumped the bags and laundry at his new streamside home in Lyons and drove to Summit County for a week of snowboarding.
McCumber grew up in the golf epicenter of Ponte Vedra Beach, Fla., but seems to embody what the Colorado lifestyle is all about. In many ways, he's also the most intriguing anomaly on the PGA TOUR, where he was ranked 58th in the FedEx Cup standings after his four-event March tournament swing. The announcement a year ago of his relocation to Lyons, the small town (population 2,144) nestled against the mountains on the banks of the St. Vrain River, initially appeared to be… some kind of mistake. Why would an up-and-coming Tour player leave one of the golfiest places on the planet for a golf course-free northern Colorado town that's best known for its Planet Bluegrass music festivals and as a Rocky Mountain National Park gateway? Even his father Mark McCumber—a 10-time PGA TOUR winner, golf course architect, broadcaster and lifelong Floridian—was initially skeptical.
As it turns out, Lyons makes perfect sense as the ultimate home base for what the 30-year-old describes as "taking a breather from the mental taxation of the PGA TOUR." And it may well be the strategy that helps vault him into the top tier of the world's best golfers.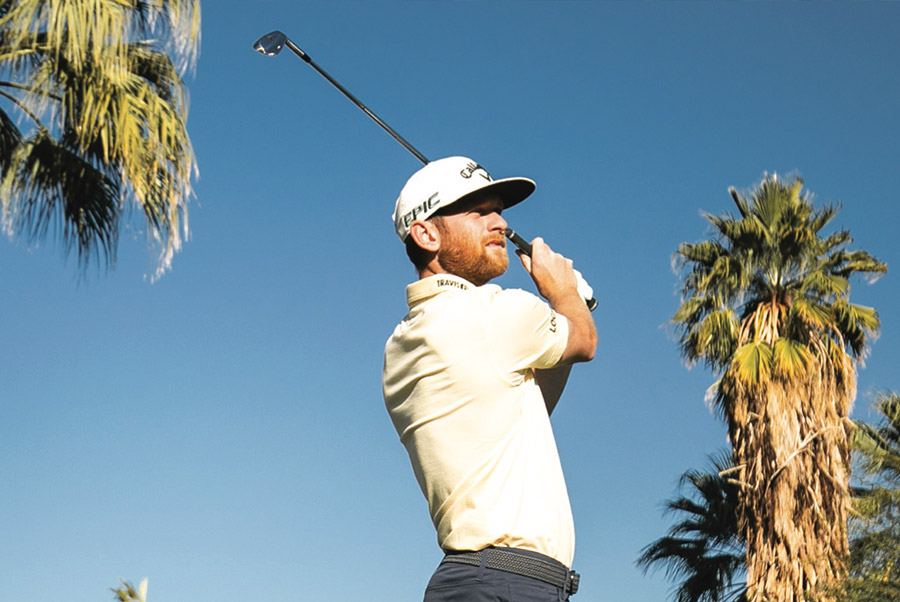 THE NATURAL
Tyler McCumber has always been different, a free and open thinker, multitalented, dedicated, and freakishly athletic. Growing up with a famous golfer as a father, in the shadow of TPC Sawgrass, he surfed and played the go-to positions in baseball (pitcher, catcher, shortstop, leadoff hitter). Mark never pushed his son into golf, and Tyler showed little or no interest, save for swatting a few balls with his dad at Sawgrass.
At the age of 13, he tried golf, and in his first junior tournament proudly finished with a 101-99 two-day total. When he asked his dad how long it would take to get "really good" at this complex endeavor, Mark said he wasn't sure, but that he'd know in a couple of years if it was the right fit. Two years later, at age 15, Tyler won the Florida State Jr. Amateur (and, eventually, the Florida Amateur and Florida Open).
Following an All-American career at University of Florida, Tyler turned pro in 2013 and steadily worked himself up the professional ladder. He won six tournaments worldwide, three times each on the PGA Latin America and Mackenzie Canadian tours (one victory was in Edmonton, at a course Mark designed). He secured his PGA TOUR card in 2019 via the Korn Ferry Tour. Along the way, Tyler continued being Tyler, not allowing himself to be defined by golf: It's what he does, not who he is.
In 2017, wanting to take a breather and see more of the world after shoulder surgery, Tyler spent six weeks hitchhiking through Australia and New Zealand with just his backpack and surfboard, staying mostly in hostels. (He kicked off the adventure by playing in the Australasian Tour's Vic Open, so this did qualify as a business trip.) Utilizing the traditional late-November- full-December break from the professional golf grind, he's also visited Europe, seeing the Northern Lights in Iceland, hiking in Switzerland and backpacking in Italy. His game plan is always the same: Meet new people and soak in their cultures. The bucket list features trips to the Mentawai Islands in Indonesia, the temples of Southeast Asia and surfing the West Coast of Africa.
Tyler's 60-degree Titleist Vokey wedge is engraved with a surfer and the words "Eh Brah." Before he landed TravisMathew as his clothing sponsor, he played in Volcom Stone, the cult-like, eco-friendly apparel brand grounded in the youthful board culture. He's handled the hair-raising downhill mountain biking trails at Whistler, surfed 15-foot waves in Puerto Rico and once jumped out of an airplane. His fly-fishing indoctrination came on a 10-day float of Utah's legendary Green River.
At the onset of COVID, he found him- self stranded with friends in Costa Rica for three months, making the best of the situation by surfing and playing golf shirtless every day. Golf Digest called Tyler "the toughest player on Tour" after an incident in which he painfully tore the nail off his left index finger on the eve of the Genesis Invitational in Los Angeles. After an 11th- hour surgery, he played through unimaginable discomfort to open with a 67-68 on his inaugural visit to feisty Riviera, earning a spot in the last group on Saturday.
Tyler, who learned to snowboard last winter, wisely wears wrist guards to protect himself against a common injury that would be ruinous for a golfer. On his early April visit to board at Arapahoe Basin, he ended up bruising his ribs instead. After traveling to Hilton Head in South Carolina for the next Tour stop, he withdrew from Harbour Town and returned to Lyons to rest up. He has no regrets.
"Sometimes I push it past where I should, just like in golf," Tyler smiles. "Life is short," he adds. "You can't live in a bubble."
Even Mark has come fully around on Tyler's Colorado lifestyle, and he often reflects on all the similarities he shares with his son—and the differences. Mark also found unplugging from golf as essential to his success. One of the McCumber family's favorite Tour stops in the 1980s and '90s was The International at Castle Pines, with the opportunity to explore the nearby mountains. Mark wanted to return for annual family ski trips, but he always had mounting expenses and couldn't risk the injury. It's different with Tyler. His escape hatch in Lyons "makes all the sense in the world," Mark now says.
Especially when you understand how and why it happened.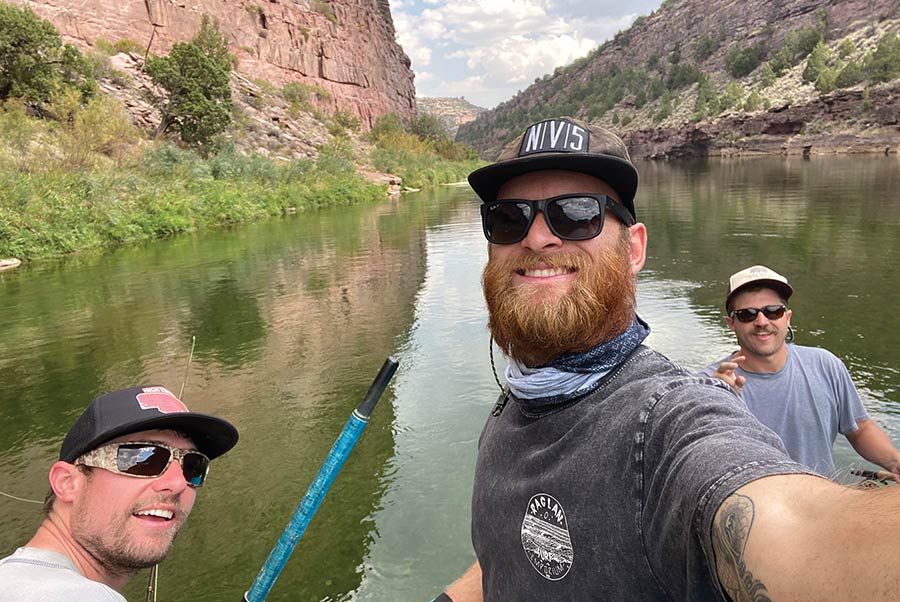 MCFAMILY TIES
The immediate and extended McCumber family is extremely tight—and talented, particularly in the fields of golf and music. Tyler's two older sisters continue to live within a few miles of Mark and his wife Paddy in Ponte Vedra, and Mark and Tyler talk on the phone and FaceTime regularly. Looking for off-time proximity to big waves, Tyler first left the Jacksonville area family nest (home to some five generations of McCumbers) to live briefly in San Diego. The surfing was good but only on the rare occasions when waves were up, and he never found a golf facility that was a proper fit.
At about this time, when Tyler was playing on the Korn Ferry Tour, his older cousin, Josh McCumber, caddied for him and helped him learn the ropes. Josh played professionally for a decade and after being an All-American at Florida, where he memorably held off Tiger Woods to win a major collegiate event in Chicago in 1995.
En route to a West Coast tournament, Josh suggested they make a stop to see family in Boulder, where his sister and brother (Tyler's cousins) live. Josh's parents are Jim and Joy McCumber; Jim has worked closely with his brother Mark for decades and they designed some 30 golf courses together, while Joy was a concert pianist with the Jacksonville Symphony. Their daughter, Beth McCumber Wilberger, lives in Boulder, while son Kort McCumber resides 15 miles west in the eclectic former mining village of Gold Hill. Both are accomplished, professional musicians who played DI golf (Kort for the Universities of Virginia and Florida, Beth for Florida State). For his part, Tyler learned basic guitar chords as a teen from his father before advancing to Internet tutorials and open mic nights—occasionally even joining the pros onstage.
Tyler toured the area north and west of Boulder with Josh, who led him to the new TPC Colorado course in Berthoud. The TPC, which opened to rave reviews in 2018, hosts annual Korn Ferry events and has designs on eventually becoming a regular PGA TOUR stop, something that has been absent in the state since the final International in 2006. The club has all the accoutrements, including an elite practice area, to more than qualify as a home base (at least eight or nine months of the year) for a PGA TOUR player—especially one who hails from the TPC mothership.
The orientation tour also led west to the mountains, where in the foothills the cousins stopped by the side of a scenic mountain road for a necessary break. Tyler peered through the trees and across the river to spot a cozy home with a "For Rent" sign out front, and the deal was done.
His new Lyons digs are on the banks of the St. Vrain and adjacent to a campground, 30 minutes from TPC and less than an hour from DIA (with its nonstop flights to most Tour stops). Lyons emanates an outdoorsy, artsy, craft-beer-music vibe with a hint of the Old West, and he's developed an affinity for the food at Julie's Thai Kitchen and the renowned refreshments at the original Oskar Blues. During the long COVID winter, he built a backyard firepit with a flagstone patio and bench seating, and posts Instagram videos of wildlife wandering through the property.
He's excited this summer to see things starting to return to semi-normal, giving him the chance to experience nearby Planet Bluegrass and trips to Red Rocks. He's also seen the "other side" of mountain living— October's townwide evacuation for wildfires and the spring snowstorms that sent him to practice his short game indoors at Colorado National Golf Club in Erie. Smoothing the whole Colorado transition is his current caddie, Taylor Stone, a Colorado State alum who shares Tyler's ample enthusiasm for the area.
His now-vaccinated parents will finally get to visit this summer; Mark wants to dial in his fly-fishing with Tyler, and even talks of buying property in the state.
ON THE JOB
Tyler McCumber is just 5 foot 11 inches and 175 lbs., but driving is the best part of his game; he's ranked 16th on the Tour at nearly 310 yards a pop. He's always been a strong, flexible fitness junkie: When he started his ascent in seventh grade from bogey golfer to state junior champion, it began with daily, early morning trips to the gym. He now works closely with Dustin Swinney of LYNX in Jacksonville, who has a roster of PGA TOUR players. Tyler follows the Swinney daily protocol and returns to Jacksonville regularly for testing and check-ups.
At his Lyons home, he built a gym in the garage and installed artificial turf (he has yet to add the net and set up his Trackman). Mark helped steer Tyler to Florida-based swing guru Rick Smith, the highly respect- ed teacher who's helped several major cham- pions and is known not for a "system" but for letting individuals follow their natural tendencies (within reason). But what Mark likes most about his son's game can't really be taught: "He's better when the pressure is on. He enjoys the spotlight."
Tyler broke through at the Corales Puntacana PGA TOUR event in the Dominican Republic in September 2020, finishing second to Hudson Swafford and collecting $420,000. He finished T6 the next week at Sanderson Farms in Jackson, Mississippi, earning $201,300. The results helped boost him into the field for the 2021 Players Championship at TPC Sawgrass March 11-14, site of Mark's signature win 33 years' previous (he also won the 1994 Tour Championship). Homebound by COVID for the past year, unable to visit Tyler at his new Colorado home or on the Tour, the proud parents were ecstatic to finally see their son. Mark wasn't expecting much: Sawgrass is notorious for chewing up and spitting out rookies, even those who grew up there. Tyler shot 72-69-72-70 to finish a solid T22 and earn $135,000.
During his April renewal in Lyons, Tyler wasn't comfortable making full swings following the snowboard/rib injury, but practiced his short game regularly, worked out, and more importantly, rejuvenated his mind. He capped off the break with a three- day mountain-biking adventure in Moab with his new girlfriend (he'd met her at A-Basin, and this was her 25th birthday). Then he flew out of Grand Junction to Charlotte, N.C., to compete in the Wells Fargo PGA TOUR event at Quail Hollow.
Beyond plenty of mountain biking, hiking, and music, Tyler's 2021 goals are clear: Win on Tour, qualify for the majors, make the Fed Ex Cup Finals (last 30 standing) and establish himself in golf's top tier. He's particularly intrigued by the thought of winning a tour event in Florida (maybe the Players?) to complete his Sunshine State Slam along with the state junior, amateur, and Open hardware he collected years ago.
He probably hasn't even considered another intriguing scenario, in which his new home course, Colorado TPC in Berthoud, eventually lands that coveted PGA TOUR event—and Tyler wins the title in his adopted home state to a local gallery's roars.
Colorado AvidGolfer contributor Andy Bigford lives in the mountains above north Boulder, about 15 miles from Lyons.